(review n pix by mwj)


Round two of the most social anti-social gathering in North Wales started bright and early. Another lovely sunny morning on the front lawn of Bryn a Grog Hall (no lords, no masters resident) took the edge of the bruises of Doom and it was all a very civilised breakfast bash from the onsite vegan café although beers, wines, and spirits were soon in plentiful evidence. The vintage Rolls Royce rolling past turned out to be from a wedding hire company and not our lift back into town, instead we were transported like Mexicans in the pitch black of the back of Ell's van, the main man still ensuring everything running as smoothly as possible.



It might have been a bit more peaceful in the venue at lunchtime but late additions to the main stage Nu Pogodi were in a similarly fierce vein to last nights closers. Three diminutive crust ladies provided a pretty raw but engaging charge through a set of openhearted feminist crust, obvious having fun as well as delivering messages off their "Apocalyptic Noises in the Sky" ep. In the bright sun of the front Pumpkin stage solo singer/guitarist Ed Ache thrashed his ukulele with some strong covers of strident anthems, before we turned once again to the main and Piss on Authority. A seemingly appropriate name as the drummer had been one of those kept in the cells overnight by the dibble for urinating on the street they were a proper revelation, bringing a real inventive metal edge to their crust attack playing stuff of their "A Fear Of War" album, excellent guitar work and vocal shifts. A quick nip next door to the hardcore stage and Downfall, happy to trek down from sunny Hull for next to nothing and glad to have them here. Ultra-sludge hardcore reminds of Integrity with a hell of a powerful roaring vocalist too, pick up their "deadweight" ep.

Back to the front and tune into the young Old Radio who brought a touch of RATM funk undercurrent and more ska to their more accessible punk, grrovy stuff and easy on the ears. Booted and braced skinhead fronting Hated til Proven maybe proved something was in the name too, as any prejudice in expectation was quickly swept away with a punchier metallic hardcore. Great chorus sing-alongs from all the guys up front, it's a really strong performance and I'd gladly check them again. Catch the end of Chester invaders Face of Christ back at the hardcore stage, a shorter and sharper onslaught of their harsh hardcore driven along by some excellent drumming in this that turns out to their first set of the day. They fill in for a later no-show with a more sludgey set that reflects some of the more progressive stuff on their most recent release.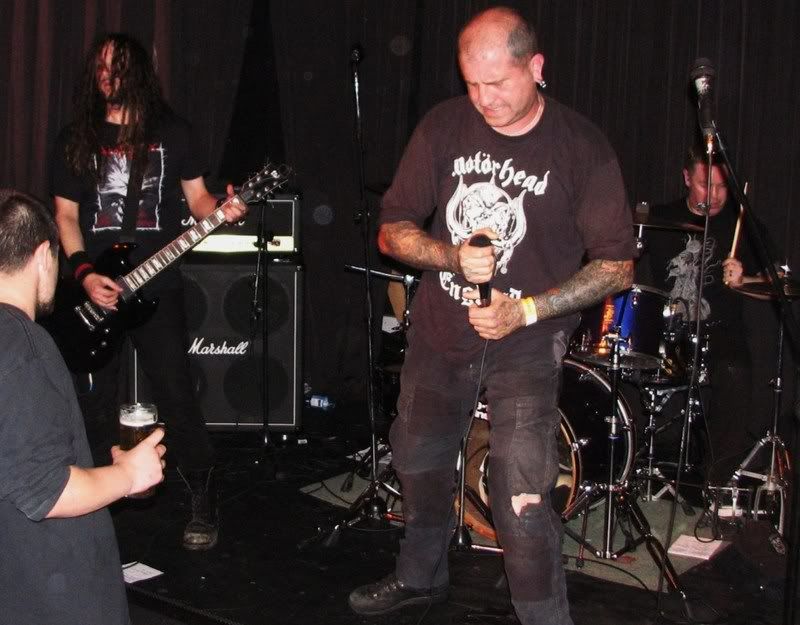 Gunpowder Plot also from the North West and with material imminent on Pumpkin have some great banter with the attendees in their faces to start with but get serious down to business with some fast and melodic political punk. Really good bass prominent in the three-piece too. Relatively early given their status as crust legends but Extinction of Mankind (pic above) still don't pull their punches on the main stage next, front man Ste in fine grumpy form. It's the usual high standards of thundering onslaught, the vocals are sparse but hard hitting and the riffing and drums barrels along relentlessly.

It only took the soundcheck to convince me I was going to love Manchester's Swinelord (pic above) next, pure distorted filth tones from the instrumentation and with the drummers favourite band being Looking For An Answer. Sharply contrasting with most of what has gone so far, it's a combination of horrific sludge reverberation combined with explosive power-violence outbursts, they and us revel in the aural cess we swim in. Paul Carter is an ever-present at Dirty Weekends and while I have had the pleasure of his company and solo punk anthems before I'm needing more of a rest/sustenance so take a break downstairs for a bit.

Pop back to catch a bit of Revenge of the Psychotronic Man and pleased to find they are also as consistently raging with their hyper-hardcore as they have been on previous visits along the coast. Unfixed on the main stage are another band I've seen before in their previous guise of Meinhof, name changed to distance themselves from the one dimensional question of what they are about. The trans-Euro London collective are no different in approach though, heavily distorted crust/metal machine gun riffing and Rosa's growling vocal, great stuff. Another break before return for the return of Knuckledust. These Londoners have also played up here a long time back but I was as pleased as the organisers that they had been added to this too, having just re-established their worthy credentials with a recent set at Download. From the off its pummeling heavy hardcore, a real New York vibe to it but aggressivly inventive rather than derivative. All the guys are entertainers too, especially the frontman off the stage and delivering in the thick of it. They do inspire a good crowd, some silly dancing thrown in but there's a bit of an awkward scene moment when a debate breaks out about looking after a guy in a wheelchair in the pit. It blows over and they leave us with memories of a top set. Luvdump (pic below) may be from the Far East (Anglia) but have caught them up this was a few times now, and always enjoyed them. More politically charged melodic punk not too far removed from Global Parasite's style, except with maybe more a bounce to them.

Another charismatic frontman, and excellent backing vocals really make it feel another inclusive performance. More in your face fronting from Foxy of SSS next, as they unleashed their furiously tempo-ed crossover thrash upon us. Lots of wandering up to the crowd and encouragement as well as his gymnastic stretches and lunges! Succinct with the messages behind/between the madness its enjoyable mayhem but I do half a set before going round to catch Flowers of Flesh and Blood. Last saw this London band a few years back at Speakers Corner and they've further refined their punk/metal to make for a pretty sharp act, with a new album due presently too. Offer us a choice, then treat us to a great double header of covers from Rudimentary Peni and various Minor Threat to finish. A shift down in pace back in the main room with Black Star Dub Collective from Manchester, but all fitting in nicely as a lead up to the night's headliners. It's dub heavy skanking of the finest order, and the collective element of the added in brass and keys really add to the orchestral feel. Some more traditional punk with Wayne ex-Stuntface bringing the old-school melodies of Vice Squad to his hometown. It's all a very polished show with Beki remaining the glamorous fan-swept focus but there's not so much interest shown from the crowd and there's a bit of sound issues too. Times have slipped a bit so things have to be re-jigged a bit and we still have time to fit Autonomads in. Continuing the Ska vibe but mixed with a much faster element and a pleasing political content, they keep the smiles broad in the gathering close up in front of them.

In line with his somewhat over the top contract (including £7 worth of crisps!) Neville Staple eventually takes the main stage with his band. It's blatantly obvious the guy formerly of The Specials has star quality and is a consummate performer. Rolling through reggae and ska classics with the barest of introductions though they are apt one line hints, he inspires a happy bobbing and weaving crowd and plenty of vocal support. From "Simmer Down" to open, through the likes of "Message to you Rudy" and "the lunatics have taken over the asylum" he is often beaming out from under his pork pie hat as he toasts along though when it switches off there's elements of darkness, whether from the pain in his hip supported by the walking stick or slight annoyance at some over enthusiastic sing-along stage invaders. Inevitably it's "Ghost Town" to finish and it's far from that as there's a good gathering in front of him, but I'm not sure the numbers have justified his considerable expense and there are a fair few of the harder-core inclined awaiting him to finish so we can have the last bands on.

The first of those, Moral Dilemma, definitely bring things right back up with a bang, the three-piece producing some outstanding raging melodic punk, nice variety in their structures and some top thumping drums reverberating off the walls from where I was standing. Pick up their "Under Surveillance" 7" which includes an excellent French folk-protest song from their lady bassist. To finish, and pleased that folks are still in for the long run after they've been shifted to the end, Brum's old stagers Drongos for Europe (pic below). They complain that things might go a bit awry as they'd been timing their drinking for an earlier set but I found them pretty sharp and even better than when I'd seen them previously. Straightforward hardcore with an element of the shout along chorus hooks that reminds favourably of NY style, they keep the party going until we spill out onto the street after. Though judging by the noise levels where I woke up in the hours before dawn at the camp site there was no danger of the party stopping at all.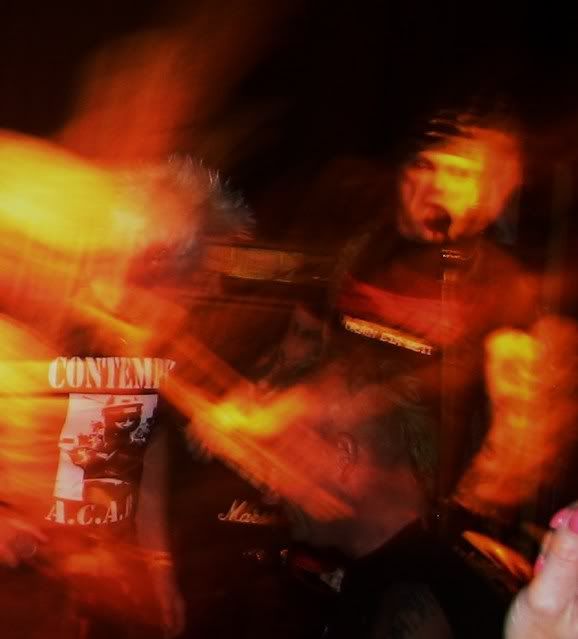 A fantastic success for the whole event, with positive reactions from the organising team, bands and fans alike about the whole setup is testament to and a reflection of the ell and dave being in tune with what makes this type of thing tick. Lessons are inevitably learned but that's the whole nature of DIY, the fact that you actually DI, not just talk about it. Without a doubt word of mouth will spread favourably and the next one will be bigger and better, look forward to getting dirty again