(review n pix by mwj)


After the peaks of the Friday night our last day on the Saturday could have just been a mellow after glow. I was certainly still beaming with the memories as I had my breakfast and breakfast beer at the excellent food station set up at the campsite, and it was quite a placid opener for the day when we got into the main hall for 40 Watt Sun. A new project from the former Warning main man Patrick Walker, it is very reminiscent of the Jesu-vibe of mammoth melodic riffs, especially with the pace and solidity of the bass vibe. The vocals are more prominent (and arguably a bit better!) but soon I get the urge to check something with a bit more life and go in search of Dark Buddha Rising.


Thought we had planned well in advance at the empty small stage till cottoning onto the fact that it was actually at the second stage, oops. So, down the secret passage into the smoky depths and a memorably intense performance. Starting with the bald, ripped and stripped front man delivering some form of ritual noise, deep effected drone vocals and darkly ambient vibes. A chalice of blood is liberally applied before they launch into sharply contrasting passages of black metal sonic demolition, but with and experimental edge, the whole thing is a far more involving and captivating experience than Mayhem's allegedly "special" show at Hellfest last year. One to remember for sure.

Off to the main hall for Church Of Misery, who I'd also enjoyed in France last year. The Japanese Sabbath worshippers were a bit less feral at this show (the Dutch effect again 😉 ) but still in fine form, despite a bass amp break down they kept the groove running and there was a great atmosphere of enjoyment tangible in the crowd. Added entertainment not only from the bassists incredible strap length but also from the excellent back projection of clips reflecting their serial killer obsession, I have taken up the Charlie Manson T'ai Chi program that was demonstrated.

After feeling the vibe earlier it was time to see the real thing over at Patronaat with possibly one of the last Jesu (pic below) shows. Justin has indicated in recent interviews he's not really happy with the live delivery of these epic crushing melodies that he creates at his home studio so may well be winding it up, especially with the resurgence of Godflesh and his other projects. Been lucky enough to see them a few times since their first ever gigs and if it is the end this is going out on a high with an excellent sound mix (well, the thumping electronic beats certainly feel that way standing next to the PA speakers) as well as the setting, with the sun streaming through the stained glass windows.
A break for the fantastic food on offer downstairs (as throughout the festival, it's quality you don't begrudge paying for) before back to the second stage for The Wounded Kings, another band I wouldn't necessarily of heard of but for the festivals excellent taste. Female fronted doom metal, this is a much heavier prospect though, a hypnotic guitar led reverberation in the vein of Vitus, a steady rhythm tapped into the nod of the head. Her voice is strong and it brings a smile to see her red heels in the sea of black and denim. A short trip through to the small stage for Alkerdeel, the Belgians being a relatively late addition to the festival but for me turning out to be an absolute revelation and very glad they were brought in. The singer, staring in to the spotlight beam, seemingly entranced and yet so focussed on the harsh screams and roars over a fantastically captivating music something like a mix of the epic post metal structures of Amenra meets the rabid relentless black metal of Mayhem. It's a scorching treat and I soon pick up their latest "Morinde" album. Although not the 50 euro wooden box set version, sexy as that looked.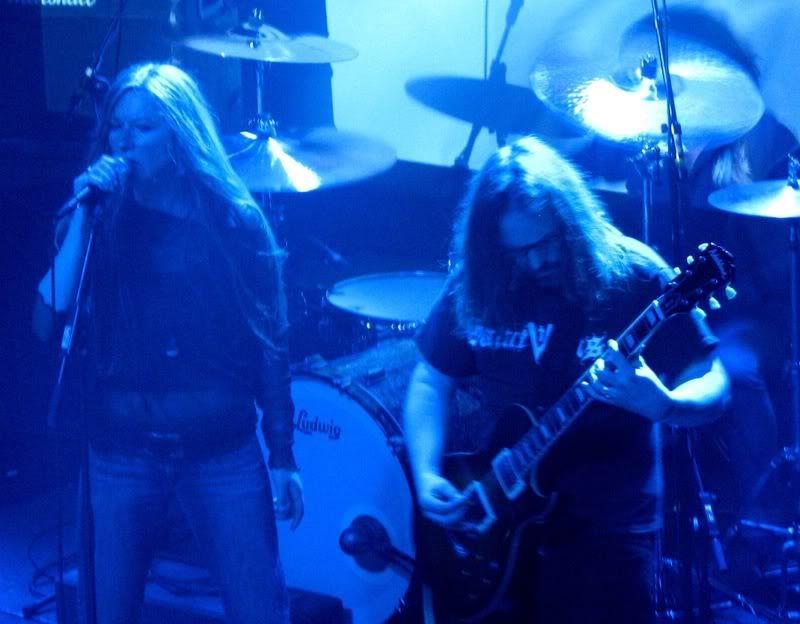 Had also had a chat with wonderfully monikered London band Necro Deathmort (pic below) at the merch and was interested to see these pleasant guys next at the small stage. From what I had heard of their releases they have evolved from some ultra-blackened electronic noise-core through a more darkly ambient dub phase, with new album "The Colonial Script imminent the two-piece produce a really interesting mix of industrial heaviness, experimentation, and insistent beats. Live bass and guitar are heavily effected but underpin the mix, topped with a harsh vocal line, it's yet another winning find.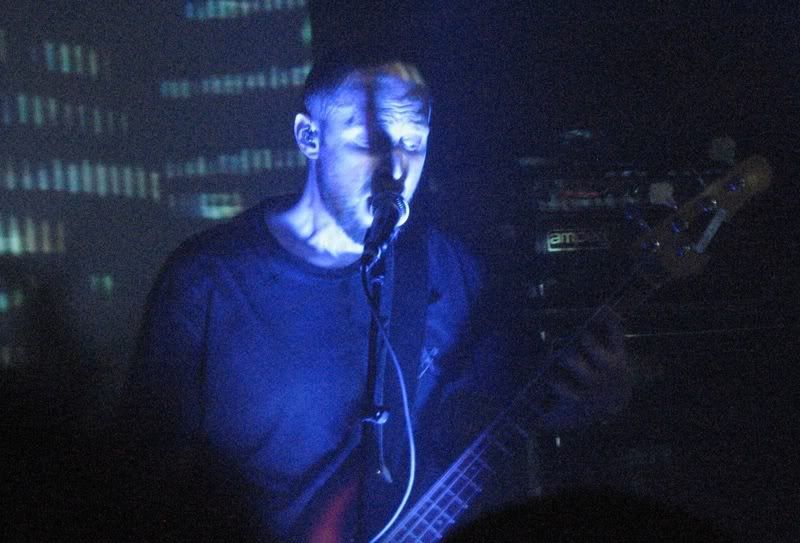 The main headliners of the day are the reformed US doom legends Sleep (pic below), but the doorway to the main hall is as close as we can get this time. As if it was possible they are probably even more of an ultimate defining Roadburn band, hence the congregation to worship the riff. They had peaked in the 90's with their fresh take on driven stoner metal rapidly elevated to seminal levels, but had been split over a decade. Not like the various members had laid low though, with guitarist Matt Pike powering on with High on Fire and Al creating another laid back groove with Om, they are joined for this by Jason Roeder from Neurosis on drums, who, if anyone, is a worthy match. This recombination of the ingredients for a classic distorted riff-fest is rapturously received and I can still feel the power hitting you in the guts even from this side angle, although this does also mean we get a disturbing view of Matt's investment in his beer belly.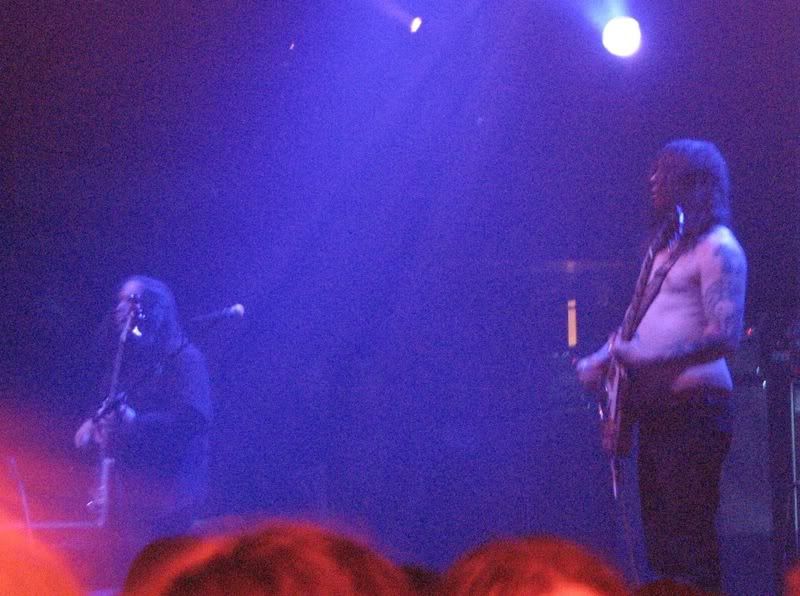 As I know there's another chance to see them in the UK before long I opt instead to move on to see Necros Christos (pic below) at the second stage. The German black/death outfit have been lauded in the underground after their 10 year or so career, from what I had heard previously I was expecting quite a raw, Darkthrone-esque onslaught but perhaps with their most recent material they have evolved a bit more precision and structure, as they built songs over a longer period and had instrumental passages, still contrasted with the unforgivingly raw vocals. Wasn't as struck as I thought I might be though, so again moved on to more delights in the shape of Tombs at the Patronaat.
Had been looking forward to seeing this Brooklyn band over here for some time, having heard a couple of great albums in the recent years of their brief career, and wasn't disappointed. They make an intriguing mix of blackened metal and sludge, with relentness epic post-metal overtones, and all delivered with a no nonsense hardcore sensibility I associate with a lot of bands from that area. A very satisfying pummelling (pic below).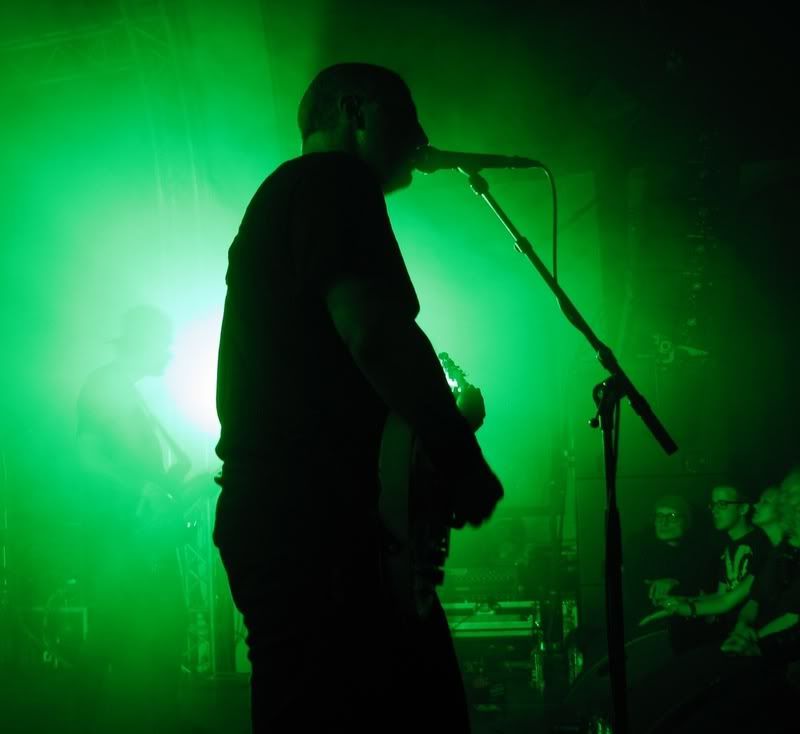 The night is ending and faced with a rather gutting clash, hear the starting earthquake of ultra distorted doom tones from Bongripper emanating from the church but elect instead to get into the small stage for an up front and personal audience with Jucifer. My friend from Canada had been raving about this two piece couple with their wall of amps who travel around over there constantly in their camper van, and having heard the mixed up sludge/black/grind of their recent "Throned in Blood" it was another great anticipation. And from the off I was completely drawn in, even stripped down to a mere 4 amps and stacks for her guitar Gazelle has a huge sound that more than covers the spectrum, while her husband Edwin alternates between snail's pace doom pace to blast mayhem. (I rescue one of his cymbal stands for him when it takes too much of a beating) He also sings on those grind numbers while his wife roars and screams the slower ones, as well as thrashing and rocking out like possessed, I can't help but do the same. It's a great chaotic and cathartic ending to the event, today a mix of anticipated treats delivered and unexpected finds dropping jaws. And the levels of joy of yesterday may not have been beaten but at least sustained, testament once more to the sheer quality of the Roadburn set up. I try to look for an excuse not to come next year, thinking to invest my funds in checking out new festival, but dangling the carrot of Godflesh's "Pure" album and Electric Wizard curating, why deny myself the fun?