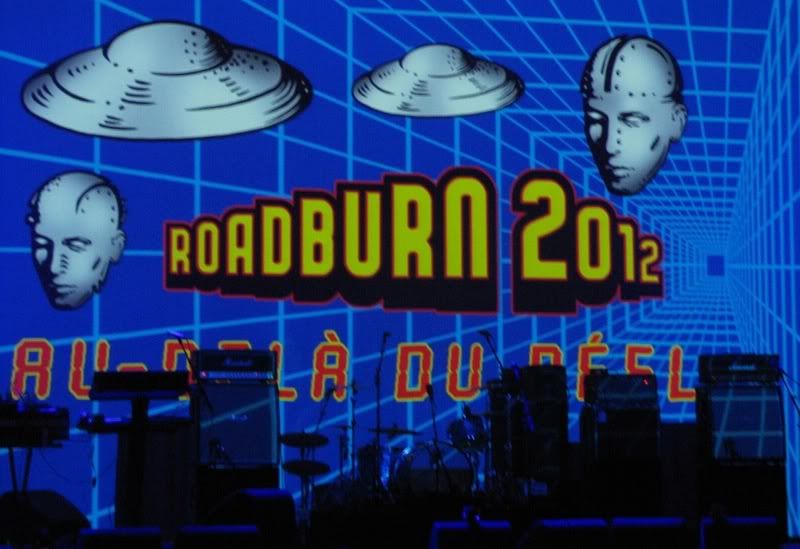 Up bright and early (in the afternoon) for the second and most anticipated round of the three. Bussed in early enough to have a mooch about to get some food from a cheap but quality snackbar, and of course some fine pint sampling along the strip of bars leading to the venue, we first attempted to catch a bit of Wino (St. Vitus, The Obsessed, etc) and his recent collaborator Conny Ochs doing an acoustic set in Patronaat but as might have been expected for a side project of one of the traditional Roadburn heroes it was packed to the rafters so we moved on. Prompted by our friends from Doom we took the time to wander down to a gallery just round the corner for an exhibition by Michel/Away from Voivod. He had produced all the bands artwork over the years and was great to see the detail in the originals of his surreal future visions, as well as to chat with the man himself there, a soft spoken and friendly guy who is overflowing with talent.

Back into the main venue for Nachtmystium,(pic below) the first of Voivod's invitations for the day that they were curating, under their Au Dela Du Reel banner. Was lucky enough to support these guys in Wrexham a couple of years back but appreciate them all the more here, playing their Instinct:Decay album it's a storming performance of blackened metal. It reaches levels of extremity but ultimately are incredibly well written and structured songs, added to here with an electronic/noise element provided on stage by renowned producer Sanford Parker. A really pleasing start to the day, had hoped to see End of Level Boss but the small stage to crammed again so head out on merch missions and to see the somewhat under attended basement cinema, showing "Black Mass Rising". Over to Patronaat for Solstafir (2nd pic below) then. Not sure I've seen many Icelandic bands before, bathed in appropriate cold blue light, they develop slowly their instrumentals. There's a folk tinge to their expansive and atmospheric post metal, and while it drifts along well it's not of great appeal to me. The main hall next hosts probably the oddest music experience of the weekend, in Manorexia. A project of JG Thirwell of Foetus fame, it's quite removed from that industrial beat driven stuff. Instead we are greeted by a string quartet, a percussionist, a keyboardist and the man himself watching over things from somewhere at the back. The tunes build from minimalist levels but the layers eventually create an interesting cinematic atmosphere, just very odd relative to the rest of what is here but a further emphasis of Roadburn's mix of the experimental with the traditional.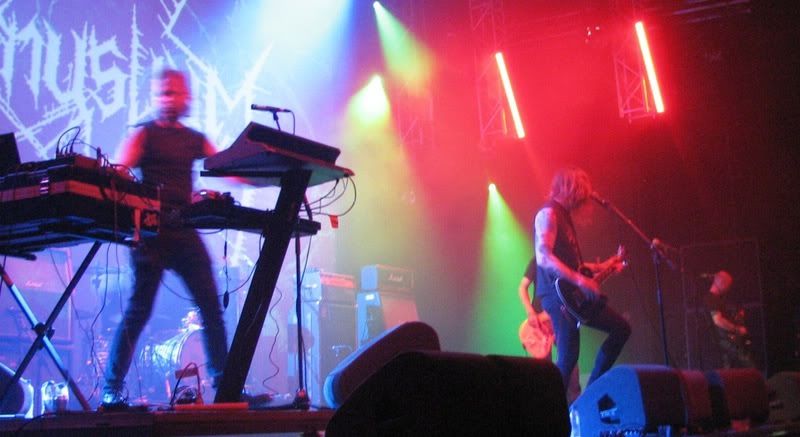 Something I was much more familiar with was Dutch band Kong, seeing them for the first time since working the entire UK tour they did with Fear Factory and GGFH in the early 90's. On one stage as opposed to the 4 separate ones they were using then, they have been reformed for a little while and are still delivering a quite unique experimental metal. A big electronic element underpins their convoluted riffing, but they have live drums too to complement the insistent beats, no need for vocals, and it is definitely one of most dance inducing sounds of the weekend. One band I was determined to face the crush at the small stage for was Liverpool's Conan. I probably overuse the word seismic but their colossally slow dirges with the distortion pushed to the edge of the envelope honestly felt like being in a scree avalanche. Or inside a cement mixer. The occasional shouted vocal lines are almost light relief from the oppressiveness but couldn't last the pace in those cramped conditions so bail out. A lot more space at Patronaat people and music-wise for the next of artist-in-residence Justin Broadrick's projects, Final. Multi-layered guitar ambience, he is hooded, seated and concentrating on his effects, a bit too laid back for my tastes or in a live environment but pleasant enough background music as we hit the comfy sofas in the balcony again.
A wise saving of energies as we enter the night for it's going to be a killer combination. First up we are wished good luck in squeezing into the main hall with full pints as it's the busiest I've seen it yet, but of course with a skinny shimmy it's no problem. The attraction is Yob, and it's understandable as they seem an almost quintessential Roadburn band, covering the doom, the groove and the noise. Main man Mike is a force of nature with a roaring voice to match and thrashes like a maniac, there's a real raw quality overall to their tunes, a massive sound. Don't last a full set of their playing their "The Unreal Never Lived" album unfortunately as I know I have the chance to see them again at Hellfest plus I want to check out Black Breath for the second time in a fortnight again. The Seattle band are still ripping their way through Europe and while their performance here might not have been quite so intense (everything goes slower here for some reason…) as the Manchester show I caught their death/thrash is still spot on, and I can't resist a bit of pit action, the liveliest I've seen here (Yet!). The wonderfully filthy distorted sound charges along and yet again they deliver the goods.
What a warm-up for the main event and Voivod's "Dimension Hatross". Entering the main hall to get front and centre as opener "Experiment" fires up it is just instantly a spirtual experience. Well, for me who has hammered the album since it's 1988 release, this concept album on some state/religion controlled dystopia, inspired by recording in Cold War Berlin, has themes that arguably are just as relevant. And the same is true of the music, so innovative, progressive and yet simultaneously intense thrashing that it does still sound fresh and different. The whole thing is a highlight, to sing and bang along to these cherished tunes, the relentless ending of "Tribal Convictions", the galloping pace of the start of "Brain Scan", the sheer thunder of "Psychic Vacuum" . When its over I genuinely feel tears of joy welling up, as does the guy next to me! No more re-affirmation need of my devotion to music. They go on to play the epic "Jack Luminous" as an encore but I go out on a high anyway. Dopethrone I would have liked to have sampled but a view from the doorway for the packed second stage will have to do and it's out to the church once more, for "No Religion" but Doom. Never in my life would I have viewed seeing them next after all that as a come-down, and of course it wasn't. Merely blasting the emotions away with a violent explosion of crust punk mayhem, it's great to see a good turnout for what could be seen as an odd addition to the line up (even to the band themselves) but for the fact that Away himself had requested them, again acknowledging the influence of their 25 years celebrated this year. Even Sanford Parker is up at the front losing the plot! No "No stage diving" signs here, a kick to the head but no gouged out eye, it's a glorious raucous party for fans old and new, I jig to traditional closer "Means to an end" with a new found friend, smiles all round! Soaked to the skin as we come out into the night again I've been through the mixer and the emotions are still high, I reflect it is one of the best days of my life inspired by music ever, thank you Roadburn.