(review n pix neil crud)


(review n pix by neil crud – additional pix duesy duesbury)


Senseless serve up my first dish of the day and it's apparent early on that this isn't the same Sensless who graced the indie/crusty scene in the early 90s. This is a decent fast punk band from Stoke-on-Trent. Had a very young bassist who was evidently high on octane and full of buzz. 'This one's for the punk rockers, this one's for the skins.' They had followed on from Birmingham's Angry Bombs who I had the misfortune not to catch them in time, so as a mark of respect I dished out a quid for their 8 Track 'Mommy is A Psycho' ('she's given me 30 years of shit') mini CD, which is angst ridden punk rock.


By the demand of our BnB neighbours Greg and Jackie we had to see Septic Psychos (pic above) from Chesterfield, featuring their brother-in-law, Mike on drums and the terrible twins Chiz & Mick from Riot Squad who I first and last saw at The Dirty Weekend in 2005. A decent crowd watched them rattle off Psycho Vigilante, Crooked Church (maybe inspired by the crooked spire of their home town).
'I've got the beer sweats' said Chiz, or is it Mick? And after three days of serious drinking I knew exactly what he meant and raised my breakfast pint of Fosters in agreement, vowing to start a revolution after closing time…
I've Been Shafted Again, Virtual Lives bring us stomping punk rock, straight to the point, no messing around in a very Riot Squad I'm OK, Fuck You kinda way.
I think it is Mick on vocals; he might be fuckin' ugly, but he has an air of great confidence; you're not gonna rattle this geezer, he's been around that block, knocked on every door, then kicked them in the next time round.
Buy Some Shit was next, what an ace song – my favourite new band.
'I can see Goldblade are on in a minute as all the girls are leaving.' All the girls, and me and we headed to The Empress Ballroom, as the tones of Fighting On The Dancefloor ebbed their way up the corridors, we sang in unison, 'Fucking in the streets' and marched down the stairs to join the riot already in progress at 2.15pm.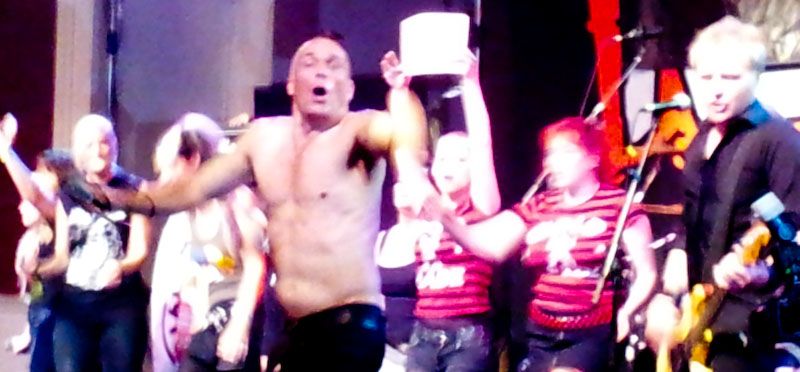 Jukebox Generation next and despite fucking it up thanks to too much beer and too much weed, the bassist apologised and it was Strictly Hardcore now on in. A little taster off the next album in the shape of This Is War, although we'll have to wait until next February for the full hit, then Rebel Songs, then another new ditty, The Shamen Are Coming. John Robb is the psycho at the gym you don't make eye contact with, but in reality he's that psycho on stage who lives and breathes punk rock every second of his life.
Next up is Atom Bomb,  the epitomy of this performance – really fast, really furious. My Name is Psycho, there's no political agenda here. Politics are for politicians, drinking is for drunks and punk rock is for punk rockers.
Riot Riot brings the girls on stage and is dedicated to the caged Russian band Pussy Riot and as John said, they're on trial in Moscow for playing in a church! In the UK no one would even notice.
'Do you believe in the power of rock 'n' roll?'
'I believe…' They said as they are touched by the hand of Robb.
Back Street Radical wraps it up, full of chest beating, calorie shedding, sweat pouring fury – this wasn't a gig – this was a moment in history. Superb.

A break was needed, a bit of a sit down. Such is Paul Carter's Punk Shit popularity that I had to sit on the stage to rest my legs and catch the end of his set. I Hate Work, I Had Speed, 'I had a wank all night, I lost two stone in a week cos I had speed, I should've had weed.' He ended on My Ding-a-ling and everybody had a sing-a-sing-sing.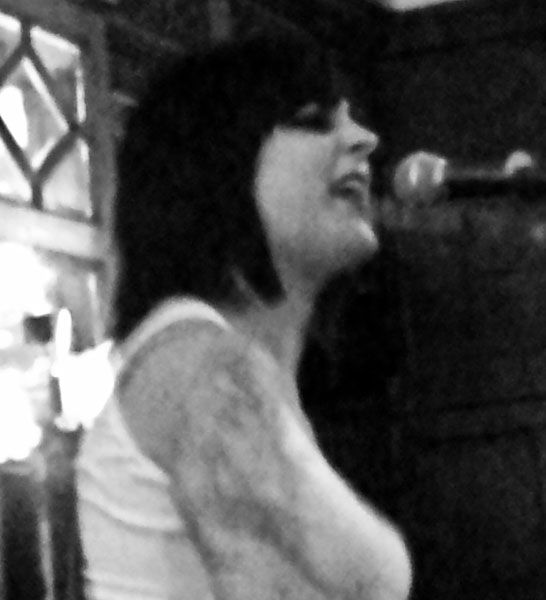 Two songs wasn't enough to recouperate, so I hung around as Louise Distras fettled about tuning up. She's the punk/female Billy Bragg who's not shit. This isn't folk, this is acoustic punk and I stayed put for the very fact she'd hassled everyone through FB updates – it does pay to advertise. No dulcet tones here; she's gonna scream your house down. 'You work until you die…' Makes me wanna pack it all in and fuck off round the world (again).
Louise spits her songs out with conviction, anger and determination. From being chatty beforehand, she gets into the groove and lets rip, letting the songs do the talking.

Pink Hearse have processioned into the Olympia, I catch Graveyard Baby, 'I'm not Jesus, don't shoot me' and Braindead. It's very basic and cliched, and I mean bedroom basic bubblegum punk rock, which is what this all-girl band are about, and good for a giggle. I saw them at Strummercamp a coupla years ago, and today, like then they are full of life and make us all the better for it.
I went to the chippy for some carbs. The Top 40 count down was on and I realised that it is a billion miles from where I am now. Away from the corporate sponsored auto tuned ABSOLUTE FUCKING SHITE BOLLOCKS. FUCK OFF FUCK OFF FUCK OFF!!!!

Talking of bollocks, Kunt & The Gang – ha ha ha – Dignitas 'My gran is fucking loaded while the rest of us are skint.' Would love to see him at the Royal Variety doing Fucksticks, or that one about trying get on in the music biz, My Arsehole's A Cunt. And that classic I Sucked A Bloke And He Liked It.

So looking forward to seeing Nev Staples at The Dirty Weekend in Wrexham in a few weeks time, we very nearly gave him a miss on account of this. So glad we didn't… What an amazing set! We put on our dancing shoes and went jiving to Monkey Man, Gangsters, It Doesn't Make It Alright, Ghost Town. And seeing how worried Nev (pic above by DD) was about his young daughter watching at the front of the crowd as surfer after surfer bounced over her head, made you really warm to him. The anxiety was too much for him and he summoned her back stage. Top set, top bloke – one of the many highlights of this festival. Make sure you get your Dirty Weekend tickets here.

Charlie Harper laid on the Emotional Blackmail and we stayed put at the front for UK Subs, a band I've lost count on the number of time I've seen (first in 1987), and I have to say this is probably the tightest line up in a band who've had more members than albums, and they've released at least 55 albums!!
Charlie is screaming 'Born a rocker, die a rocker' – words very true to a genuine man. He no weekend punk! All this while Jet is giving it loads on guitar, the one who cements this line-up with the gusto it has sometimes lacked in the past. The set was recognisable from their 100 Club internet broadcast last week. Endangered Species – 'We don't blow ourselves to pieces,' as relevant today as it was when it was written as fucking lunatics try to indiscriminately kill people in the name of god, allah or oil – this is chaos we call civilisation. Barbie's Dead, Uncle Sam, Kicks, Tomorrows Girls, Warhead, Stranglehold. So many hits and great songs to choose from – no Keep On Running, Countdown, Party In Paris, Teenage, Perfect Girl, Telephone Numbers, She's Not There, such is the size and quality of the Subs' output. Not many encores at Rebellion… The UK Subs gave us CID, I Live In A Car, Twisted and the brilliant New York State Police. See you next year…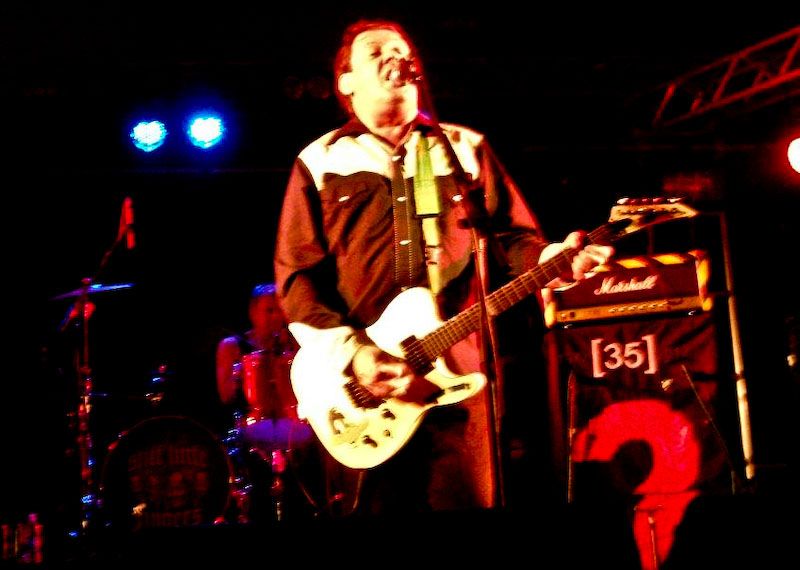 'You're not going to see Stiff Little Fingers… and you call yourself a punk?'
Those were the words of Brian Griffiths from Denbigh and they rang around my head when I was 14. Single parent Mum, no car, paper-round wages – of course I'm not going to see SLF. Incredibly it took me 30 years to actually see this band and it was worth the wait just to make an old twat like me happy. Was that a tear rolling down my cheek during Nobodys Hero?
From the opening chord of Wasted Life – 'Stuff your fucking army, killing isn't my idea of fun,' there was no stopping them or us. At The Edge – the blueprint of my teenage years, we knew every word in school, and we still do now. A dig at reality TV was next with a new song I Believe, which sounded very much like The Alarm, a band SLF had/have very close ties with, from touring back in the day and sharing drummer Steve Grantley. Bits of Kids, Barbed Wire Love, Silver Lining – which has relevance today with a government that doesn't give a fuck about the common people. Strummerville was written about the man who bared great significance on early SLF, and would have no doubt graced this Rebellion stage if he was still knocking around.
Jake Burns (pic above by DD) said, 'At the next election, remember, the power of the people is stronger than the people in power.' Probably the most relevant thing anybody has said all weekend, and when you consider the only thing ever said at a rock festival is 'Let's hear some fucking noise!' it shows you how far removed Rebellion is from the mainstream festivals, and all the better for it.
That No.45 in the charts hit Straw Dogs was next ('guts for sale') then Tin Soldiers – you forget just how fucking great these songs are and how much they meant to you when you were growing up.
Encore! More! Fingers! Fingers! (laugh if Johnny Fingers walked on stage ha ha!!)
Grantley hit a familiar drum beat – it could only be the remarkable Johnny Was in all its glory, a song you can never ever tire of… I've Gotta Gettaway, the emotion of this is too much… love it… fucking love it….