(review n pix by neil crud)

I took some Cyanide Pills (pic below) and they soon dissolved the cobwebs that had enveloped a reluctant battle scarred body. Making Her Mind Up was proper tuneful 1977 singalong punk rock with smatterings of US garagey influences. Again, like all the other Arena matinees, it was full of people eager to soak up the sounds of another day. Simple subjects Against The Wall, about being down the hall playing pool, or I Can't Get It Up, about well… you know the drill, happy go lucky stuff. Cyanide Pills are not here to change the world, not here to preach, they're just here to strap on a guitar and play some rock and roll.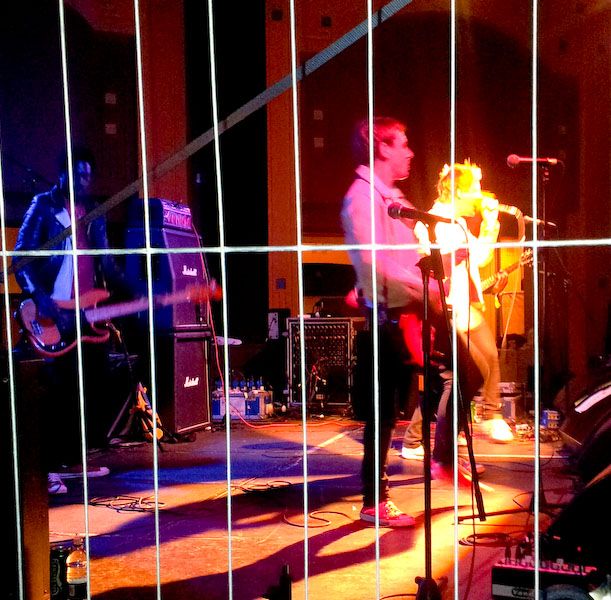 Something was wrong, I felt giddy, had a temperature, the beer sweats? maybe, no, this wasn't good. I sought a seat and met up with Rhys Mwyn in the cafe for an afternoon coffee. We, as we always do, put the world of the music scene to rights, we spoke of when Catatonia cut him off on the cusp of their success, about when his band Anhrefn would play old Eastern Bloc Europe and lookouts would be posted outside the venues in case gangs of Nazi skinheads tried to smash the places up, about UK Decay, about 4Q, about Glen Matlock and Midge Ure, about Viv Albertine's plans, about trying to build a scene, getting bands to build a scene and break out of the comfort zone of their friends and family led mutual appreciation society. Rebellion is a MAS too, there's no boundaries being pushed here either, but that's not what this is about, not this weekend.
Rhys saw Bow Wow Wow last night at the Opera, he said they were good, but it was evident Annabelle Lwin had been out of the game a long time as she had nothing to say, 'Thank you Blackpool.' He also saw Chelsea, saying Gene October was really good, a good showman, but the guitarist seemed to be doing all the rock poses in all the right places, but without really feeling it… that'll be James Stevenson then ha ha!

Rhys went off to sort out Viv's pending onstage interview with John Robb in the Spanish Room while I sought solace in the Pavilion for my ailing condition. The shakes were upon me, this was not a hangover. The Statics (pic above) were on, I crumpled onto the carpet in front of the stage and soaked up the stoner rock instrumental sounds, it was like being part of an exclusive club, members only. I love unearthing bands like this, rather than be one of the sways of thousands watching Social Distortion last night (pic below by Spikey Cat), I'm more excited when I find The Statics trying to be too fiddly for their own good, with flanged bass and stuff…

It's obvious that today, after the relentless succession of bands yesterday, I was gonna be on a slow burner. Feeling fucked, temperature burning and more giddy than a sex session between Gibby Haines and Lux Interior I would've signed off sick if I was at work… I wandered upstairs to listen to tales of yore as Slaughter And The Dogs were being interviewed by John Robb, one of punks forgotten bands; a lot of their stuff missed the boat, although I rate You're Ready Now as one of the best punk singles ever.

Viv Albertine was next on John Robb's DFS half-price summer sale couch (pic above) and we had some great tales of dates with Mick Jones and spending the day handcuffed to Sid Vicious and how The Slits began… Can't wait for her book to come out next year. And talking of books, I met up with TV Smith for the first time proper since 1988, when (ironically) Rhys took me to Leeds to see him play a gig with those nose picking punks, Blitzkrieg. Had a bit of a chat and felt compelled to buy the first of his punk diary books, having really warmed to his quest that was shown on the Punk Britannia documentaries recently.

Back into the mix, I sought Haight Ashbury (pic above), who were an unusual inclusion, which is why they call it the Bizarre Bazaar Stage. I've seen the name knocking about in the mags, and they'd be more suited on Marc Riley's 6music show than at a punk festival. I stayed with the sparse audience for one soothing song.
I caught a bit of Case, remember their Wheat From The Chaff legendary single and also the jungle drums used to beat loud of the legendary live performances. They also had a brass section as they blasted out an energetic and frenetic set.

Had to grab some sleep and grabbed the girl and headed back into the mire of The Cravats, where jolly giant front man Shend (pic above) was telling the throngs before him that Steve Hillage would've been proud of that song, also caught their first single Garden and look forward to hearing their live set on (spook!) Marc Riley's show on Monday. Shend gave me a I Hate The Universe badge…!

Didn't have a fat cats chance in hell of getting anywhere near the Acoustic Stage to see Nick Cash of 999, the area was as full as his shirt! So, with weary legs we settled ourselves amongst the old farts on the balcony of the Empress Ballroom for Ruts DC. Now my old mate Malcolm, God rest his mushroomed soul used to play Different View over and over while we sat in his herbal fume filled caravan, it was amazing. Alas those days, like Mal, have long gone, and I pulled the album out a while ago and it sounded dated; like eighties dub reggae, which is exactly what it was. So I was anticipating a similar show, and with some trepidation, of course, the Ruts too lost a Malcolm and things have to move on, which is what they did, they played Conquerer and then emphasised the need to leave the past behind with One Step Forward. So nestled in my seat and expecting a night of reggae, when I heard that opening bass line of It Was Cold, it was totally unexpected, and I never ever thought I would ever hear this song played live by The Ruts well, most of them anyway. It was a revelation for me. Next song was dedicated to Smiley Culture and victims of wrongful arrest, combining a reggae version of SUS into it, nice touch. Then it all started coming out, and when you consider The Crack will be there in the Top Ten of any punk's album collection, we were about to gorge on a feast cooked up by punks finest chefs… Back Biter, Staring At The Rude Boys, Love In Vein, Jah War, West One, Babylon's Burning, In A Rut – superb, top drawer, thank you so so much!!

Totally stuffed after that feast of punk rock we found a little space for pudding in the form of Vice Squad (pic above by Duesy), who dished up Sniffing Glue, Latex Love, Naughty Girl, Out of Reach, Punk Rockers in machine gunned succession. Bassist and ex-Stuntface maniac Wayne, looked out at the thousands before him and said, 'Whey-hey! It's like being in a band!' Sporting a new girl drummer who knocks spots off the previous ones and addresses the male-female ratio of the band, they later agreed that this was the best Rebellion gig they've played so far, for both their own performance and crowd size.

All punked out, I took the girl back to the hotel, before rushing back to satisfy my greed and need to soak up Subhumans, again at the Olympia. Had to queue to get in and edged to the front in time for It's Gonna Get Worse, which, mainstay Dick Lucas admitted he was glad it is still relevant today as it was when it was written, as he'd have nothing to moan about and would effectively be out of a job! Subhumans performed the rarely outed Cradle To The Grave in it's 12 minute entirety, was like watching a prog band! Ha ha! Then, like Vice Squad, we got a rat-a-tat-tat quick fire of blasts of This is Not An Advert, Peroxide, (the new) Thought is Free, Subvert, Mickey Mouse is Dead. Great to see this genuine and approachable punk band again, and they ended with the still stunning Religious Wars.
The PiL queue was 5 wide and about 500m long and they had been on for 20 minutes already, so I headed to the Arena where The Real McKenzies enjoyed the fact that those who couldn't get in next door were happy to be entertained by these kilt wearing twats, hell bent on telling you Loch Ness is where you belong. This is punk rock highland flinging, songs written by bastards for bastards, 'Sing with me ya crazy bastards.'
It turns out John Lydon had a pint of piss thrown at him as the punks were feeling frustrated by the show. On receiving the unwanted bodily fluids he said, 'You wouldn't be here if it wasn't for me.' In hindsight, the assailant should've thrown a block of Country Life at Mr Lydon, for without the butter PiL wouldn't be here either!

Going back to the hotel on the high of Religious Wars would result in being hyped up all night and unable to sleep, so moseyed on down to the Opera for a bit of The Only Ones, more out of curiosity than anything else. They were late, but it was nice to sit down in the stalls. Despite getting one of my best pics of the weekend, it was also one of the flattest performances and even flatter vocal. I guess they are the original flowered up indie band – post punk pop before it was invented. They played You Better Move On, many did, King Kurt (main pic & below) were calling, and as one of those bands I missed during that mid-eighties psychobilly blitz, I had to make sure it didn't happen again, and mustered some final drops of strength and entered Zululand. It was Hey Bo Diddley and all that, Horatio and you forget some of the absolutely brilliant songs King Kurt wrote. Remember those full page adverts in Sounds and NME 'King Kurt's BIG COCK is Coming!', remember The Fenland Bow Decoy – probably the greatest instrumental ever written? No? Well, take it from me it was ace. It was all slam dancing ahoy from here on in! Careful boys, those bones get brittle with age! Bollocks to that, I'm going to gather my limbs cos Jesus will save us all from our sins. Ace.