(review n pix by neil crud)


Y'know what, it's great to be able to shake off a hangover with a cooked breakfast, grab a shower, brush a peg or two and wander down to watch some blistering punk rock at 1pm on a Friday afternoon, and not a welly or a field full of mud anywhere to be seen. What a great idea NOT to hold this festival knee deep in shit.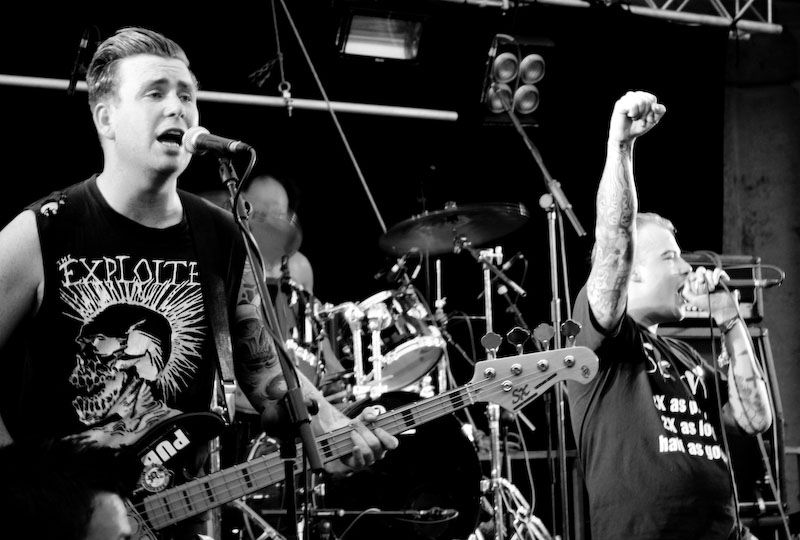 Skurvi (pic above) must've impressed the organisers! They were on the new bands stage yesterday, and today they opened up The Olympia! Mainly because Avondale 45 didn't make it here. They sound exactly like South Wales' reprobates Viva Kinevils. 'Three cheers for alcohol' shouted the vocalist, who admitted he was pissed already. A young lad was twatting fuck out of his guitar and it also had a Cockney Rejects vibe to it. Had a great sound, loved the song Brits On Holiday, which is what they were, coming up from Brighton. Skurvi inspired me to cajole some ear-plugs off a kind hearted barman. (website).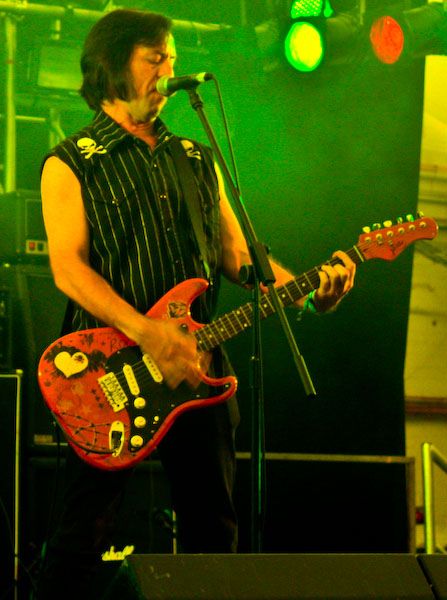 Without further ado and before you could say Derita Sisters, they were playing on the adjacent stage in this big hulk of a venue (pic above) – no need for turnarounds here – two stages = relentless music. It was US old-skool punk by numbers from Santa Barbara, which was so loud that even with my ears plugged, the thumping was sending my whole equilibrium sideways! Tracks played included Remember Me and Turkish Prison. (website)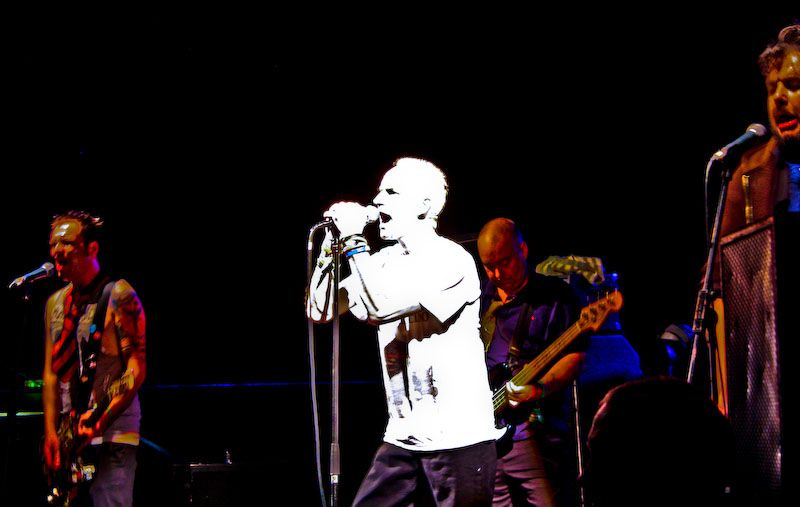 Time clashes meant I only caught the last 2 songs by Dipsomaniacs at 1.45pm in a heaving Arena, again, it's amazing when you consider the hangovers galore. I guess the lazy fanzine writer of old description would be 'good tuneful punk,' and who am I to argue or even elaborate? One does wonder if these guys and us guys will be here in 10 years' time – we are, after all an ageing generation. Thankfully we have and are passing the baton down to our kids; those who are not sucked in by the sparkly shit of modern day TV and manufactured music. It's sad that if it ain't got Nike emblazoned across it, the kids don't wanna know, and that when they did riot last summer, it was to nick designer gear rather than as a protest against our shit government, bastard coppers or even x-factor. Pricks – chav fucking pricks.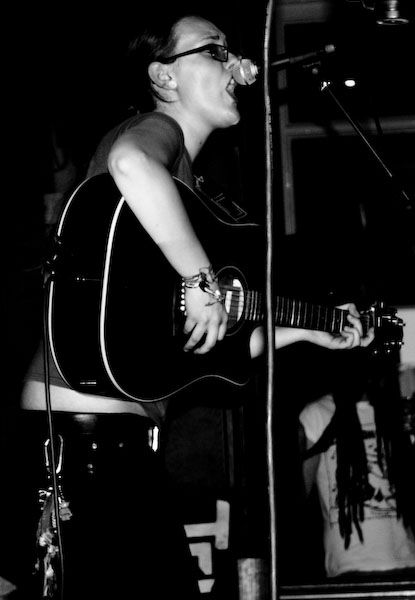 Emma Hallows (left), was already folked up and screaming by the time I reached the Almost Acoustic stage. Well ok, not so much screaming, but, like yesterday, she made for a welcome respite from the life threatening onslaught that has passed and the body burying carnage that is to come. This is why this stage is important for those poor tortured souls who just can't take it 24/7 – that's why my very eclectic iPod is always on shuffle! And a song or two from Emma's folk-punk repertoire would not go amiss amongst shuffled delights like GBH, Discharge etc.
Having gathered my limbs I hopped back downstairs to The Olympia to catch Last Rough Cause (pic below)

I was greeted with a bit of a singalong style Place We All Go,  then Home Is Where The Heart Is, which is almost pop music! You used to read about these bands in the zines, and a little research confirms the fact they've been knocking around since the early 80s, and the fact I had heard about them from those days shows how bands had to do real networking to get their name around. Pre-internet you had to choose your purchases wisely and rely on the literal wisdom and the musical taste of your favourite zine writer before taking the plunge. Always remember The Instigators and Political Asylum being in every fucking fanzine I bought! It's easy now to download, or stream a song to find out what a band are like – too easy actually, very little investigative qualities required anymore – here,  try Last Rough Cause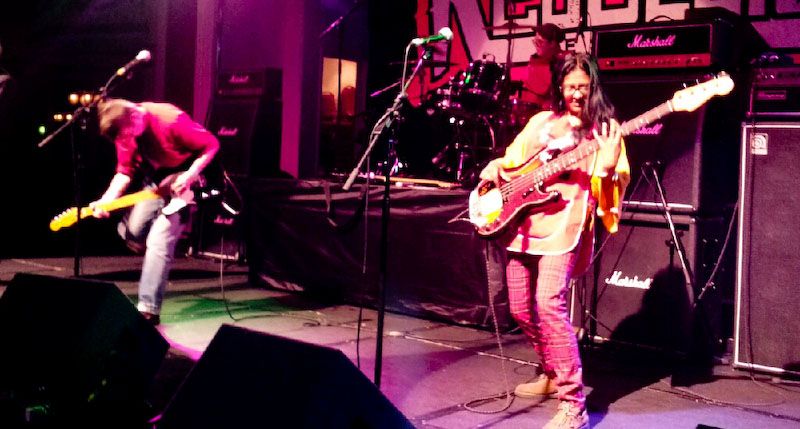 Opening the Empress Ballroom today was Pete Bentham & The Dinner Ladies (pic above and Marigoldy on bass in main pic) – and I went along on account that he is a virtual friend of mine and I see his updates pop up on Facebook. And being a Scouse / Widnes band means we're practically related! Two old boys and two young girls hit the stage and play Boys In Magazines – this is protest rock 'n' roll and it's ace and it's by a ramshackle ensemble. Pete has plenty to say/sing – remember when protest belonged to the hippies, but now everyone can hope for a new way of living – power to the people – a scouse Wolfie Smith! They played Work and the next song was Che Guevara Thing complete with Free Pussy Riot banners – I later went to introduce myself to Pete; we shook hands and he ran off – now that's what I call proper dinner time rock and roll.  (website)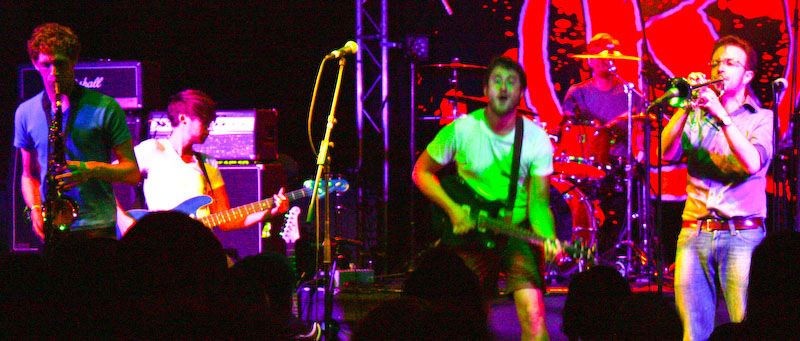 With Manic Tiger out sampling the Primarkial delights that Blackpool offers any young shopper, it was up to Dave Cox to lead me down the golden path of fizz fizz bang bang lager abuse. To balance the issue I led him down to the deepest recesses of the Arena to witness some hardcore ska from Norwich in the shape of JB Conspiracy. These clean living looking young guys can fool you into thinking this is going to be some student nobheads trying to convince you they're in it for real. I've their album for about 3 years and believe me, they're in it for real. More ska than punk, more punk than ska. Great drummer. Dave enquired as to whether it was the old bands not getting any better or the new bands being even better. It's hopefully the latter – it certainly is in this case. (myspace)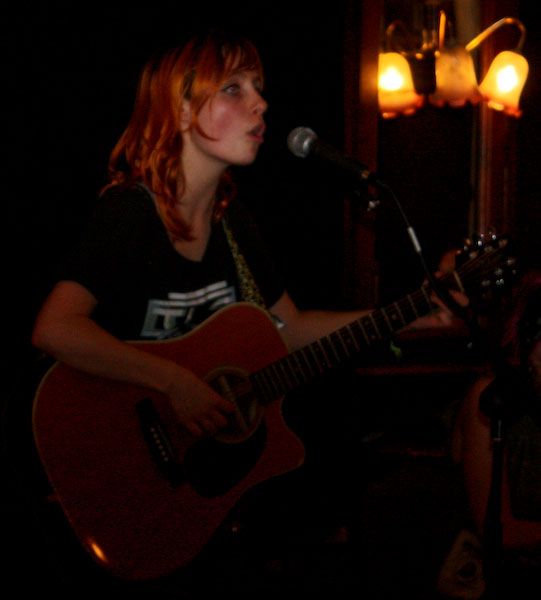 Ren Spits At Magpies is an acoustic folky set of girls bringing light relief to the ears but with a bit of politics chucked into the mix as well to pique the brain. Unfortunately my brain was seven sheets to the wind by now and unpiquable, but still, it was good to sit down and chill as they strummed along.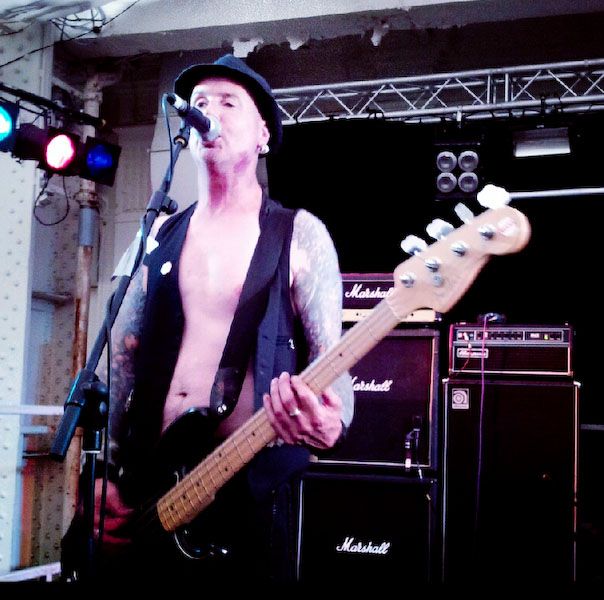 We got so chilled that we nearly missed ex Instant Agony bad asses Bite Back cook up some immediate punk rock, and quite strange seeing Hocky playing a bass rather just shouting at you! Are there no ends to his talents?!
No Imagination, was followed by a cover of English Civil War, now to cover a Clash song is like stepping bare foot on sacred ground strewn with broken glass, but they pulled it off, playing it how you'd imagine the real deal playing it today. Other tunes included, Take The Money and Run, Ignore All Those Fools, Open Your Eyes (to a tearful world), Bitten and Twisted, which is the title track of the forthcoming debut album by Hocky, Rich and Rob on Antipop Records. (website)

I must apologise to The Mob, but more so to myself for giving the Tories so much money today in duty tax on alcohol, thus rendering my memories of their set pretty damn useless. I'm kicking myself as I vowed this year to remain in a condition where I can at least recall the enjoyment I had… Last year, I loved Anti-Nowhere League, GBH and I think I actually shed tears of joy during The Damned… but can I remember their sets..? Can I fuck… And I'm afraid The Mob fall into that 'can I fuck' category. I remember the emotion, it was good, I had forgotten how good they are – it was moody punk for moody people – a big fucking A+ – miserable sods 'I wish I could fight, it must be fun to die.' and yes, no doves will fly here while The Mob are around, they did go ahead and make my day… I think. (blog).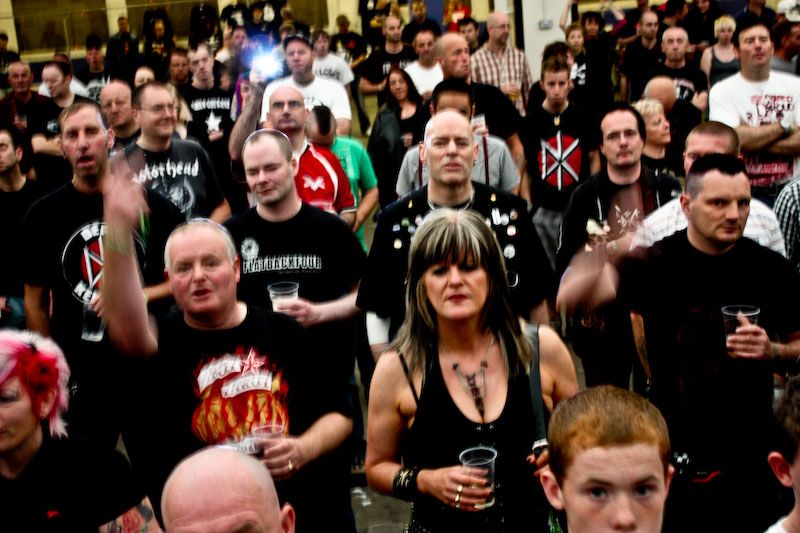 Any more beer and I'd be pole dancing or bumping into TV Smith and moidering him while he's trying to rush around having been held up in Frankfurt, so I headed back in the direction of the pad to grab some strong coffee and the girl.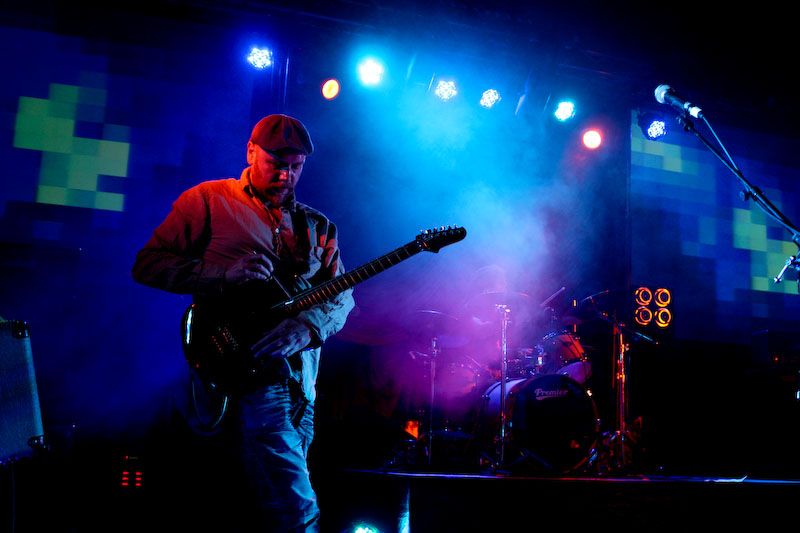 Where The Mob had left off at The Pavilion, psyche-rockers Here & Now (pic above & below) carried on, as we waltzed past only to catch a whiff of their hypnotic tones. This rendered our appointments with The Stupids and Sick On The Bus null and void as we were drawn in by their lysergic throbbing sound. It's space rock for the punk-hippy-crustic-types… of course I was drawn, it made me ponder the question of reforming Sons of Selina, there again, we would've probably only pulled as many people as Here & Now did. Love it…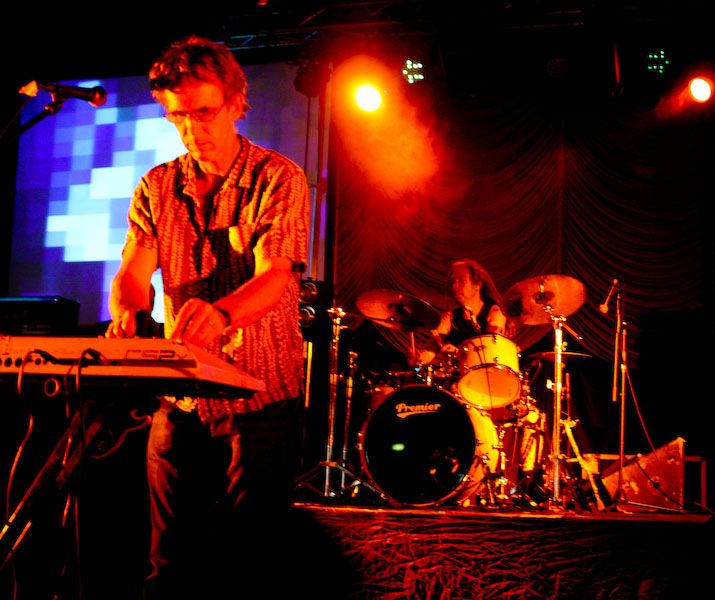 Peter and The Test Tube Babies (pic above) I'm led to believe actually played at a Scooter Rally in Beaumaris (Anglesey) a coupla months ago, and I did consider going along with 12 year old Dex in tow, until I recalled some of their songs with subject matter of screwing the arse off you, up yer arsehole, I like to find some shit I like to tread in it and so on. There again who am I trying to kid! I had their album Pissed and Proud when I was about that age!
The Arena, as you'd expect was fucking rammed! And the stairs at the top was as close as we could get to Peter's ever expanding waistline. Moped Lads, Run Like Hell, Jinx, Up Yer Bum, Never Made It To The Bog On Time, My Lucky Day, were all being rattled out with sniggerish teenage boyish willies and bottoms toilet humour. (website).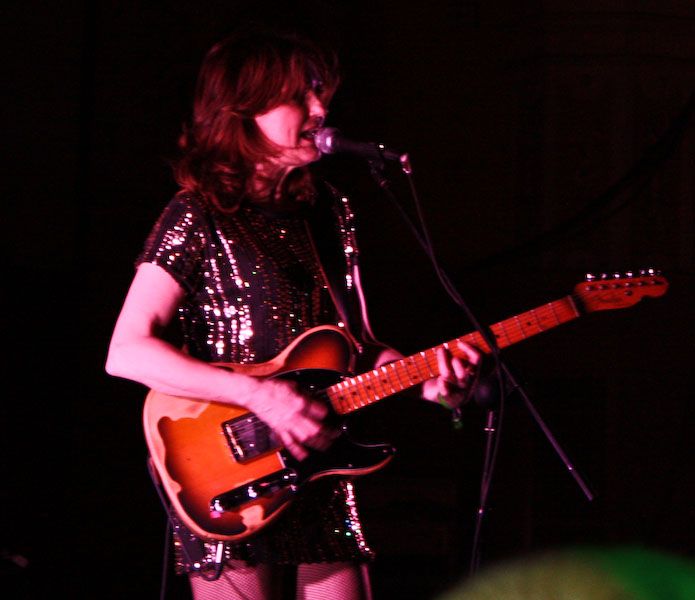 We left Peter to fiddle with his tubes at this juncture to seek out ex-Anhrefn svengali Rhys Mwyn, who, having saved the Welsh language from the Welsh bigots, invented Cool Cymru and sought new life and new civilisations with the Crai label, can now be found catering for the needs of ex-Slit girl Viv Albertine.
I saw Viv play in Bangor nearly 3 years ago and also do a talk at a punk exhibition where she scared the shit out of me. She slayed someone bloke who disagreed with her over The Clash during a Q&A session, and I mean *slayed* – she then publically hanged, drew and quartered Efa Supertramp at the gig when the 18 year old got a bit too close for comfort with some remark. On those two counts, I've always been scared of becoming No.3, although I can't possibly think of anything I would say that would offend her. With Anhrefn Records over here and Thurston Moore's Ecstatic Peace label in the US jointly releasing Viv's well-worth-getting-hold-of EP 'Flesh' – you'll find her popping up to strum that battered guitar to sing you the excellent I Don't Believe in Love or the uncomfortable (for some people) Never Come.
Having been there since punk's Year Zero, Viv has a tale or two to tell and you'll have the opportunity to read about her Slits days and further more when her book comes out next year. Will it be called 'Confessions of a Milf' as the t-shirt suggests? (website)

One band who seemed to be making all the right noises in all the right places were The Restarts – by the end of this long weekend, there were more Restart t-shirts and more jackets emblazoned with their logo than any other band. I saw them headline The Dirty Weekend in the Dudley Arms in Scummy Rhyl 5 years ago in front of about 50 people – tonight we couldn't get near them; shall I use that phrase again? Fuckin' rammed! So pleased to see a band who work hard have their dividends pay off. You could see they were buzzing, and I too was buzzing for them. Pure DIY punk rock – fast – angry – but fun too… (website)


Lost Cherees were on next in relentless succession – I remember them from the Peel days (who played them a lot) and early Mortarhate Records releases – they gave us a nice mix of boundary prodding anarcho-punk and a smattering of reggae (website)


A quick look in the Acoustic Bar at The Dirty Folkers play Like An Atomic Clock and At The Bridge – they are Vice Squad in acoustic form. 'We were shit,' Wayne (bass) – they more than made up for it the next night.
Without further ado we were back at the Olympia to witness Conflict. Walked into the tones of Tough Shit Mickey (it's a shame about that mouse) – fucking loved this band – when I was 17 my landlord knocked on my flat door to say people 3 miles away were complaining about the noise – I was playing Increase The Pressure at full volume – 'Noooo, there's no fucking way… that anything's gonna change.' Colin Jerwood (pic above by Dues Duesbury) was right, nothing did change long term, and nothing was gonna change after tonight, there'd be no rioting in the streets after their set, Bella Italia across the road isn't going to get it's windows smashed in anger. We have grown up and accepted the system is always gonna win and no matter how many flyers you paste up, how many speed cameras you hacksaw down, how many animal labs you liberate, how many MPs you shame out of office, the system will always win, because da kidz only want Nike trainers n iPhones innit..!! Our society has changed so much since those early Conflict / Mortarhate days – there is more to hate today, but it's more directed at the way society has become. Directing your anger at the government, the police, the establishment isn't going to change the sub-species of brain donors living on hand outs and Jeremy Kyle appearance fees, tattoos of their one night stand child's name on their necks, stealing off their neighbours off their grannies, thinking reality TV is actually Reality. Fucking hell I'm getting angrier writing this than I ever would at a Conflict gig! The Battle Continues… The music? The set? Did we come to reminisce? Did we expect a greatest hits package, 'Thank you Blackpool, you've been a wonderful audience…' – No, don't be silly… (myspace)

We did a couple of Pirahanas songs in the Opera, like others, just so we could rest our weary feet! A little light entertainment Tom Hark! after the chaos of Conflict. There's only so much cockernee chas n dave rabbit rabbit stuff you can take and we left Atilla The Stockbroker to skank the night away. And talking of a good knee up mother brown's how's yer father, Vince Ray & The Boneshakers (pic below) let us finish the night off with some mighty fine mint condition rock-a-bill-bill. Took me back to all those psychobilly bands Wayne The Bastard used to drag me to see like Guana Batz, Meteors etc. This was real rock and roll, a real Boneshaker Baby.