(review n pix by mwj)

So what do you think it's going to be about? Does the subtitle Freak Friendly Extreme Musick Open-Air Festival help? And whereas with the recent Hellfest I could say to the little initiated that they may well have heard of Megadeth, Guns n Roses, and Ozzy the heavyweights of grind and death here like Origin, Nasum, and Asphyx etc. have not really troubled the wider un-consciousness much. I guess you best brace yourself before you dive in, repeatedly…


Now into its 14th and arguably biggest year the last few years line-ups had been drawing me in like a fishhook in the eyelid, this year the compulsion too much to resist and spoil myself with another European adventure. And in relative festival terms this was not going to break the bank either, with a bargain 40+ euro price for 3 days and 60+ bands, budget flight to Prague, and the knowledge that the essentials of living over there (alcohol, mainly) were also dirt cheap. Arriving from Manchester on Tuesday evening had been pre-guided by some Leeds friends who are regular attendees to a handy apartment block with "Hells Bells" basement rock bar literally round the corner. Once all had got together here the levels of usual pre-festival high spirits were soon flowing like the river Bozkhov and even though some of us attempted to pace ourselves by swimming off in the early hours the punishment had definitely begun in earnest.
The next part of the expedition saw a three hour rusty train trip (for the equivalent of about £6) up through the lovely Bohemian countryside to practically the Polish border, some time to catch 80 winks on that. Nice and sunny on our arrival in a town smaller than Wrexham in size, again our companions had pointed us on the way of the cheap but quality hotels in town as opposed to braving the camping this time, enabling travelling light and a welcome bolthole from the chaos. Supermarket stocking of supplies, more rest, and then 15 minutes up the hill to "The Battlefield" (it was in the 17thc.) and our entry into the arena. Set in a wooded park with a natural auditorium with a multitude of benches semi-circling the single stage, it's striking just how small it is compared to some of the sprawling Euro-fests, with all the facilities suitably convenient too. And tonight is the second round of warm-up in the on site bars and fantastic food stalls, to classic tunes and with genuwine sado-masochist abuse and trolley races going on in the corner of our eye, while the introduction to local delicacies Absinthe Lemonade and Bezherovka bring tears to them. Next thing you know it's a staggering 4am and really should have paid more attention to the route out of town as am close to being resigned to a night on the streets before the hotel is regained and collapse achieved.
Completely unrefreshed make it in for the "late" (2pm) start of the first proper day with some bands at last. With this being a somewhat niche festival it was always going to be hard to draw massive distinctions between the levels and styles of extremity with the constant stream of bands presented. Still, even on my pre-festival trawl through all the obscurity (and with 40 countries represented there was definitely some obscurity) I hadn't heard before I was able to note how my tastes were more about one element or sub-genre than others. But it was still a pleasure to just sit or stand and take things as they came as well, not just the musical onslaught but the hilarious nihilism of the 1000's of grind freaks gathered at this mecca. The stupid outfits, the blood and gore, the various states of nudity, the relentless stage diving and pits, the rain showers that produce enough filth to add to the mix, it lives up to what it says it does on the tin. And while this might horrify or discombobulate any innocent passer-by it is just pure unadulterated fun for all who knew what they were in for, though I can't deny jaw drop and head shake disbelieve at some of the sights myself!
It is centred on the music though, eh? Czech's start things of great with quite a groove to their goregrind, and ultra pig/grunt squeal vocals, and all clad in their chemical suits. Germany's 5 Stabbed 4 Corpses were a late addition and their goregrind has more of a bounce and a guttural attack, soon to be seen at Blastonbury in Leeds. Hardcharger had trekked from Canada and were an interesting and appealing contrast with almost Zeke-like punk intensity topped with roared crust vocals. Splattered Mermaids from Sweden were pretty raw and low-fi sick grind, while another last minute fill-in, the Czech's Eardelete were sharper in their grind onslaught but robbed of a bit of impact through poorer sound. Early rain was dried off in some strong sun later and the choice was either to chill on the benches, head up front, mooch the merch or drink and eat in style. More crust with Von Boom, they retained a good deal of melody to their punk too but the sound was lacking balls really. Jig-ai are held in high regard for their blasting onslaught and general extremity but with a fair dose of black humour thrown in too. When the rains came it was in torrential showers but you could still shelter under the trees around the arena and the strong sun soon dried you out. Sweden's Splitter kept up an impressive level of grind intensity, with a nice filthy guitar mix too. Malignancy from the US were stripped down guttural slamming death metal but didn't really hold my attention much. Swedish crust legends Wolfbrigade may have evolved to be more melodic that their previous incarnation Wolfpack but it still definitely hits the spot for me, all the swe-death HM2 distortion you can chew on and good shout along melodies too. Next up the monstrous Suffocation, although hearts drop that front man Frank Mullen is once again not in the house, I am obliged to stage dive hand-a-chopping in his honourable absence. But their brutality remains undiminished and the breakdowns are like an earthquake. Great to look back from the front and see the now full arena lit up and beaming in the night, although even now I would estimate there would only be 10,000 maximum. The killer finish to the evening continues with Cephalic Carnage though their more experimental tech-death approach lacks a bit of impact sound-wise, noticeably with the should-be-fatal break down riff from "Lucid Interval". The last of the US headliners is Origin, again unrelenting hyperspeed death precision, with a new vocalist since I last saw them, a bit more amiable than that pit bull, especially when coordinating stage invasions and a piggy back wall of death! They provide a fired up close to evening at the relatively early 1am and it's moderately easier to return back down to town that night.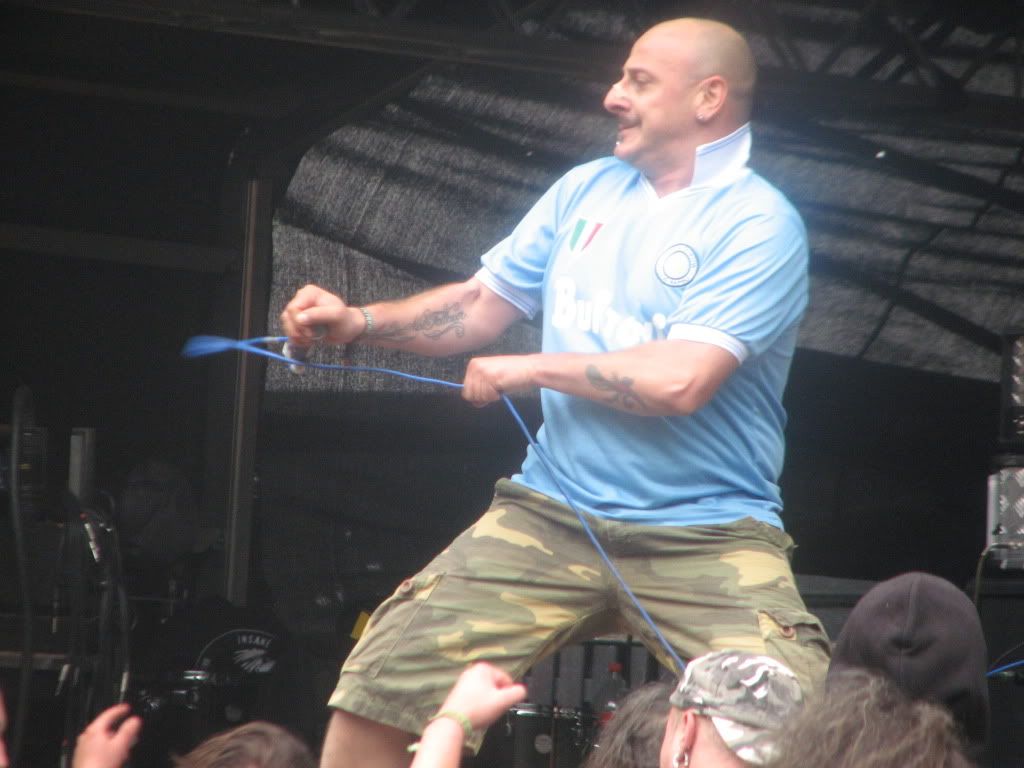 Have to negotiate a hotel change in the morning which means miss the 10am start of two 17 hour days/nights. With one stage this is a really non-stop attack and with the close-in environment it's a quite a different vibe to the wider wanders of other multi-stage festivals, there's no escape from the battering! The world-wide-warped family is well represented today, as first we have the tight grind of Italy's Buffalo Grillz, with an entertaining vocalist prone to breaking out the machine guns. Creative Waste are maybe the first and last band I'll see from Saudi Arabia, but leave good memories with a harsh grind set. Testament as well to their own struggle and courage against a much more actively disapproving home regime as well as the wholesale inclusion and support that this festival offers as a focus of support to the worldwide scenes. And who knows when you'll get to see any Equadorians again as even though death metal veterans Ente have been in existence since the early '90's the opportunities to get over here are presumably not frequent. Argentinean's Social Shit are a bit rough and ready, and while I hadn't expected much from Brazil's thrashy Andralls they were a much heavier proposition, especially with the Cavalera style vocals. Turkey's Sakatat were much enjoyable early Napalm style grind, picked up a 7" from them and shared Propagandhi love. I also had to buy M.40's new CD being released there and then with their set, as the Swede's really impressed me with their progressive crust, mixing up the usual d-beat battering with more drawn out heavy section, taking me back to good old, old Cult of Luna days. Germany's Wojczech upped the tempo and harshness with more tight metallic grind before we were treated to an explosive set of hardcore crossover grind from Weekend Nachos of Chicago town. Loads of energy on stage and loads join in. Keitzer are incredibly solid with punchy grind and yet another of the eye and ear openers offered here where I think to myself many these bands I am being introduced to I need to check again, live and recorded.

I thought I'd seen a peak in goregrind party madness with Rompeprop at Hellfest but Czech's Spasm definitely provided a hilarious rival. No guitar, just fat distorted bass and a 20+ stone front man in a mankini, classic simple sick song titles and it's entertainment all round. A more serious proposition with Belgian tech-grinders Leng Tch'e next, fierce and fast with their Canadian frontman pretty engaging with the crowd. A Singapore double header next with first Demisor representing the old school with a 20 year career but not seeming dated or simplified at all, a real nasty distorted early Napalm feel, and an obvious influence to the next generation with current champions Wormrot. Relentless touring of these past few years has turned them into an incredible sharp but still feral unit, and it's suitably wild on stage for them too. A shift in style with Benighted from France next providing some tech death metal but with a level of extremity at times that veered into the black, especially the vocals. Late rain with no chance of the sun after to help you this time meant I took the opportunity to bail on Discharge (having seen them recently anyway) and shiver watching them on the screens in the beer tent where it was relatively warmer. Loads of flyers around demonstrating just how often all-dayers and mini festivals for this kind of extremity are set up over here, so many temptations on the plate. Energies recouped returned back out for a second chance (after Hellfest) to see the farewells of Nasum. An extended set, all the more time to enjoy the ferocious heavy grind, and appreciate the memories of these quality songs. The reason they had more time was the unfortunate last minute drop-out of US gore-lords Exhumed due to a death in the family, this did leave a disappointing hole but the war machine swept on regardless as next it was Vomitory providing a similar vein of thundering death metal. Energy reserves were sapping none the less (or being overtaken by the cumulative consumption) so while I caught the start of the chaotic Dutch power violence from FUBAR who I'd seen before in Liverpool a while back I had to retire to the warmth of the hotel and miss the last 2 hours.

With some vague concept of pacing myself had missed 6 bands by the time I strolled back in at 1pm on the Saturday, to see the wonderfully monikered Cocklush. A bit ropey though, the goregrind from the Bulgarians but things sharpened up with Tools of the Trade from Malaysia, raw and almost thrashy with their grind . Germany's Sanity's Dawn were impressive too, more metallic grind with a wild eyed and furious vocalist throwing himself around the place. Blood I Bleed from the Netherlands I didn't realise till after that I had heard before via a split with FUBAR I had picked up, while the music was quite tight the vocals didn't match up to them. There was a bit of retro punk from Sweden's Bad Dreams Always as way of contrast before legends who laid claim to no doubt a much coveted name, Dead. Playing proto death/grind they definitely had gained bit of polish and delivery to their performance over their years. The absence next of Sublime Cadveric Decomposition wasn't so bad for me having seen them in France and also led to the pleasant surprise return of Jig-ai with another set in replacement. Again, summing up the informality and mutual support vibe going on here. Some ultra guttural vocals puncturing a tech death work out was Internal Suffering's set, sharply contrasted with some electro-folk version of "The Birdie Song" that kept the mosh pit / stage dive party going unrelentingly in the intervals. Lovely sunshine created the prospect of Extinction of Mankind and another chance to hear there metallic crust pummelling, but for all the (hungover) passion in the performance the sound was not the best for them. Demonical delivered definitive Swedish death metal, very satisfying too with a phenomenal roar from the vocalist, and Spain's Looking For An Answer are also a spot on revelation with their structured heavy grind, must be followed up. Houwitser were another late replacement but pretty solid in their stripped down and bouncing death/grind, and there's not a great deal of change in substance or any less enjoyment with Blood (another well grabbed name), though they throw some even rawer elements into the meat mincer of their sound.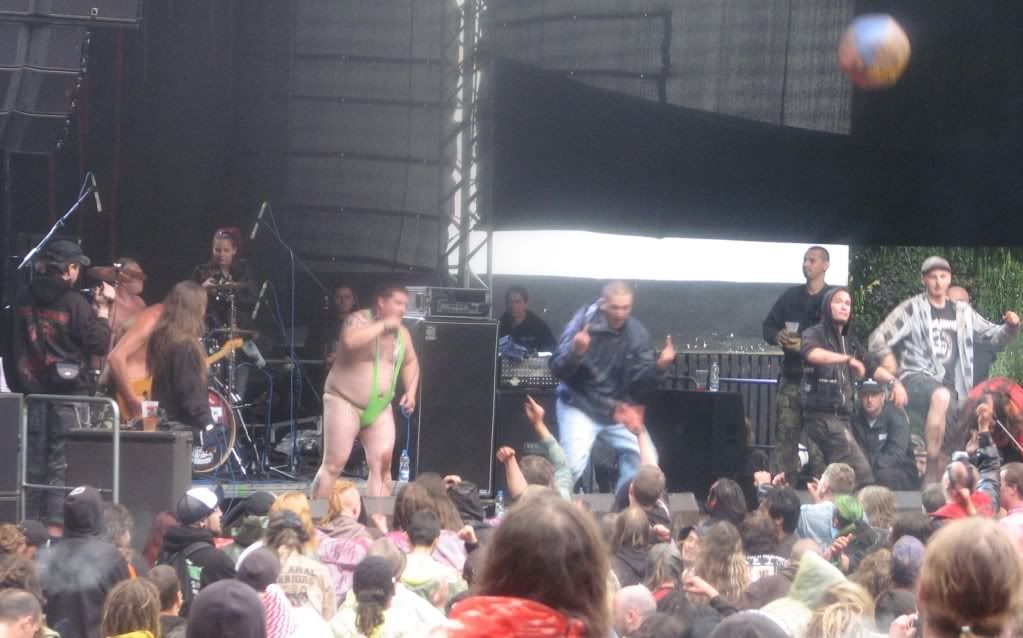 Into the main events of the evening now and I'm motivated stagewards by the furious grind of France's Blockheads. Had seen them once before and picked up their "Shapes of Misery" album in the meantime and it was a great performance almost touching ENT territory in pleasurable chaos. Remain in the heart of the darkness for Asphyx next, again despite seeing them recently I was thoroughly taken by the moment and swept away on the rolling tides of martial death metal, just as the apple doesn't fall far from the tree, the shell case doesn't fall far from the Bolt Thrower cannon. Another stunning initiation next with Yacoepsae, Germans who I'd heard much hype of previously. But when I'd been expecting some fast blasts of intense power violence I wasn't so prepared for the crushing heavy vibe that ran through their sound too, still with the precise chops and changes though. Excellent stuff. A chance next to see a legendary name and possibly just as large personalities (a line-up had weighed over 90 stone at one point) with Poison Idea. From up front first I was struck with Discharge similarities, in as much as it was bit of a static run-through performance but when I sat back and savoured there was an insistent beat to their punk that drew you in. On to the end now and fortunately the last bands were interesting enough to keep you going. CAD where a real up-tempo punky drive with rough metallic tones that really represented something different to the festival mix (and a great lady bassist), while Into Sickness from Mexico brought lots of energy to their slot with regard for the time, blasting grind with death breakdowns. One last minor disappointment as we didn't get to see closer Bowelfuck as they'd withdrawn, much as I would have liked to say I'd seen Bowelfuck. Lo and behold, Blood filled their void with another set but I'd had my fill so to speak and was more than satisfied.

Leisurely train back to Prague the next day in excellent company and then the briefest of mooches around the beautiful city before the return flight. Left with the simultaneous satisfaction of time well spent and the urge to spend so much more there, if getting there is the only hassle I can't recommend enough the whole atmosphere and experience enough. The musick might not be for the masses, but the freaks are united.