(review n pix by neil crud)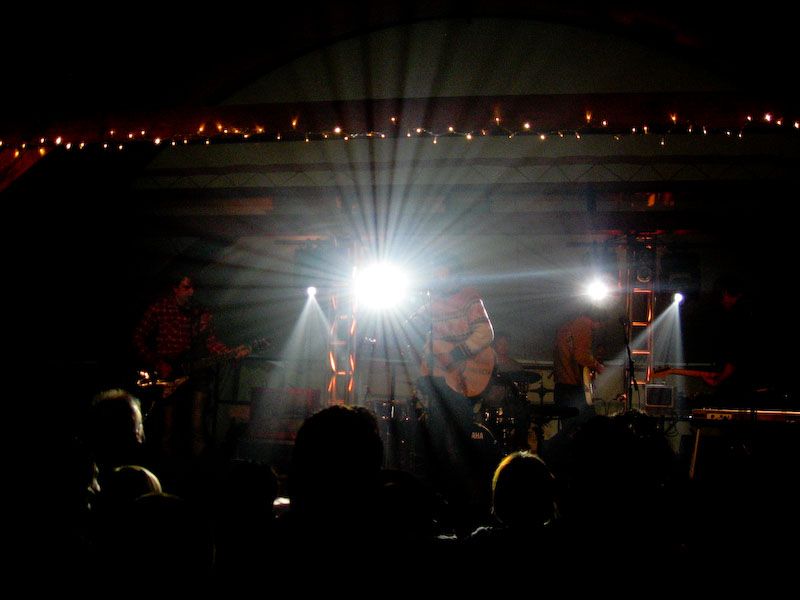 I may have an aching body but I have a cleansed soul after returning from one of the best and eclectic outdoor festivals ever… and I've been to a fair few..!
You have your rock festivals in Download, indie-rock in Reading, V Festival has become an X-Factor parody and the Wakestock line-up these days represents children's Saturday morning TV type rubbish. So to attract the correct clientelle in order to preserve this truly magnificent and unique village in one of the most beautiful parts of the world, the organisers had to pick their line up very carefully. Go Olly Murs and it'll be full of vomiting kids, go too Mad For It and you'll get dickheads spoiling for a fight, go too folky and you'll get a few casualties from the Seventies and little else. So getting the balance right was as equally important as attracting enough people to make sure the books were balanced too. And I think they were almost spot on.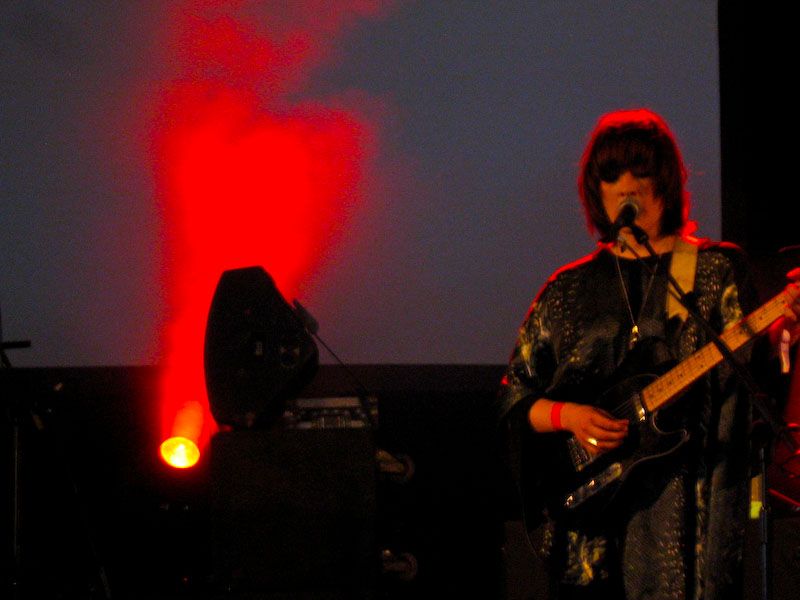 The truly beautiful and enchanting Cate Le Bon was handed the task of opening the main arena (Stage No.6) on the opening day to just ourselves, and on a day when most people were still putting their tents up, travelling here, still in work or not coming until tomorrow, you felt the worst for this poor kid who's toured more countries than your average squaddy. But her haunting-daunting voice drew the crowds in like a pied-piper as her opening quirky-never quite kicking in-song flowed. I have an album tucked away somewhere and I'll prioritise playing it as soon as I get back to catch up on these lovely, albeit fucking odd tunes. Cate and her band all look and sound like they've been brought up on Welsh mushrooms in a cave in Maentwrog, as she sings about sticking your belly in before she stabs the distortion pedal and lets rip. The bassist however, dressed in a blue boiler suit and a Deliverance haircut looks like a cereal killer… and he probably is… 🙂
Cate Le Bon's 'proper' songs are ok, but probably don't work as well the off-the-wall stuff, which is the attraction. She's is a bit Nico here and Jefferson Airplane there (where?) and a lot fucking good.
Being a veteran to the fine art of festivalling it's all about forward planning to ensure your weekend is not going to be upset by excess clutch burning in queues or by the need of a tractor to drag you out of a mud bath field or an inadequate tent, or excessive baggage, or being robbed, assaulted or arrested! You need to bear these and many other points in mind before setting off – although a lot of these can be offset by getting totally smashed for the entire duration, but the arrest / robbed risk by weigh in heavily and you will of course not be able to remember much of your experience!
OK, where are you gonna park? When I saw the park and ride facility I envisaged a slew of cars stuck in the mud and hoardes of people waiting for the coaches to bus them to and fro. Option – use local knowledge, network friends to park elsewhere (our option), park near an exit and/or revisit the car park on the last day and move your car to a more strategic position, use different transport and arrive and leave at different times to the masses. Everyone will think they're being cute by leaving on Sunday night after New Order as to avoid the Monday morning rush, but they'll get caught up in the queues. Option – stay Sunday night and leave VERY early Monday morning or VERY late Monday afternoon, or just say bollocks to New Order they only had one good song anyway and go home while they're entertaining 7000 people who don't feel the same as you do! We took the first option by the way!

Sounding like a terminally ill grave digger who's digging himself to death, the great deep voice of Huw from the much touted H.Hawkline (pic above) bellows into action after running onto the Welsh Rare Beats Stage. They all look suspiciously like Cate Le Bon's backing band, and other familiar faces through the day promote the fact that musical incest is still alive and thriving in Wales! H.Hawkline have had lots of Twitter hype and much lauding from those in the know and now, seeing and hearing them for the first time I understand why.
I've always been one to keep away from hyped bands and wait and see what happens; did the same with Stone Roses all those years ago, then go 'Oh yeah, of course!'
The H stands for Hype and quite rightly so. Wasn't Huw spotted crowd surfing at a Manics gig a while ago?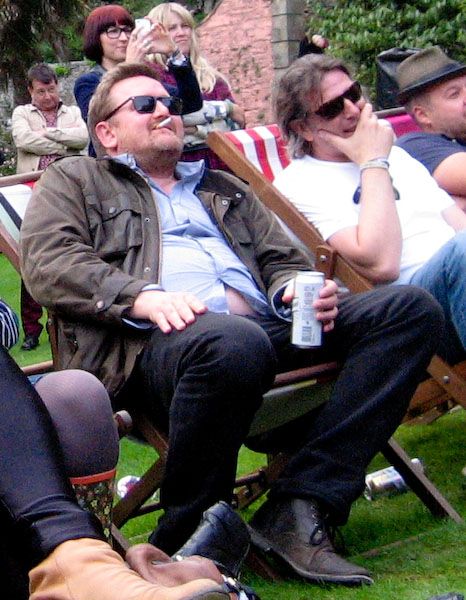 Festival No.6 has more to offer than just music and with the weather teasing us with never quite threatening us on this opening day, we could afford the luxury of being seated on the grass for an audience with the author John Niven who was being scrutinised by Caitlin Moran (both pic above). Both Twitter-freaks, they discussed the merits of Gout – crystals in your blood – diamonds in your balls and other such biological shortcomings. Having met John some 18 months ago, all that book writing, tweeting and shoulder rubbing has made him look fucked since our brief encounter! As the author of Kill Your Friends it was honour to have him read out the amazing and factual piece from the book about what really happens to an aspiring band's demo when it gets sent to a record company. The book itself is a semi-fictional story about an A&R man who fucks, murders and snorts himself to get what he wants out of the music biz and I highly recommend you get it. There's parts in there that'll make your jaw drop…
UnElbowed and doing a similar talk this weekend, and enjoying Mr Niven's accounts is Guy Garvey (pic above), I suggested he came over to the Welsh Rare Beats stage to check out some of the stuff, he smiled and said he would, while inwardly telling me to fuck off!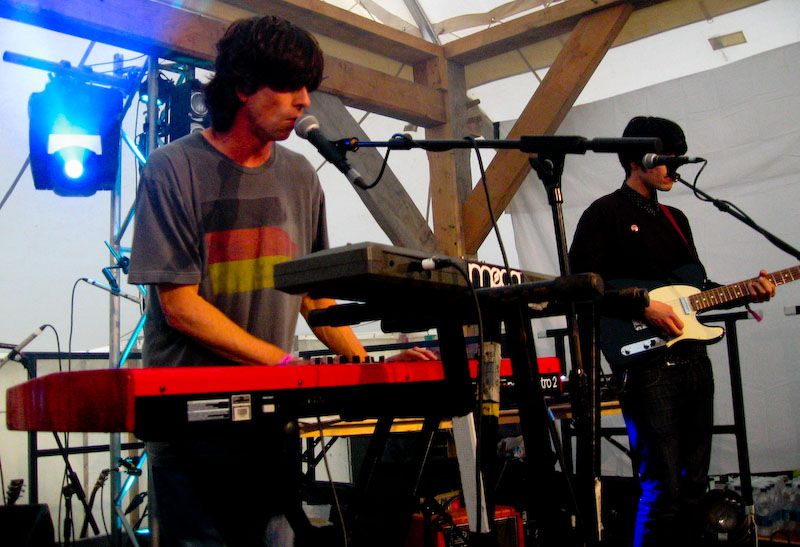 And with the emphasis on 'Rare' – ladies & gentlemen I give you Euros Childs. He's such a rip off of that 90s band Gorky's Zygotic Mynci ha ha ha! With a Scottish backing band, including a guitarist that looked like Macca (including the stance), Euros span out his excellent repertoire which seems to be the most quality filled and endless locker cupboard in the music industry. Every ivory key he touches turns to gold. And talking of keys, The Keys were a noticable absence from this festival and having the grace of their presence would have topped the weekend off nicely.

From West Wales to West Yorkshire in the shape of Richard Hawley on the #6 Stage – who's new album Standing At The Sky's Edge boasts a more rocky / psychedelic side to the crooning of Coles Corner, which was my previous Hawley investment – he blended the elements well tonight and was well received.
I only managed to catch the last two songs by Welsh Sain Records icon Heather Jones and 9 Bach only to catch Heather doing a hymn type song called Colli (Lost) – colli this, colli that… and she would've Colli'd the crowd hefyd if the whole set had been like that!
Also caught a bit of Zulu Winter on the outdoor iStage who seemed very Spiritualised in an indie-anorexic kind of way.
With Ted from Cloud Sounds and an Onion tolerating my company we took pole position to see Gruff Rhys (main pic) perform his debut solo album on the Rare Beat Stage – kicking off with the absolutely fan-fucking-tastic Gwm Yng may have been a mistake as it is such as infectious song, but the Bethesda boy carries off the whole set in his usual shambolic yet delightful way. Sporting a jumper that looks like it was bought in a Patagonian mountain store at christmas in 1986, he entertained us with tracks off Yr Atal Genhedlaeth. All the times I've seen him, he's never played the same set twice and everytime it's an honour, a spectacle and a joy. A girl tapped me on the shoulder and in her southern drawl asked me who the 'ace guy' was on stage – I told her 'it's that geezer from the Super Furries' – lots of whooping and a hollering proceeded – and quite rightly so..


That was enough for myself and the girl, we left on a high and left headliners Spiritualized (pic above by Scott Causer) to the masses, having asked myself over the last few weeks, 'Do I really like them?' – I still can't answer that question despite owning all their stuff. Jason Pierce did however entertain us from a distance and we floated off in our tent with the ladies and gentlemen. Scott and Maria (Northern Star Records) soon joined us half way through the set saying it was either self indulgent shit or he (Scott) was getting too old. Probably a bit of both and this was confirmed by Alan Holmes (Ectogram) who stated it was a bit like watching Pink Floyd indulgence.
Strongbow is a great inducer of sleep when all around you are partying into the night and put me in good stead for Round 2 on Saturday…