(review n pix by mwj)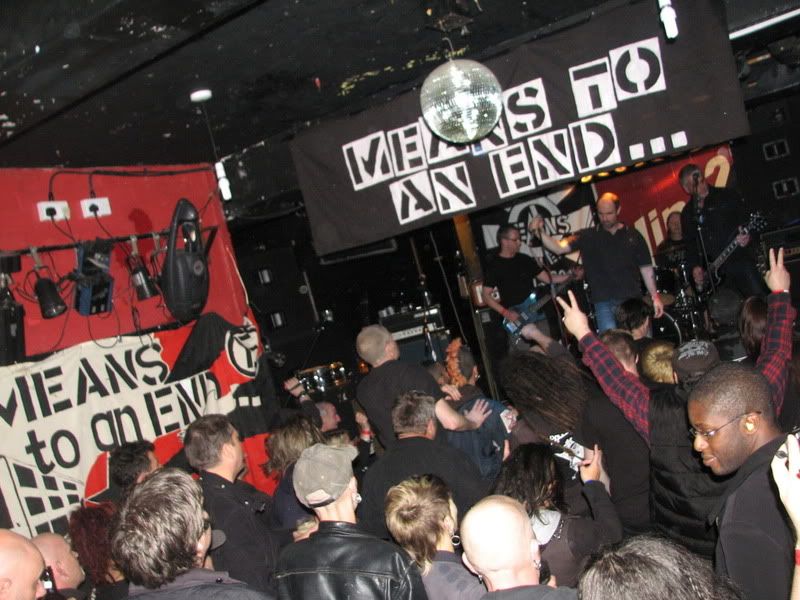 Many a connection between Brum and Bradford, the Asian corridor, members of Doom, they start with B… Unfortunately that connection also involves the M6 so I had a few stop starting, start stopping hours to contemplate this while heading up from the sounds of Supersonic on Friday to a dose of another annual weekender that happened to be clashing. Without the draw of Mr Broadrick I'd have probably done the whole spell up here as I just can't get enough crusty punk mayhem these days, and that's what's on the menu here.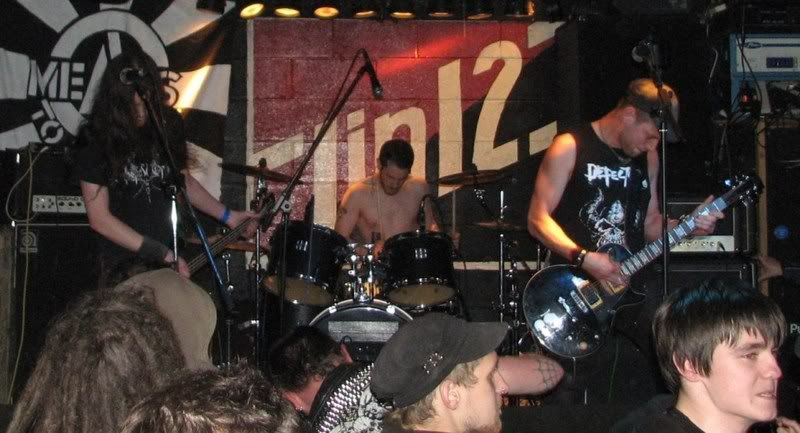 Met up with another local friend and room-at-inn keeper and we headed in as early as possible in the afternoon to the 1 in 12, with the half-fear that the limited capacity would be sold out from the previous night but there turned out to be no worries. This enabled us to sample the joys of the vegan café upstairs to provide us with some lining before the sampling of the cheap inhouse brews. Not long before the first band, three piece locals Endless Rope with some angular melodic hardcore, lot of energy and passion put in. A good warm up but as an old man pacing myself headed back up to the bar upstairs for a sit and chat about this and that with esteemed company, unfortunately missing the Scots Clocked Out in the process before descending to the depths again with Saturnine. 5 Italian ladies producing crawling doom, what's not to like? They have a definite style to them and while the music is not particularly remarkable they do carry it off with conviction, especially the harshly roaring vocalist down in the crowd. A quality bit of contrast next with the hyper fast blasts of raw hardcore energy of Ydinperhe (pic below) from Finland. 2 guys, 2 girls, boundless energy with a great intensity condensed into their sub-minute songs, I pick up a 7". Myself and others had been particularly looking forward to Putrefaction (pic above), and the three-piece from Ireland delivered in spades. A hugely powerful battering of up-tempo metallic stench-core, the drummer is a real force of nature, obviously glad to get out of his system being on the wrong end of crazy gangster shit at home he was telling us about after. They only have their releases on tape and vinyl, I pick up the latter "Blood cult" which turns out to be a fantastic package with insert book, poster, sticker.

Certainly packed inside the venue now but when you go outside for a breath of not so fresh air there seem to be just as many on the street/alley here too. There is the great social atmosphere always associated with the place, as well as the locals there's a fair few travellers from all around the place and the more attending I do to these get togethers the more familiar faces I see. Taking the stage next Skiplickers have come up from way down South (Sheffield) and are apparently some kind of non-supergroup involved in other bands. There's no impression of loose jamming though, rather it's spot on precise d-beat mayhem, really blazed through and if this is a rare performance I'm glad to catch it. Harda Tider are all the way from Sweden and apparently have been much requested. There's a crossover element to them with thrashy riffs to their hardcore beats, and the front man's relentless pacing is almost dizzying, but I don't find his vocals so strong and they are not a highlight for me. After a long set up we get to the headliners, that many would regard as worthy giving their legendary status, Antisect (main pic). Down to a single vocalist now after I'd seen them with two in Liverpool for their first reunion shows, there is ongoing acrimony with the departed, as I was discussing with Mr Bullen the night before (name dropping like its going out of fashion 😉 ). At first I think they are going to operate without a drummer too but they do just with the extra sample elements that layer out their sound. The key ingredient is there though, just the sheer non stop riffing loops and almost stream of consciousness lyrics, its cutting stuff and lots there gladly throw their supporting voices into the choruses and more. Grabbing a taxi out of town means we leave before the end, happy, though I did hear from someone out at the same time that this was the first time (in the 20 odd years and 20 odd times) they'd walked out of a show, not happy. Whether this particular horse is being flogged the evidence of the rest of the day and weekend was that there is still some fantastic bands up and coming or going strong and this was another great celebration of them. On to Scumfest next!