Words: Duncan Black / Pictures: Dan Alexander
Within the confines of chalet #264 at Pontins Holiday Camp for the criminally insane, something is stirring. A pungent fog of stale sweat, alcohol and nicotine fills the air. If you listen carefully you can just about hear the deafening snore of Mucus roadie Anthony Baxter.
Slowly we leave the arms of Morpheus and it's apparent we are getting a bit old and creaky for jumping around and drinking ourselves into oblivion. It's my second day at Hammerfest and my neck feels like it's been put through a mangle. Curiously, Neil (not the Crud one) has been awake all morning hoovering or something – He paid the £100 room deposit (although he probably got up early to start drinking again). I am reminded that in yesterday's festivities I was slightly injured by an over enthusiastic Chimaira fan in a wheelchair, as he ran over my foot outside the bogs.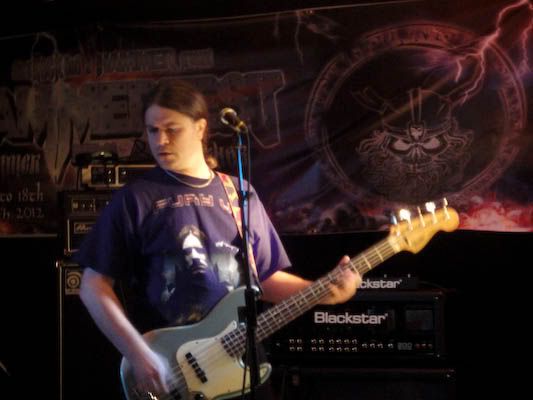 We rise from our graves and try to get back in shape for another day of unrelenting metal. RSJ are milling about at reception and people are preparing themselves for the imminent appearance of Oaf (pic above). We get to the Queen Vic at midday and my cohorts are already sinking beers. I politely abstain from more alcoholic punishment. Metal Hammer journalist and Oaf main-man Dom Lawson is mingling at the bar and drummer James has turned up in style wearing a tweed suit. After an entertaining sound-check with plenty of screeching from Lawson, Oaf finally get going and we're off again…
To say Oaf don't take themselves seriously is an understatement. A lot of people are here for the comedic banter as much as the music. Oaf are a two piece band with Lawson on bass/vocals and James on drums and there is strong chemistry between them, both musically and personally. Lawson presents us with amusing critiques of everything from John Travolta disco dancers to seagulls and his own genitals, but the music has merit beyond comedy. Sonically it's a cross between John Zorn's Moonchild album and a host of obscure hardcore punk bands. Lawson's bass sound is truly massive, bringing to mind Voivod's Nothingface but much heavier. The song titles are neat little creations in themselves including – We Know Why You're Rubbish At Darts, Fuck Off Seagull and Massive When Flaccid, Tiny When Erect. Against all odds they prove to be one of the highlights of the whole weekend – I'm impressed. Neil buys an Oaf t-shirt with the words 'I'm Retarded' on the back. It's a steal at £5. You won't find bargains like that at Anthrax concerts.

From the seating area at the second stage we witness most of Severenth (pic above) as they plough through their angry metal set. I saw this lot on youtube and they seemed to be very image-conscious which put me off, but Hammerfest is teaching me not to trust dubious advertising campaigns. To be fair to Severenth, they play a solid set and provide enough technical wizardry and angst-ridden noise to convince me there's more to them than eyeliner and dreadlocks. They are well received.
Sadly, the hangover is in full swing and I head back to the lovely chalet to recuperate. I catch a little bit of the appropriately named Collapse at the Queen Vic and jolly good they are too, but my legs have snapped. It seems I'm not the only one and there are lots of injured moshers limping around Pontins – So much so, Baxter and Dan are playing a game of 'gammy leg bingo' every time they spot another hobbler.
I rejoin the festivities at the Queen Vic as thrash-metallers Red Mist Destruction (pic above) take to the stage – These lads play their instruments like there's no tomorrow. The music is reminiscent of Slayer's Reign in Blood and the drummer moves at a ferocious pace. Whereas many metal bands sacrifice brutality in favour of elaborate jazz noodling, Red Mist Destruction play so fast it hurts with a no-nonsense attitude – It's great stuff. They place a box of free CDs on the stage which lures more people to the front. This starts a violent mosh-pit in the Queen Vic (first time it's happened according to the compare). The music is incredibly tight considering the thunderous pace and vocalist/bassist John Upson proves to be a likeable front-man. The twin guitar attack of Kristan Dawson and Ryan Colwell is suitably devastating. I have to concede that Red Mist Destruction make exceedingly good cakes.
The Saturday line-up is a lot heavier, which is really saying something considering RSJ and Chimaira played yesterday. Next on stage are Dripback. This is ferocious hardcore and the room is packed. It's brutally angry, but the clarity of sound is quite stunning. It's almost as if Extreme Noise Terror have been given a shiny production by Bob Rock. The distorted power chords resonate with perfect intonation and the screamy/shouty vocals are great – Hats off to the soundman. For something so brilliantly chaotic, it sounds fantastic and the large audience is justified. The sound on this stage has been top-notch all weekend.
We head off to the second stage. It's almost 5.30pm and Avenger's set is drawing to a close. Avenger are veterans of the UK metal scene, having been part of the NWOBHM. The Dianno lookalike vocalist has a great range and clearly attended the Rob Halford school of metal, but the audience are just too darned youthful. Avenger are probably better with the right crowd.
And so to Senser – I've been looking forward to this. I grab myself a pint and head to the front to enjoy a noisy stomp down memory lane. Many people forget how popular rap-rockers Senser were back in the day. Age of Panic was a massive hit in rock clubs and the band even secured a live slot on Channel 4's The Word. In 2004 I saw a reformed Senser at Nottingham Rock City and they destroyed the place. However, second vocalist Kerstin Haigh is curiously missing from proceedings, leaving Heitham to handle both the rapping and melodic warbling. It's common for people to berate Senser for 'that annoying girl singer', but when she's absent it's a different story.
Heitham struggles to sing Kerstin's lines in the first two songs and it looks like Senser are having an off-day. Thankfully, when they launch into the crowd-pleasers it's business as usual. Age of Panic, No Comply and Eject are stormers. We also get a mash-up featuring bits of Slayer's Angel of Death. By the end of the set they are totally back on form and the crowd have embraced them. They end on a high and we are suitably impressed. One punter has even started break dancing and poncing about like John Travolta. It's a good job Oaf's Dom Lawson isn't here.
We trundle over to the main stage to catch the theatrical spectacle that is Hell. Whilst ex-Sabbat guitarist Andy Sneap is a metal god and the show is polished and carefully rehearsed, we've had too much beer and we fondly recall last night's antics from Evil Scarecrow and Lawnmower Deth. Vocalist/Actor David Bower's spoken intros sound a bit like a goblin reading Shakespeare – Especially when you've had a few. Any use of the word clemency in song lyrics is instant disqualification from the keep-a-straight-face world cup. Considering the esteemed work of studio wizard Andy Sneap, our drunken behaviour makes me feel a bit guilty… But it was Hell-arious! (Boom!-Tsh!). As stage two closes for a short break, we go for a sit-down and hearty comestibles made of greasy things and beery stuff…

…following some epic faffing we make our way back to the second stage. Incredibly we are still standing as Mortad fire into action on the second stage. Bloody hell is it nine o'clock already? I really don't like the words female-fronted-metal-band. There aren't enough women in metal and I enjoy bands such as Arch Enemy and L7, but all too often these bands just plonk a large-breasted operatic lady in front of a hairy biker-band for big cash prizes.
Happily, Mortad favour the Arch-Enemy aesthetic. Vocalist Somi Arian is from Iran so she has a few good reasons to be cross with the world right now. She certainly screams her head off with gusto. Mortad pretty much kick the crap out of everything and the guitar solos really soar out of the PA. The drummer is speedy and it's jolly good stuff. I have a feeling Mortad will be moving on to bigger things.
Anthony is smiling furiously – This can only mean one thing. Amon Amarth are about to launch their Viking assault on Prestatyn's metal community. We limp off to the big fuck off stage for some humungous Viking metal.
Baxter loves Amon Amarth and I've subjected him to my horrible shitty music for years, so the least I can do is repay the favour but Amon Amarth are very likeable. To the say the vocalist is big would be like saying Ozzy likes a bit of shandy. The fucker could pass for Bigfoot off Bigfoot and the Hendersons. He's taller than Justin from Skinflick and when he speaks, his voice is so low I can feel it resonate in my chest. If he went HO! HO! HO! It would sound like a nine-foot-tall morbidly obese Santa Claus with lead weights swinging from his balls. He really is that big.
Amon Amarth prove that Viking metal is extremely heavy, unexpectedly upbeat and does not need theatrical posturing as long as your singer is as big as a genetically engineered lighthouse. The music is low tuned, groovy and very moshable. Proper metal.

We stumble back to stage two and catch the end of Elimination's (pic above) enthusiastic thrash. They are even wearing white hi-tec trainers *wipes nostalgic tear from eye*. It's very fast, but I got there just a tiny bit too late.
All of this drunken nonsense leads us precariously to the headliners – Skindred (pic below) on the main stage. I am expecting this to be good, but it's so much better. Opening to a big-beat version of the Imperial March from The Empire Strikes Back, supersonic front-man Benji and his band tear into a relentless medley of metal, drum n bass, reggae and hip-hop. Like Queen at Live Aid, Skindred have ripped the frilly bits out of their set and concentrated on segued hooks, but I doubt even Queen could have kept it up for this long (Benji keeps going for an hour). It's an inspired move and it's hard to stand still as Skindred unleash a constant barrage of infectious beats and heavy guitar.

Benji (main pic) has the crowd in the palm of his hand for the whole set. At one point he gets the whole room to tear off their shirts and spin them around in the air (apparently it's called a 'Newport Helicopter'). I finally lose it when I hear Set it Off and suddenly I couldn't give a fuck about my ragged limbs. I have been punishing my body for two days, but Skindred are so good I'm jumping up and down with the rest of the idiots again. Arguably, this is more fun than Lawnmower Deth (arguably). Benji finishes by blasting Carly Simon's Nobody Does It Better through the PA and soaks up the adoration. That sounds arrogant but he's good enough to get away with it – The man is a hero. With these Ferrero Rocher you are really spoiling us. Amazing stuff.
Sweaty, drunk and falling to pieces, we head back to the second stage. Despite the best efforts of eighties thrashers Holosade, it's all too much at one o'clock in the morning. Even if their singer is dressed like the grim reaper from Bill & Ted's Bogus Journey, our limbs are useless.

However, following a few swift beers I remember that Chilean extreme metallers Criminal (pic above) are on the main stage and we trudge off to see what all the fuss is about – They are pretty good. The music is a nostalgic return to Kreator style thrash. It's the last set on the main stage so how can I resist? I jump around with the fatigued moshers one last time before bed. We bid Criminal a fond farewell and wobble off to the chalets. It looks like someone has thrown a TV through a window in the building next door. We sit up drinking beer and laughing at gibberish before we drift into a pleasant coma somewhere beyond three in the morning. It has been a cracking weekend at Pontins.