Indie/Madchester band (c1989); feat; Nick Holden (voc), Lloyb [Jon] (bass), Gareth (gtr), Michael Davies (drms), based in Wrexham.
They released a 12″ Ov / Blue including 'Pineappleupsidedowncake' mix on Different Class in 1991.

(excerpt from the book, This Patch of Land)
Goodnight Said Florence were famous for their Submarine t-shirts, armed with a strong demo called 'Acid' under their belts. They were a band that almost made it; they had it all, the music, and the publicity, the following, and even had their CD featured on TVs Tomorrow's World. The marketing ploy was simple; the Submarine symbol was used more than their GNSF name, to the extent that people thought that Submarine was their name rather than a song title. Goodnight Said Florence signed to Different Class records, changed the line-up, and disappeared without a trace.

The majority of people at the time shared the same opinion of GNSF, as Paul Hammond of Psycho Sexual Sex Terrestrials explains, 'It was them and 4Q who inspired PSST. I liked Goodnight Said Florence because of the energy in their live show; they looked good and were good to watch. I liked that more so than the music. As people? I only ever spoke to two of them, the singer Nick and the drummer; I can't remember his name. They seemed completely up their own arses at the time. They were friendly in a standoffish way, which was a bit ungrateful really given the support they got in Rhyl and the amount of shirts we flogged for them. We got no thanks for it. I don't suppose they enjoyed getting blown off stage either at the Bistro gig!'
When this question was put to singer Nick some 20 years later, he replied, 'Yes, too right we were fucking well egotistical. We were young, and suddenly we were in a cool band. Girls especially liked us. I had had a really shit teenage, and suddenly I meant something to people. It totally went to our heads. I don't think we were complete arseholes, but for sure we were pretty full of ourselves, and we didn't care if it irritated people. In fact to be honest, we liked that it irritated people cos even that was a reaction, which only reinforced our sense of self-importance. For a 21 year old wanna-be indie rock-star, that was a win-win situation.'
Nick continues, 'Don't get me wrong, we really meant what we did – we loved the music, we loved to play, we cared about entertaining people and were up for having a laugh with anyone who wanted to get on board the ride, as it were, but yeah totally egotistical. I'd challenge anyone at that age to have the kind of time we were having, and not become egotistical. I was really quite emotionally immature, and went in the space of a year from being the weird uncool kid in school, to the singer of a really popular signed band. I think probably anyone in my position would've got a bit carried away with themselves. I have grown up a bit since then!'
BBC Radio Wales DJ, Adam Walton was in The Immediate at the time of GNSF, and he hated them. 'They were a right bunch of twats,' he said in 2008. 'They were popular,  this was enough to rile everybody involved in the burgeoning Mold-scene of the early 90's to levels of psychopathic hatred. On one infamous occasion, Goodnight played Sureways in Mold. This was *our* venue. They were booed and derided to the point that their singer, Nick, made the fatal mistake of saying, "if you think you can do any better, you get up". Of course, a dozen musicians got up and tried to seize their instruments. There was a bit of a rumpus that ended with GSF's van being chased up the road in a scene reminiscent of a baggy Blues Brothers.'
Adam's dislike of the band was of course due the green green of envy, 'They were fucking hippies. They had long hair and a predilection for tie-dye and smelling like wet dogs infused with patchouli oil and dope smoke …but they were good.' He continues, 'The older and allegedly wiser I get, the more I come to recognise and appreciate the influences in their music. Whereas 18 year old me thought that James were a bit outré, Goodnight Said Florence's more mature members [LLoeb, LLoyb? He had a beard and 18 kids] clearly had an appreciation for early Floyd and Krautrock. How cool is that? Knocks my passion for baggy Soup Dragons into a hat full of cocks, doesn't it?  So, the first piece of unsigned Welsh music that changed the way I thought was 'Blue' by Goodnight Said Florence. Now, technically, they were signed to Different Class records, but I heard Blue on a cassette demo before all of that happened and filled me full of rabid jealousy.  It's just a groove, really, but that is the beauty of it. Simple bass line, very simple keyboard line, but metronomic, assured and irresistible. I even like the lyrics. Goes on a bit, though.'
The main track on their single Ov was perhaps not their strongest, and Nick agrees, 'We released a single with a Scottish label called Different Class, who had distribution through BMG. It was fun, though didn't sell much, largely due to the lead track being pants. Unfortunately we didn't get to choose it, the label did. Nonetheless, the other two tracks were pretty cool, and John Peel gave us a lot of airtime.  We had an amazing few years gigging all over the UK, alongside most of the bands who rode that particular wave, but ultimately the band split. Three of the five of us got a management deal with the ex-head of Atlantic records, which looked very optimistic. However in the process, we sacked the other two, which arguably killed the spirit of the band and led to all of us falling out before we ever managed to sign the contract! Ouch! At the time it all seemed like a kind of condensed mini rock 'n roll story. Years later I have incredible memories of it, and think of my fellow bandmembers with nothing but fondness.'
Rob Evans was part of the label at the time; 'I signed them to Different Class. We were on a music management course and part of the course was to manage a label and sign a band. With them being talented and from Wrexham., and me from Llangollen, ha! It was an obvious choice.'
He continues, 'And yes the main song was pants, I wanted Blue, I think it's that; quite chilled on the original cassette, but I was out voted by idiots.'
There was a misconception that the band had changed their name to Said Florence, but Nick clears things up, 'Said Florence were another band (Scottish) who materialised around the same time. There were confusions over gig bookings and they actually attempted to hijack some of our publicity on a couple of occasions! We never met them, but we heard they had used the submarine logo (unconfirmed), and I think also there was some instance of them taking a gig that was supposed to be ours, as the promoter wound up at their door instead of ours by accident. Or somesuch. Given the name similarity, none of it is surprising. I have no idea whether they actually initially copied our name. I doubt it, I think it was just unhappy coincidence. Lots of people think that GSF changed into SF, but no, they were two totally different bands. During the process of negotiating the deal that ultimately polarised our internal relationships and finished the band, we actually auditioned a bass player called Paul Knipe, who moved down from Cumbria to join the band. This new incarnation of GSF was actually technically very tight and really rocked, though realistically we should probably have given it a re-branding, as it wasn't really the same band. I think the management actually wanted to re-name it as well. That second line-up played a couple of times. Once at some quite big venue in Liverpool – can't remember the name. It's a shame it never made it past our personal differences, as it was musically a very decent combo.'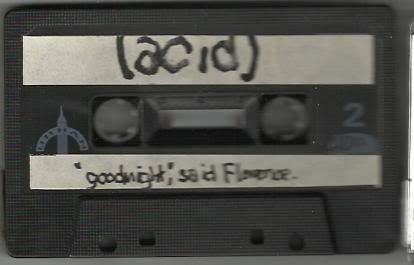 In more recent years Nick has collaborated with artists such as Dreadzone, Solarquest, Ott, Friends Lovers and Family and Matt Black from Coldcut with whom he sang in psychedelic-funk act 'Rood Chakra' alongside Holly Chand. Rood Chakra were featured by Ibiza's 'Afterlife' on his album, and were also a part of the 2001 'Pirate TV' tour of former-Yugoslavia (www.piratetv.net).  Over the last few years he has become a regular in the psychedelic scene, both in the UK and internationally, most recently at the Origin festival in South Africa and Sonica in Italy. He is a resident of ID Spiral/Synergy Project and enjoys close links with Tribe of Frog.