(review by neil crud – pix, crud + manic tiger)


This is my church, this is where I feel my hurt. Music is my religion. Music is a relgion and I am a music whore. Like religions, we follow a band or a brand; some of us skit around on the periphery, while others are fanatics with explosive CDs and vinyl in our rucksacks. The difference between music and religion is that the music we follow actually exists.
Music is very powerful, take Westlife for instance, also playing in Manchester tonight on their 'Farewell, One More For The Pension Tour' – they have the power to make thousands of bingo wings flap simultaneously while teenage daughters inwardly groan at their drunk fat mothers, carrying the weight of the world on their hips.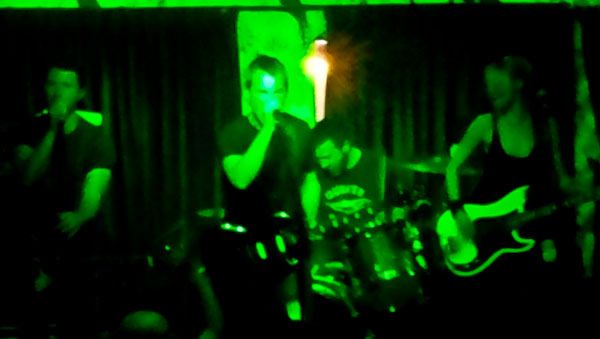 Metaphors aside, some of us take our music seriously, whether for entertainment, for inspiration, for nostalgia, curiosity, obsessive or religious reasons. I fall into every category. Now, I challenge you to spot a Future of The Left fan / disciple… You won't be able to… They [the band] fall outside the normal boundaries. They're not punk, indie, garage, thrash, trash, rock or pop – pigeonhole them at the peril of being the subject of Andrew Falkous' shitty-stick-in-the-eye sharp wit.
The man with the megaphone voice is Andrew Falkous – he is our leader, our new messiah, and without going as far as sucking his dick I would say he gives me warmth and happiness for being true to himself, true to his band and true to those that bother to take notice.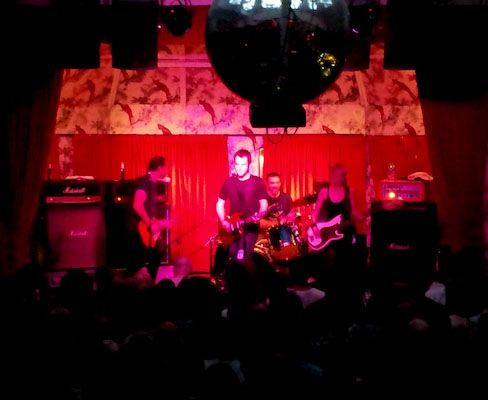 Future of The Left are not here to be judged, had that been the case then they would have given up the cause and watched Coldplay with their sad wives, fulfilling the false prophesy of their sad lives as it all turned yellow. No, Future of The Left have literally trudged through the shit stains of every toilet of this planet, not to preach to you like some dumbed down punk band, but to give you the choice… Those of us who chose, stopped and thought, 'Wait a minute, I'm looking for nothing, but I've found it.' Future of The Left (the Mclusky reincarnate) are the only band that have actually made me pull out the inlay card and sit down and read the lyrics while listening to the album. I haven't done that since I last visited my teenage bedroom… Life is too busy to be reading lyrics, we multi-task… too much to do, too little time… I have a piss while brushing my teeth, and yet Future of The Left made me stop and listen, and I found something I could connect and agree with – a cynic's view on life, funny, yet damn right, inspiring, uplifting, humorous! And that's just the lyrics… And you'll be hard pressed to find many bands making any near valid social point as this, even dumbed down 'Fuck the Jubilee' punk bands.
The music? It's loud, it's fast, it's aggressive, it's cacophonous, it's art and beauty at it's extreme, and yet in almost every song there's a pop tune, a hook line – very clever.
Tonight was about going to watch The See See and Wobbly Hearts at The Castle on Oldham Street in support of Ted from Cloud Sounds, who's tireless work on the underground scene often goes unsupported. So like a pair of twats on hearing FoTL were playing at the Deaf Institute we fucked Ted off without making any excuses. Karma nearly dealt us a deserved knee in the hole when it was mentioned this gig had sold out, but we got in anyway.
I didn't catch the name of the opening band and their 25 minutes of fame probably came ten or twenty gigs too soon for me to search and destroy time and effort in doing so.

Supporting on tour are Fever Fever a bass-less 3 piece, with 2 guitar laden, tour weary girls on dual vocals backed by frantic drummer, with ace time changes – peddling trash that was pleasing to the ears, including the new 'sold out' single The Chair, which, as they said so themselves is really good. Well worth checking out – click here
Love the track Pins.
'C'mon Rick!' Rearming Eritrea began proceedings as the throngs of people diced death beneath a giant disco ball of doom that hung above the dancefloor… Dancefloor? Moshfloor, Sweatfloor.
There have been those who have served the Falkous / Egglestone axis of evil over the years, but this latest line up is perhaps the most animated; ex-Million Dead psycho-bitch Julia Ruzicka plays bass like a psycho-bitch, while Jimmy Watkins does as the band initially threatened and plays guitar and acts like a fucking maniac!
The new album, 'The Plot Against Common Sense' is a fast album, before you know it you're on track 8 and more than half way through. Tonight's show was no different, there wasn't even time to wham, bam or thank yer mam, before a fantastic finale of Lapsed Catholics stunned us back into the real world outside. Before that we had some Lightsabre Cocksucking Blues, Manchasm, Polymers, Robocop 4, Deadenemy, Chin Music, You Need Satan More Than He Needs You, Failed Olympic Bid, Sheena Is A T-Shirt Salesman and other earlier and Mclusky smatterings.
Future of The Left signed, sealed and delivered on every plausible level, there is a momentum about the band; their hard work is paying off, despite virtually no airplay from the 'peoples' radio station 6music, a station that (in the words of Jello Biafra) has become too goddam conservative to take real chances. Yeah you'll hear The Cure, Radiohead and Florence and Her Fucking Wank Machine, but do you hear Future of The Left? Thinking man's punk rock as I once called it? No, will you fuck…
Catholics lasted forever as the band went on an orgy of noise destruction of bar hopping, crowd surfing and dismantling the drum kit while Jack was playing it. The whole thing left us with a sense of deeper love, and it was all over pretty damn early as the babysitter needed a lift by 9.. What's with those fucking kids….?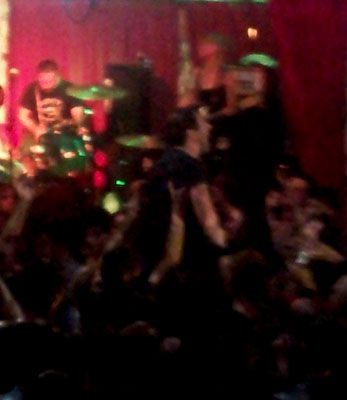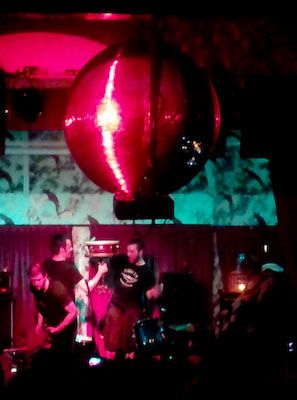 Adam Walton's fat head was in the way for those stood behind him in the audience – here's his ace review of the evening