(review n pix by neil crud – follow me on twitter)


The traipse back to the campsite was tricky at night. Earlier we had worked out how to put up our tent in the sunshine, enjoyed a few ciders and revelled at the lush green grass from under our oak tree. Coming back after a day of Friday's entertainment the site was a Pabell Sea of Canvas and guy ropes; the 'fire lanes' had been ignored and filled with tents.
That dank morning feel after the first night of a festival was upon me – you always over-do it on the first day, you've let yourself off the leash; work is a distant irritating memory and doesn't need to be thought of for a couple more days, so you let loose. I stumble down the steep hill to the portaloos, thankfully some poor kid given the task to don the marigolds and clean up a day's worth of shit has done a good job. It's early, very early, only a few refugees are still up wandering around, someone is on the grass, asleep, never quite made it to his tent, or couldn't find it. A few likewise early risers are choosing their portaloo – everyone looks fucked – we're all fucked together. Some guy from Cardiff is camped next to us and he is more fucked than the rest of us put together. He managed to piss everyone off last night trying to light a fire and arguing with his girlfriend. I spot him loitering around the (expensive) Breakfast Club bus at 7.30am, trying to speak cohearantly enough to order a cup of tea – fucked. He staggers with his brew over to the milk and sugar table and stares at it for an age – fucked. I take my coffee and 2 salty bacon baps back to the tent vowing to turn vegetarian one of these days soon. The fucked Cardiff guy stumbles over our guy ropes and falls into his tent. We hear his girlfriend playing fuck with him at his fuckedness.


Portmeirion is probably the last place you'd expect to find a music festival and thoughts of letting herds of bulls into your china shop must have had a few people down here bricking themselves! One such bull is Hot Scott! What a place to catch up with him! Now here's a guy who would happily dress up as a bull and rage through a china shop just for a laugh – that was 20 years ago though, and we all grow up (heh heh!).
We met up with Scott and Maria yesterday – Scott is now Mr Northern Star Records; I've not seen him for three years so there's a lots of shit to talk about, lots of shit to catch up on and lots of laughs to be had reminiscing on our brief and destructive liason in Psycho Sexual Sex Terrestrials where we destroyed music! Maria is Scott's far better half, she's Italian and managed to turn both her ankles in Criccieth on Thursday night! Where there's blame there's a claim – fuck Criccieth Council!
We are also camped next to Joe and Gwenna who by sheer coincidence are from Bangor, although I guess it shouldn't be too much of a surprise as Portmeirion is on our doorstep and we're lucky to live in one of the most beautiful parts of the entire world. Also putting up a monster of a tent near us was Scottish representative Craig Walker and his friends who managed to get interviewed on BBC TV over the weekend (see clip).


Claire and Martin Cheung are also here; we saw them yesterday as we moidered British Sea Power (above pic) during their soundcheck. Claire speaks of Dawn and Andy Fatman's despair at missing out on this weekend due to the monumental bollocks-up that was The Cult, Mission, Killing Joke gig in Manchester – but that's another story. Also felt for Katiezoid who must be Welsh music's biggest fan – she's working this weekend – so I hope this series of reviews compensates somewhat for your loss (and congratulations on your recent announcement).
Yesterday we saw Simon Day (pic left) mincing across the site with his luggage trolley, looking like the Eco-Warrior, Dave Angel. Today, we sat cross legged in the village Plaza as Stuart Maconie first asked if any of us had a copy of Simon's autobiography 'Comedy & Error' actually with us, as he was supposed to be reading extracts from it to to us! We didn't, so he did a bit of impromptu recitals of memory from it instead. Very funny stories about his childhood, drink, drugs, bed wetting, and managed to skirt around the Fast Show completely.
Research leads me to believe this book was published last year to worthy reviews, many stating how comedy quite often comes from a dark place. It is a book I'll be seeking out for sure after laughing for half an hour while Simon delivered his quite calamitous self appraisal. Maxine Peake, that West Houghton dinner lady was on next, giving us down to earth tales of yore. I nearly shouted if she knew of a band from her parts called PMT, who I toured with in the late 80s when I was in 4Q. But I would probably have made a tit of myself (nowt new there arr kid…).
We went for a wander in the acres of beautiful woodland Portmeirion has to offer; found a nice quite bench in the middle of nowhere and sat down to relax for a few moments. We are disturbed as Euros Childs and his band ramble past, and then back again – quite a surreal moment!
Great Waves (right) are making great waves on the iStage. A two-piece (keys and guitar), making sweeping sounds that drew us in from the forest trail, cutting through the village as we skip back in to the arena to check out Race Horses.


We also learn that Manic Tiger is a third cousin (or something like that) to front thing Meilyr Jones (pic above), so we expect family discount on all forthcoming releases and shows 🙂 . Race Horses, like Cate Le Bon yesterday, open the main stage to no one and by the end of the opening song it's filling up nicely, although you feel a band of this calibre deserve to be higher up the bill, but I'm not complaining – I get to see a great band, in a great setting, playing great songs. They do their usual instrument swapping after every song and combine bits and pieces from their new (more indie pop-esq) album 'Furniture' with their quirky debut 'Goodbye Falkenburg.'
Sometimes beatnik, sometimes a little too close to Jarvis Cocker, but always the fucking odd, but very infectious Race Horses. (Dim Cacen heddiw, pam?).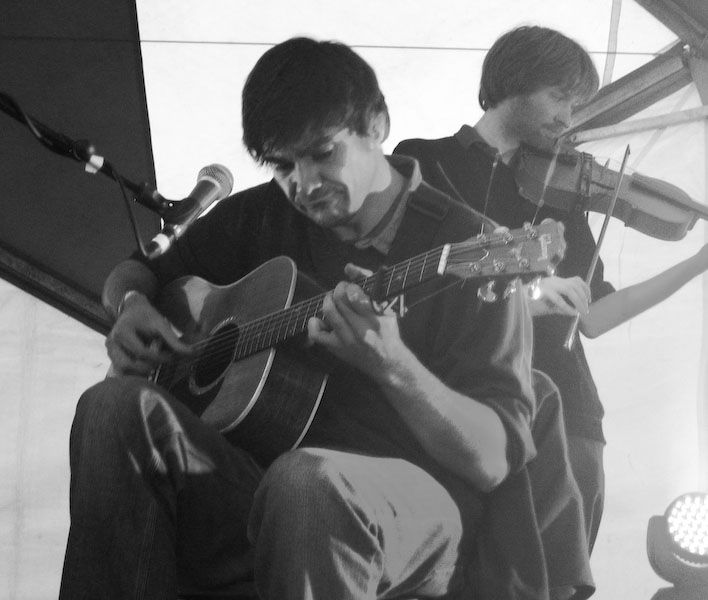 After an afternoon nap I leg it down to join Alan Holmes as Richard James (pic above) alights the Estuary Stage with his quartet. I sometimes do wonder whether the Gorkys crew should just throw in the towel and reform! It's funny as they represented almost everything in music that I stood against as a snotty punk teenager, and yet despite never hearing anything by Richard before, I literally ran down here to ensure I caught his folk driven, sometimes almost country & western set. Not a drum in site, just soothing songs to chill to in the marvellous setting overlooking the estuary. It doesn't get much better than this…
The song with the chrous 'Oooh, in the morning,' could be used by Berrucca to advertise their tableted hangover cure… 'Oooh Berrucca in the morning..' It was an amazing bass sound from the cello when he  throbbed those lower notes out. Although I did begin wanting for a bit of harp distortion and some death by violin. Despite longing for a bit of punk rock their mantra drew me in, almost hoping for a frenzy to begin; it sadly doesn't, but it's still fucking good.

Like proper dicks, we managed to sleep right through the Death In Vegas set, and Scott (who took the pic above) really rubbed it in saying it was one of the best performances he's seen in a long long while. Very tight, intense, 'How Spiritualized should've been…'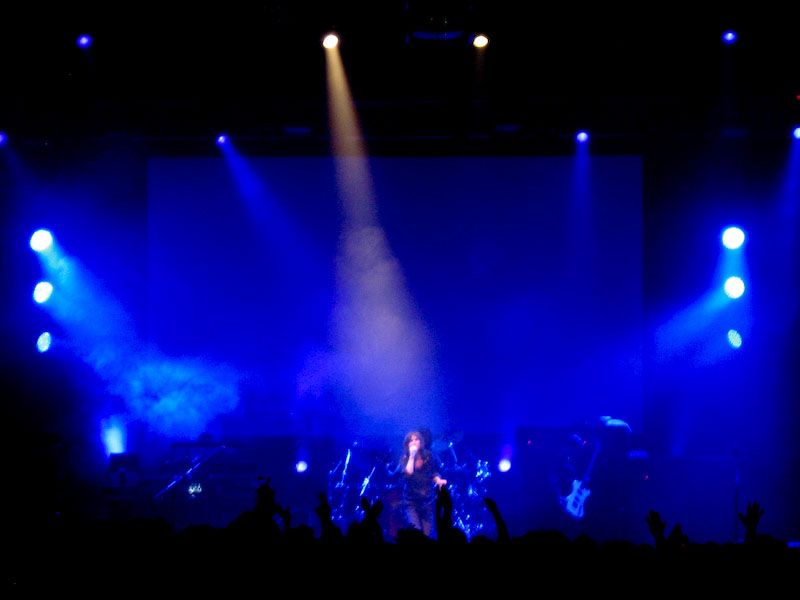 We did however dust ourselves down for Primal Scream and they didn't disappoint. My fifth time and it took four goes for me actually get it – and I really get it now! Played 3 tracks off their forthcoming album along with Swastika Eyes and a couple off Screamadelica before rolling out the hits thick and fast. The sound was excellent, Dyl Mei was excited enough to punch me on the arm during Loaded and the performance was very loud and very good. Lots of energy… I'd see them ahead of the Stone Roses anyday.