(review n pix – neil crud)


It was inevitable that a festival in the UK in 2012 was not going to escape the weather. We had been blessed by the God of Fair Weather on Friday and Saturday, so it was probably odds on the God of Misery would slap his oar in the water and make us sing, 'Why Does It Always Rain On Me,' well, we didn't sing that at all really, but you catch my drift?
And if it had to rain, better to have done so today rather that on the first. If you read my Friday review, you'll have picked up on the 'Being Prepared' message – you have to be prepared for adverse weather, and we were – waterproof clothing and footwear and plenty of beer :).

The morning after the night before once again washed up casualties, but looking bright and breezy was Mr Scruff, who we bumped into on his way to brave the toilets. He was clutching a bog roll (he is yet to produce his own brand). It was a brief chat as we could see he was a man in need! He was on too late for we 'straight' people last night, although we did catch a bit of Jerry Dammers spinning reggae tainted discs and also watched a silent disco, but the music was shite.

It's bingo time with Y Niwl (main pic and above) – they played 21, 25, 11, 14 (House!). Did they play Chwech (6)? That was/would've been fitting! We were joined by my sister Jane and Steve F who ram raided their way from Rhyl and drove straight into the festival – no park and ride for these two!
Now, I am not a number, but I've lost the amount of time I've seen Y Niwl, I've reviewed them 4 or 5 times and I've probably seen them twice that amount, and many times in a tent like this! Camping with Y Niwl! Although never in a tent with horizontal rain sweeping through it, but this did little to dampen our Sunday afternoon spirits. This was the best I've seen them perform. Alun seemed pumped up and excited to be here – almost as excited as we were to see them! With their chronological and numeric song titles it's evident they now have at least 25 bullets in their gun, Dauddegpump (25) can be found propping up their latest 10″ six track EP.
From what I can gather, they are now going to take a break (after a Race Horses gig) and it's well deserved after a couple of years trekking around the surf cities of the world.

This is North Wales, it's where the mountains meet the sea – it's gonna rain. You can let it spoil your day or you can get on with it.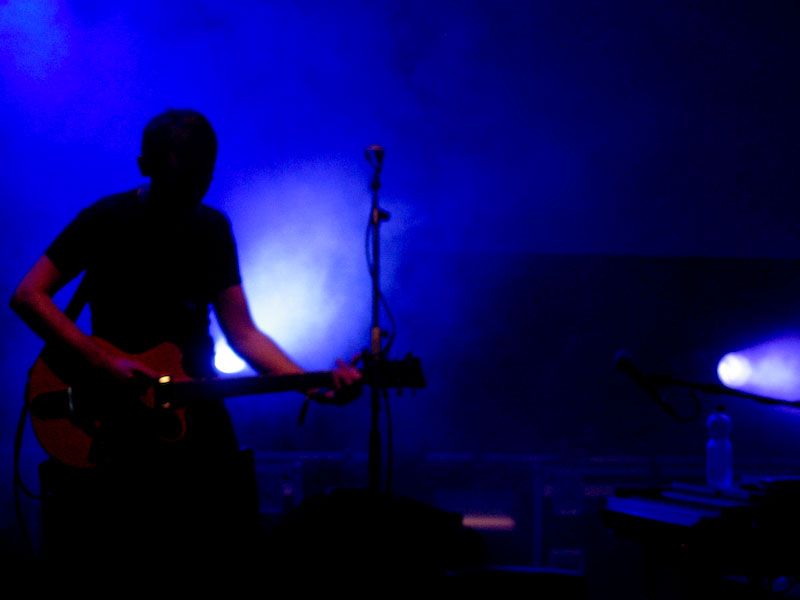 Field Music (pic above) from Newcastle played before those gathering in the sanctuary on the Number 6 Arena, which is now adorned with 6 Music bannerisms as the Radio Station is recording the event. Their opening track had me scribbling 'Did I fight the punk wars for this?' It was Elton John meets Reo Speedwagon meets Billy Joel and a bit of Sparks thrown in. I guess I should say Whatever floats your boat, but mine was sinking in the mud and the lure of an ELO tribute playing out in the rain would've taken me from here; they must have a good manager… I need three chords please…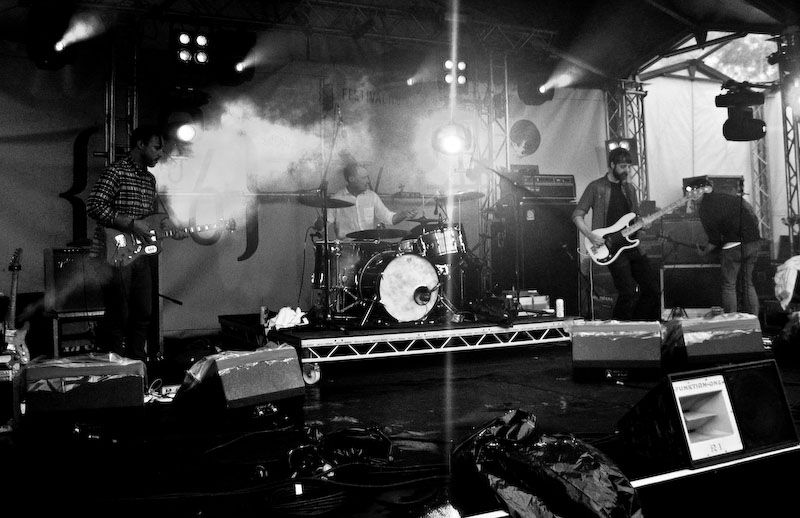 With various Gods fighting over the weather, the God of Psychedelia looked upon the iStage, saw that Early Years were about to go on and stopped the rain. Previously signed to Beggars Banquet when being signed to a label meant something, they made a very impressive opening, very psychedelica with some cool Hawkwindish bass runs shadowing some great wishy washing guitar-scapes. Played their BB single All Ones and Zeroes. And despite looking like they had all just finished working behind a bar they made us gather and soak it all up. Very Doors-ish in places and I hung onto every note. My new favourite band of the weekend. Thank you Scott for the heads up.
Yeah, you can come and getcha rocks off with your Primal Screams and feel blue on Monday after watching New Order, but also come here on a voyage of discovery – expand your psyche – broaden that horizon – buy a new hard drive – add to your CD collection – enrich your life!
I didn't want it to end, their eponymous album will be on my hit list as soon as I get home.

Being bi-lingual you get to perform twice at Number 6 Festival! – Gruff Rhys, never one to miss such an opportunity alights the main stage and we get his 'proper' set this afternoon and he serves up some more psycho-custard for we, the hungry mob. 'In a house with no mirrors you never get old,' he sings, as most of Y Niwl put in for overtime as his backing band. Looking up at the 6 Music logo emblazoned on the screens I was thinking how fucked we'd be without it. Zane fucking Lowe would be as alternative as things got with all that Radio One bullshit. Without it many of those present would not have heard Shark Ridden Waters, Gyrru Gyrru Gyrru or the tearjerking If We Were Words We Would Rhyme. No Snail Trail though :(.

And talking of tear jerking The Brythoniaid Male Voice Choir didn't leave a dry eye in the house when they performed You'll Never Walk Alone in the wake of the Hillsborough Justice campaign news. You can have a stack of Marshall amps as high as the Empire State Building, all ramped up to No.11 and you won't get anywhere the power of what we saw/heard/experienced before us. You can take all your talent show candy pop bullshit and shove it your corporate self back slapping fat arse – this is real emotion – real power – absolutely incredible. And with their version of New Order's Blue Monday ringing in our heads we headed to the main arena to check out 'the band that changed the face of indie music' – I disagree with that statement, but I'm not here to piss on anybody's chips. Jane loved them and I love Jane, that's good enough for me….