(review neil crud / pix neil crud and milton)

"Are you nervous yet?" I asked Elliot on the phone as I approached the campsite on the cusp of the 2012 Dirty Weekend, the first such festival in three years.
"Not yet," He replied, "I should be, but I'm going to have a shower and some tea and it'll probably hit me after that."
Elliot Capper is partly responsible for this year's instalment of The Dirty Weekend, which thanks to founder, Dave Cox, has had various guises over the annals of time; from the humble haphazard beginning in 2004 at The Dudley Arms in Rhyl, to the Morville Hotel on the Prom and the more audacious Hendre Hall near Bangor and now slap in the middle of Wrexham at the site of last year's successful Ellfest…
Right in the heart of Chav City!


It was either Friday or Saturday for me, with Saturday looking the more promising; couldn't do both, so after a swift pint with that Braxton Hick Joe Hovis in Old Colwyn and a phone call with that Merciless Savage MWJ, I was cajoled into skipping a fish supper and doing the Friday in a last minute, drop everything, gather your limbs, lock the door and go frenzy.
Even a campsite provided? We are getting civilised! Although I inadvertly only brought half a tent, much to the disdain of Manic Tiger and myself as we faced the prospect of sleeping in the Crudmobile – so best get drunk to ease the pain…

Two stages, each at the opposite end of the room allows swift changeovers and very little messing about – unlike the old Dudley Arms days where there'd be the usual half an hour break between bands and all sorts of fuck ups and delays. Today it is relentless, it's shock and awe, it's awesome. Also next door there's a Hardcore Room where Stuck In A Rut, Precinct 13, Bailbond and Rumour Mill are really belting their stuff out. We caught a bit of Bailbond (pic above – mwj) playing to sparsely populated audience, much to the pain and anguish of the guys in the Kebab Shop across the road who were looking up to the open windows with a perplexed grimace across their faces.

The Pumpkin Stage is right on the entrance, with the Main Stage down the other end of this large room – Ephemral Foetus are blasting the end of their set as we walk in and sounding really good. (pic above by mwj)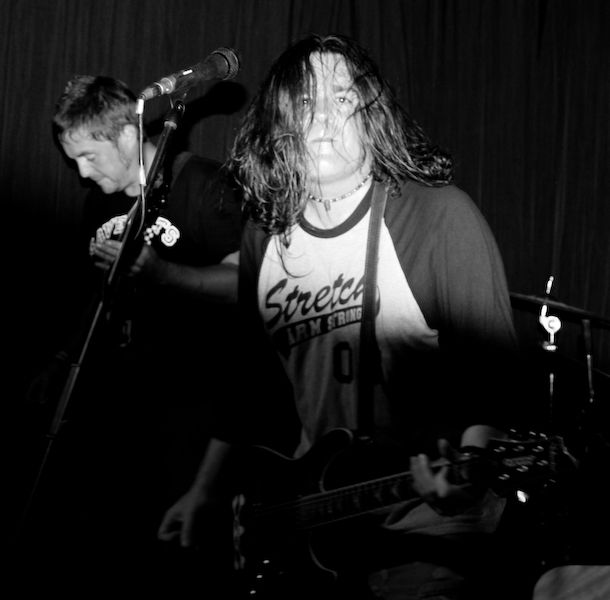 The atmosphere is thick with the smell of aggression, but channelled into the music rather than at anyone in particular and even at this early Corrie-witching hour there's enough sweat and BO milling around to make you thankful you left your jacket in the tent (err.. car).
Wrexham's finest export Punchdrunx had a slight reprieve on the Main Stage times and instead of going on at the start of Emmerdale, they got to hit the boards during the break in Corrie. And they hit the boards running, playing all the hits like No Place Like Home, which is very singalongapunchdrunk in its approach, and the anti-nazi The Wave. The poor soundman did have a fight on his hands and took half the set to sort of get to grips with it; he did make up as the night progressed I'm pleased to say. Looking more like a renegade hippy than that mohican bank clerk of his Stuntface days, main man James Flames (pic above) flamed through Never Forgive Never Forget, Eye For An Eye, So Fucked Up (dedicated to the campers), then Society before finishing with the anthemic We Drink, We Fuck, We Fight. Lovely.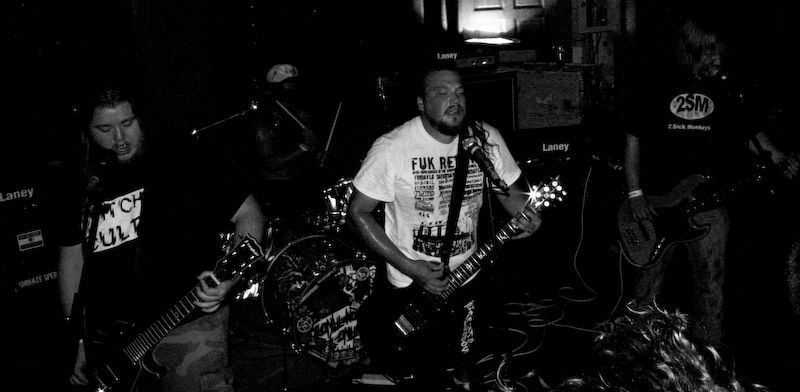 We swivel 180 degrees (which is the temperature in here!) to face Rash Decision; an extreme fishing-core band of brothers from Cornwall. The sound is better down here and it suits the brutal assault these Cornish twats throw at us. I've got 3 tracks on Various Pumpkin Records compilations, so I guess they played EST, Metro and Boredom, although I couldn't tell as I was too busy enjoying the perspiring sweat and the mini-mosh pit forming as two over enthusiastic punks threw each around like a pair of 10lb salmon! Look out for their forthcoming split EP with 2 Sick Monkeys.

Without even a pause to smash up the bogs Freebase prang into action on the Main Stage, I seem to remember them from about 10-15 years ago and didn't recognise them immediately as the singer (pic above) has relented his lovely skinned head for some forlorn locks! With a lot of crossover going on bringing in a doom-death element that a Dirty Weekend has not experienced before it gave those of that genre the opportunity to sample the delights of a band like Freebase – nowt wrong with a bit of diversity eh arr kid? And they trip the punktastic; dipping their toes into the punk-ridden waters before rattling back into their more crossover hardcore granny killing genre… Was that Ian Glasper on bass?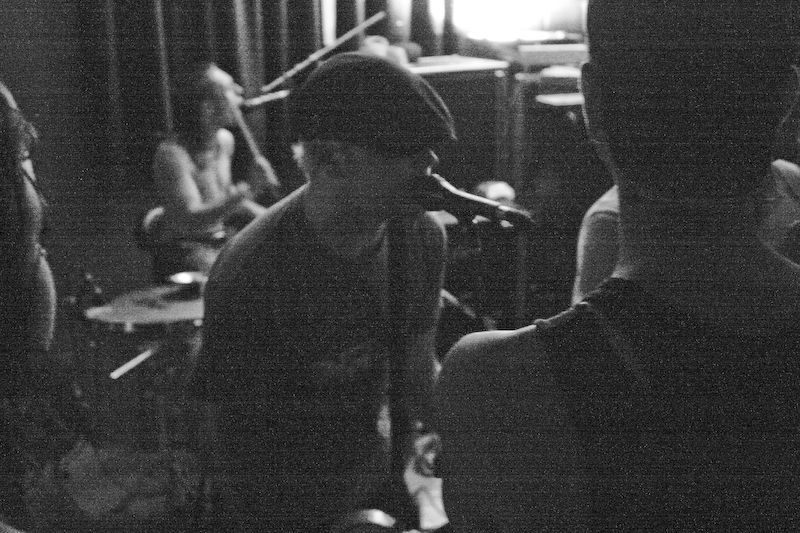 Taking civil liberties over on the Pumpkin Stage are the FUCKING EXCELLENT Dead Subverts (pic above). These West Country midgets have got to be on your 'Must See' list before you die. Featuring the tireless Sick Monkey Pete on bass, and an extra guitarist to make them a 4-piece it was an assault on the senses from start to finish. Forget trying to get a decent pic of them, I would have to crowd surf to get anywhere near the stage; the place was rammed, and rightly so – it was fucking spot on, fast, plenty of tuneage, noisy and tight as fuck as a seething mass of stinking punks swayed, jumped and pogoed before them. Featured on the compilation album 'A Tribute To Rudimentary Peni' with the track Nothing But A Nightmare it's evident that there's a lot of R.Peni riffage going on down and that's not a bad thing. You call this civilisation? Hell no. Check 'em out NOW here.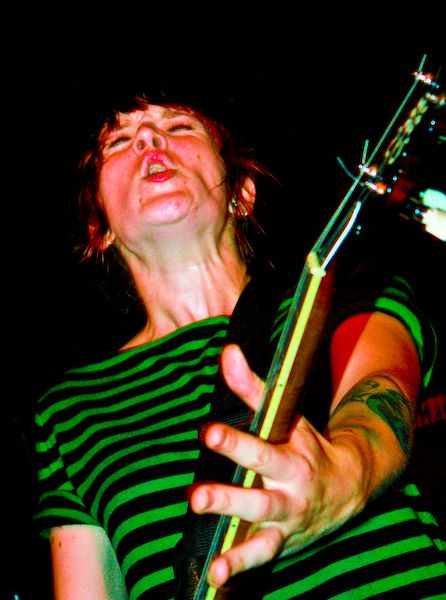 Joe Hovis had been going on all week about his excitement of seeing Inner Terrestrials, and once I confirmed I'd be here on Friday, I too was pretty darn up for catching up on their punk-dub repertoire – so when we saw Elliot scrawl 'I.T cancelled sorry :-(' it could've put a downer on the night, but such was the quality that was bearing its soul on all fronts, it would be really hard to be long faced. Let's take the vibrant Roughneck Riot who had been shifted up the bill onto the now vacated 10pm slot. So facing the IT crowd they slammed out their high-tempo punk-folk rock, with far more emphasis on punk. More Levellers than the Levellers and more energetic. Really enjoyed Just Because and the one about waiting to die.

Global Parasite haven't smashed any new world orders for a long while so it's about time they kick started their machine again, and here in front of a frenzied audience they didn't let any of us down. Just like their incredible album Momento Mori, they were ruthless in their delivery, remorseless from song to song, with incessant tune after unforgiving tune smashing your skull into tiny pieces. Top class and probably the best I've seen them.

We missed Bring To Ruin, so if you can fill in that gap it'd be much appreciated. We did catch 2 Sick Monkeys who never fail to impress when they ask why we have to suck so much American cock. As is well documented on these link2wales pages, this two piece feature the lead bass skills of Pete (also in Dead Subverts), who plays the four stringer like a six stringer and puts most guitar wannabes to shame. They also make a fucking great racket. Pete dedicated Lost My Head to Dead Subverts and their ability to party til they die. 2 Sick Monkeys can also party, this is their 700th gig!

The extreme noise terror that is Doom were up next but our heads were now fucked from spending £25 on beer and if you work out the math at £2.50 a pint you'll see what a lightweight I am…
Brilliant night…

Follow neil crud on twitter