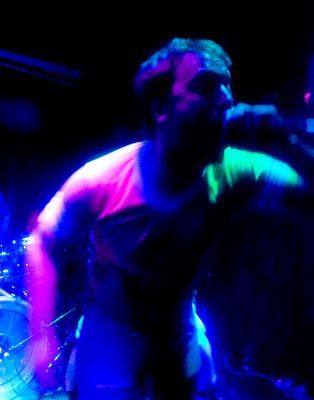 (review n pix by neil crud)
It's good to stumble upon punk rockness, to happen upon someone else's party. Well, I say stumble, but my stumbling was pre-empted by asking Glyn Mills if there was anything on in Cardiff tonight and he was good enough to point me toward the Full Moon.
Eleven dates into a 21 date tour, this American-Belgian collaboration has taken in the delights of Scotland, Wales, then London tomorrow and then back to Europe in a whirlwind fashion.
Gorging on a salmon starter and a sea bass main course (paid for by someone else) put paid to catching the opening two acts, local boys Forrest and Not Since The Accident, so if any of those present fancies sharing a few words of wisdom then please feel free to do so.
I was in Cardiff on business, and wisely drove cross country from Bangor at 7am, opening and closing farm gates and thrumping over cattle grids along the way. The other option was to take the motorways (only built in England), but someone fancied re-enacting the film 60 Second Pile Up on the M5 leading to almost 3 hour delays. So after gorging at the expense of others, I politely made my excuses and left for more comforting surroundings, timed perfectly as the purveyours of Belgian punk rock Priceduifkes alighted the stage of this ace little club to make some lovely noise.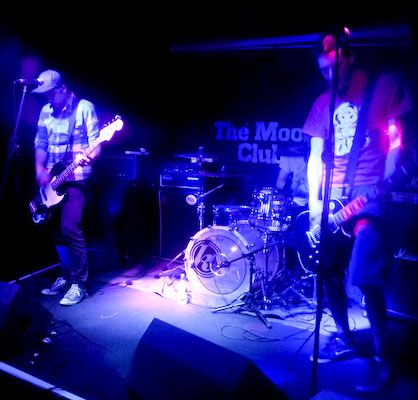 It's been a long time since I tasted the plate that is punk rock; dare I say it was Rebellion Festival last year..!!!? Surely not…! Yes, I've delighted on the noise-niks that are Klaus Kinski, Whales, Skinny Limbs and their deformed ilk, but they're more an extreme perversion of a musical enema than punk rock, and long may they continue. No, tonight it was the plink plink fizz fizz of punk, a refresher to blow the cobwebs off the eardrums, and watching Priceduifkes spring through their set I realised I was inadvertently toe tapping with a Cheshire Cat grin across my ugly mug.
This is happy-go-lucky rantalong punk rock, with tracks like the excellent Stuck, I'd Rather Be In The Jizzhut Tonight and Puke For Breakfast. Check out their 100mph new album 'Can't Lose' – you can't lose.
Priceduifkes

I would've stumbled back to the hotel a happy bunny after that 30 minute blast, I picked up both albums (on vinyl) by both bands, and sat upstairs to watch a silent movie on the big screen… Saw it had a robot character called Rotwang, and it seemed kind of familiar, I then realised it was the film Metropolis and recalled owning a Freddie Mercury 12″ called Love Kills (how? I don't know..?), not for the A-side, but on the flip was a track called Rotwang's Party by Giorgio Moroder that I had taken a shining too for some bizarre reason. Before you could say, 'Enough of this dodgy eighties b-side wanking' the amps were being smoked and Direct Hit were urging us to head to the live room.
Now, Priceduifkes can be considered excellent, Direct Hit take it up another notch to fucking excellent. I'm sitting here, with a new turntable (thanks Roy!), tapping away on the keyboard actually excited by what I write as their album 'Domesplitter' is really pissing off the neighbours! To coin Andy Fatman's phrase… I love it… effin love it…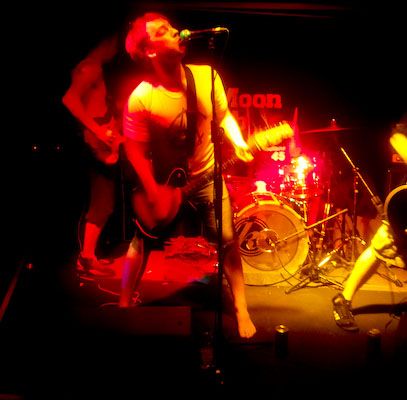 It's been a while I've seen some punk rawk and I left the Full Moon with a zebedee spring in my step…
It was a furious set, '1234 Go!' – Snickers Or Reese's, a Descendants short cover, song about Andy Warhol and In Orbit, which is about taking you into space… Amongst these 2 minute gems, Direct Hit managed to break 2 guitars and an amp, so the front man gave up his instrument for the good of the band and took to the mic instead. And despite being down to a single 6-stringer, it took nothing away from the performance… Probably added to the intensity in the same way a team down to 10 players often play better because of a sending-off and have to try harder against eleven men.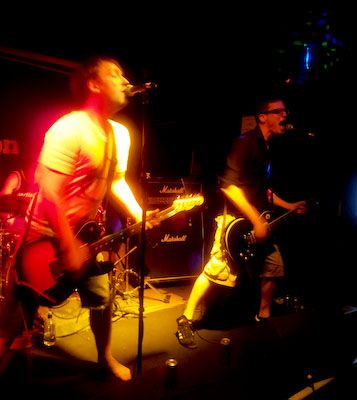 The whole set up had a feel of those chaotic early 80s punk shows you'd see advertised in Maximum Rock 'n' Roll magazine, that, as a 13 year old you could only dream of being at…
Here, in a Cardiff side-street and 4000 miles from home the singer is barefoot, there's blood, sweat and beers eveywhere. Grins from ear to ear – singer is in the crowd for most of the show having been removed from guitaring duties – maybe this is the way forward for them? My ears are ringing like a joyous church bell with a hard on… Connect with your audience, hug your audience, share sweat with your audience… it was all ferocious stuff from start to finish… all over in 30 minutes, and, as I've preached many times before… this is bang on time… not too little… not too much… don't bore your audience… Direct Hit did not bore us; we, and they had a great time, which is what it's all about… entertainment at it's highest quality…
Direct Hit!