(review n pix by mwj)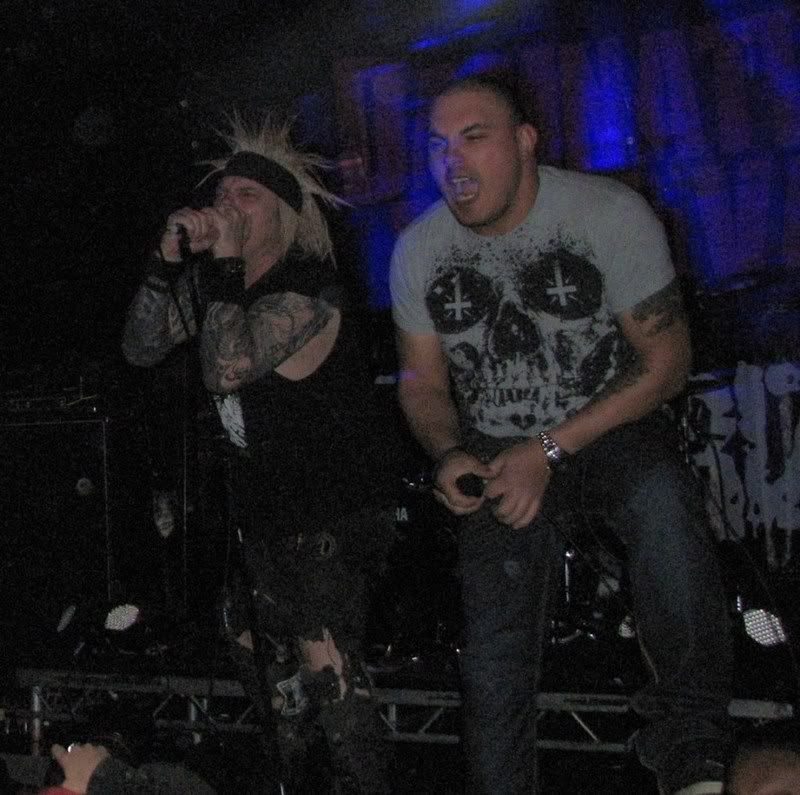 The nights draw in, what better way to rage against the dying of the light than staying in a mosh with a solid dayload of warming heavy vibes. Even though this always seems to be a hectic time of year for gigs Damnation has its reserved niche around this time as providing an eclectic mix under the broad metal/alternative umbrella of bands that is a great condensed flashback to the excesses of the summer season.
So, my trips to Leeds are becoming as routine as when I used to occasionally work over there, but autopilot on the couple of hour journey is useful considering the absinthe mojitos that were indulged as a warmup last night. In town with plenty of time to park up in the Old Bar for a some of their quality ales and quality tales from the friends and fraternity who start gathering there for the long haul ahead. Wasn't going to get caught out missing first bands queuing like last year so got in smoothly enough then down to the basement Mine third stage for the openers

Originally I'd misinterpreted Raven's Creed (above) as being some trad metal cheese but hearing a song before hand was re-educated and excited by something sounding more like the raw retro metal riffmania of Celtic Frost, and as they unashamedly celebrated themselves "If you are not into Venom and Bathory…just go!". No one did, the place was rammed even for this lunchtime start and their truly thundering onslaught was a joy, some of their members heritage in other renowned metal bands evidently standing them in good stead, and wild eyed frontman Al providing some great entertainment. I for one was glad to "Stand up and be Cunted".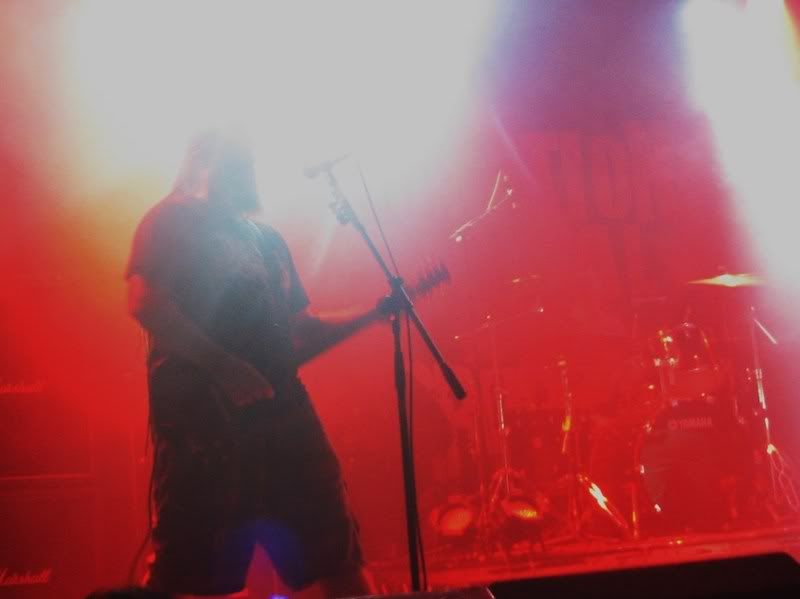 Swiftly back through to the middle stage for The Atrocity Exhibit (pic above), a Midlands band who have been hammering away in the underground for some time. And such a treat to see this hard working band in front of another packed hall, just rewards for their efforts. They have a brutal and rapidly evolving mix of grind violence with some sludgy breakdowns, biting political motivation really adding to the emphasis of their tunes. Damnation supporting the UK Winning continued with a return to the Mine for Witchsorrow, who I'd missed recently at Bloodstock. No worries this time, as usual here once you have got past the steps log jam you can get up close to the cosy stage easy enough. The 3 piece produced some glorious Yob-esque raw doom, governed by the colossal guitar tone, thumping drums and lady bass – all good. You need the volume to sustain the interest/impact of these epic riff exorcisms and it was at a very satisfying level. Second stage brought us a gear shift with Hang the Bastard, who it had been a while since I'd seen as a support act at the Star and Garter. Their modern hardcore with sludge undertones was lively enough but I had to leave after a bit to book into my hotel, timing it now for bands I'd seen before recently.
My return saw a glimpse of locals Blacklisters down in the Mine, fast and angular alternative hardcore with the singer buried in the crowd, but I headed back to the second stage for the main draw of the day for me, a band I'd probably have paid the ticket price for them alone, the crust grind legends Extreme Noise Terror (main pic). Yeah, it might just be original vocalist Dean, much of Desecration providing backing, and new second vocalist John (ex- Raging Speedhorn/Murder One) making a welcome return after 4 years, but I've had the pleasure of experiencing their unbridled chaos a few times over recent years. The sprawling trawl through new and old classics is like a bar brawl and in spite of a barrier in front of the stage we manage to stir up one of the best pits of the day. I thought opportunities were going to be limited to see them these days but a chat with Dean after says they are up and running again now so look forward to more of the same. A first visit to the main stage for an intended come-down but Irish thrashers Gama Bomb are giving no let-up. I had fond funny memories of seeing them one early morning at Hellfest and the banter is as naturally hilarious as ever but I gain a new appreciation of their music, rattling along as it does like Legacy-era Testament, immense drumming powering through it.

Not 50 shades of grey but a few shades of black next, as the various tangents and niches of extremity are represented. First of a couple of Norwegian representatives there's the blackened… roll? of Vreid, who strike a little odd and ultimately don't click with me. They have the black metal sensibilities of harsh vocals and dark atmospheres but this is curiously blended with something between retro/proto rock and euro-beat stomping. Far more up to speed was the blackened thrash of Aura Noir (pic above), which if you like early Slayer you will love. Even some of the windmilling is reminiscent of Mr. Araya but they bundle their set along with great pace, no frills but great intensity, sounding better live than what I have heard on recordings.

I head back to the main hall for a startling re-assessment of the local blackened doommongering legends My Dying Bride. Like some corpse left in a lake I had perceived them drifting away from me from their great harsh early days when I swapped demos with them when they were playing their first gigs over in Wrexham, decaying into some cleaned up gothic rock boredom. The Bride rose again, punishing me for my sins of desertion! I was completely won over by the hypnotising intensity of their set, where the combination of the pondering, aching slowness with Aaron's plaintive vocal poetry, contrasts with the deathly roars and brutal riffing of fast sections that take me back to the good old days. An ode to the joy of woe! I really have to tear myself away to get a necessary dose of the blackened death of Belphegor (pic below) back at the middle stage. The style is somewhat under-represented on the bill this year but after a jaw dropping experience also at Hellfest in recent years the Austrian machine deliver in spades. Putting some effort into stage presentation it's still the fierce hyper-riffing that wins for them, with precision but a raw power too.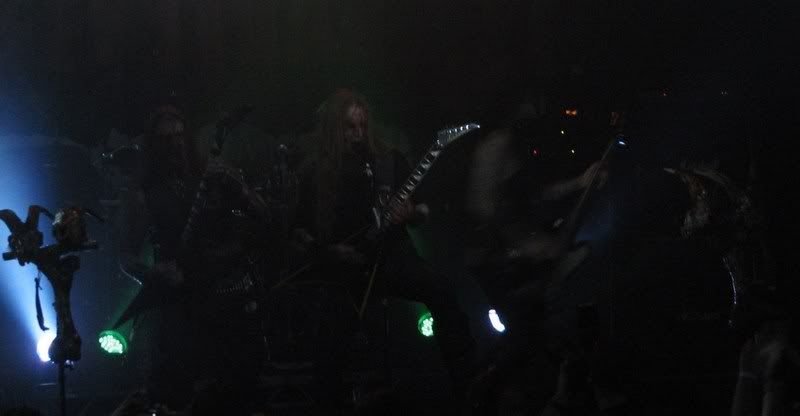 I do bail on them though to get set for my pick of the three headliners, down in the depths to worship at the church of Amenra. Not long at all since I saw this Belgian post-metal behemoth also here in Leeds but up close and personal here there is an extra level of cathartic scourging. They practice the familiar light and shade approach to subtle building of looping guitar melodies transforming into avalanches of crushing riff work-outs, with the vocalist screaming his soul out to the back of the stage when not kneeling in penance in between times. Marvellous, really holding that banner for the genre aloft while the previous bearers of Neurosis and Cult of Luna not so much rest on their laurels as head off into a more mellow wilderness. A full set enjoyed I head up to see some of Pig Destroyer (still minus bass like the last time I saw them over from the U.S.!) and while the couple of songs checked demonstrate their raw grindy powerviolence the sound is not particularly punchy from my place on the balcony. Maybe it would have been different up in the teeth of the attack but I heard afterwards they were experiencing intermittent sound problems so maybe it was just bad timing with what I caught. No worries, as I still had not far to go to reach the remainder of the main headliner for the day, Electric Wizard (pic below). The last time I had seen them here I had been underwhelmed compared to a couple of cosmic Hellfest experiences, feeling they hadn't filled the space enough somehow. This one pretty instantly hit the spot though, the reverberating doom tangible, lulling, capturing. If latest title track "Black Masses" wasn't enough of a monster main man Jus took a break while the rest kept the vibes going, to return to drop a 20 odd minute slab on our heads, shoulders, knees and toes. And yet the bodies carried on, time flew by, aided by the swirl of psychedelic images provided by Hawkwind's lighting and visuals crew brought in specially for the event. A superb and worthy end to the day, well the musical part as the stupid messy part continued at the after show club night till the early hours.

Definitely one of the best of these events full stop, expected treats fully delivered and pleasant surprises merely adding to the whole. Without a doubt I will be returning as will the festival, remember November for next year!