(review n pix by mwj)
Easter Saturday offers a time of quiet reflection on the sacrifice made by a Coventry death metal war machine as they randomly celebrate their 26th anniversary with a birthday bash in London town. Not only have they invited truly special supporting cast but the whole thing is a £6 a throw charity fundraiser at their own cost, summing up their uncompromising down to earth approach and further endearing them to us all who've enjoyed their aural battering over the years. The first time for me was an all-dayer in Liverpool Planet X, them co-headlining with Carcass when both where on their first album, a show I only heard about via John Peel, and after which it was fair to say I was never the same again. As they say themselves, it's very easy to reach these anniversaries just by not splitting up, in 7 years their career will have outlasted Jebus and its arguable that they've brought a lot more spiritual ecstasy to a lot of people rather than wholesale slaughter in the latter's name. Should have stuck to carpentry.

So after leaving one flock with the she-wolf I gathered some other disciples and we headed down the road, ensuring we had enough fuel for the journey. And diesel too. Death metal crusaders were coming from far and wide, Europe too, and the event could easily have been sold twice over in my opinion. We found our accommodation in Golders Green then tubed down to the venue. There was already a gathering hours in advance outside and in the pub adjacent, we continued up the road a short way to make a pilgrimage to The Southampton Arms ("Ale, Cider, Meat"), like a London version of the Albion in Conwy full of independent and local ale and cider, but with added meat!
Back to join the steady queue then once in the venue we can hear Vallenfyre on stage already. While some choose to endure 90 minute merch queues I've been well looking forward to this first opportunity to see these since they came to light last year. A jam band of mates but when those mates are guys from Paradise Lost, My Dying Bride, Doom, and At the Gates playing deliberately old school death/doom metal it's a recipe for ultimate win. Fronted by Gregor from PL (without his guitar) they quickly draw you into the atmospheric smoke and light filled stage with the depressing slow vibes, and aching growled vocals (whole project came from reflections on the death of his father) before surging forward into churning dark melodic riffing, powered along by seemingly effortless double bass drumming.
Next up Benediction, probably the most expected guests for the evening given their long association with the headliners, Midlands origin, saw them together in Wrexham back in the day. Fronted by Dave Hunt he acknowledges how great it is to see the big venue sold out for a death metal show, and as usual is in fine form the length and breadth of the stage, not that the old men of the rest of the band are not fired up in delivering both old and newer material. Not the most spectacular death metal band but as noted before they have a feeling of a punky core that charges them along.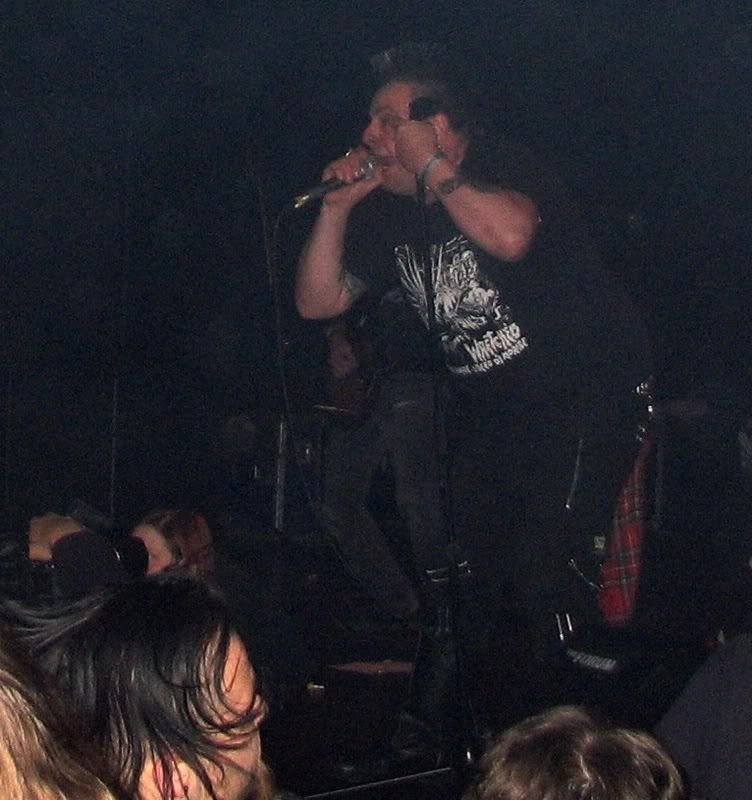 Interesting invite to an influence for the main band with Discharge next. Seen this incarnation a few times recently and while they certainly stir up a great reaction to their classic crust tunes from the likes of "Hear nothing, See nothing, Say nothing" I am also struck that they are a little lost on this big stage. Whether they are more suited to cramped seedy venues I don't know, Rat prowls the stage spitting out the venomous vocals and classic shout along hooks but it's not the best I've seen them. Even my favourite "The possibility of life's destruction" sounds a little thin, but on reflection its not a great drop off in the whole joy of the evening.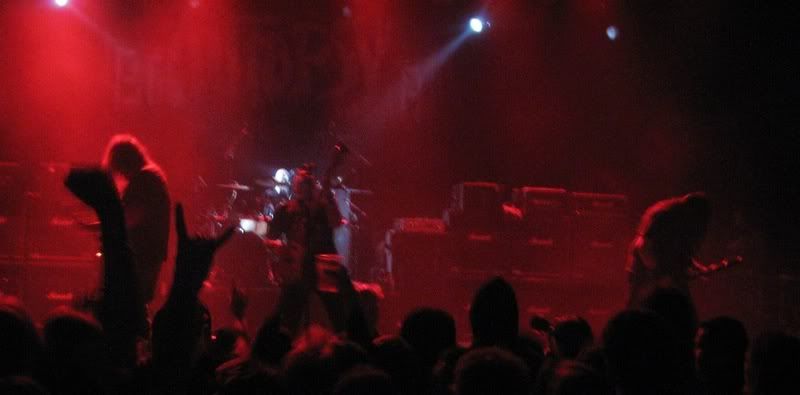 A big pick up next is the return to these shores of the U.S. legends doom/death legends Autopsy. With the great trend of reformations they've been back since 2009 but this was the first chance to check them here since seeing them in the Wrexham Memo at the start of the 90's. The anticipation for this band that so many recognised genre leaders cite as pioneers is fully met as soon as the first sick guitar tones and rolling drums blast out. Chris Reifert provides the guttural vocals as well as hammering the kit, leaving the other two originals and the new bassist to the front and accept the roars of appreciation as gems such as "Severed Survival" are dug up, but their new material from "Macabre Eternal" sits just as well with it. Can seem rough and ready in their approach and structure at time but that is part of the appeal, a glorious ending of "Riddled with Disease" leaves us feeling rotten in the best way
So to the main attraction, Bolt Thrower preluded by the stirring theme from "The Battle of Britain". We'd already been prompted by a preceding interview that their set was going to be in chronological order so it came as no surprise that the crusty onslaught of "In Battle There Is No Law" was the opener. Topped off all the more for me by following it with one of my all time favourites "All That Remains", its brooding intro giving way to stabbing and blasting frenzy. There is just general drunken happy mayhem all around, I take a couple of trips "over the top" but I think the long day has probably lessened people energies somewhat. The steam roller continues, with virtually all their back catalogue touched upon and demonstrating just how consistent and relentless they have been over this time. Particular highlights are "Ritual", "No Guts, No Glory", and "Powder Burns" but the finale of the bouncing riff attack of "The Kill Chain" leading into the appropriately ear-ringing pounding of "When Cannons Fade" is an epic destruction that ekes out our last push in the mosh.
There was still opportunity to get spoils of war from the scraps of merch left and also to realise that mine had been one of more than 10 phones stolen by scum lurking watching all the distracted but that didn't spoil the fun. We returned to the pub for last orders and then crashed back to the hotel. Next day we discovered how hard it is to find an open pub on an Easter Sunday morning in a predominately Jewish community but maybe it would have been the same everywhere, and maybe it was for the best! We headed back to the northern front, to plan for the next campaign. The Battle of Boltfest may have been a winner, but the war with false noise continues…