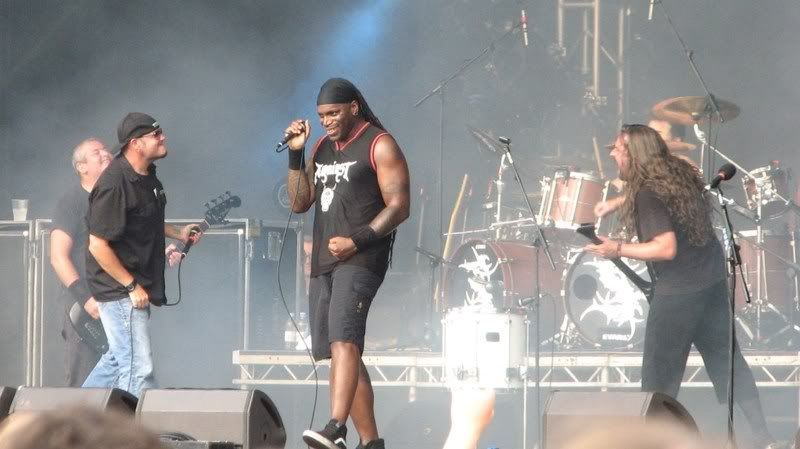 (review n pix by mwj)
The final outdoor expedition of the year for me, though I'll still be camping at The Dirty Weekend in Wrexham. And while spoiling myself rotten with Euro metal parties may have brought a twinge of cynicism over the relative value for money you get here at the largest of the small/independent, rock/metal festivals in the UK, I couldn't deny the excitement building in the week before. Yes there may be a lot of filler on the lineup, bumped up with battle of the bands winners and obscure euro exchange program acts, but this is offset by the convenience of the festival meaning it is the biggest gathering of likeminded metal head friends from all over, so the crack more than fills in the gaps.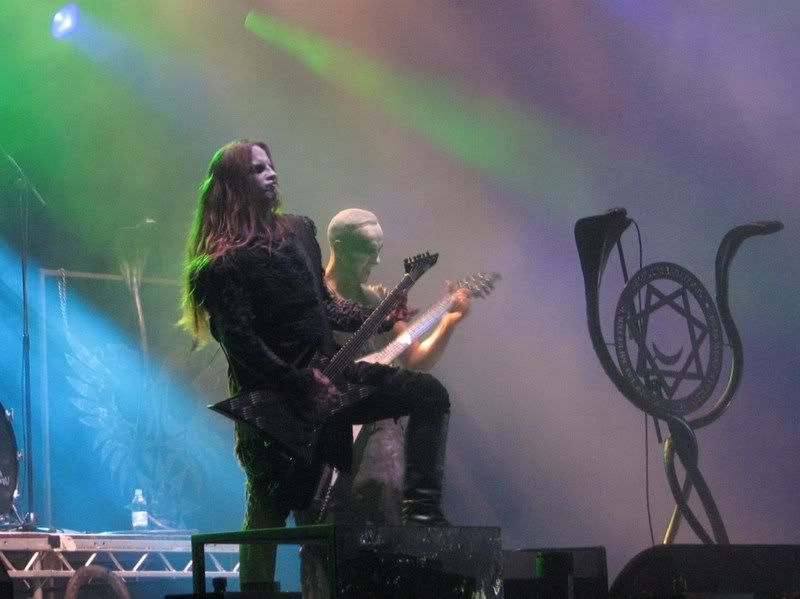 Arriving for a half day sesh from the Thursday managed to miss the handful of evening warmup bands including Viking Skull as the times had shifted a bit, then endured a shivery, cramping, indigestion filled lack of sleep night which made me think I'd had enough of this already. Friday brought a whole different perspective though with glorious sunshine that was almost too much in terms of sapping the energies in spite of (or in combination with 😉 ) keeping the fluid intake up. To start with this morning on the main stage was more of the eclectic appeal for the old school origins of setup, as after the metalcore of Malefice and the virtual Helloween tribute act of power metallers Freedom Call we had the heavy groove of Sweden's Grand Magus, good stuff if straying a little too far into the rocky at times. Saw a little of the Romanians Krepsular and their tech/prog thrashing in the New Blood Tent but it was swiftly siesta time. We were back revitalised with the Brazilian thrash/death legends Sepultura who really clicked with an older school set, and even had Tim "Ripper" Owens guest on a track. They seemed to be having a lot of fun on stage too. More retro next with what was arguably even more of a tribute act and Dio's Disciples, ex-band members with a couple of fill-in vocalists. Yes, faithful versions of a selection of these classics, on the stage that is dedicated to the memory of the man himself but not to my taste particularly.

Hence a visit to the New Blood and Birmingham's Katalepsy, pretty straightforward death metal but delivered with a bit of style. First visit to the second stage in the Sophie Lancaster tent and the start of a very blackened end to the day. London's Eastern Front had a good presence with their uniform approach and grimly decorated stage, and the music was up to scratch too mixing epic atmospheres with harshly roared black metal brutality. The ultra-grumpy guitarist was great entertainment too. They provided a good warm up to the bringing down of the sun set from the Swedish black metal legends Watain. They have also developed their sound from the filth and fury I saw at Hellfest 5 years back into a more epic and spacious darkness, undoubtedly increasing their accessibility too. They'd gone the whole (bloody) hog on a ritualised stage show too with the candles, chalice and pyros but to be honest my fonder memories are for ye olden days. Spoiled with a back to back hammering we had the revitalised Behemoth to finish with yet more (and yet similar) smoke and fire and evil goings on. As in France recently it was a really satisfying onslaught of precision blackened death aggression from the Poles and I think previous grumblings of their worthiness as a headliner were laid to rest. As was I before long!

Saturday was always going to be the most hectic in terms of line-up so thankfully the sun had abated just a little and a good night's sleep and a full German breakfast had got me fired up for a full sesh ahead. We, along with a generally excellent early turn out, joined the breakfast club of old school Brummie deathsters Benediction who delivered a solid set in spite of vocalist Dave being on crutches. You don't get sympathy for gout, mate! Next we had a return for Dripback in the Sophie tent and yet again these London guys delivered a blistering set of their hardcore/grind crossover, hopefully the consistently good reception they receive will open the door for more such extremity. And as usual for those with an intimidating/lunatic stage presence they are such friendly guys off it. Attention focused back to the main stage and Taiwanese blackened metallers Chthonic, the sound not so good for them but interesting to hear them get political about how they had been forced to be Chinese Taipei for the Olympics. Oh yeah, forgot they were on! Got up close next all the better to appreciate the vibes of Southern States heavyweights Crowbar but again the sound was lacking oomph, with the drums overriding the sludge of the guitars. Improved gradually and they reached satisfying almost Godflesh-like industrial dirge riffing at times, great stuff. Stayed there for arguably the most kvlt act of the weekend, the seminal Norwegian black metallers Mayhem. Surprised/resigned after to hear the criticism of lack of stage outfits, poor sound, sloppy playing, for me it was the best I had seen them and even in broad daylight I thought Attila remained a commanding and entrancing frontman, with an inhuman vocal range/style. And I had weird visions of myself resembling Necrobutcher on bass in the not to distant future… Saw the start of veteran thrashers Sanctuary but there was too much of a warbly rock element to it for my tastes so a campsite break before returning to Hatebreed. Had missed at least two opportunities to see these before through clashes/indifference at other festivals but with no alternative here accepted it as a very pleasing experience at last. Pretty relentless stripped down heavy hardcore/metal crossover riffing, with shout along vocals easily hooking over the top, they created a massive positive crowd reaction in the pits and beyond. Great moment where they brought a kid up on stage from the front, and complemented his dad on having him "rocking the Morbid Angel shirt at 7 years old".
I popped into the New Blood to see Croatians Doomed who had driven 26 hours to play to about 30 people, and were having to change their name to Verminate because of legal threats, and while their death-ish metal was engaging enough I couldn't help but feel a bit of sympathy. Ever reliable and therefore much anticipated Bay area thrash gods Testament were next to entertain us outside. Chuck Billy has great charisma as well as vocal range but the newer material just didn't strike me as deadly as the old school gems that they aired, but this was more than enough to satisfy me. We were still able to peg it over to Sophie tent for the last half hour of Orange Goblin, the first chance I'd had to catch at last the UK doomsters due to previous clashes etc. And excellent it was too, as if a stoner Motorhead could be anything but! It was obvious that they were highly chuffed with the response they'd received in return too, as they have worked hard to garner a fanbase through a lot of gigging and the place was packed out for them. Finally, another controversial headliner in Machine Head, who had been hyped up as a massive exclusive and event but hmmm…. Again, I've been really not bothered about seeing them in the past as they were somewhat "after my time" but their latest release has a good deal of Slayer-esque thrashing on it and as they were biasing their set towards their older material it was pretty enjoyable all in all. If only frontman Rob Flynn could rein in his full-on clichéd spouting it would be even more so. A reasonable enough finish for the day and party til 4 shows that the wheels are fully in motion. Or coming off.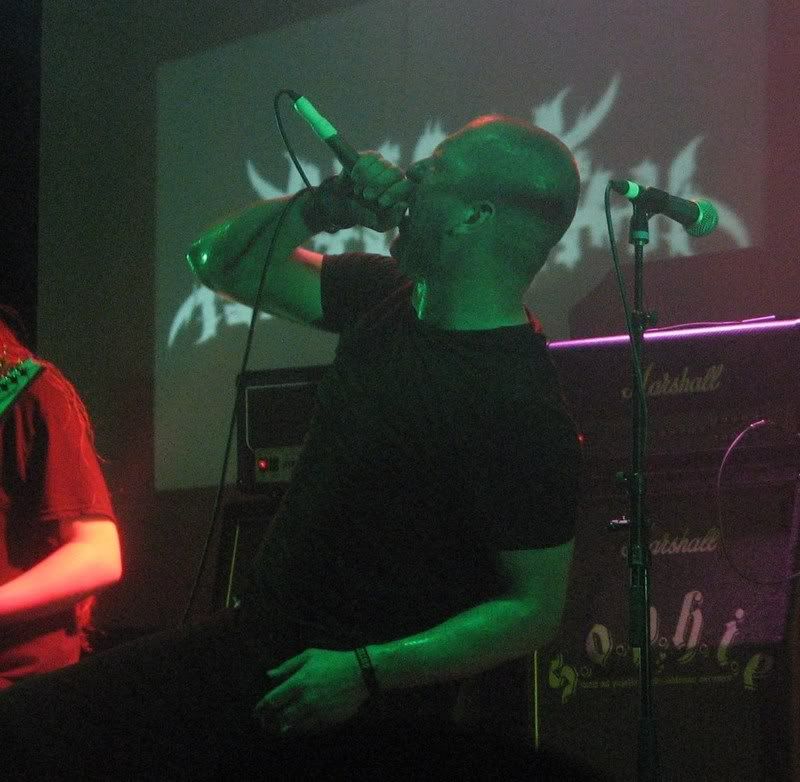 Back to a quieter day on the Sunday we still made an early start for Corrosion of Conformity. I think they threw a lot of people who expected/hoped for their proto nu-metal era stuff but I was much more into the stoner/punk crossover they produced, them coming across like a jam band of mates with no boundaries or agenda, and ultimately sharing fun. Far more focussed were the death metal titans of Nile next. They had been one of the most anticipated bands of the weekend for me and as soon as the intro riff to "Sacrifice unto Sebek" thundered out with such devastating power and tone, I was in ecstasy. With their incantations they brought on the rain but only a refreshing shower and this didn't hold back mad pit action and the occasional levitating act. Superb. Rested myself after my exertions to watch Black Dahlia Murder from a distance and while their deathcore was fast and furious enough for me it inevitably paled in comparison to the preceding. Another mid afternoon break from Evile's watered down thrash and the inevitable joke worn thin of Anvil before returning to lie in the sun for Paradise Lost. They remain hit and miss for me and unfortunately this was a miss time as it was such a turgid hard rock set and even Nick Holmes dry humour and my intersong shouts for Vallenfyre failed to raise it. The black metal fashion show of Dimmu Borgir was also maybe not best suited to the sunny evening, but more offputting for me was the keyboards being very high in the mix giving it an overpowering stench of Euro-rock cheese, while they still rumbled with heaviness at times. Still, we were presented with an opposite extreme under the genre banner with Anaal Nathrakh over in the Sophie tent. Dave still being a trooper on his crutches was evidently channelling his toe-pain into unbridled vocal rage as they ripped through a great set of their ultra harsh and cutting hyper-blasting black. Not to say they don't put variety and interest into the song structures, a new song aired merely demonstrated they are retaining their consistently explosive extremity. After that catharsis was all set to chill and take the theatrics of final headliner Alice Cooper with a pinch of salt. However his show was an absolute revelation and massively entertaining. His decades in the business have evidently led to an effortless level of performance made even more remarkable given his age and putting some of his even younger contemporaries to shame. Even if the music can be wryly cheesy at times you can't help but know all the classics and the orchestration and choreography (especially with his doll friend) is done to the nth degree which has got to be appreciated. There's no banter, it's all the "act" but it makes a universally appreciated great finish to the weekend and while I couldn't go out of my way to see him again I am very glad I did here. Another 4am party finish means we are not so much having the wheels coming off as being crushed under them but all in all a few great bands have made this one still to remember fondly. Whether next year it can still rival the pull of euro adventures we'll have to see.