Y Blew did it, in 1967, probably for the first time. They released a 7" single "Maes B" b/w "Beth Sy'n Dod Rhyngthom Ni". The first time that we had a proper Welsh Language Rock'n Roll record. This is two years before the Mike Stevens produced, first single release on Sain Records which was "Dwr" by folk-protest singer Huw Jones and which incidentally features Heather Jones on backing vocals.


So 'Maes B' could well be the first Welsh Language rock'n roll record. But why ? Apart from the obvious "Why Not ?" or even  "Somebody had to do it", it's probably down to bass player Dafydd Evans who realised that this needed to be done. Before we had the Blew record we were really left with girl bands in Laura Ashley dresses looking like they'd just come off stage at the Gwyl Cerdd Dant and Welsh versions of Blowin' in The Wind and This Land is My Land.
                I was hanging out with Llmych Fanzine when Huw Prestatyn interviewed Dafydd Evans in the mid 80's and it was obvious then that he'd seen the need to have some cool stuff in the Welsh Language. Certainly it fitted in with the overall campaign for the Language spearheaded at the time by Cymdeithas yr Iaith but Dafydd probably realised you needed some rock'n roll  songs to go along with the Revolution.
                Most of the Blew dudes had already played in bands that sung in English, no big deal, but Dafydd Evans really does deserve credit for moving the agenda forward.  Without Y Blew, the 60's Welsh Language Scene would have been Bob Dylan sound-alikes. No Stones or Beatles in Welsh.

                Some years later another visionary, Hefin Elis, who had already played in bands with Evans put Edward H together. This is really the next milestone. Edward H provided the musical backdrop to a whole generation of Welsh speakers in the 70's who wanted a soundtrack in Welsh. Edward H were formed with the intention of filling the gap – there was no Welsh Language Rock Band for the youth of Wales.
                I've never been sure if they ever stated that they formed to provide a band for Welsh speakers or for the youth of Wales – in one sense it makes no difference but if it was aimed for Welsh Speakers it certainly makes it very different to what went on in the mid 80's during the Welsh Underground Scene when the agenda was Welsh Language Music for everybody (or anybody who will listen). But at the time, I think their "aim was true" to quote Costello; there was a point to it, there was a need for it and without it you don't get to the next stage.
                These days I have quite a lot of time for Cleif Harpwood, he's still out there gigging, still doing it for the right reasons. I saw his new band at Caersws recently and thoroughly enjoyed hearing the songs.
But, for the masses, Edward H were basically good time rock'n roll to get pissed to, to get laid to, to get wasted to – nothing wrong with that, Popeth yn Gymraeg – this is the first time we have some kind of mass appeal for Welsh Language Rock. Edward H had a folky side (often better than the rock stuff)  and definitely a political side – and also humour if you look at the album sleeves and titles. This is another band that probably deserves a critical re-evaluation.
By the early 80's Welsh Language Rock was firmly established, you'd had pretty cool bands in Trwynau Coch and Geraint Jarman, they'd even begun the process of John Peel plays and coverage in things like the NME – you know let's reach out a little bit. Jarman and his Rasta cohorts were definitely an "urban" band, a Cardiff band, quite interesting, not as trad as Edward H, they smoked spliffs and played gigs in the Docks in venues like the Casablanca Club. This was pretty damned cool, even going down there was a bit of a thrill. The smell of ganja filled the club, the music was reggae but the vocals were in Welsh. Talk about a Culture Clash. More interestingly, this was possible and it worked. It stopped the trad heads from monopolising Welsh Music and Welsh Culture. It took it away from the University Halls of Residence like JMJ and Pantycelyn. You have no idea ……..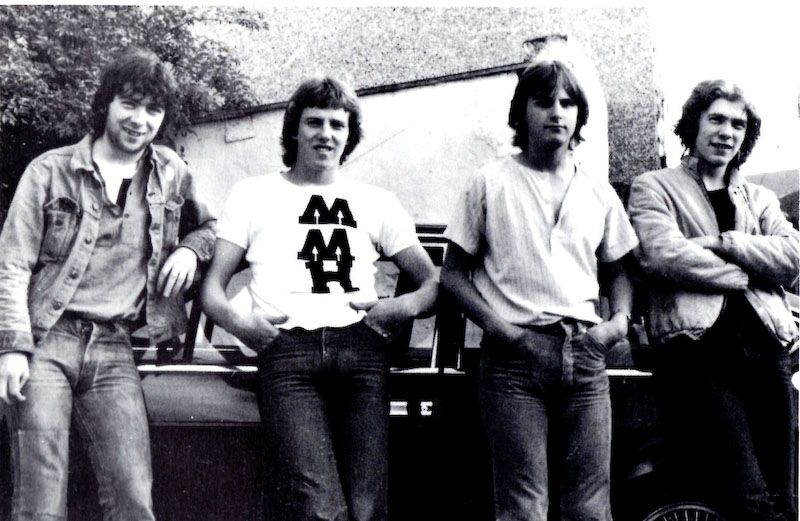 Another milestone was (arguably) the post-industrial scenario in Bethesda. I know Penrhyn  Quarry is still working but …….. bands formed here because there was fuck all else to do, so in that sense it's post-industrial. Bethesda did not produce post-industrial electronic music as did Detroit or Sheffield, it was still a denim town but it did produce one of the greatest Welsh Language bands of all time – Maffia Mr Huws (pic above).
Now Maffia are really interesting because they are probably the first working class Welsh Language band, not college boys, not in it to get a job in the Welsh Media, they were full time, the real deal and brilliant at what they did. They were not influenced by punk, there must have been a time-warp around Bethesda and possibly for that reason they have never quite found their place in Welsh Pop History. Too young to be part of the Trwynau /Jarman Generation and not Punk enough for the Underground Scene of 1982 onwards – but they kept the scene going between 1981-83 there is no doubt.

Always supported by Sgrech magazine as a natural Welsh speaking band, it was often overlooked that most of the Maffia boys played with Offspring, another brilliant band from Bethesda put together by Les Morisson, but Offspring sung in English. In the early 80's not only was this taboo but you could get to be banned by the Welsh Language Promoters for playing the wrong venue or for "playing in front of English people" in theory – ask Jarman – he copped it well and truly for playing in Cardiff Castle.
Maffia were never rumbled. They were well liked and you really could not question their commitment to being in a Welsh Language band.
The next milestone was the emergence of truly post-Punk bands who wanted to sing in Welsh from 1883 onwards. I've never quite fathomed out why Y Cyrff from Llanrwst or Datblygu from Aberteifi were so unflinching in their politics, they never deviated, always sung in Welsh but never segregated the audience. Of course that would have been a bit mad in Llanrwst, I always remember Cyrff having a strong local following, Llanrwst boys who probably understood Welsh but more often than not spoke English together. But here they were following a Welsh Language band. Cool.
Bands like Cyrff were closer to Y Blew in spirit, the fashion was up to date, they were more urbanised, looking more towards Liverpool than Aberystwyth, sounding more Bunnymen than Dafydd Iwan.  This was Welsh Language Music for everybody, not just in Wales, not just for Welsh speakers. Cyrff played the Square in Harlow with Attila the Stockbroker and went down a storm (as did Datblygu). No Welsh bands had done this in the 70's.
Cyrff were part of that Llmych scene, a fanzine put out by the Clwyd branch of Cymdeithas yr Iaith, and again for the first time it could be argued that a few members of Cymdeithas actually realised the value of looking outwards rather than inwards.  In social context this was all bang up to date – we had Billy Bragg and Red Wedge, the Miner's Strike, Thatcher polarizing everobody – it was a good time politically to be a Welsh Language band with something to say. I toured many a South Wales Valley venue with Cyrff, always singing in Welsh, mostly to non Welsh speakers in those areas obviously. No problem, no issues, no segregation – and a faint hope that we were making the Language cool, some might even learn it or certainly send their kids to Welsh Speaking Schools. It did happen.
It was still on the agenda that we were all doing this to promote the Language, the medium was rock'n roll not placards and rallies. So what happens next ?
A generation of bands like U Thant, Crumblowers, Fflaps, Gwefrau, Ffa Coffi  Pawb, Beganifs (pic below) all formed in the wake of the Welsh Underground Scene. Some of them like Ffa Coffi Pawb became hugely popular around 1990 – they all sung in Welsh.

By 1992 they had all played the Eisteddfod once too often. They'd all been on S4C and realised that it made no difference at all. No more records sold, no more audience numbers and certainly no means of making a living being in a Welsh band. So we had Mark and Cerys, the embryonic Super Furry's with Rhys Ifans on vocals, all venturing into unchartered territories – all quietly (not daringly) writing songs and producing demos in the English Language.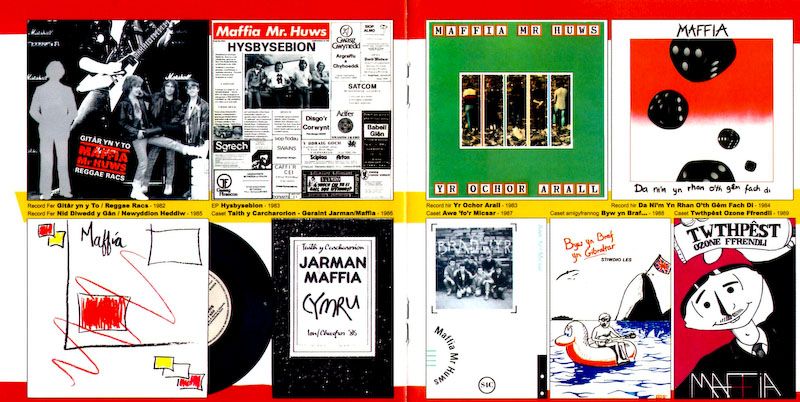 Maybe it would have been different if the Welsh audiences had actually supported the bands as opposed to getting pissed and laid at the gigs. Maybe had the Welsh Media actually got some reach all those programmes like Fideo 9 might have meant something more than the £1000 fee which was used  to make the next record. A lot of maybes. Maybe it was time for a change. Maybe the time was up.
I got involved with the embryonic Catatonia 1993-94 and slowly things changed. Within a couple of years  We had 'Cool Cymru' and the Welsh audiences (both languages) woke up and thanked the Lord that they were Welsh when the English Media told them that Welsh bands were good. We needed Top of the Pops to convince us – us poor deluded oppressed un-cultured sheep shagging fools. Sad but true. Who cares – we had great music coming from Wales, even the Manics became Born Again Welsh and we had the odd song in Welsh chwarae teg – you know as in 'Can yr Ysgol' with our "Lessons History, Lessons Geography ac unwaith yr wythnos mi gawsom Welsh chwarae teg" …………
From this point everything did change. Beganifs became Big Leaves and they cleverly seperated their Welsh and English releases and their Welsh Language gigs from their "other" gigs. No one else has done this quite so cleverly and clinically. This was Cool Cymru Wave 2.
What had changed was that Super Furry Animals became the coolest Welsh band ever. Everybody knew they were basically Ffa Coffi Pawb with a couple of members of U Thant thrown in – so they were always and still and forever to be a "band Cymraeg", no confusing our Cymraeg and our Cymreig – no one was interested, we were sooo happy.
The Furry's influenced not just a generation but most of the young bands around today. You listen to any band who sing bi-lingually from North Wales and it's Furry's / Gruff Rhys all over. Like Catatonia sung, they have a "lot to answer for". Not them personally, but they've inspired a generation of sound-alikes rather than inspiring people to form different kinds of bands. That's not their fault. The same thing happened with the Sex Pistols and Clash during the second wave of Punk  – parody bands, second division copyists who more often than not missed the point.
The main issue I have with all this and the parody bands especially is that Catatonia and Super Furry Animals succeeded because they had exceptional songwriters, they had exceptional songs, they are all vastly talented, they'd all learnt their craft on the Welsh Scene and yes they sung in English. But a shite Welsh band singing in English does not success make. A generation failed to see this.

Now looking back to Y Blew,  Edward H, Maffia or Cyrff it was all of it's time – things have now changed. Why should any band now confine themselves to singing only in the Welsh Language ? Well it is obviously a matter of choice. Steve Eaves I presume is unlikely to record an English Language record as is also, I would suspect, Dave Datblygu.  Datblygu in English would be a non-sense. To what purpose ? Datblygu remain the enigmatic, iconic, seminal Welsh Language band – surely ?
The young bands were not born when Datblygu recorded the 10 Peel Sessions all in Welsh – they have no idea – why should they ? Politics and music are not so easy bed fellows these days. The Welsh Underground Scene produced no love songs – every song was political, small 'p' possibly, even the love songs ! But today we have very little political context, it doesn't have to be this way but it would appear to be the case.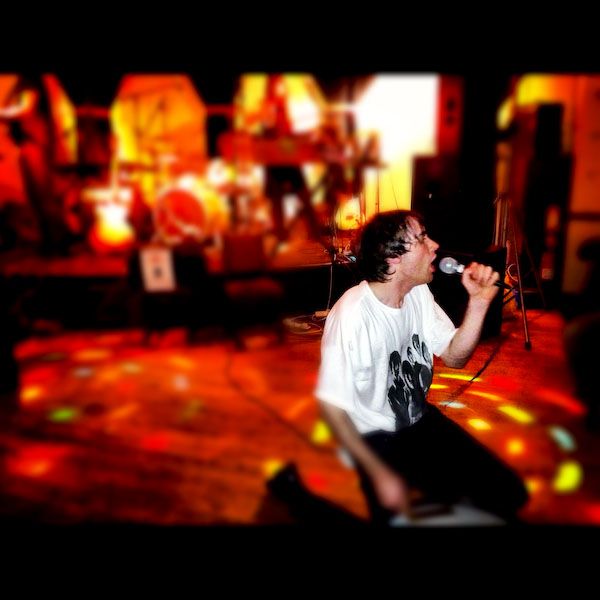 I'm writing this article in response to the "Trydarati Cymraeg" who were discussing the Language policy at the "4 a 6" gigs in Caernarfon. Now this is really interesting. My understanding is that the gigs are promoted by people like Geraint Lovgreen, Rhys Trwynau Coch and Nici Beech. They do this for the right reasons, ie  voluntarily, as enthusiasts, to support the scene in Caernarfon  but I think they also do this to promote the Language and "y Sin Gymraeg". I do not want to speak on their behalf because I have only been to one gig – and that was the Racehorses (pic above & below) gig – but this is where the Trydarati got flapping  – what's to be done with all the English songs on a Welsh night ?????
So young bands get a chance to play at "4 a 6" which is good, Caernarfon has a bit of a live scene which is good but these are what we would call "Gigs Cymraeg". Welsh artists or Welsh based artists like Amy Wadge or Martyn Joseph I suspect would not get a gig because they have no Welsh Language repertoire – they are not "grwpiau Cymraeg".
But what has happened is that bands like Racehorses turn up at a so called Welsh Language gig and maybe do three Welsh Language songs in a set of 15 – 20 songs. The audience are mostly if not entirely Welsh speaking. Racehorses no longer play the National Eisteddfod because they do not have a Welsh Language set.

In the context of the Eisteddfod that is the deal – they have a Welsh Language only rule. Promoters and artists alike understand this. You will get away with a couple of English songs – no one will notice. You will not get away with a couple of Welsh songs. But then everybody knows that Racehorses or Cate Le Bon etc now do a few Welsh songs in a mostly English set – book them for what they are and what they  do – or don't book them. (Unless they can write a Welsh Language set for those gigs like Maes B – possible because Sibrydion / Big Leaves always managed)
I certainly do not agree with telling an artist what to do, which Language to perform, but then I spent over 10 years in a Welsh Language punk band touring all over Europe and singing in English was totally out of the question – it was not the point and not what we were about. Our whole point was to take Welsh Language music into an International context. But that's not the case today is it ?
Should  you have a Language policy at gigs ? The Eisteddfod do, Maes B do but it's pretty easily flouted.  Cymdeithas yr Iaith must have contracts for their Eisteddfod gigs – again not sure because I haven't played gigs with them since around 1992. Would I sing a contract like this – no bloody way – I will not be told by anyone which Language I should use – but then for Anhrefn we would not have required such a clause – they would have had to cross it out – cheeky bastards.
But why play a "Welsh Language" gig if you do not have a Welsh Language set ? The obvious answer here is that for a lot of bands, the only audience they have is the Welsh Language audience, they write in English in the hope of doing a Super Furry's but in reality they'd probably shit themselves doing a Wednesday night at the Princess Charlotte in Leicester if you know what I mean. They would not find the venue, They would not have an audience.
Y Blew had reasons for singing in Welsh which are not relevant to Cowbois Rhos Botwnnog. Edward H were of a completely different time to Cate Le Bon. Politically we are in another devolved self governing place. Cardiff is now a truly European City, cultured and multi-cultural. Cardiff today is not the Cardiff that Jarman wrote about. The politics are not the same. This is not 1962. This is not Pont Trefechan. This is not even "Tai Haf" [burning down holiday homes] anymore. This is Bi-lingual Wales. Some of the battles have been won (by the parents) – maybe that's where the complecancy sets in.
If the audience of today are the bi-lingual generation is it not natural for them to have bi-lingual performing bands ?  They are not there to "Save the Language" – we have just agreed  that was "done" by their parents. Again don't quote me on this – but I suspect no one really notices or complains if bands sing bi-lingually at Welsh Language gigs – the barriers are well and truly down – until now.
Maybe the time for Welsh Language gigs is gone, over and out, past it's sell by date. Steve Eaves, Bryn Fon, Geraint Lovgreen, Maffia, Sibrydion, Twmffat  will all give you 100% Welsh Language sets – go see them. Double check there's no dodgy (young) support acts and you will have a Noson Gymraeg [Welsh Night].
I want to see Neil Maffia recently in the Llangollen pub in Bethesda. I would have been gob smacked had Neil done an English song – I would have asked for my money back (even though it was a free gig). But had Neil done an Offspring cover would I really have minded – probably not – it would have been in context. But, Maffia singing in English is obviously a no – make that a NO!
So if I reject the Language Policy idea and the sign a contract that you won't sing in English idea I also welcome a band that can be truly confident and perform a Welsh Language set – our generation proved you could do that from Dublin to Prague – maybe that's a lesson the young bands should learn – more docu's on S4C then please !
There's also the small point that Internationally, singing in Welsh might well be your USP. No one needs another sound-alike band singing in a poor North Walian accent in English.
Singing in Welsh should obviously be a choice but choice these days sounds like an issue – it should not even be an issue – that's where I feel that we have lost ground – the eye on the English scene (so called success) is partly to blame here, do what you want to do, stick to your guns, and sing in Welsh for fucks sake – forget the NME and Radio 1, be who you / we are. Reflect this place.
But this is all in this context of Welsh Language gigs. Obviously the melting of the Welsh Scene and y Sin Gymraeg into the big pot has been a good thing. Swn Festival or Green Man Festivals will have Welsh Language songs on the main stage, reflecting our bi-lingual society where in another age there would have been no Welsh at all. Cardiff gig goers are no longer "anti-Welsh" in any way – compared to Jarman's day  when he was truly breaking new ground (and copping it off the Welsh Language purists for reaching out).
I am convinced that the Welsh Language has to reach out and all the bands from Catatonia to Cate Le Bon have done this by doing this bi-lingually. But, we must also argue that Datblygu or Cyrff were right not to compromise – not that it was ever on the agenda. What a brilliant thing it was to see Cyrff and Datblygu on The Tube (Channel Four) – flying the flag (not in a Sterephonics sense) – that was cool – that was reaching the Valley kids – turning them back on, turning them on for the first time, or just turning them on – I talked to so many Newport punks who wanted to learn  Welsh because of those bands !
So I say all this as a "Culturalist not a Nationalist". I have no answers.  But I would say "Popeth yn Gymraeg" [Everything in Welsh] is not such a bad mantra, at least that we have the possibilities and confidence of creating anything and everything in Welsh  – I still believe in that – that probably means we should be concentrating on Welsh Language Computer Games involving  all sorts of non PC things. I can hear my kids watching extreme stunts on youtube downstairs. They do not listen to much music. They have nothing in Welsh that appeals to them. Pop Music no longer reaches those parts. Once again we have to go back to that 60's poster – Popeth yn Gymraeg and get with the C21st programme.
So the whole gig thing will not affect my boys' generation and no one has even started that debate – we have Cyw on S4C which they call boring – it reminds me of Girl Bands in Laura Ashley dresses. We need a new Blew but it needs to be a computer programme ………………