(review n pix mwj)

I have Jebus and his associated holidays to thank for the free time opportunity to catch up with one of the favourite finds of recent years, Seattle's Black Breath. They've had the odd festival appearance since I last saw them at the Star and Garter over here, and these dates are a lead up to seeing them at Roadburn in Holland, but they remain firmly underground with their death/thrash style.
And this first visit to the Mill would seem to suit them (and me!) to a tee, as it's a converted industrial unit very reminiscent of the 1 in 12 in Bradford, or the Bussey Building in Peckham. There's a good turn out already and we're straight up to the foot high stage to check out locals Pine Barrens. Some of their pedigree of past members from Atavist and Beecher comes through as it's a pretty intense experience, great blasting black metal drumming interspersed with more raw hardcore vibes and the occasional sludge breakdown. The shifts verge on randomness and are all topped with some vicious screaming from the wandering vocalist but it certainly keeps the attention.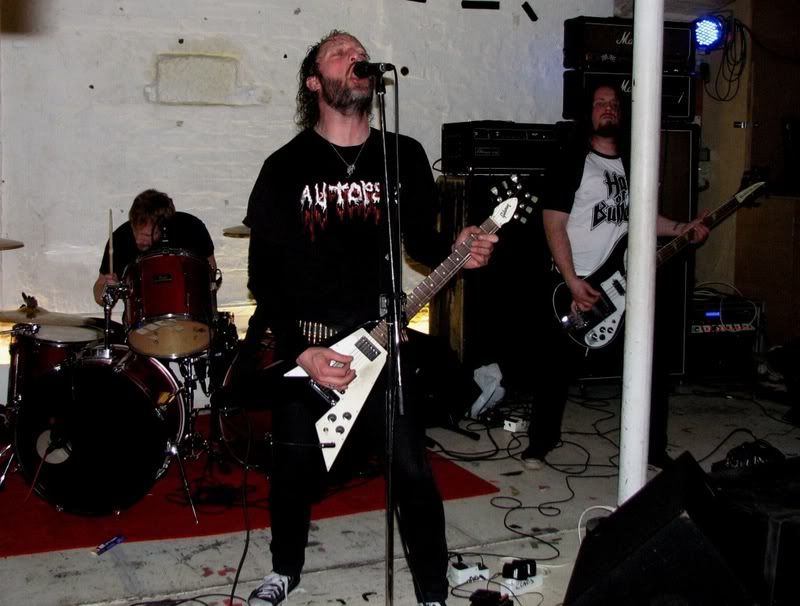 Tormented are over from Sweden presumable as friends of their fellow countrymen of the main support, and despite not having heard them before in no time at all felt I had known them since 1989. They were so gloriously generic in their Swe-death/doom style it just brought a beaming smile to my face, especially with the added bonus of sub-Autopsy gore song titles and lyrics. Often the riff playing was relatively slow, carried by the drums, but would kick into double picking madness some times. But this old school approach was not at all in a bad way, it was a HM2 distorted formula that tugged on my aged heart strings and was much enjoyed.

Victims I had already been looking forward to seeing in Hellfest this summer and am now all the more so. From the off they were properly raging crusty hardcore, cramming an incredible amount of 2 minute wonders into their relatively short set. Full of energy, but with plenty of melody too, good chorus hooks ably demonstrated on their new "A Dissident" album I pick up too. How the Swedes are just genius of riding this knife edge of extremity and accessibility I don't know but am not complaining all the same, and am happy to display their "I <3 Victims" sticker 😉
As if that wasn't enough we still had the pleasure of the headliners to finish us off with the best thrashing I've had in a while, despite a bass amp demise delaying their start. Though they too were airing material I hadn't heard from their latest "Sentenced to Life" album, there evidently hasn't been a great evolution from the debut "Heavy Breathing". This is good in my book, again the reference to the sick guitar tones of early Swedish Death remains, if anything they cranked up their thrashy aspect too and a real filthy hardcore cross over appeal. They have a great frontman in Neil who brings the Manson (Chuck not Mazza) look to the mad energy he exudes on stage and into the crowd, and the whole thindg has a real genuine feel as opposed to some contrived -core as some accusations that have been levelled recently. The venue complements the up front and in your face aggression of the sound although I did wonder if the PA in general was man enough for the space, but you can't complain too much about this in independent venues.
Storming stuff all round, and while I thought this might satisfy my urge to see them and free me up from a clash at Roadburn realistically I'm as keen as ever to catch these guys once more.