(review spaceman steve / pics jane crud)
The first night of the tour kicks off with Irish support act The Japanese Popstars who build up the tension with a blend of techno-savvy loops and sweeps. It's a neat, no-nonsense mix aimed at making even the creakiest punters break into a jig. Orbital open gently with "One Big Moment" like the echo of a remote dimensional doorbell, seamlessly slip into the funky drummer shuffle of "Straight Sun" then take a sudden right turn into the crowd-pleasing "Halcyon" mash up of Bon Jovi, Belinda Carlisle and Opus 3's "It's A Fine Day". The melancholy soprano of "Belfast" is mesmerizing but it's "Sad But True" that draws a grateful roar from the Orbital massive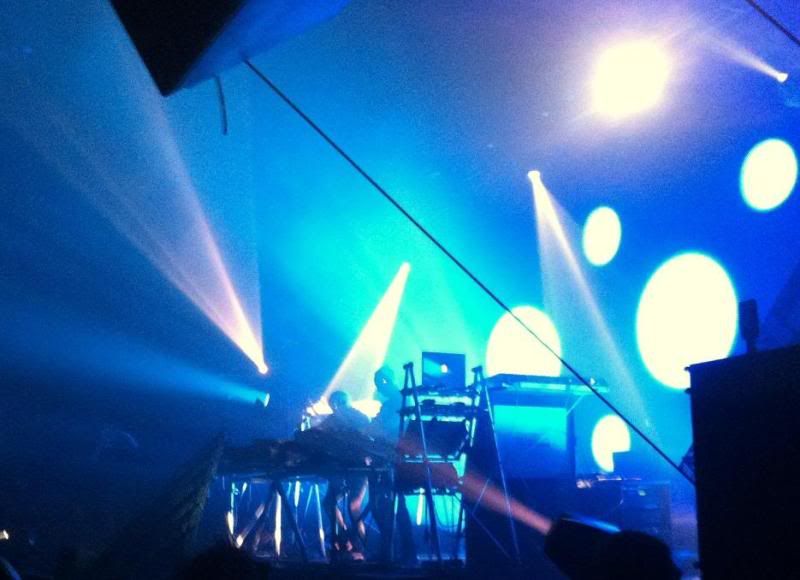 It's been eight years since 2004's "Blue" album which, along with its predecessor "The Altogether" was a more Orbital-by-numbers affair and it seems the time has been well-spent leading to a back-to-basics rehash of their back catalogue and nods to grime, drum 'n' bass and dubstep on latest album "Wonky". So although there's no "Lucky Break", "Dr Who", "Beached", "Style" or "Nothing Left" tonight – in fact nothing at all from the last three albums – live favourite "Satan" is remixed as sub-bass dub stonker "Beelzedub" while "Never" has overtones of Aphex Twin electronica.
The tribal break beat of environmental anthem "Impact: USA" sounds lean and mean and it's this – followed by the hands-in-the air twisted 'meow meow' of shouldn't-work-but-does single "Wonky" – that get the best response tonight. It's a knack for these irresistible rhythms coupled with the unexpected – like mixing "Are We Here?" with the telepathic galactic shout-out that is The Carpenters "Calling Occupants of Interplanetary Craft" – that raise the brothers Hartnoll above the herd.
Orbital's reputation has always relied heavily on their live performances and tonight is one of their best. It's the same improvisation and experimentation that marks their early work that runs through tonight's performance and means the encore of "Chime" sounds fresh and new while "Stringy Acid" could be lifted directly from 1988 via a 808/909 drum machine time warp. The tricky up/down shape-throwing of "Where's It Going?" is just one last peak before the long trip home.
Twenty years is a long time and with the set at two hours it's hard to squeeze everything in – the most obvious omission being the revolutionary call-to-glow-sticks of recent single "New France". Quibbles aside, tonight is an amazing return-to-form and if recent rumours about the start of Dad House are to be believed then it's time to blow the dust off your whistles. Techno is alive and still gurning…rumours of its death have been exaggerated.