(review n pic by mark williams)

It was Neil Crud's tweet that alerted me to the fact that the Legend that is JONATHAN RICHMAN was playing Hendre Hall near Bangor. I had to rub my eyes and re read it before it actually sunk in, we had a genius arriving on our own door step so it was on a cold clear night in February that the Williams household made the short trek down the A55 to meet their maker.
I last saw him at Manchester University in the eighties, it was a gig scarred into my conscience as probably the best of my life as he belted encore after encore onto his adoring followers.
Now in his sixties but with his trademark stripped back vibes, the stage was set to the bare minimum leaving only him, his acoustic guitar and the marvellous Tommy Larkins (his drummer). Tommy plays the smallest drum kit imaginable and just kind of watches Richman carefully, follows the beat and caresses his skins with brushes.
You will either love it or hate it, of course the good people at the venue knew what to expect and all I saw were wall to wall smiles as Jonathan sang, danced, chatted and even played a bell with a drumstick on stage.
There is intelligence, charm, wit and sincerity aplenty. I suspect that it doesn't matter too much to him if you get it or not. It's what he does. Take it or leave it. It's entirely up to you.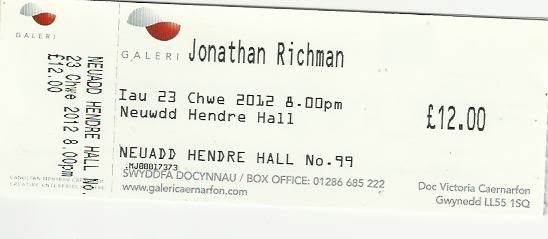 Much of the ritual that accompanies a typical show by a mere conventional performer is either completely missing or there by quirk. He told us to not clap in between songs as it "spoils the vibes" so one song goes into another seamlessly often with no ovation milking pause.  He remarked that the stone work at Hendre Hall was good old fashioned mortar mid-song and also played one number off the stage right in front of the audience as if the most natural thing in the world.
There were a few songs in Spanish and French and when someone started singing " That Summer Feeling" in the crowd as a way to try and get him to sing it Jonathan (I refuse to call him Jo Jo) stopped the concert and said "If you want to sing get your own band" to much amusement.
I am pretty sure that the audience would go wild for a set peppered with his "hits" such as Roadrunner but I have read elsewhere that he is tired of playing old songs and who can blame him when the best song of the night had not been even recorded yet "Bohemia" had the whole crowd singing even though I am pretty sure none of us had ever heard it before. It described his art school days from Harvard and has an insanely catchy chorus where he describes his old self as pretentious but thanks his parents for supporting him anyway. It stays on the right side of whimsical as his songs often do.
Most of the set was from his last two albums including the songs – No One Was Like Vermeer; my affected accent; because her beauty is raw and wild; when we refuse to suffer. He also did a song about his mother "dying in a nursing home" to total respectful silence which sounds mawkish but was absolutely stunning with even Jonathan appearing touched by the audience response.  Even though the crowd begged for more for over 10 minutes there was no encore as if Jonathan Richman does not do the conventional or obvious thing, more power to him for that.