(review n pix by neil crud)
With a name like North by North Wales, you just had to turn up to have a look. The Skerries is a cosy pub, the back room is a typical 'live room' – as in, pool table pushed to the back wall, cheesy horse brasses, bric-a-brac adorns every available space and a 100watt bulb to illuminate the band. That's not a complaint; just an observation. The only complaint is that it could do with taking the tables and chairs out of one side of room to accommodate those wanting to see the bands.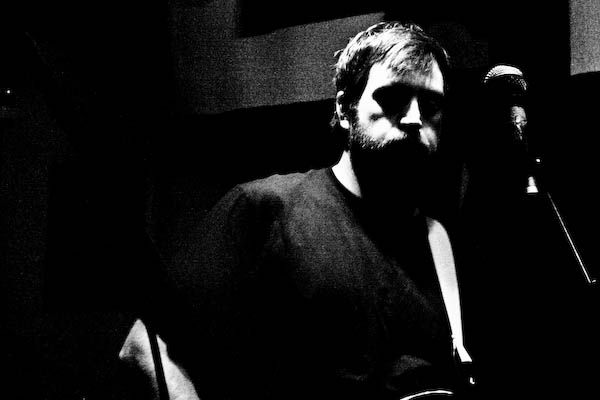 Being a 12 hour stint, only those paid to review and those who organise are going to be there for the duration, so I apologise to the acts who played before 6.30pm.
It was good to get back out with gigs under my belt after a shit few weeks, and catching Wobbly Hearts' debut was just the tonic. Half Gintis, half Morffe – their four hour rehearsal since getting together brought a melancholic Gintis feel driven by the pace and passion of the ex-Carpet boys. The melancholy was enough to bring a tear to my eye, yet it was uplifting all the same, with some clever harmonies by clever songsmiths. Julian (Morffe – pic above) ran in, took his coat off and got on stage, 'I got there with seconds to spare for the Wobblies turn, which was ace. Dead chuffed with the response from that seeing we only ever had one practice.'
There's certainly devils in the bar – listen here


Carl (Gintis – pic above) on the other hand had been there for most of the day, 'I eased myself in with a couple of bottles whilst watching Coupled With Comfort, he [Adam Farmer] has got a cool thing going on where he does this miserable act, but inside he is dancing. Kyle Lee's set was a joy to behold as ever, no one does the folk singer songwriter acoustic thing as good as him. Our [Wobbly Hearts] set went without as many hitches as there could have been given that we only had one practice to get our six songs together.'
Stacey Cohen was up next in disguise, I'm sure she had short dark hair last time, and in Julian's words, 'She sounded good.'
Hel Dinky have a habit of avoiding me; they were on a double shift as Helena explains, 'We had two gigs today. The second in the Bluesky cafe had already been arranged before Kyle set the date for NxNW, so we therefore went on earlier in the day. I wasn't sure if there would be anyone there at 5pm, but there was quite a crowd. The gig went well for us, really enjoyed it, even if two of my fingers were bleeding by the end of the gig! Kyle did an amazing job of organising and managing the event. What a star. The sound was great and all the bands played on time (which was incredible considering how many were playing). The most organised all dayer I've played at. So all credit to him. The second gig we headlined an avant garde night of visuals, poetry and music at the Bluesky cafe. Rhys Trimble had asked us to do it to launch his new book. It was a really special night. Very attentive audience. Would like to do more of that type of gig. Alan Holmes has a rough recording of the night.'
Julian was a Sona (pic above) virgin before tonight and he was treated to their best live performance to date, well, in the 8 or 9 times I've seen them anyway. They've always struck as one of those bands John Peel would insist on playing loads of times and you'd find yourself liking them, but not really sure if you do, or just feel you ought to. Tonight was different; the set was trimmed down and the songs cranked up. Sona up close and personal is how you should see them. It was passionate and dirty and they climbed the Wembley steps, lifted up the cup and roared in triumph. Ace.
Carl also shared my sentiments, 'Sona were genuinely impressive, probably the best I have seen them, I showed them this approval by showing them the V's instead of clapping between songs.'

There are a few bands on the circuit I keep meaning to see and cruel (sometimes very cruel) twists of fate prevent it happening, Hel Dinky (as mentioned earlier), are one, as are the mighty Bastions, whose incredibly packaged new album now adorns my music room. Morffe (pic above) are another band, and I finally broke my duck tonight, and with orange sauce at the ready it was a duck worth waiting for. Someone this week (I'll leave him nameless) was dissing me for tweeting that Morffe 'rocked my world'. He said, 'They're fucking shit, it's just a jam session with stupid shouting over the top of it, they're not songs.'
Well, Morffe are a jam session with stupid shouting over the top and it's amazing for the very fact that they're not some 90s Brit Pop wannabes or NME crowd pleasers or 6music hopefuls. Morffe are something a little bit different; not entirely original, but quirky enough to stand out from the shed load of bands doing the same stuff and declaring they're the future of rock 'n' roll. 'Morffe were awesome,' stated Sona's Jamie Davies, as did Katy West. Carl Gintis says, 'I was destroyed by this point, but they rocked really hard and it was boss.'
Julian's own viewpoint from his own lookout on stage was, 'It went ok, decent enough response, happy with it. Then I went home. Boss little venue, great atmosphere, loads of familiar faces, music for music's sake. Kudos Kyle.'
In fact Kyle deserves all the kudos everyone is throwing at him, not only for his own acoustic set and infectious bass lines in Sona, but for organising this whole event, doing the sound, accepting a Cliff Richard calendar off Jamie for his birthday and ensuring the day ran like clockwork.
Cowbois Celtaidd mandoliner and Seagull Kinevil axeman Marcus Peachey said, 'I thought the event was amazing, I had been on the lash all day so by the time I got there I was pretty trolleyed, I thought the decorations were amazing, I couldn't quite work out if Kyle was Jesus or Satan, but he did a fantastic job of running hell or heaven. John Lawrence made me say hand job a lot, and as far as our set goes was the best gig of the year so far, what a wicked venue the Skerries turned out to be, let's hope it's the start of a new base for a Bangor scene, shit! I'm almost talking sense, nun chuff, Jamie from Sona is Perry Mason and I'm Quincy.'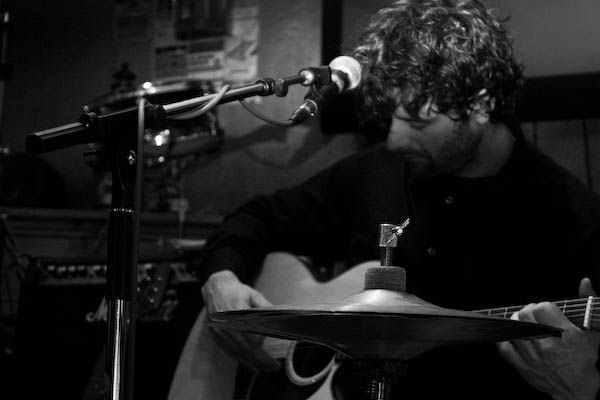 John Lawrence (pic above) snuck in before Morffe, and everyone sat, stood, knelt to attention as he humbly handed out his lyrics of woe. 'It was ace to see a genuine legend do his thing,' said Carl Gintis, 'I really dug that he played a flying V in such a soft manner, along with doing the drums with his feet.' Carl continues, 'Then the tardy Adam Potts snuck in a couple of songs after Morffe – I seem to recall him singing Devil Town by Daniel Johnston in my face.'
Iris3, on their world tour of Bangor, make their second appearance in as many nights in the city with another tight set, and Marcus commented that they have a good van! The band themselves said, 'To be honest, we thought all bands played well, not all our cup of tea but can appreciate what they do, all about preference I guess, shout out of the night should go to John Lawrence on the sound, not easy getting it right in a room like that.'
Shout out too, again to Kyle for making this possible, who knows, maybe next year…?
Did Sundance play? Was anyone sober to remember…?