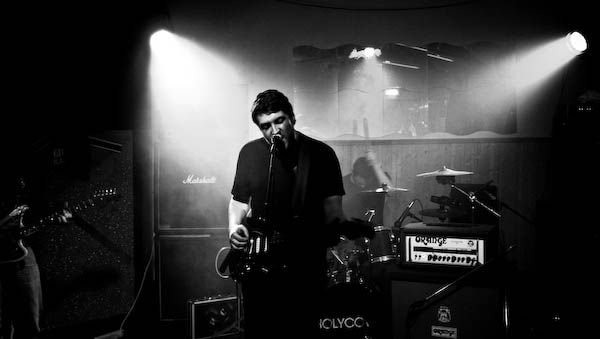 "Thank you, goodnight" – announced Rosary's singer as we walked through the door. Gutted! What are bands doing playing this early!? I had seen them a couple of years ago under the guise of Y Cer, and they do possess a quality that all of tonight's band have, making this a very strong line up. Of their set, Gav Malone said, 'The night was really good, with a really good vibe with a room full, which doesn't always happen at Rascals. We were very pleased with our set which opened the night, and received some really great feedback from a new crowd for us.'
Upper Bangor is predominantly a Student enclave. You run the student gauntlet to get to Rascals as the post-teenage school kids quaff their polka dot alcopops and flourescent jelly vodkas. The fuelled frivolity continues inside until you go upstairs… It may as well have a sign that says 'This is a Student Free Zone' – it's like unwritten law in the Uni Book – 'Don't fraternise with the locals.'
One prick (and he was a prick) did venture upstairs with his mates while Something Personal were on and made a prick of himself and would've got punched had he not left within 30 seconds.
Is it just a generational trend that makes Bangor Students insular? Other cities have a thriving live scene supported by the fraternity and locals alike. As I've stated before, maybe someone needs to get involved with the SU to tap into a potentially huge market.
Maybe we need to take a step back to the 90s and photocopy a few flyers. It's all well and good publishing a nicely PC generated poster and creating a Facebook event where 427 people say they're going (knock the 4 off that figure for reality), and Facebook is a fantastic resource (for watching couples publically argue then make up), but some good old fashioned flyers on the counter of your local err… record shop, on the tables at your pub, on the supermarket notice board, on lamposts! Be creative, take guerilla art away from the laptop!
Iris3 hail from Holyhead, which is of late being a musical mecca with regular live nights (thanks to Na Events and Rozzys), and proactive bands. I last saw this band in 2006 when I filmed them at the Conwy Civic (see video), the track I did was called Breathe, which they still play and opens their 'Battle Crash And Bleeding' album in absolutely superb fashion. Despite going through bass guitarists like a four fingered groupie, Iris3 possess a bucketful of riffs delivered by frontman Paul Williams with his sandpaper voice who is backed by drummer Gary Pritchard. The new album is in the offering so keep an eye out for this rock band who don't play solos pull it off excellently. Unlike a lot of bands who'll tell you they ripped the place apart, Iris3 are far more modest, 'You know how it is, always come off thinking can do better but in general it went well…. Enjoyed it and at the end of the day that's what it's all about.'
Gav of Rosary was also complimentary, 'Paul's vocals and song writing really shine through when live. Awesome band.'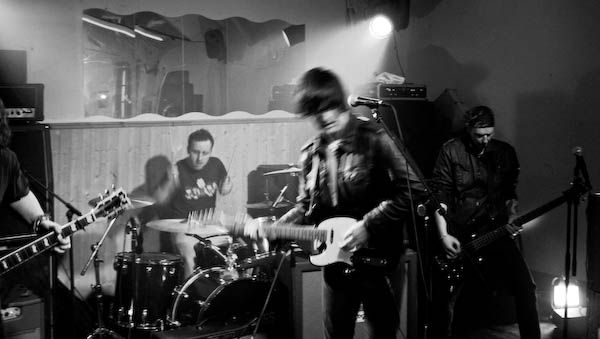 Battle scarred and bleeding come Something Personal, (pic above) – wham, bam dioch mam. Their tour bus has sprayed on the side, 'Something Personal – We Don't Fuck About.' And they certainly didn't fuck about. Straight into the task at hand, at entertaining those before them. I saw them three and a half years ago in Scummy Rhyl, and reading back on that review, it mirrored my thoughts tonight; this band are far better live than in the studio. It may be the producer (or lack of one) or nerves, or lack of that live spark. On stage they have the guile, confidence and talent to be in your face, up close and [something] personal. Even Louie Spence's kid brother got up to show his moves! Four bands means short sets, which suits everyone fine, you'll pick your best songs and let rip. Jono and co did that to the letter, despite a far from full venue.
Holy Coves have been making waves on the UK circuit and it's easy (like Sunday morning!) to see why the clapometer is always near the 100 mark. It's easy to draw Kasabianic comparisons, but you can throw Killing Joke and a bit Pumpkin Smashing into their backline mix too. They've been off the road for a while and main man Scott Marsden said, 'We really enjoyed the gig. It was nice to finally get to watch fellow Holyhead band Iris3. Those guys really impressed me. As for Something Personal well those guys are total legends! We are good friends and play with each other a lot. They are Rock 'n' Roll to death!! We love those guys.
'I thought the gig went well. It was just what we needed to get back in the swing of things. Get rid of the ring rust and all that!'
Like SP before them, Holy Coves put everything into their performance, not content to gaze at their shoes (remember The Lizzies), they demand you are entertained by them. We were…