RATARSED
GLOBAL PARASITE
PUNCHDRUNX
MERCILESS SAVAGE
THE TEAR UP
(review neil crud – pix neil crud, milton, elliot)



I got a broken rib for my 40th, dancing (like a chicken) to Pretty Vacant. Elliot gets a fucking punk rock festival named after him! One of us is doing something wrong!
Held at the impressive venue of Frenzi bang in the centre of the wild west epicentre of Wrexham this free night out (well, free to get in) was a celebration of the punk and the rock, and it was done in style.


Downstairs in L'etage, the beer boys were tying up their horses, loosening their spurs and gearing up for another night of hunting the good time gals of Wrexham, so we took our beverages upstairs to the relative safety of the venue to catch Ratarsed soundchecking Blitzkrieg Bop and the promise of things to come. After pleasantries, saliva and sticky white love piss was swapped with the birthday boy it was down to the serious business of the music, and they don't come much more serious than The Tear Up, fronted by our own mild mannered assassin, Denbigh Dog (Garry). What a fucking great band! This was probably only their third gig and you can see that Garry is marking his territory by pacing up and down in front of the stage and within 2 or 3 more shows this coil of a man is going spring all over the show. Hell hath no fury! The band are a throwback to those US Hardcore groups of the early-mid eighties and, in my book anyhow, the first one I've seen since those heady days. It's fast, it's angry, it's to the point, it punches you right between the eyes and it's fucking ace. Reminds me of Black Flag, Minor Threat, Dagnasty, Crumbsuckers and those early punk-based US films like Repo-Man. It was sadly over before it started and their final song, a cover by Slapshot summed it up, Old Time Hardcore. Check 'em out (website).
Set list: TTU / Violence / Stay Away / Backstabber / Inner Demons / So Much Hate / Old Time Hardcore.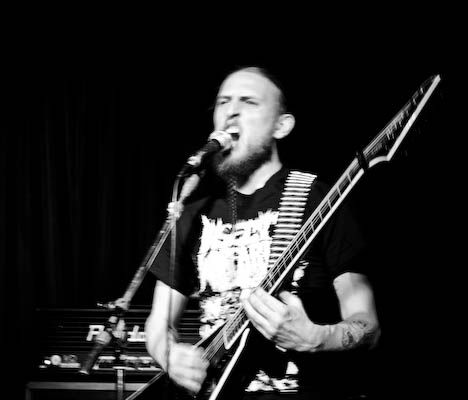 Prolific gig goer, link2wales writer, moshing crowd surfer MWJ can't stay away from the stage for too long and his 4 fuzzed strings soon get dusted down. It was no surprise when he resurfaced in Merciless Savage, who added a bit of fast doom metal to the evening. MWJ can also boast double the broken ribs to my paltry three (one at said 40th, one playing Sunday League footy and one as a result of someone throwing scissors at me and the ensuing scrap!), and all his were a result of metal mayhem shennanigans, so he's taken the wise step of getting back behind his bass to make an unholy racket. Raz started MS as a solo project in 2007 before recruiting Nige and MWJ – they did have a drummer (Ben?) but tonight it was a drum machine, albeit a great sounding one! I do watch this type of band in awe as they cram in more riffage than a Riff Convention into 16 bars to make a cacophony to numb the senses. I couldn't eat a whole one, but in a sea of punk rock it's great to have a dabble. (website)

We caught Punchdrunx early doors in their career at Central Station supporting the mighty Hayseed Dixie. A year or so on and they have got a year or so better and it shows. From the tune up Ripped To Pieces (off their 1st demo) to the finale of We Drink We Dance We Fuck it was rip roaring riff roaring stuff, and with Nick Feratu making drumming seem like a gentle stroll in the park, when in reality he's twatting the living daylights out of the kit, you have the confidence to scream and scream and scream until you're sick, safe in the knowledge that he's holding things together at the back. It's all angry, it's very punk rock, it's very entertaining and very good. (website)
Set list: Ripped To Pieces / No Future / No Place Like Home / Egomaniac / Society / Never Forgive, Never Forget / So Fucked Up / Wake Up Call / Invictus Maneo / The Wave / We Drink.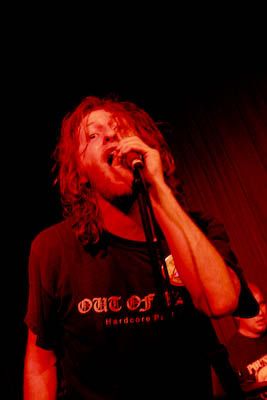 Global Parasite are seasoned pros, and when you consider their origins of being in dodgy schoolboy punk and funk bands (Floaters Revenge / Hubble) it's warming to see what grit and determination can achieve. GP have played all over the UK and Europe and plan to do so again in the new year. And despite not playing a gig since September and barely rehearsing, you would not have known as they blistered through their repertoire – heavily laden with tracks off their truly excellent debut album Memento Mori and a couple of new ones thrown in to show they haven't been entirely lazy in the last couple of months. There's enough spit and venom around the front of the stage to mop the floor with and plenty to slip on as the crowd became a bit more adventurous and came out to play.
If you've yet to taste the delights of Global Parasite then Memento Mori is an ace place to start, and check out their label Righteous Anger Records (whose fine fayre stall tonight set me back £15 for a 7″ vinyl and 4 CDs – bargain). They finished (too soon for most peoples liking) with an Exploited B-side (or was a double A?). Great set.
Set list: Ad Nauseum / Sick / Swarm / Act / Herd Cull / Nobhead / Delayer / Seven Seven / Operation Blue / The Wolf & Hammer / Fight-Resist / Alternative
Ratarsed fittingly went on to entertain those who were rat arsed, which was just about everyone, with some punk rock classics, stage invasions, stage dancing and stage diving. What a great night…
Here's to your 41st Elliot. Happy Birthday buddy…