So with the breathalyser saying "Cushtie" at about 9am our warm-up of the night before has obviously worn off enough to enable me and Ell to head off to the Southlands. The prospect of a 4 or 5 hour drive might seem daunting to some but as I haven't been allowed to do much recently I was looking forward to it especially with such an event as Scumfest to look forward to at the end.
We'd been to the 2008 version largely drawn by Extreme Noise Terror which had been just a one-dayer and though we would have missed the Friday part of this one the Saturday contained plenty of treats. Including Extreme Noise Terror again, with some surprise and added poignancy given that co-vocalist/founder Phil Vane had just died. As usual this DIY crust punk festival was a fundraiser, this time partly to contribute to his funeral costs (as well as a grass roots organisation in Christchurch affected by the earthquake, and an anti-hate crime group in Poland) so for all the years of aural abuse/pleasure we were glad to make our contribution.

Cracking open my first can for lunch as we inched through North London we soon found our accommodation at Peckham Lodge on Lyndhurst Road, we fetched our suitcases from the van. For the big city it was certainly a bargain hotel and really wasn't too bad, though some of the reviews saying "Don't go out at night" were a bit perturbing. We were straight out on a reccy mission to the venue though, which we found off the packed Rye Lane, a clichéd "melting pot" for us country boys, full of evangelists preachers and exotic vegetables (spot the difference). Spotting some crusty types we worked out that the little side alley was the way to go, bringing us to a fantastically decorated courtyard at the venue's entrance. The converted industrial buildings were apparently mainly used for dance events but the artwork seemed to suit the black and white uniform of the genre to a tee. A quick mooch inside at the set up, a big hall with bar, and café and merch area on the top floor revealed to us that the bands weren't starting til 6pm so our motorway hold up contingency time was far better spent having a vegan hotdog and then indulging the £1.70 beer festival at the local 'Spoons.

Our eventual return was timely for Bulletridden, West country crust, rough and ready as scrumpy. Ell had seen them play with Discharge recently and that was a fair point of reference for the shouty, driven tunes, good to see the vocalist getting down into the crowd to mix things up at this early hour. A good warmup with sun still streaming through the windows from outside.

After an seemingly interminable amount of faffing beyond their status Italians Green River Killer finally got their act together and delivered some d-beat with a splash of more melodic rocking thrown in at times. The vocalist was super gruff though and seemed to have learned from the ENT masters in terms of delivery. They certainly showed they were enjoying the experience of being over and were pretty well received.

A blast from the past with Genital Deformities next up. Last time I saw these guys from the Midlands was at an alldayer in Bangor with Vaffan Coulo, Skinflick and others only some err 18years ago?!? They have just reformed and are as filthy as ever, in musical terms anyway. At times in grind territory, or with big doomy metal intros, at others just bouncing along heavy d-beat punk, all topped off with a fierce snarl of a vocal, it draws plenty in and the atmosphere is really starting to pick up. Unlucky for one guy who turned up at the end just to see them and missed out, but they are back going strong now, as when I spoke to guitarist Tom to reminisce about trips to North Wales he was looking for more shows today too.

Everything was friendly and good natured all round, "no dogs and no bastards" on the flyer obviously being taken to heart. Such a great proportion of the folks there were from Europe and far beyond, living over in London, and the Scumfest scene providing the melting pot for elements that were universal wherever we came from. A delicious vegan meal from the café was huge, fresh and cheap, worlds apart from the crap you get at most other places. Outside was dark now so spiky blonde diamond geezer Dean from ENT stood out all the more when I spotted him out on a smoke break. Shared commiserations with him and he introduced me to Phil's son Sam who was a bit blown away himself having never been to something like this before, his dad having told him about it but now getting a real appreciation of the scene bonds and emotion.

Back in for FUK were ex-Chaos UK though I don't recall them either. Strikingly and perhaps deliberately looking different in their Bono shades and Hawaiian shirts they also played with a more conventional punk approach, even a bit of Oi thrown in there. Kept things going along but didn't really grab the attention much, probably one of the weaker bands here today although that could just be in relative terms.

Do you know Stenchcore? You have to admit it has a ring to it and Deviated Instinct are regarded as one of the pioneers. Fellow East Anglians with ENT, I first heard them on Peaceville's Hiatus compilation in the late '80's, but don't recall ever having the chance to see them. Anyway, they are back with a vengeance, with the crust blended with an almost proto-death metal rawness, dragging their seething tunes through Autopsy's swamp at times.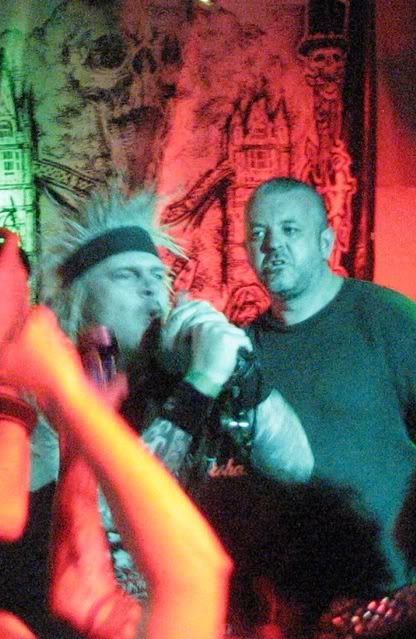 So to the main event, to be preceded by 10 seconds of silence and a minute of noise in respect of Phil. A sheet in front of the stage captured a few projected pictures of the man in action, including one of him with Mick Harris, before Dean tore it away and asked for the hush. Not exactly totally noticed/noted by a load of chatter at the back of the hall but then the subsequent noise certainly did attract the attention. I know they were having a replacement vocalist but I didn't realise it was going to be Tom from G.D. and he did an admirable job counter-pointing Dean's unholy roar. Apparently after only two practices and with one new guitarist too there was an inevitable chaotic aspect to the performance but there's no band this suits better. At the heart, the raw hardcore tunes are simple enough but oh so effective in raging energy. Into the pit, I can only say this is the most exciting gig I've been to recently, proper mental. I go airborne, and rub my eyes in disbelief as Ell does too! They fly through a load of tunes in what is only a 30+ minute set, with another band you might feel short-changed but there is so much intensity crammed into that time I'm not sure my lungs/ribs/head could take much more. Superb, and instantly confirming the 42 carat worthwhile-ness of the trip.
Sit out in the courtyard to evaporate off some of the pints sweated off, chat to a Czech girl recommending to us a trip to Obscene Extreme Festival, then back in for a band from that country who would probably suit that festival as well, Unhaim. It was going to need something to not be anticlimactic and without doubt their harsh and fast hardcore was spot on, a vocalist who looked older than me backed up by both guitar and bass vocals too, it was supercharged crust, kept the flagging energies right up and inspired some of the most berserk moshing of the evening.
Though DJ's were on after us lightweights called it a night on a high, and went stage diving on the cardboard mountains up the surprisingly quiet street back to the hotel. Yet another great experience in what felt like a spiritual home to me, convinced that, this time next year, we'll be here for the whole weekend.
RIP phil