(review n pix mwj)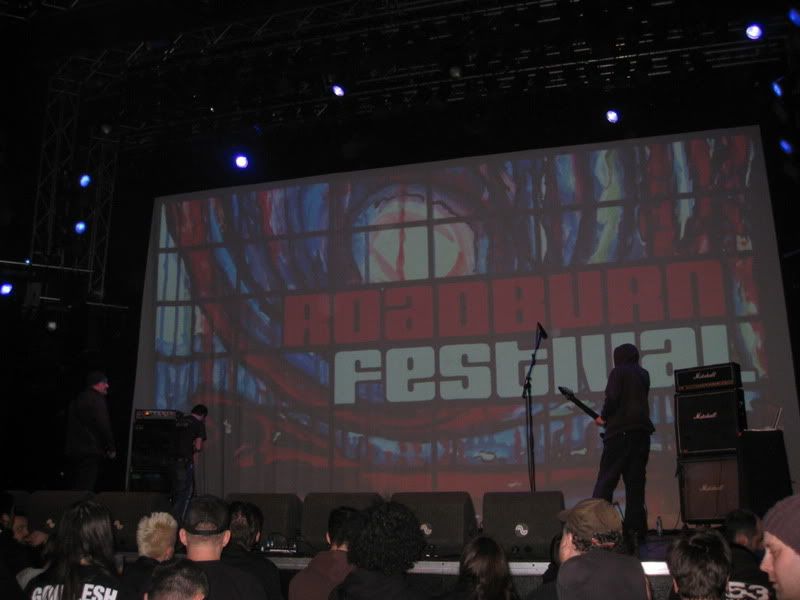 So, time to ratchet up my any excuse for a birthday celebration a few more notches and off for some cultural exchange visit. This festival has been on for some 15+ years, gathering a collection of ultra heavy, largely down tempo orientated bands but my last trip to Holland was best part of 20 years ago, and there was more than a little trepidation about how much this one would destroy me. But never mind the self inflicted head states, the main draw for me was the offer of a supreme battering courtesy of Godflesh playing their "Streetcleaner" album, an all time fave of mine, in its entirety. Having seen their recent reincarnation events there was still no sense of satisfaction or diminishing returns, a really exciting prospect.

With it running Thursday to Saturday I had to rely on Raz Taxi's to get me to Liverpool Airport about 10.30, to be there for a 4am check-in and 6am flight. But fortunately the bar was open til 12 and I was joined by Gary my fellow follower of the 'flesh. EasyJetted to Amsterdam then smooth transfers via train to Tilburg about 90 minutes away. Somewhat of a hiccup with the festival organised shuttle buses meant we had time to absorb the horror that you can't buy spirits in Holland (apart from in alleged "special" shops, and we'd just come through duty free! L) before we got out to the campsite. As opposed to the refugee/emergency style of many a festival campsite this was out on a proper one, on a safari park no less! Fortunately we were never pissed enough to try and find the lion enclosure, nor sacrifice the goats that were the only animals we saw there. So while being based out in these most tranquil of settings the festival itself was centred on a couple of venues back in the town centre so we headed back in for about 4.

The main venue is called 013, specifically made for live music and it shows. A huge hall, stepped up at the rear of the open space in front of the stage (like Liverpools Barfly/Masque but about 10 times bigger), with a balcony above this, so basically you could pick your spot as near or far as you wanted and still see effortlessly. Given this advantage Alcest still didn't really strike any chords for me, their supposed take on black metal seeming far more prog/folk like Anathema, especially with the airy vocals, just like I found at Damnation last year. So off elsewhere as there are two other stages within this building but this also reveals some other Damnation similarities, in that the two other smaller ones are universally packed, and while this whole festival is relatively small scale (2-3000 people, demand far outstripping supply) the distribution of those attendees can cause some real bottlenecks at time. We were able to force our way into Year Of No Light in the Green Room/second stage and although they have done away with vocals now since I last saw them at Hellfest they still had a huge amount of captivating dynamics in their epic build up of post-metal layers, inevitable when there are 3 guitars and a couple of drummers included in the mix. Excellent powerful performance that really stirred the excitement for more to come. My hipflask of sherry really wasn't cutting the mustard like Jager would have done but with beer exorbitantly expensive and served in the Dutch tradition of top third being froth we obviously were going to have to resort to other local customs to reach optimum operating levels. How this festival may be totally orientated to that could be demonstrated with the town map having the two venues and The Grass Company as the main locations you would need to find. This led us out to the other venue, literally 5 minutes round the corner, the Midi theatre, flat floored decent size, decent stage, and the much vaunted appearance of Ghost. Appearance maybe being the operative word as I was intrigued to see them visually even though the track of theirs I had heard sounded very traditional heavy metal. This was certainly the case, as the mid-tempo metal was straightforward and vocals extremely sing-song but when that's delivered by a zombie bishop and his masked monks it certainly does keep the attention for a while. I hear rumours this a side project for various Scandinavians with proper heavy jobs so if it contrived as a piece of theatre I think they are doing a good job, there's certainly broad smiles all round the venue. Back at the Green Room there's more enjoyment with the raw Sabbath style grooves of Blood Farmers, made all the more entertaining/disturbing by them playing to a backing projection of Coffin Joe C-Movie exploitation flicks. They seem in good humour playing too, and for a band that's recently reformed they must be reassured by the positive reaction they get.
The next adventure sees us try to find, even with directions, the Bat Cave. Not as you might think in the basement but somewhere up in the roof. Smallest of the stages (as in no stage) its no bigger than a large pub back room but is absolutely rammed for Cough. This U.S. band make no bones about their influence of the best of British doom in Cathedral/Electric Wizard but are an immense force in their own right this evening. Ultra drawn out heaviness, shifting into black metal shrieked horror as the vocals trade off, its an enthralling dirge that maintains a momentum all the same. Great stuff. The end of their set still gives a few minutes to catch the end of their spiritual (and possibly literal given their age) granddaddies Pentagram. This legendary US doom band are centred on vocalist Bobby Leibling, surviving since the 70's in a somewhat better functioning condition than his contemporary Ozzy. There are again many Sabbath similarities and while I can nod in respect at the roots of it all, it doesn't provide a great deal of excitement to me. Unlike Godflesh who are up next after them on the main stage. It is a fantastic setting , and after the new ambient intro, the two of them unleash the monstrous beats, bass and riffs to the appropriate altered states backdrop. The first song always tends to be a bit throwaway unfortunately but gradually the mix gets into gear and is ramped up. And up. Jebus, come "Devastator/Mighty Trust Krusher" it is doing just that, and I'm all for stirring up the madness that this industrial steamroller inspires. Unfortunately the sedated crowd is having none of it so I just have to enjoy things in my own hell with some close friends. They tack on the Tiny Tears EP to the album set, something I'd railed against as I thought the album was fine by itself but with this sound I am completely won over by these tracks anew, you can actually hear how it would have worked. In seemingly no time at all there's a Final-esque feedback outro and huge applause, definitely they are getting into their stride with this reformation incarnation now. As a "come down" (and things do seem a bit quieter even though its midnight) there's the treat of Soilent Green, just the thing to keep you awake. Though they touch on the sludge that their Southern origins would suit to my mind they are far more of a grind-punk band, some really blistering stuff, and though I'd seen them once before really enjoyed and appreciated them much more this time around. Just the thing for a nightcap before heading back to the zebras.
Given our 40hours minus 40winks of the preceding day we certainly had a lie-in the next day, but again the day only starts in mid afternoon anyway. Able to take advantage of the on-site food corner, lovely laid back service but possibly the most unhealthy bacon sandwich I have ever experienced. Upon our return to town the day kicked off and woke up much as things had ended yesterday with some real ferocious tempo provided by Trap Them in the Green Room. Really intense progressive hardcore from the US, replicating live the filthy "Swedish" sound of the releases of their's I've got, chuffed to hear the cathartic "Dead Fathers Wading in the Bodygrounds" but again despite their encouragement there is one meagre stage dive. Though to the main stage for another return from the dead with Winter. This chronically heavy doom/death band had only existed for a short time in the early 90's but their seismic impact lasted long after, and fair play, you could definitely see why this evening. Massive reverberating vibes from the conventional three piece band set up, shows why Sunn O, the "curators" of this day of the festival, have included them as an acknowledged influence to their approach to sonic grand levelling. Their logo grows gradually on the projected backdrop until they eventually grant us a ground out riff with harsh growled vocals over the top, in turn showing more than a nod to early Celtic Frost. They don't stray far from this formula and I'm not complaining. Up to the Bat Cave for Summon the Crows next, and while I was expecting some fellow Norwegian Darkthrone-esque stripped down blackened punk from the album I'd heard of theirs there was much more of a crusty Disfear vibe going on in their up close and personal live performance, a real bonus for my tastes. Pleasingly still have enough concentration to keep chasing up the stream of quality bands appearing, it's all made relatively easy by the closeness of the stages and a bit of advance planning to avoid the set end/start rushes. For the first time have the opportunity to see Corrosion of Conformity on the main stage, but this is a wholly different animal from the "Voting with a Bullet" mainstream nudging metal-core that I was familiar with. It's a reformation of their earlier line-up that delivers a mix of crossover punk and groovy sludge that is self-evidently suited to the occasion. There's an amusing bit of "good ol' boy" banter between them and again they seem very happy with the reception their efforts have been rewarded with.
At Gary's suggestion check out Jesse Sykes and the Sweet Hereafter in the Green Room and as is often the case the unexpected is a revelation. Female vocalist over a laid back, almost folky band but with a really haunting vibe, apparently she has provided vocals for Sunn O previously. Her plaintive style brings to mind Beth Orton or some PJ Harvey, and the whole thing is an island of dark calm amongst the waves of aural abuse all around. Which recommmences immediately thereafter with the emergence from behind the mainstage curtains and an absolute room full of fog of Sunn O. Having seen them before in the slightly more intimate setting of Roadkill in Liverpool it is still as impressive to stand close to the massive PA and feel your internal organs shaking loose under the colossal drones of distorted geologically timed notes/riffs, see the raised claws of the cowled jam band from hell in the mist, but making any distinction within the experience is maybe left to the purists. Raised a smile to see Lady Gaga providing the vocals too. They have to be seen/heard, but that is satisfying in itself, enough for me after 30minutes of their 90. There is another twist within the event theme as up in the Bat Cave am now able to enjoy some blackened death metal from Grave Miasma. I was simultaneously surprised to discover that they are a pretty new band and also from London, so fair play to them for getting in amongst such luminaries here, but the straight up effective delivery of their brutal energy, thick sounding riffs and harshly roared vocals is spot on so their success is deserved in my opinion. Bail out of this one to head for the midi for another anticipated highlight, with the technical thrash legends from Canada, Voivod, playing the first of two sets. As Snake says on stage, Roadburn have asked them to come up with a few little surprises, make it special and for a fan boy of the old school like me by god it is. So whether its tracks like "Brain Scan" or particularly timely and apt tale of nuclear catastrophe "Overreaction", the hardcore primitive origins of "Ripping Headaches" or the fact they play an entirely new song (in a Killing Technology stylee to my ears) with him reading the lyrics of paper having only just finished writing them, or all the gems rolled out from their back catalogue, it is special indeed to me. One final nail in the coffin for this evening with a return to the thinned out main stage for another 180 degree spin on the pushing of the musical envelope that this festival encompasses, in the company of Scorn. These days this consists of the legend Mick Harris by himself behind a huge desk of live mixing equipment, often described as some of the industrial beat experimentation that triggered dubstep but he's just doing his own thing in his own world, a picture of beaming intensity as he flicks back and forth between laptop and mixer, constantly queuing, adjusting, tinkering. And while I was set to see if he could rival Kevin Martin in terms of bass delivery what I learned was that it was the beat where Mick reigns supreme (in this mix anyway), and what more would you expect from the ex-Napalm Death drummer. How things so simple and stripped down can still be so hypnotic and pounding, subconsciously inspiring far more movement among the heads remaining here than a lot that's gone before, is testament to his skills. Another top finish to the night.
Our final full day there almost doesn't happen at all as our lazing at the campsite means we miss the last afternoon bus in, but again the locals are able to help us out "no worries" and get us there in time for Rwake at the Midi. Having seen these when again somewhat unfocussed at Hellfest was keen to check out once more and extremely glad I did. Pummelling heaviness, an almost tribal sludgy metal but with extra dimensions of sound overlay brought to mind early Neurosis while the two vocal assault touched upon ENT at times, or, given the male/female mix, Damad. Out of all I heard these I was most keen to get a CD of but typically there was nothing here! In a very déjà vu to France follow on Weedeater were next up on the main stage, the low levels plumbed of sheer filth on the bass as they trudged through their primal ooze of riffs was a joy. It was very busy in there perhaps to be expected with a band so on the wavelength of the festival, but even from high up at the back of the main hall the power of those heavy vibes was clear. An interlude in the Cave with Ludicra, a female fronted progressive black metal band from the States, is a bit of a mixed bag, at times they have some interesting stuff going on but at others the sound doesn't seem to click together so well and it comes across a bit weak. No such worries with the return of Voivod, this time to the main stage. Initially it's pretty quiet in there and I wonder if people had been satisfied enough with yesterday, but it soon fills and there's another great reaction to the performance, other songs unearthed like "Missing Sequences", and I for one don't mind in the least to hear the likes of "Tribal convictions" and "Ravenous Medicine" two nights running. Away's drumming on some of the older tracks is practically d-beat in its relentlessness, they remain a hugely inspired and inspiring band in their unconventional approach. During one track Blacky the bass gets carried away and jumps down into the photo pit and crowd, the whole thing is full of warm appreciative humour all round. They say they'd gladly come back, I'm requesting they do playing one of the old school albums in its entireity. They end with the message to never forget the fallen comrade Piggy (their deceased guitarist) and their cover of "Astronomie Dominie", and are almost shouted back for an encore, which is the first I've seen while here. There's a short bit of time via the bar to try and squeeze a look at Ramesses, but seeing one track from the doorway is enough to reconfirm what a monstrously nasty take on doom they create, as seen at Deathfest in the UK previously, and meaning I really want the opportunity to see them again. Ascend to the gods of the mainstage balcony to watch the seemingly longwinded build up to Shrinebuilder, a doom/noise super group of sorts featuring Wino from St Vitus, Scott from Neurosis, Al from Om and Dale from the Melvins. They had been meant to play last year but a certain Icelandic volcano got in the way. I have to admit finding their album a bit tedious but was willing to give them a chance live and although it took them a while to seem to get into their groove there were some impressive bits, in particular the Scott sung track that had a rhythmicly dark Nick Cave vibe, or the ones fronted by Al that developed into massive Hawkwind style psychedelic drone freakouts. Even up here the volume was still visceral and a thundering climax ending made up for some of the more hit and miss in the rest of the set. So we reach the last but not least with the Swans. For me I only learned of them backtracking from Godflesh who hailed their influence and sure enough their ultimately abrasive post-punk sonic experimentation origins where pretty jaw dropping. They had evolved a lot during their time though but had been inactive for over a decade before coming back last year. With a comprehensive array of equipment and percussion on stage one by one the musicians came to stage, adding to the building rhythm/cacophony with finally main man Michael Gira taking the centre and conducting events. Evolution remained on the agenda as there was a constant reimagining and jamming of either their new material or their assortment of classics. I was blown away by Phil Puleo (always be the CopShootCop legend to me) on the drums, every drummer should have a tom the size of the bass drum! Some of his blistering rhythms were almost into Wolves in the Throne Room territory but it was just as impressive when slowed down to their ground out rhythms. The whole show just reconfirmed them as being quite singular and peerless in their own darkly malevolent world of structured noise, pretty spellbinding and satisfyingly devastating to all there. A fine finale.
So, one to remember (where possible!). Relatively expensive for its scale, not just up front but day to day too, but then again its always goig to be oversubscribed given the venue space available. The complete win though was the consistent quality of performance and staging amongst the various bands that the organisers had collected together, sets to live long in the head. Depending on future line-ups its another festival I can see myself getting quite addicted to.