(review n pix by neil crud)

I wasn't exactly dragged to The Apollo kicking and screaming, but someone's side swipe at Imelda May describing her as Shakin' Stevens with tits did put me off a bit. It's like when I was told how eighties Love & Rockets sounded, it made me put their CDs back on the shelf for years. And, I hate to admit this but I actually quite liked early Snow Patrol until Marni Crud pointed out that they are in fact really shit and sing bollocks (thanks Marnz). I shouldn't be so sensitive to other people's opinions, and on that note maybe I should be sensitive to other people when it somes to my reviews as I could put you off for life. After all, you wouldn't go to a restaurant if you heard someone had had an awful meal there would you?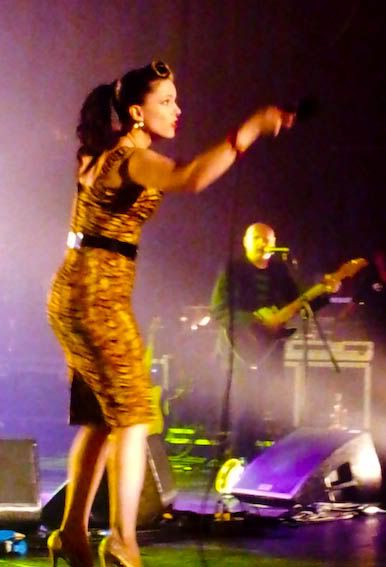 The Apollo is like an old friend, having seen acts here as diverse as Billy Connolly, Bottom, The Darkness, Specials, Manics, Primal Scream, Garbage and more, then why the hell not diversify into the realms of Rockabilly?
It's easy to forget that Wayne The Bastard used to drag me around the country to watch the psychobilly wonderments of The Meteors, Restless, Guana Batz and their ilk – and looking back I'm not sure if I really liked the music, or just liked it because my best mate did? What I did like however was the attire; and because I'd be the only mohican clad punk in attendance I'd get plenty of stares, so this meant I could stare back at the excellent quiffs, tattoos, check shirts, doc martens and fishnets on display. I didn't expect to see such bods tonight, but it was a pleasant surprise to learn that the genre still has a bit of juice left in the 1950's Cadillac tank yet.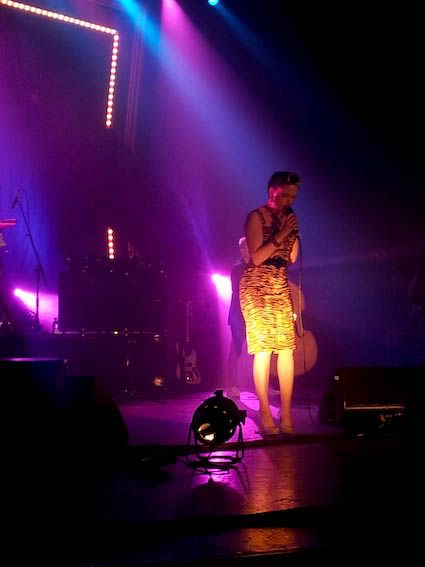 Only caught the last two songs by Big Boy Bloater, but by all accounts we had missed an excellent guitarist and had his CDs been more realistically priced I'd have happily bought one for him to sign.
The sign on the stage door betrayed the fact that Miss May was going to be wreaking mayhem for one hour forty minutes, and I was half not looking forward to standing there staring at her only knowing a few song. Having watched British Sea Power outstay their welcome some four days earlier, I ascertained that once a punk, always a punk, and 30 minute sets are ample time to soak up what a band is about and if I want more I can buy their CD. There again, I want my cake and, god forbid, eat it! If I'm gonna pay x-amount of quids getting here and getting in to only be entertained for half an hour, then I'd be on here ranting about being short changed and the price of diesel (£1.40 a litre) and the price of room temperature Tuborg from a can (£3.90 a pint).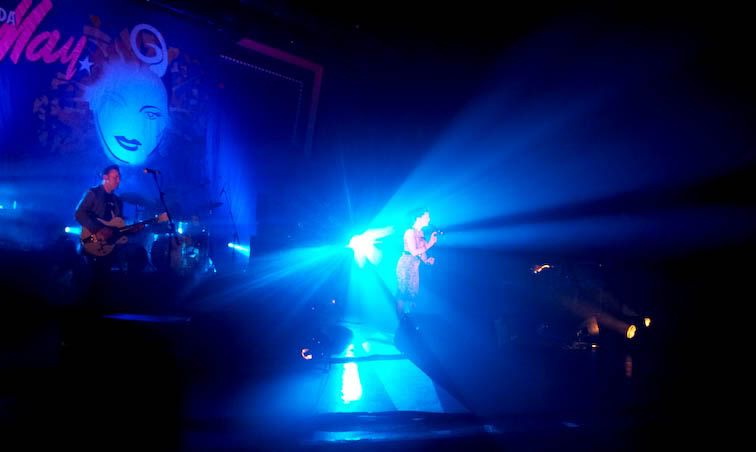 And yes, I stood there for an hour and forty minutes, and on 1hr 39m I was inwardly willing it to never end as the Irish temptress in a figure hugging tiger print dress, heels and a killer voice, strutted the stage, and Kitty (no doubt like every other girl) purred, while every male drooled. Some wolf whistled til Imelda pointed out her husband Darrel Higham on guitar.
Imelda May commanded the audience, lured the audience, wowed the audience and the audience sang, danced, cheered and screamed in full obeyance of their mistress. A well paced set, brilliant musicianship and entertainment – for that is what tonight was about – entertainment, and we got it by the sack full. Even down to the encore (my highlight), where bassist Al Gare sat on his double bass front stage playing a 4-string mandolin… nice chord sequence… then Imelda sits beside him and sings out 'Baby I Love You' (a la Ramones) – heart warming, uplifting, fulfilling entertainment.