Cerebral Bore, Disentomb, Cemtex, Revokation, Face of Christ, Dr. Aids, Horsebastard, Xenophobic Misogynist
(review n pix by mwj)

A free bank holiday for me gave the opportunity to ram it full three courses/days of entertainment down my neck/ears until I was fit to burst (eardrums). First of these involved a trip to Liverpool which has been coming more on my radar a bit recently with the regular extreme metal shows put on by Whiplash at the Masque, and as it's a train ride and a cheap hostel away, it really should be visited more. This veritable feast of death/grind/hardcore would be a perfect starter, although it summoned ominous clouds and torrential downpour that turned the streets to rivers and kept everyone sheltering in the venue confines.
I thought this was a new venue to me but dawning deja vu revealed that is was the same kebab shop basement I'd been to some 5 years ago http://www.link2wales.co.uk/gig06/bossk.htm
Although (Greek) tragically the murals had been painted over. They must have had to sand down the 3d chewing nipples I had added to one of the ladies… Anyway, its fair packed from early on as there's had been a lot of extra interest once the top three touring bands were added to the existing line-up.
Not much space required for one man band Xenophobic Misogynist, Joe providing vocals and guitar while a laptop delivered relentless beats. Pretty effectively delivered grind, the backing could have been a bit stronger, but tunes could definitely be appreciated especially the crushing breakdown riffs. The "band" morphed into another, Horrific Sexual Atrocity, with the addition of a drummer and another ultras-guttural vocalist for the final song, and as they had only jammed it as a warm-up earlier the gore grind onslaught that it was seemed enjoyable enough
Horsebastard were familiar to me to an extent with previously having the decidedly dangerous Johnboy from Narcosis on vocals and now (straight from work) Rees who had previously sung with Reth. I didn't know their music though but was rapidly won over by the technical grind, or equestrian blast core if you prefer, especially the elements of dissonance that seemed to be within it. They were also skilled at mixing some far heavy breakdowns into it, in contrast to the rabid and raging delivery of the rest of their material, be interested to hear more from these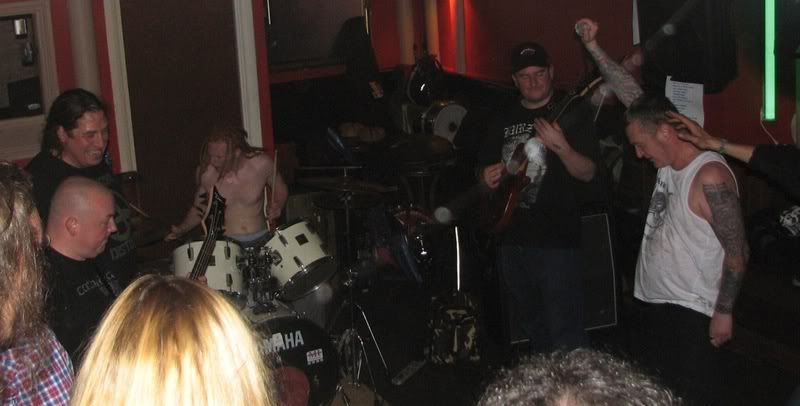 Locals Dr. Aids were the organisers of the evening under their Fredwestlife promotions banner, but organising their own band was not so easy! As they were like some unholy union of Extreme Noise Terror and The Macc Lads with hilarious sick lyrics to basic crusty d-beat hardcore you could expect chaos to ensue. With plenty of beer spilt on the floor plus some suicidal wrestling/moshing/pile-ons it all went suitable mental and totally enjoyable at the same time, though it descended to ultimate destruction when the guitarist broke his own and the next borrowed guitar and they had to call it a day.
Like a bad penny (me or them?) I got to see Face of Christ yet again, Leon and Tinman expressing concern beforehand about how they metallic hardcore would fit in with this more extreme metal bill. I told them I had faith in their "crossover" appeal and they had no worries as the crowd, although already quieter than earlier, was still well up for continuing the mayhem. The band definitely responded in kind by upping their game and tempo, broken strings not holding them back and ended up having one of their best shows yet.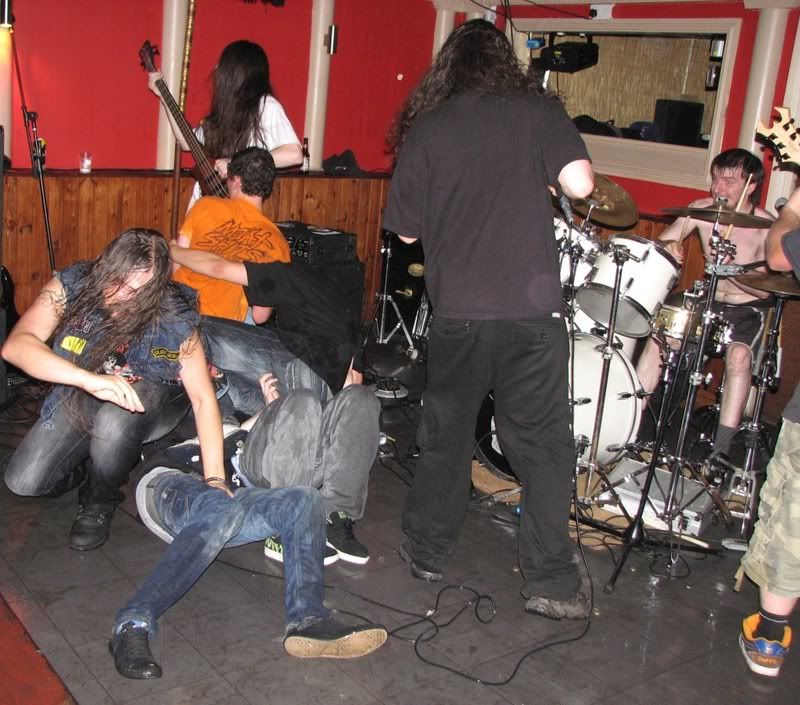 Revokation from Yorkshire (something they pointed out repeatedly to wind up the scousers) I was looking forward to having heard a couple of tracks of their technical death previously, and they didn't disappoint. They share singer Bernard with Diascorium who we've had over here in the Colwyn Bay previously, and he's a proper force of nature, though only to complement the whirlwind of riffs and intricate drum patterns that charge their set along. Massively heavy, reminiscent of a mix of Cannibal Corpse and Nile, I pick up their EP's (and fridge magnet!) after.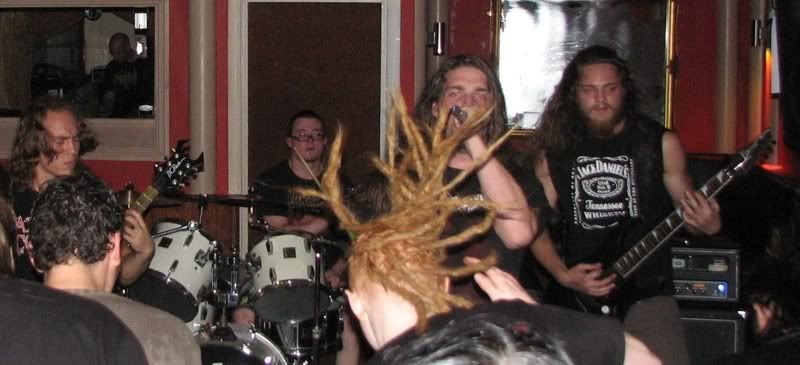 Scottish band Cemtex next, tour mates with their fellow Glaswegian headliners. Their version of death metal is more straightforward, both in terms of the music which has a more steady rumble to it like Massacre and their "traditional" subject matter of gore and perversion. Solid and satisfying, nothing spectacular. The crowd had thinned further but the ongoing body combat routines add to their enjoyment and for them also to rave about one of their best gigs ever.
All the way from Australia Disentomb come across as a pretty polished article and obviously to come all this way you've got to have built at least some reputation, underground or otherwise. A top notch blasting drummer underpins some more death metal brutality, the vocalist singing from the deep depths of hell Last Days of Humanity style, with equally punishing riffs to match. They definitely drag the last dregs of energy from the remaining crowd, the wrestle mania on the floor continuing despite someone getting knocked out!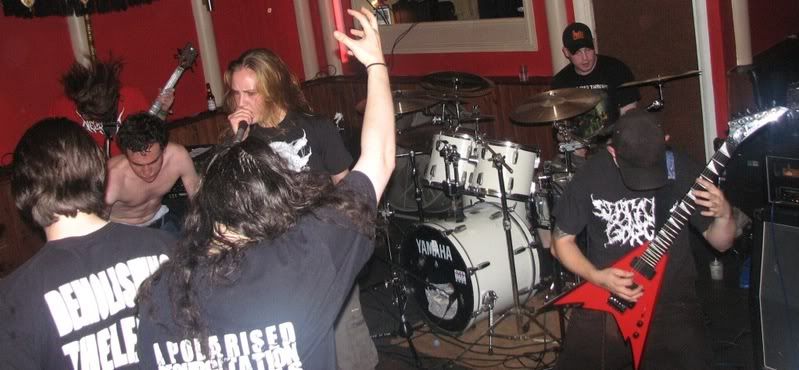 There's an upturn in numbers at the end for Cerebral Bore, touring on the back of a highly rated performance at Bloodstock the other weekend. Fair play they certainly hit the ground running again, death/grind delivered with impressive precision and truly powerful roars from god knows where within their Dutch girl singer. Their new release on Earache has typically twisted subject matter, but whether they feel they are operating at a different level or just wanted to protect their gear, I was surprised to see them getting the crowd kept away from them on the floor, and they turned in a relatively short set. No denying the quality though, and an excellently battering end to the evening.
I retire to the hostel to witness further kickoffs in the dorm room between a load of pissed up irish guys and some irate french guys. Imagine we could all live in peace and harmony like at grind core shows…