After the great enjoyment of my first visit last year I signed up before Xmas for another expedition to Midgard England. The main factors where the appreciable scale of the event in comparison to the lumpen monsters of Download and Sonisphere, the fact that it would be a great gathering of friends from over the UK (especially those who didn't make foreign trips), and the single headline announcement made at the previous event of the black metal legends Immortal.
As things panned out after this purchase, I wouldn't have minded going to Download to see Danzig, Sonsiphere for the Big 4, there turned out to be a big repetition of bands here from this years Hellfest line-up, it was on the same weekend as Brutal Assault in the Czech republic that I thought about going to, and tickets were available cheaper than the early bird deal. So what the hell, as nice as it is to be spoilt for choice there's also the embracing of just what is being laid on a plate for you in terms of entertainment, especially the independent vibe and friendly atmosphere that pervades this event
After a traditional couple of nights warmup a full minibus of us set off from Llandudno early on the Thursday to maximise the summer holiday experience. Some dodgy karaoke and piranhas later we were there around lunchtime, with not too bad an entry queue, security searches that missed my more select contraband smuggling, and plenty of space to set up at a convenient place on the adjacent campsite. Good to chill and get fired up simultaneously, with more friends arriving all the time, and before long the pre-show evening with some rising UK bands is underway. First check out Xerath who impress more than I was expecting, with some thunderously heavy and technical thrash but my interest wanes over the course of their set when they get a bit proggy. Then Beholder, again superbly solid metal to commence and plenty of confidence of stage, but then my tolerances are tested in another direction when it gets a bit rockier. I'm just so hard to please! A new addition to the mix at this second stage, the Sophie Lancaster stage, is the addition of comedy, with first the excellent Aussie Steve Hughes who has had a metal musical career of sorts himself so definitely comes across in tune with the crowd, while Jason Rouse is just out to shock without any real redeeming laughs. Also the first signs of ongoing hit and miss sound quality for the weekend as we have to move round the tent to actually find the audible spots to hear stuff, it remains a surprise that they can't get this sorted consistently. Then a blend to-ing and throwing between the dj's and the campsite sees me kicked/carried back by some dear friends in the early hours.
The Friday at least offered an easier easing into the day as the first impetus to get to the main stage after lunchtime was to see veteran US thrashers Forbidden. They put on an excellent show, and while they may not have the catchy tracks of the scene legends it definitely hits the spots, and is well received by many who haven't had the chance to see them in a long time if ever over here. Into the tent for Scottish death/grind mentalists Cerebral Bore next, a long time after picking up their demo in Manchester they have now been picked up by Earache. Proper intense brutality and speed inspires some crazy pit action and it's good to see the celebration of this extreme here.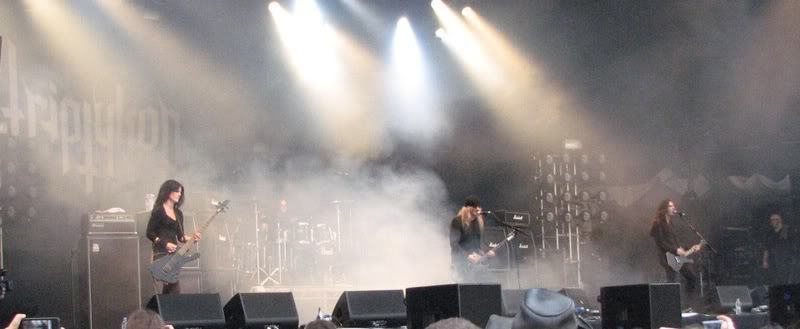 To the polar opposite of the tempo spectrum with Triptykon on the main stage, amassing a massive 4 songs in their 40 minute set. Tom Warrior and crew deliver colossal versions of two old Celtic Frost numbers and two newer ones, and even in the daytime there is no compromise in their doom laden vision, it even brings on the rain. I'm particularly enamoured with the lady bass player who gives a great lesson in pounding, and fair play their whole set is pretty hypnotic. It's the first of a few examples of the lack of clashes here meaning you can actually get to enjoy whole sets of bands that I'd just dipped into at Hellfest, although partly in the knowledge that I would get a second chance here.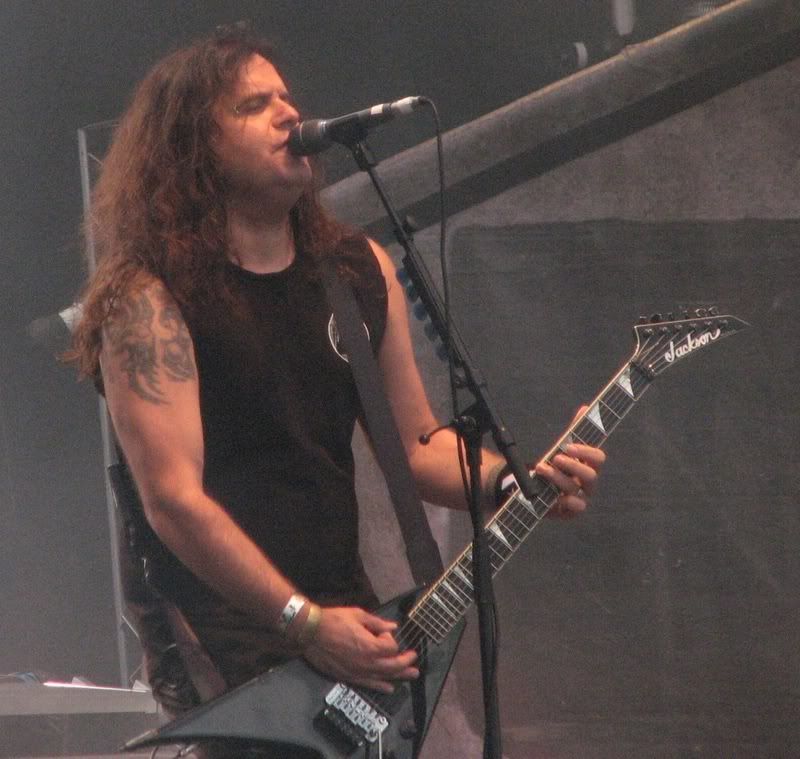 After a tent break there's another one with Kreator and a thoroughly enjoyable set of their heavy thrash. I don't find the vocals from Mille as strong/harsh as they used to be but their pace is always charging, and the ending of Flag of Hate is a great crowd pleaser. There's time for me to catch the end of October File in the tent and while not intense as their up close Damnation performance last year their soaring post-rock over hardcore rhythms is a good contrast. UK thrash mentalists Lawnmower Deth continue their rounds bringing their pretty straightforward crossover to fans old and new, and effortless winning everyone over with the sheer comic stupidity of their tunes and onstage circus. With absolutely no interest in the dichotomy of the born again Christian Blackie Lawless fronting the cock rockers WASP I take another break at the tent before more late night party mayhem, drunken dodgems for the win, if not good for the shin!

No rest for the wicked on Saturday, as for a day that seems comparatively light in interest with a load of traditional/classical metal, we won't miss the 11am opportunity to rise with Skeletonwitch. There's a good turnout for their blackened thrash and I really enjoy this ferocious wake up call, a bit like Suffocation last year. Resting freshly knackered legs after see a bit of Grave Digger but really its just the cheese I was expecting, too much gives you gout don't you know?

As intended, the lack of main attraction gives more incentive to check out other unknown bands, and Dripback in the tent are a real bonus. Featuring ex-Labrat and Teb Maul members they retain the same intensity of inventive extremity, and strike me as the closest we'll get to grind over most of the weekend, though with a splash of hardcore influence mixed in. First visit to the New Blood Tent that has a line up provided by the Metal to the Masses Battle of the Bands competition around the country.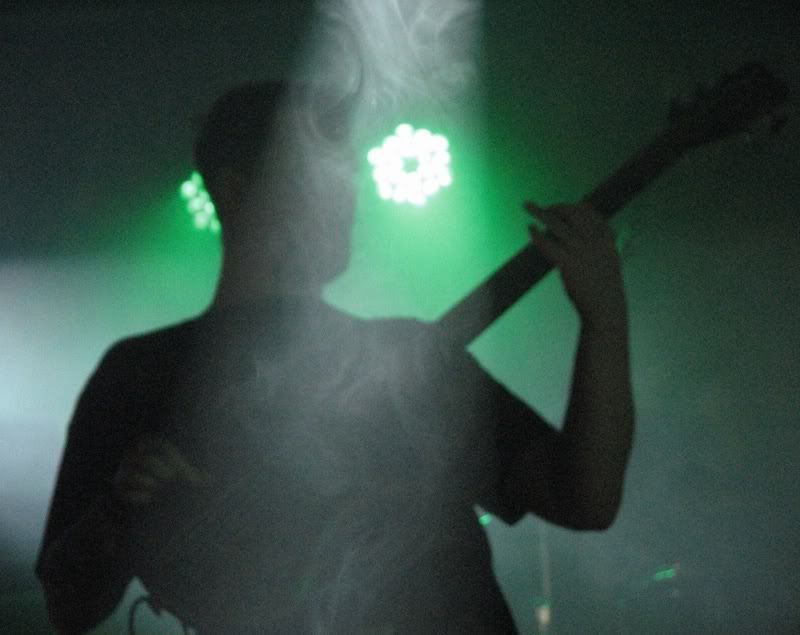 Our own local representative from North Wales is Impaled Existence, their own steady gigging evidently paying off in a confident performance of their technical death, sounding excellent through this big PA, still some melody there but losing the clearer sung bits works better in my opinion. It's not particularly busy in there but they are pretty universally well received and take full advantage of the excellent opportunity it represents. Chill outside the tent to simultaneous listen to some more upcoming death/grind with almost industrial blasters Foul Body Autopsy, while occasionally casting an eye over the dullness of ex-Emperor man Ihsahn on the main stage. Had a good chat with one of the Damnation organisers who was pleased to hear we'd already signed up for that next event horizon. There's a wave of indifference with the bands on that washes us back to the tents for a while, but the festival is in a way maintaining its eclectic aspect, can't please all the people all the time. (Unless you are Hellfest). After resting my head on some passing pillows we come back for the evening shift with The Rotted in the Sophie tent, who's catchy death'n'roll is sounding more violent than ever, harking even more back to their Gorerotted days and all the better for it in my opinion. Hang on to watch the old school UK metal veterans Angel Witch, mainly as heard good things about them from France, and of course we've got bouncy Bill Steer to shout Carcass at. It's not my thing but the beat goes on keeps us going until Immortal. The Norwegian three-piece I had seen in France in the last couple of years but this was their first UK show for about ten, so not only did you have the trve faithful/less but also a lot of curious bystanders and the rest up for a blackened party, much corpse paint to be seen all around. A lot of the main stage shows I had though quite poorly attended which I suppose did give you the advantage of getting close in but tonight was the busiest seen so far. Starting off with title track of last album "All Shall Fall" there's an instant battering blizzard of riffs and Horgh's machine like drum onslaught. For all the darkened seriousness of the genre interviews kind of show they do have a sense of humour at the over-the-top nature of the theatrics of it all, and it's quite hilarious to see crab walk circle pits inspired by them. There's an epic grandeur to their structures which can mean they seem to drift at times but that could just be tiredness catching up. Anyway, a good end to the night.
After proving we could do it already we were back in again at the opening of Sunday for Hell, a Midlands band featuring Sabbat man Andy Sneap. Ultimately it came across as falling somewhere between that band and Judas Priest, the vocalist wandering round with his head mike conducting the occasion. OK but as we discussed having heard Priest do this type of thing better it ended up not appealing as anything new to me, though they did get a good reception. Was much more looking forward to the more feral black metallers of 1349 next, who despite being massively hampered by sound issues still eventually gave a vicious storming account of themselves, will look forward to seeing them in Wrexham soon. Off to the tent next for Nottingham's Evil Scarecrow, a band who seem to inspire proper Marmite reactions for their comedic take on metal. I took it with a pinch of b vitamins and while I did find some of the music a bit ropey the humour came across well. Plus the sight of literally hundreds of people in perfect synchronicity (despite alcoholic handicaps) for the "I am Robotron" dance will live long in the memory, never seen anything like it!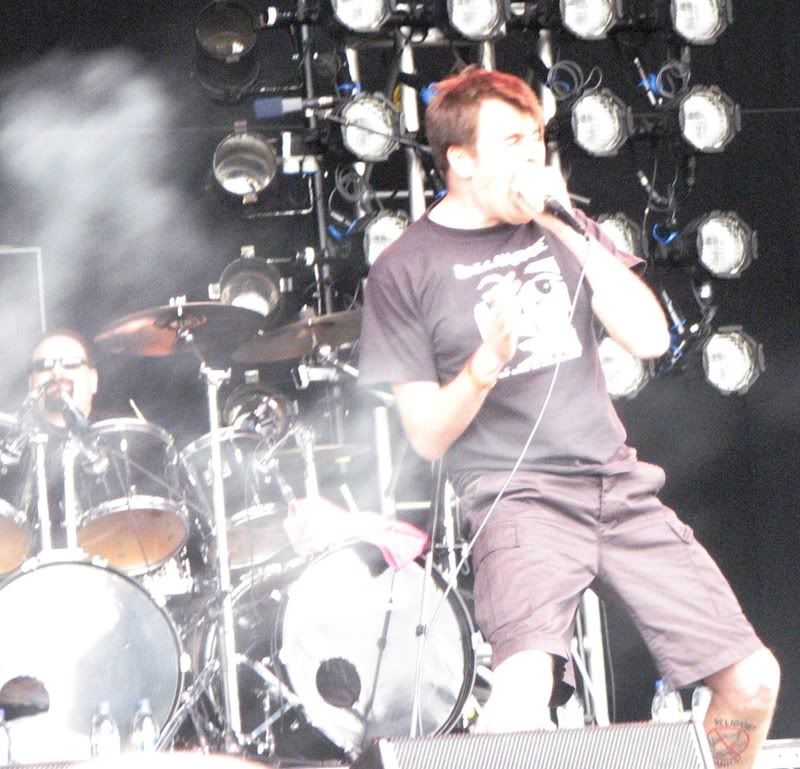 Something altogether more serious and yet also great affection, back to the main stage for Napalm Death. It's probably impossible for them to give a bad show, and this wasn't one for sure, Barney's infectious rabid energy on stage bringing out the most dust raising pits so far, and elation at old school classics like "Lucid Fairytale" and "Scum" elevating me to surf the crowd waves too. Looking forward to their new album soon. Another break before we catch the end of Anglesey's heavy groovers Inferno giving an acoustic set at the Jagermeister tent/lorry in the middle of the arena, fair play to them for getting the opportunity there too.

Exodus on the main stage in what was turning into a gloriously sunny afternoon raised some further energy levels with more thrashtastic action, before At The Gates (below) returned for one more farewell and their set of melodic death.

The sound was good but in a way I regretted that their older/rougher Peaceville efforts inevitably sounded cleaned up. Still the expected finish of "blinded by fear" and "kingdom ("fucking") gone" was eminently satisfying. Our patience was paying off as next we had American death legends Morbid Angel too, and while there newer stuff comes across nowhere near as bad as the anathema some might make out a classic like "Chapel of Ghouls" is a monolith and a milestone of their achievements that will last and last.

To finish us off a band that you would think were the byword for reliability and uniting all subcultures of this metal world, Motorhead. Things started great, (fuelled by Absinthe
), loving the old school of "Stay Clean" and "Metropolis" but Lemmy's banter is a bit rambled, Phil's seeming distracted and then before long they are all of stage for a bit. They return and roll out massive tunes like "Just cause you've got the power" and "killed by death" (with flaming ladies, sigh) but there's something seemingly wrong with the whole vibe, and despite a rip roaring universally loved "Ace of Spades" they cut their set short by over 15 minutes. It's all a bit anti-climatic, and with no immediate explanation a lot of folks are left hanging. Subsequent explanations on health issues or accusations of being too pissed might mean little against the fact that we may be looking at the fact that the legend can't go on forever, could be a one off bum show but maybe we expect too much too. Anyway, our own celebrations of the end of an excellent weekend were not to be stalled on the dodgems, or lying down with hookahs, reflecting on a whirlwind blur of partying to the background of some top metal shows. Next year it will compete once again with all the other festivals I feel I MUST go to, but it's place is definitely lodging deeper in the chambers of my blackened heart.