Monday nights ain't what they used to be! Well, the last time I went to a Monday night gig was at The Metro in Rhyl many moons ago to see Jives Room. I think it was me, the bands and a tramp in attendance.
Plenty of tramps present here tonight in Bangor; a city with a sizeable homeless population (3) and not a student to be seen as the summer recess kicks in.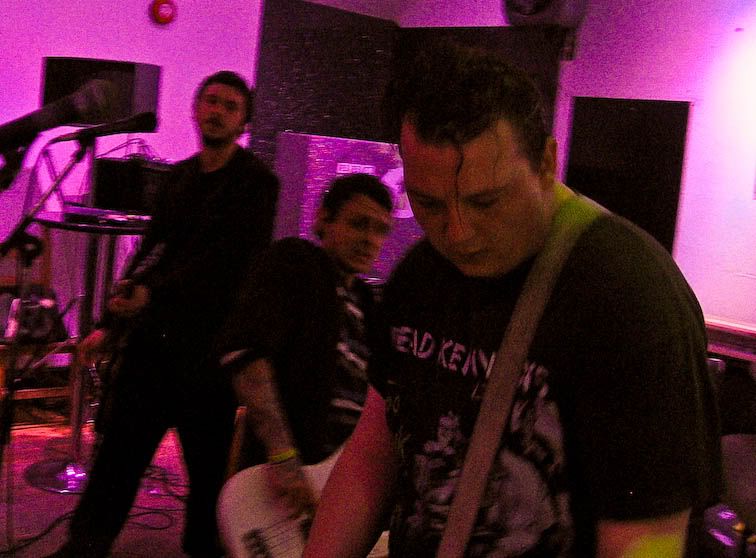 Holyhead doesn't have much going for it. The town offers you the closest Guinness to Dublin you'll get in Britain and also The Not Onlys (pic above), a true hows yer father punk band, featuring ex-Sick Dastardly bassist dog walking extraordinaire, Lee Creep, who made a racket alongside blockbustin' guitarist Caleb Cage (who also fettled about in Bangor's Kennedy Complex). Citizen Caine smashes the drums and ex-Xms3 stuntman Jake Chaos sports a Too Drunk To Fuck t-shirt to tell you like it is.
And despite Jake's guitar spending a lot of time falling out with the amp and probably being too drunk to be fucked by him, The Not Onlys made a statement of intent with some toe tapping, head banging ditties, which, oddly enough were a bit out of place at a mutant noise night, being far too tuneful for what we were about to receive! But like a psycho menstrual patient we came on and felt the noize.
Expect an EP 'Our Souls' out soon.
www.facebook.com/pages/The-Not-Onlys/208734639145987?sk=info
'Carry your own fucking cross' repeated Dave McCann (pic below) as he finished off Skinny Limbs' (pic above) barrage of a set. I recognised that distorted bass mutilation as they warmed up, and little did I know that this skinny limbed outfit is Dave's side project when he's not beating iced up Whales to death with a hockey stick.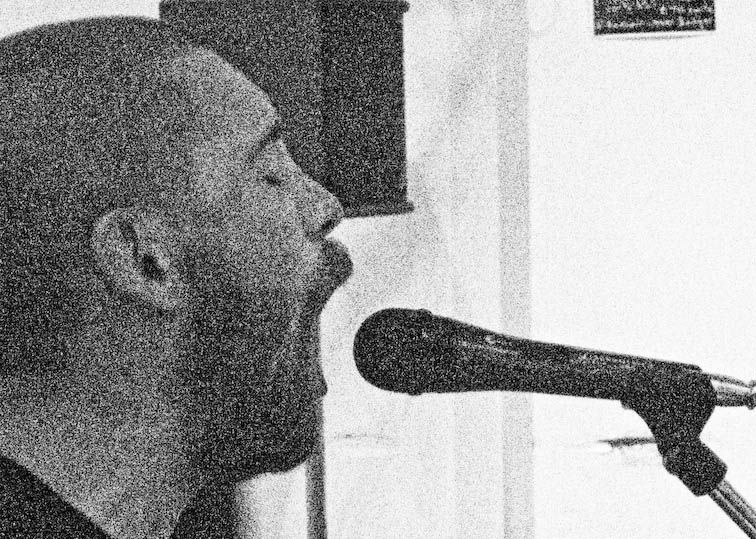 This 3-piece sound like an envelope for that screaming bass guitar, it's cacophony in a bottle and the cork stays firmly in its place but the bottle itself has exploded into a million searing pieces, rupturing your eardrums like a nailbomb at a school disco. I carried my own fucking cross home in the form of a cool (not pre-washed) band t-shirt (here's hoping Large doesn't really mean Skinny Fit)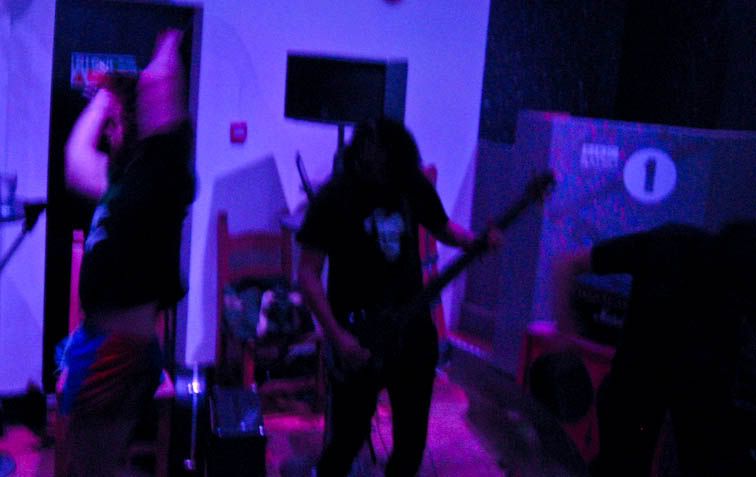 The girl had forced Gwion away from the masturbationary delights of Monday night Combichrist Coronation Street and so far he was unmoved; not unimpressed, but not convinced that missing Hayley and Roy Cropper having a threesome with Steve MacDonald's dead budgie was worth the effort. This was about to change…
Autistic Disco was how he described the event as he picked up a limb and scraped himself home. Of course, I am now a veteran to the Klaus Kinski experience and knew that a One Flew Over The Cuckoo's Nest school reunion is on the cards.
With an extra drummer that allows Edwinge to run amok between beats, the band rage into all their hits, breaking glass, jumping on it, bleeding, grinding bones, hurting people – it's like GG Allin without the human excrement. We sought shelter above the blood line, knowing that to remain at eye level only invited pain as bodies rag dolled themselves into each other and solid objects.
It is not a gig, this a spectacle – it's time you went to spacsavers too…