(review n pix neil crud)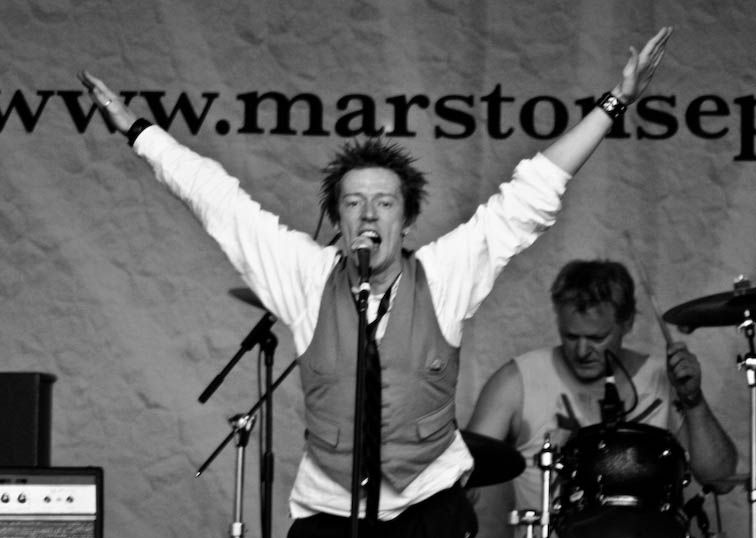 Oh no… not another whinge review…!!!
If you want a great day out on Bank Holiday Monday, can't afford Leeds or Reading Festival, fancy a few beers, don't mind a hangover in work the next day and dance in the streets then this is for you.
If you're after seeing real bands play real music that they wrote themselves, then forget it – the words Short Supply are paramount here and it's a truly sad reflection on the state of the musical nation today…
Read my V Festival review from last week, where the country's teenagers are so high on X-Factor that the shite has found its way onto our festival stages. Matthew Street is almost full circle to that, where every stage is filled by Tribute Acts. To seek out new life and civilisation here is a tall order and we only happened upon Tommy Scott by virtue of chance.
Don't get me wrong, like I said – it's a great day out and you have to flick the cynic switch off if you wanna enjoy it for what it is – harmless fun, which is about the extent of the Sex Pistols Experience, being watched by more grey hair and slapheads than anyone else! And to be fair to them, they (from a distance) looked and sounded the part and were entertaining, and when you have only one (real) album and a smattering of singles to practise, you're gonna master your craft. These bands actually make a living from this kind of stuff, but the way things are going, in ten years time there'll be tribute acts of tribute acts cos original music gets pushed out. (All together now 'Going Underground').
I was slightly taken in, having been heavily influenced by the Pistols at a very tender age, where I still get the urge to gob at old ladies and headbutt bus conductors, I did sort of fantasise what it'd be like if Sid was still alive would he still be a tosser. And I'm also glad I turned down the chance to see them on the money laundering tours a few years back (never meet your heroes – especially the dead ones).
Yes they were all out in force – Paul Weller, Coldplay, Queen, Clash, Stranglers, Madonna, even fucking Duffy! – All tributes – all bollocks, particularly when you consider a few years ago Matthew Street actually hosted the real Stranglers and the real Buzzcocks and the real Goldblade.
The plan was to take this in having thumped the night away first to Luv Dump then over to the Krazyhouse for Vice Squad and Punchdrunx – but unforseen bastard circumstances put paid to that.
So to dig out Tommy Scott and The Red Scare was a bonus on the musical front, and maybe I'm becoming a bit of a stalker I keep popping up when he's playing. They were onstage at Chester Rocks in July, although I have absolutely no recollection! I've also seen Tommy's band (the same line-up) under the guise of The Drellas, who I do prefer, with their harder punk edge – although they were frustratingly low on their recorded output. The name change reflects their style change – although similar to The Drellas, they're a bit more soft on the edges, a more 1950's horror comic psychobilly feel to their stuff with the old Space crowd pleasers thrown in, to err… please the crowd.