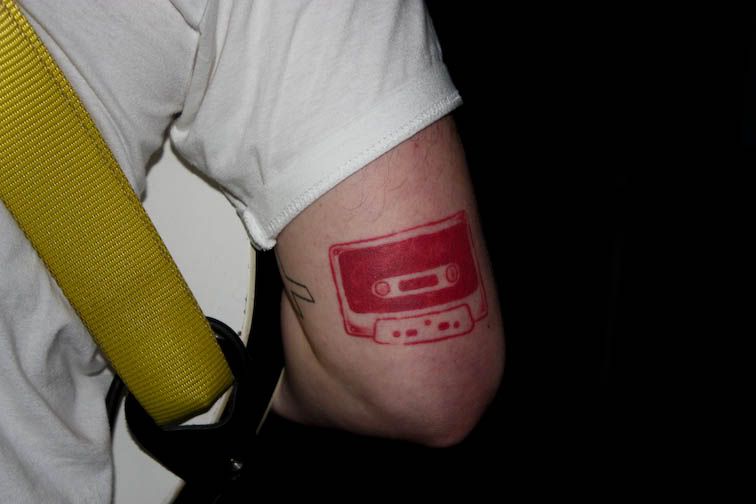 (review n pix neil crud)
'They have an ear for a catchy tune.' Smirked a sarcastic Alan Holmes. This was a compliment to Skinny Limbs as they dragged their entrails of sound across the floor, smashing each song against the wall then stamping on it. Their second of seven songs, Gabriel was more of a ballad by their standards, although still brutally built around that severely distorted bass guitar that screams for its true parentage as Whaling expert, Dave McCann fucks the living daylights out of it. When you take into account the Skinny Limbs line up of the said Dave (Whales), Ash Hammond (drums, ex-Capguns) and ex-Bastions' Dan Jones on gitar [sic], you soon realise that these guys don't do songs to 4/4 drum beats and your Mum is never gonna tolerate this kind of nonsense in her living room.


There's no 'I said Annie, I'm not your Daddy.' Instead you'll get 'Bury your own fucking corpse' and this is music to bury your undead to, so long as you can do it in 20 minutes, for that is all Skinny Limbs will give you. Twenty minutes of head therapy, no recorded output, but a choice of t-shirts! Love it…!!!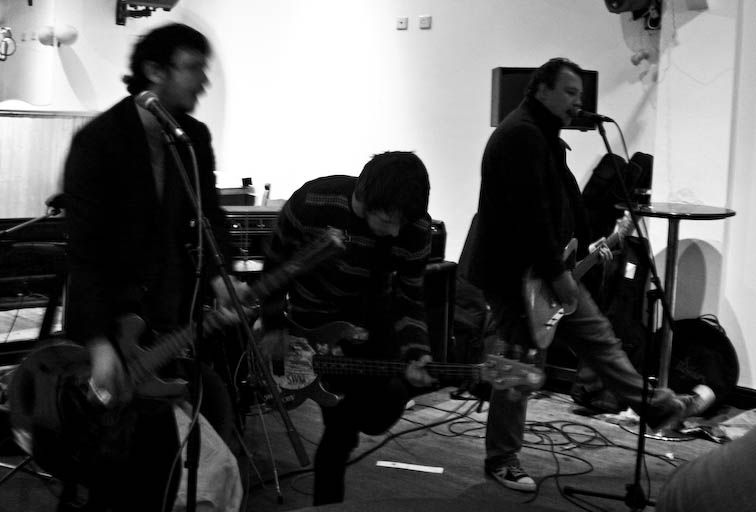 It might be raining like a London Calling video outside but inside and a generation away from that era, The Not Onlys not only do old skool punk rock by numbers, they do it very well; so well that the National Trust need to sign them up as these Holyhead scumbags are protecting our heritage. They're almost tighter than last time and distinctly better, which is a sign of rehearsing or drinking less (or both). Songs about Jesus (he fucking saved us y'know!) smatter a couple of well chosen covers and the shared vocals, leaping around and eye contact with the audience betray a good band in the making. Yes, like I said, it is punk by numbers, but they all add up.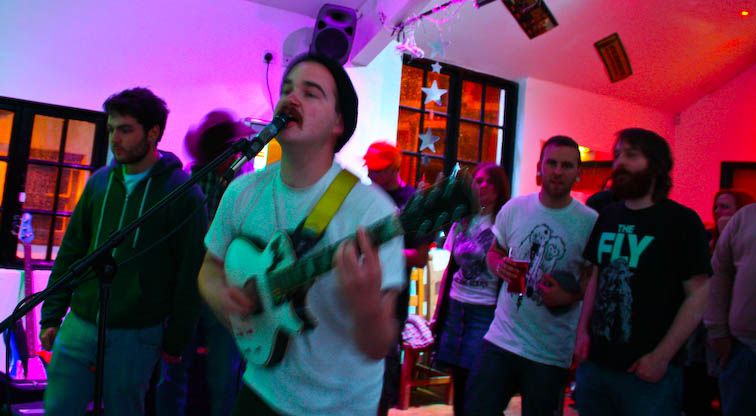 What the fuck is a band from Sheffield doing in Bangor on a Monday night? Didn't they build the Snake Pass to stop this sort of thing? Horses are on tour with Thee Cuss Words, and even if it is a Monday night in a corner of North Wales, playing to a handful of freaks, a gig is a gig. Reverbed to the hilt vocals that rattle the windows and a guitar dry enough to dry the rain on the panes, The Horses deliver short sharp songs with a C86 meets obscure Bogshed structures that are minced through a gay Rottweiler and fed into a Slush Puppy machine, or just one down from Klaus Kinski's Klub (does that abbreviate as KKK?!). The singer is shy, his back is always to the audience and a peek betrayed someone who looked like a 1990's Kevin Webster off Corrie and Benny off Crossroads (I loves Miss Diane). They certainly don't outstay their welcome, no song is much longer than a minute and I look forward to their 60 track CD!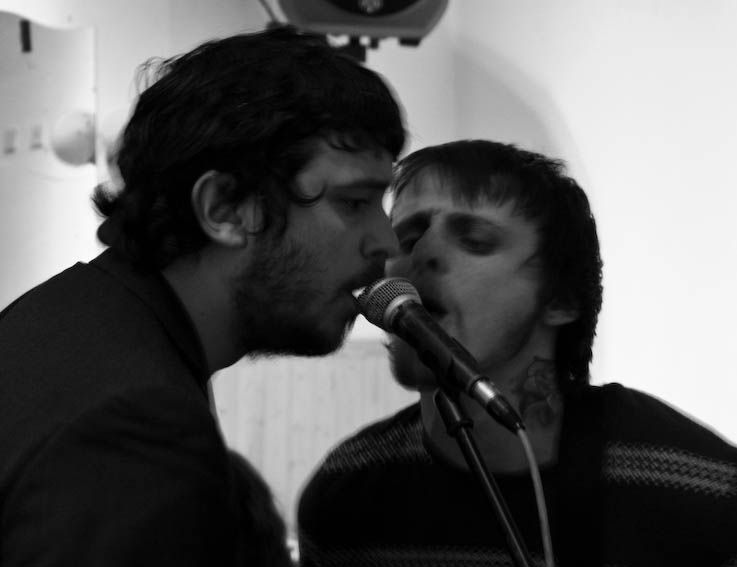 Of Thee Cuss Words, Alan Holmes said, 'I was surprised to hear that Horses and Thee Cuss Words had never actually met before the current joint tour – they seem so perfectly made
for each other, giving the impression of coming from the same scene in some isolated town with a shortage of bass guitars. In fact, Thee Cuss Words come from Kent, almost 200 miles from Horses' Sheffield base.
Before starting, the group move the drum kit to the opposite end of the room, effectively surrounding the audience… well if it were possible for two people to surround anything. They're like Horses' big brother band – the same jagged guitar riffs, breakneck drumming and shouted lo-fi vocals distorted through an amp. Where Horses' songs never strayed the 'prog' side of a minute and a half, Thee Cuss Words stretch out with comparative epics, at times scraping the three minute mark! Charlie Wyatt's grimy fret abuse is almost a distilled caricature of trad rock riffing (but played at 78rpm) and we are even treated to a couple of
solos… with guitar behind the head! Hyperactive drummer Tom Close pours beer over himself between songs and recklessly careers around his kit with a momentum that shows scant regard for health and safety. They manage to be gloriously unhinged while staying tightly on the beat, hurtling through the songs on their great debut EP "Even the Devil Went
Home and Barfed that Night" and more with a breakneck intensity that climaxes with Charlie discarding his guitar to distribute Tom's spare drumsticks to the audience as everyone joins in with a thunderous drum finale that brings a great night to a suitable close.'
Having reviewed so many 'big gigs' and moaned with despair at the blanket Red or Black Cowelled coverage mainstream drossed out shit gets these days, it's an absolute pleasure to find these gigs. This is the real underground – below the radar of even alternative radio. It's a small club, an exclusive club, an ace club. Each town has one or two bands, or legionnaires who are in this club and they network. Many are 2-piece acts like Horses (or one piece, like Whales) and nights they play like this are the stuff of legend – myself, Kitty & Holmes will reminisce from our nursing home commodes about the seedy gigs where we'd see the likes of Skinny Limbs, Horses, Thee Cuss Words & The Not Onlys making an absolute glorious racket. We may even be wheeled out to be quoted (like the Sex Pistols' hairstylist or The Clash's masseuse does these days for those Punk Rock books and TV shows), and we'd paint a pretty picture of how it used to be before Karaoke Kings, Tribute Bands and X-Fuctor became the norm. Nights like this are priceless and exclusive, with just a few to enjoy the performance. Just a few to share the love of a field so far left it fell off the edge.