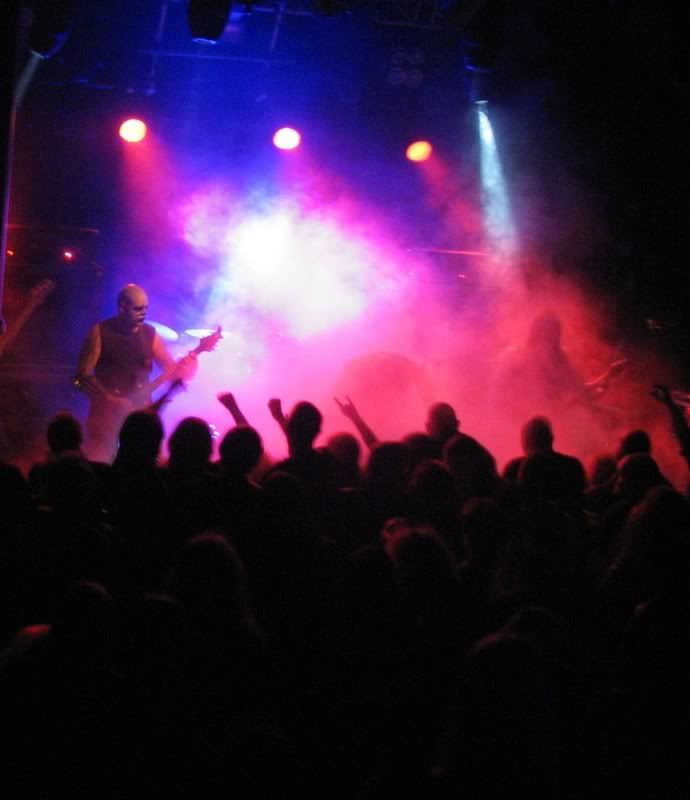 [review n pix mwj]
A couple of ferocious bands I'd seen at festivals in the last year or so, joining up to make a more than tempting trip to the 'pool. Whiplash Promotions have really returned to strength after some time under my radar and are making this place and venue a regular for touring extremity (enjoyed the likes of Gorgasm and Saturnus shows in recent months), an excellent bonus on the back of Wrexham Central Station's good work, and neither place are that far to make the effort for.
Still, should have left a bit earlier after gathering some fellow metalheads from the coast as we'd missed the earlier doors and the first band The Sickening were just finishing up. All European bands on this touring package, and already a good turnout is evidence, the gig itself taking place in the larger downstairs room with its stepped "amphitheatre" giving excellent views all round.

Next up Sweden's Valkyria who I was unfamiliar with despite them knocking about for a few years. Suitably "blacked" up with their corpse paints and bedraggled in uniform they commence in the black metal vein of the headliners and do have some incredible pace driven along by top notch drumming. However what strikes me as more interesting in the mix is their clever shifts down in gear to more atmospheric and slower sections, really adding some good variety to their structure.

Poland's Vader have been going so long they originated in times not only of Communist austerity but when music was a bit straighter forward. And while their blistering relentless death metal hits the spot with an excellent sound mix, undoubtedly retained is a flavour of the more Slayer-esque thrash/speed influence of them olden days. I find their impact naturally more impressive here than in the wider spaces of Hellfest where I last saw them, and it does help being sober enough to focus as well. There's a good blend of classics with some from their new release "Welcome to the Morbid Reich" and they are greeted with a huge roar and smiles of satisfaction all round, only widened by their outro of "The Imperial March" from some sci-fi film or other.

Similarly, although I thought Norway's black metal legends Gorgoroth pulled off a good show in the main stage daylight at Bloodstock being bathed in smoke and red light in some seedy club (sorry Masque!) is what suits this music to a tee. And it is like an onslaught of the power of hell when virtually first half of their set flies by in a truly stunning blast-beat-athon with constant double picked riffs and the harshest of shrieking vocals emerging from the mist. There's a real focus to their attack and no impression of going through the motions, it's a relief and a pleasant change when they actually announce "a death metal song" where the pace drops to allow distinctions and a groove to be appreciated. Mad hair windmilling ensues.
Both top bands have good full sets and are on fine form, one of the more solid packages to come through recently that privided value for money considering the ticket price was relatively steep, fair play, but much more to come from Whiplash so keep checking those listings