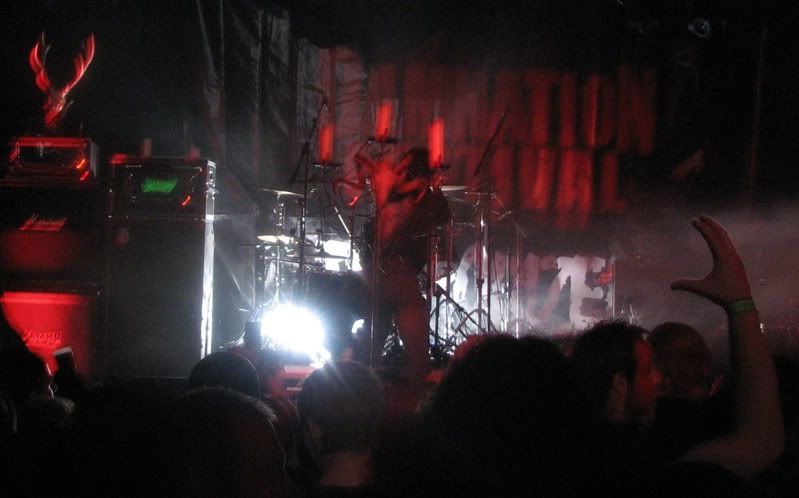 (review n pix mwj)
Indoor aural fireworks again this year, maybe with a bit of smoke machine bonfire to go with it. Despite it being in my teenage pyromaniac years a favourite time the last couple I've missed entirely due to the coincidence with my greater burning desire, noisy banging music. And Damnation certainly supplies that, with my attendance guaranteed with the initial announcement ages ago containing two of my top bands in Godflesh and Doom. While the rest of the assembled prospective line up may not have lit things up as much to my tastes, past experience shows cracking levels of craic are always achieved here.

Back on the road again nice and early to get over for the full sesh, arriving in Leeds midday. We found ourselves downgraded from our already no-star hotel, but by the time we would be contemplating a return a mere roof would have been luxury enough. Our plans to catch up with folks to continue the warmup in the Old Bar that is part of the Uni were temporarily hindered by a doorman until we snuck round through the main doors and then discovered we weren't hindered at all. Our success suffered a set back when we discovered we had to go back outside to get in, the quickly gathering queue meaning opener on the Mine basement stage Humanfly were going to be unfortunately missed but I had seen them here last year so instead it was straight to Cerebral Bore on the middle Terrorizer stage. Sadly it's further diminishing returns with these guys as from the stormer they had at Bloodstock, to a slightly less wild Liverpool basement and now they are stuck without their Dutch singer (missed her flight). They gamely try and give us a 3 song instrumental grindcore consolation but after their setting up had taken longer than that it was all a bit anticlimatic. Descend back to the jammed Mine for the much anticipated A Forest of Stars, who I'd been tongue in cheekily describing to all and sundry as Victorian black metal but there was far more to them than that. Epic, aching layered constructions of songs from the six piece including violin and keys call to mind a flavour of the majesty of My Dying Bride. The locus and focus the almost en-tranced singer, his casual intensity engaging and slightly disturbing at the same time.

[a forest of stars, starey]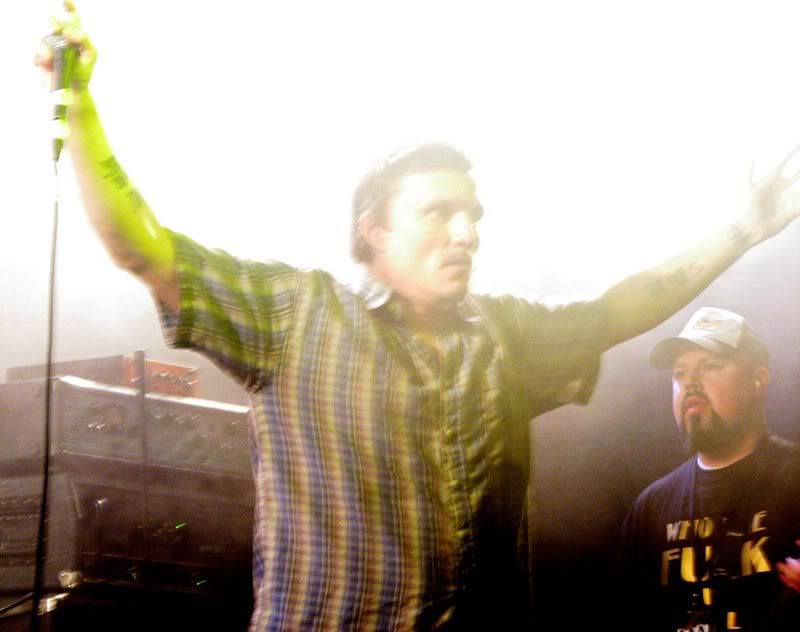 [a man called catten]
Speaking of charismatic psychotics back to Terrorizer for A Man Called Catten. Paul to his friends, I've seen the journeyman Welsh vocalist with a few of his projects (Co-exist, Murder One, Stuntcock) but tonight he's assembled a band to play Medulla Nocte numbers. I'd never seen them the first time around so was looking forward to hearing some of the blistering hardcore tinged metal but for all the main man's relentless energy on stage a poor sound mix robbed a lot of the potential impact. This was initially the case when I squeezed my way back down through the throng for Conan downstairs. The rising UK doom behemoths may have cleared some space in front of the stage with the sheer power of their chronic downtuned dirges but the universal cry in a break between the sludge waves was "Turn it up!(bring the noise)". And thankfully this was delivered and the reverberation was eventually punched into the guts in a very satisfying way. The organisers certainly retain their finger on the pulse of UK underground metal and fair play to them for showcasing this fine selection.

[conan, barbarous]
On the international front we had the Norwegian's Shining who are exploring a new mashup/niche summed up with their last album title "Black Jazz". That's black as in metal but jazz and sax in particular really isn't working for me here (it does pretty rarely in general). Black, horrific sludge, and experimental ambience on the other hand I can appreciate and the Liverpudlian monster that is Dragged Into Sunlight were up next on the Terrorizer. A horned skull and ironwork decorated stage, the band faced away from the crowd while their extended sampled intro (from the same twisted sources as tapped by GGFH) either built the atmosphere or tested the patience depending upon your opinion but when their varied but consistently harsh and extreme set kicked in, red lit and strobed, I thoroughly enjoyed it and the challenge they presented. Next, it would have been easy to dismiss Chthonic through the oft repeated "Taiwanese Cradle of Filth" but I was prepared to take them on face value (especially the bass player Doris's face) and they turned out to be better than expectations. A hyper-charged blackened metal onslaught, but retaining a sense of melody and thankfully with none of the bullshit I've come to associate with their UK forebears.

[chthonic, the bits i liked]
Next we have highlight time though. Getting snogged by some gorgeous (and admittedly drunk) European girl as I persuaded her not to leave the front of the stage before the impending joyous mayhem of Doom. Oh yeah, and Doom too! Hopefully they satisfied her as much as they did me, our brief encounter was unfortunately cast asunder by no nonsense pints of crust punk filth of the finest vintage, 20 plus songs crammed in a 40 minute set and biggest pit insanity of the day, with maybe10 crowd surfs in the mix (not all voluntary), and all before 8pm.

[doom, total]
I crawled out of the destruction for air but the relief was fleeting as we were going back to back with the industrial legends Godflesh and a first visit to the main stage. I'd been successfully non-bothered about other stuff here earlier whether the thrash of Xerath and Evile or the "morris dancing music" of Turisas but approaching from the back of this huge room the mantra "don't hold me back, this is my own hell" sends an oh so appropriate shiver of anticipation up the spine, I'm not hanging back and the pleasure of this aural hell is mine and others. As you may be bored of hearing (tough) I've seen them once or twice or thrice recently and this one proved to be special again in its own way. The sound was oppressively colossal and ruled in the mix by Machine or whatever version of drum provider Mr Broadrick utilises now. The guitar, bass and vocals were under layers to the beat, whether it be the hiphop of "Pure" or the industrial steamroller of "Streetcleaner", great stuff and well received to a huge crowd of fans old and new. Probably 15, 20 times more people than when I saw them in Wrexham in '91 its arguable they have never been so popular, evidenced by the mass of shirts all day, fair play for their persistence and bring on the new material.

[godflesh, it's all about the Ben-jammins]
There had been a last minute withdrawal of Decapitated, the Polish death metallers who were scheduled now, due to being in a plane crash which you can't really argue with. However, this had further served to highlight the lack of this end of the extreme spectrum on the bill this year, and the choice of the two headliners left was a bit anticlimactic for me. Started with Ulver on the second stage, more Norwegian dark electronic experimentalists but their current material having a more ambient, atmospheric vibe that I feared would be soporific at this time of the evening for those of us who had over-exerted ourselves somewhat. They were supposed to extend their set to fill up the gap created by the absentees but there was just further soundchecking shenanigans and then a set described by someone with more familiarity with them than myself as seeming like they really couldn't be bothered. There's plenty there to watch them but I left them to their wanderings and headed to some noodling instead with the Devin Townsend Project on the main stage. I've fully enjoyed his self-depreciating mullet metal insanity with Strapping Young Lad in the past but in his bald and bold older age know he was become a prodigious progger, churning out loads of albums this year alone. There's the occasional heavier riffing but it's largely guitar led Pink Floyd-isms (and as I'm not a fan of them either…), the question of how far you can drift from metal at a purportedly metal festival remains. But then again the place is full and the majority seem to love it, so I don't think it's just the fact that he is held in respect for his legacy but a lot embrace this new stuff he is producing. It's not your fault, it's mine! 😉 And of course he remains a very charismatic entertainer, he brings a smile but my personal need is to have some more aggression tunes to keep you going at this time of night though. Or off to the local pub for a wind down before back in to the after show party for more of a wind up.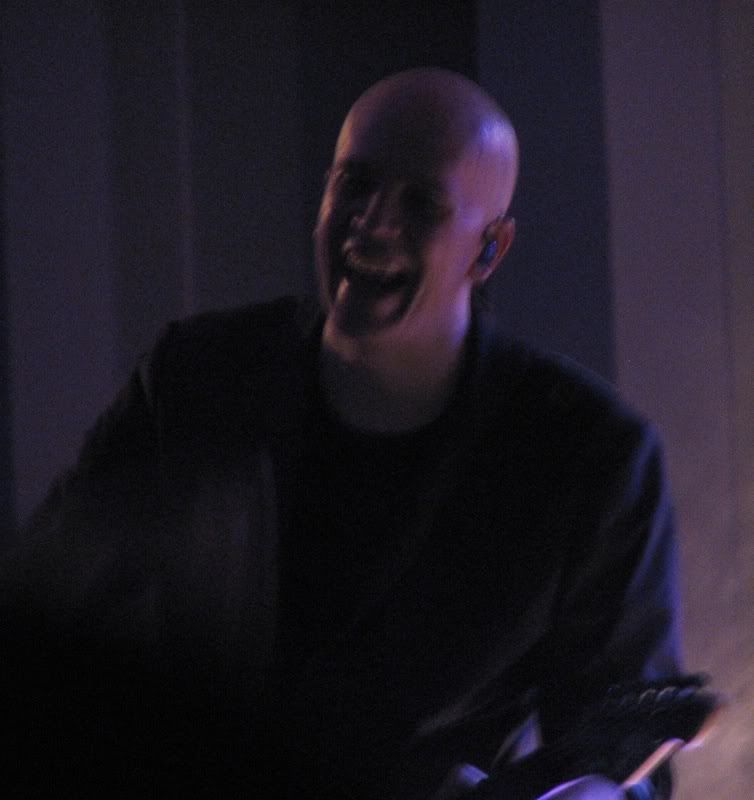 [devin, happy endings]
Very pleased to see the event a massive success in general though, the organisers had been concerned earlier with ticket sales and the general financial situation but the minor hiccups and disappointments of the day were far outweighed by the value of some storming shows and shameless festival fun