(review n pix neil crud)
The Masque is a great venue – it's made for bands – slap in the middle of a music city – cheap beer – good sound – great view from anywhere and a number of rooms to escape to if it gets too much for your equilibrium. It's dark, it's black, it's shabby, it's walls are adorned with the greats who have graced the stage.
It was a long day – from an early start from work then an early dart from work then picking up Kitty and Fatman from Bangor and Rhyl respectively, to a swift signing with the Manics in HMV Manchester, a much needed pint in the Shakespeare round the corner and a chat about music, before heading to the Pool for tonight's gig.
Thankfully the Fatman Satnav got us out of Manchester and the Kitty satnav got us straight to Seel Street, which was awash with Hallowe'en chivalry and scary drunks in masques growling at passers-by.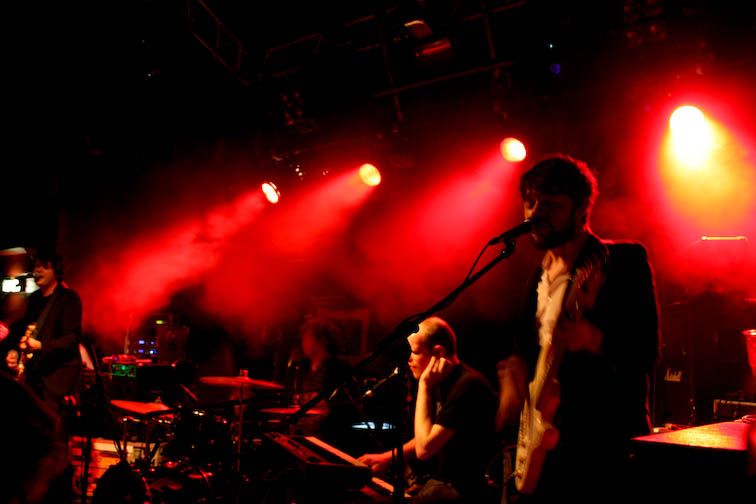 Due to the schedule we missed the opening band, and only caught the end of someone's roadie playing a solo set, which was a bit rubbish. And before you could say Electric Soft Parade they were on. Now I've seen the name chucked about for years, and always had them down as a Delerium Records type psychedelic mushroom smoking band – maybe I'm confusing them with Poisoned Electrik Head or everyone's Dads favourite ELO.
They have been swimming around the under currents for ten years or so without ever having really broke the surface – and maybe tonight's set goes a bit of the way to explain as their style swaggers from soft pop to hypnotic rock and back again – from sounding like The Strokes to Squeeze playing The Beatles to something leagues ahead – the penultimate tune (the long one) that jumped from riff to superb riff taking you to that Poisoned Electric place I had wrongly anticipated. (website)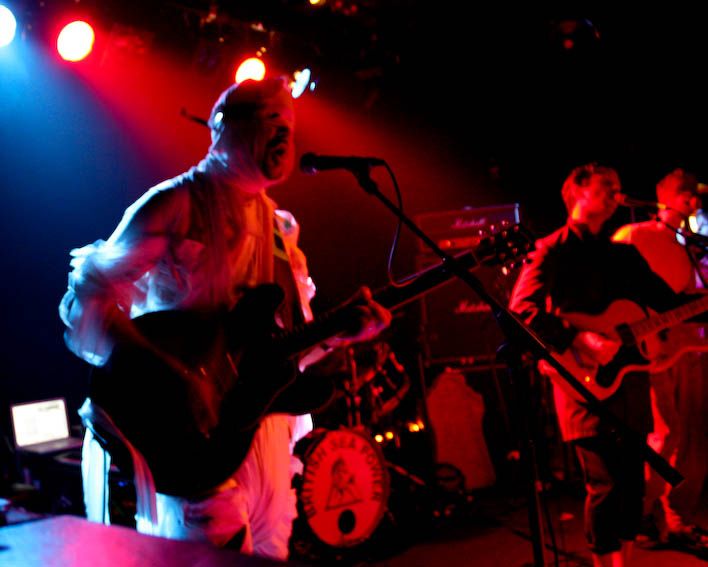 British Sea Power are almost becoming old friends as we have collectively seen them six times previously at four different shows, but this being the first headliner. I did curse myself for only skitting through their latest album Valhalla Dancefloor since getting it a few months ago, so I came to class without doing my homework and British Sea Power punished me by playing for well over 100 minutes.
The hallowe'en theme wasn't that prevalent indoors considering the streets outside were dripping in zombie gore – there were a few dotted around this packed auditorium, and the unnervingly and possibly clinically insane Martin Noble on guitar did spend the night on stage in full mummified regalia.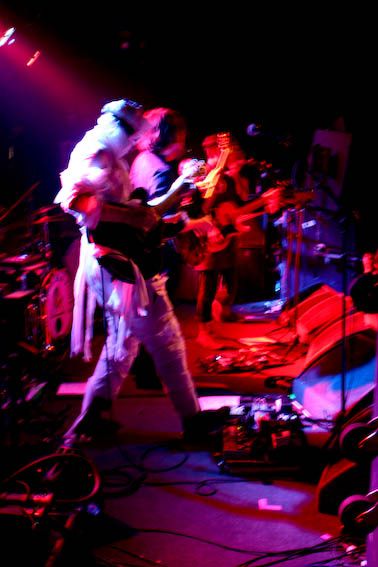 So despite this being my third sighting of British Sea Power, and now also adding a 'British Tea Power' mug to my rare collection, I was still an outsider stood among the clenched fisted, singalonging going on. Yes I could chant 'Easy! Easy! Easy!' to the charmingly beautiful No Lucifer and the equally moving Waving Flags, and I recognised a couple of others like, Who's in Control – but a lot of it washed over me and even the Die Hard #4 lookalikes stuck to the front barrier would probably admit that BSP outstayed their welcome when they played an encore that would not end!
Regardless of the over indulgent finale they didn't give me the dummy tits and this is what the future holds.
There'll be no after show party tonight – sack the tour manager – a long drive in store in the shape of a homecoming in Brighton for both bands the next night – you southerners are in for a treat.