review n pix by neil crud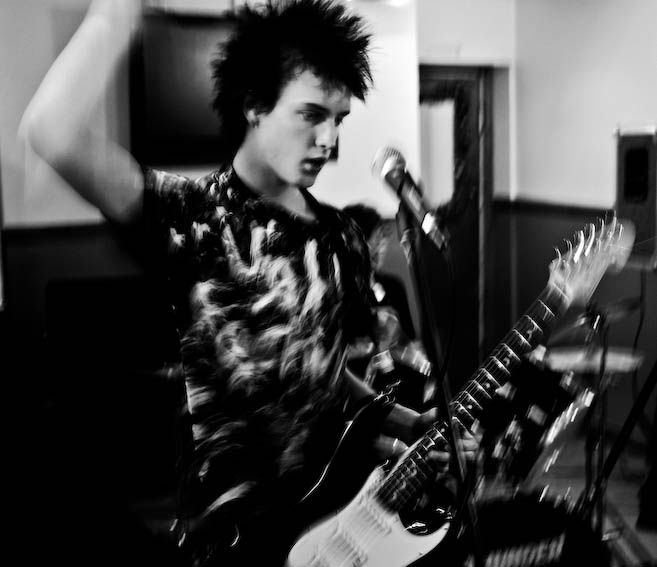 Chores of the day done, no work tomorrow and a 3pm gig in town… Hmmm… do I walk in and drink-a-drink-a-drink-a-bottle-to-sink-a-sink-a-sink, or do I play it sensibly knowing that Fatman is my New Year's Eve host and he is a true gentleman when it comes round to handing out jaundice inducing beverages…?


Regardless of intoxicating myself I thought I'd do some pre-gig research before heading out… Hmmm… Ugly Fashion, usual Facebook bollocks, no music, usual MySpace deserted planet bollocks, and… err… no music… So I won't be humming along to any of their stuff on my crudPod on the way in. The same almost goes for Slight Return bar a couple of pointless cover versions on their spazzbook profile, so I slapped on Pennywise's version of Hotel California to wind myself up and make me angry when I write up once again on bands playing cover versions at gigs. Fair enough if you're gonna coin it in at The Plough in St Asaph or at the summer camps, and I'll take my hat off and applaud you and dance and make a tit of myself and even pay to see you at one of those places, for you serve a purpose – entertainment during partytime… Everyone loves a covers band (or live band karaoke, for that is what it is) – or a tribute band – but STAY THE FUCK AWAY FROM PROPER GIGS YOU'RE TAKING UP THE SLOT THAT A REAL BAND CAN BE FILLING.
Now that's off my bare Braveheart chest I can get on with the gig – The Rastinman has been tinkering with this venue for a while now, and I've yet to catch a band here, but now I've moved back down below the snowline and into the big smoke it's an opportunity to catch up on the local scene.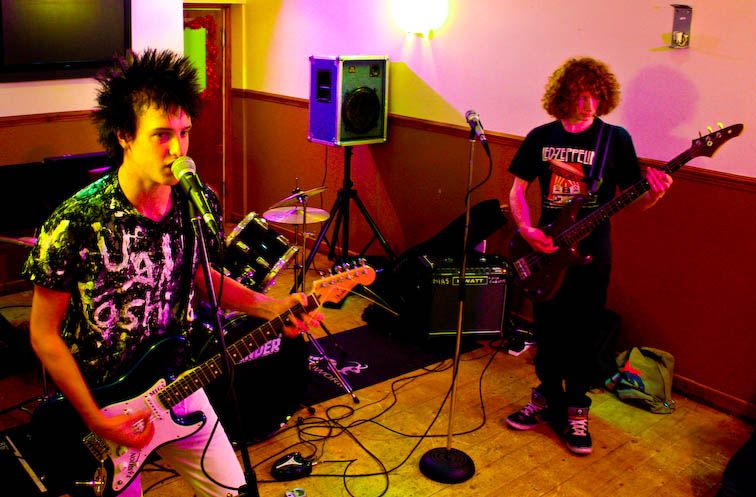 Vegas is a strange place, normally occupied by 20-somethings high on music and life, and random old fellas on crutches – today is a bit different though; the next generation of band and their followers have stood up to be counted. There's only so many times you can read the loop on Sky Sports News and only so long you can make a pint last while waiting for a band to start… 3pm became 4pm and I'd read that Roy Hodgson is under-fire at an under-par Liverpool and that if I stayed and drank I'd be under-bar, so on hearing a note perfect soundcheck of Purple Haze and, an admittedly nifty reggae version of Comfortably Numb from Slight Return with a good strong vocal, I knew that my time would be better spent elsewhere.
No offence to the band, and they will happily keep the punters happy at the said venues in the future (and at Vegas on a Thursday night).
So 3pm became 5pm and Conwy's Ugly Fashion took to the stage for an annoying 15 minute tune up before hitting the ground and eventually running with a pretty decent 40 minute set of sometimes complicated, sometimes good old fashioned punk rock. I say complicated, as sometimes they were too complicated for their own good, but there was enough variation in the set to keep your mind away from playing negatively at Anfield.
Vocalist/guitarist Miggs sports a Sid Vicious haircut and a frame to match and a voice not too disimilar to a young Howard Devoto, and you'd go as far to say that some of their own material was shaped on Magazine (and one song in particular was long as long as a Magazine album track!). Bassist Rico looks like the bastard love child of Kyle Gintis and JuZ, and plays a three stringed bass – I'm still waiting to see a band with a one-stringed bass! Fuck all that 7 stringed twiddling bollocks nonsense! And in Ryan the band possess an excellent drummer. Next step is to get more gigs under their belts so they can tighten them and become the real deal.
One punter shouted, 'Play some Angelic Upstarts' – Ugly Fashion didn't have a clue what he was on about, but next time they're out they should perhaps drop Blank Generation or that well worn whore of a song Blitzkreig Bop and play Murder of Liddle Towers instead! On the cover note, the finale of I Wanna Be Your Dog was good clean, kick out the jams motherfuckers fun ending with Migs writhing on the floor under his dying guitar. Good stuff.