RIP – Bern – lead singer of Elfyn Presli ac y Massey Fergusons – the Welsh farmer psychopunk band feat on the Words of Warning EP 'The First Cuts Are The Deepest' along with Anhrefn.
Any band with a song called Jackboots Maggie Thatcher would seem to have a bright future, unfortunately, this band became heroin addicts, heavy drinkers and/or potheads, but this turned out to be a vicious rumour started by Anhrefn's Sion Sebon!
Elfyn Presli first surfaced on the seminal Recordiau Anhrefn compilation album 'Cam o'r Tywyllwch' that emerged in April 1985
Renowned for being a raucous live band, reviews in The Observer were pretty good to them. John Peel was a fan and would like to have played "Jackboots Magi Thatcher" but it was banned by the Beeb, (the song was played by Neil Crud on BBC Radio Wales in 2004).
Things came to a halt when the driving force (Bern) behind the band just had enough, and called it a day after a monumental session in Aberystwyth (c1987).
Of the band members Gethin lived in Russia, Chris Shutes comes back up to North Wales occasionally, and Bern stayed in the area, supping a beer or seven and pontificated on the meaning of beer, music, and the state of the economy.
He sadly died 25.04.2010 today.
[update] 2020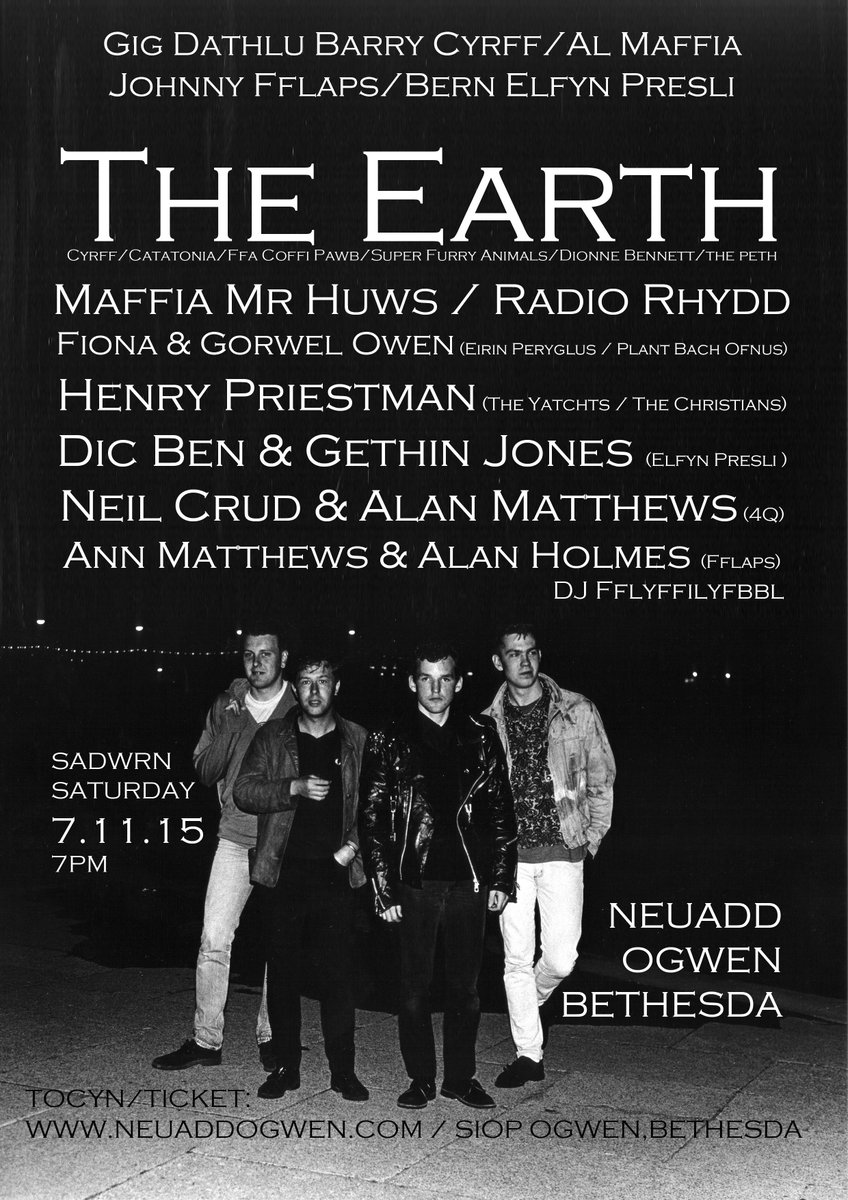 – It's been ten years since Bern died. Rhys Mwyn (Anhrefn), formed Welsh Rebel Outpost with band mate Sion Maffia and 4Q's Neil Crud and Cumi Pants. They drafted in several other iconic names from the Welsh scene and hosted a benefit gig in memory of those who were involved but are no longer with us… One being Bern… Ex-Elfyn Presli guitarist Gethin and drummer Dic Ben, joined Welsh Rebel Outpost on stage at Neuadd Ogwen, Bethesda in November 2015 to perform Jackboots and Parti Bili Tomos (with Dic on vocals – see video below)

A video does exist of an Elfyn Presli gig in Aberystwyth, It used to be online via the Culture Colony website, but it has since been removed.