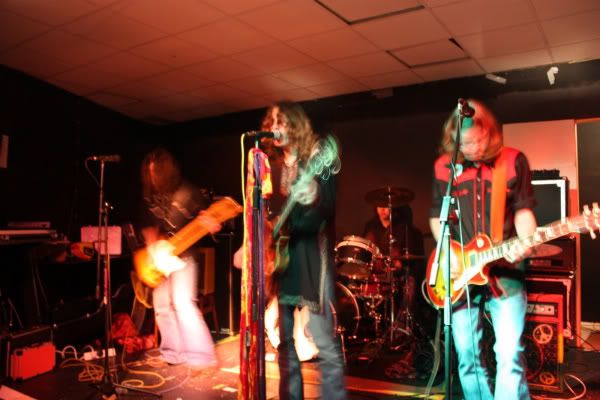 I reviewed Impaled Existence live at Zu Bar some fifteen months ago (link below), and predicted that this lull in crowds would last two years. If that is the sad truth, then we're just over half way there and boy did we know it. The Recession (Depression more-like) was on it's way then, we're now so used to it that we hardly know it until it's going out time… the towns are empty, the pubs are closed, the people are at home.
When Crass and their ilk preached their ramblings of a state where we stayed in glued to the TV screen because that's where the government wanted us to be, I wonder if they thought it'd ring true, 20-odd years later.
That Recession has certainly done the trick, and despite the joy of breathing clean air and not stinking of filthy tobacco, the Smoking Ban has added to it, as has the Government's ever additional taxation on alcohol – it's to save the national liver – bollocks, it's to line your pockets, to fund your wars, to pay for your mistakes. What Crass said 25 years ago; and myself a couple of years ago for that matter didn't predict was that TV would be even shitter than it's ever been, numbing the mind even more, calming the populace, dumbing them down.
'The 4 Sticks? Dunno what you're talking about mate; but what do you think about John Terry, do you think he'll shake Wayne Bridge's hand on Saturday?'
We are a nation of morons, 'Thyrd Eye? What's that? Is it on after Celebrity Shit-in-a-Bucket?' – we consume what we're fed and believe it all, we're gripped, or angered by what Katie Price shoves up her fat arse, we're momentarily saddened by 8.8 scale earthquakes, but hey George Clooney's hosting a benefit gig to raise the profile (of Madonna and Jay-Z). And most of all we can talk to each other on the net about who's been voted off Strictly Come Wanking and discuss the merits of Wife Swap IRA with our 'Friends' on Facebook and MSN.
'Are you going to that gig tonight?'
'Gig? Isn't that something that Neil Crud reviews for our entertainment?'
It fucking feels like it..! Not just me, I've read reviews by both Adam Walton and MWJ lately that follow this similar vain. Great gig, great performance, hardly any fucker there to see it. And when the bands stop playing everyone will moan…
Or will they…?
Probably not… 6Music will be axed – your mainstream entertainment will be back in the hands of the banal Radio One, or the safe Radio Two… The internet podcasts will spring up and disappear, some are/will be good – but all too fragmented. We'll have campaigns 'Get Crud Cast to have one million listeners' – but there'll be so much saturation, it'll be like selling something on eBay – everyone does it. And before long it'll be the majors and big companies using Facebook and MySpace as their advertising mediums (they already do) 'Get JLS to play up Cheryl's hole' – sounds funny, but there's a ploy there.
On the plus side (don't wanna depress you for too long) – the internet boom has fucked those big boys up their own Cheryl Cole's and bands are taking over. Bands now have to play live to make a living, tickets sales and prices have gone through the roof, but it does give smaller acts the chance to get out and play, as gigs are now acceptable. Of course, you have to sniff your way up the cocaine trail to actually get anywhere, and it's more of a lottery rather than being better than the next band these days, such is the wealth of quality and talent out there.
Let's take The 4 Sticks from Prestatyn; they're carving out a niche of their own at the moment. From starting out as indie-Beatle stalwarts, they're now almost guilty of being The 4 Sticks from Prestatyn, Alabama, where they don't have dogs shitting on the pavements, they have dawgs a-poopin' on the sidewalks. Such is the drawl in the songs I'm wondering whether this will hinder or help the band. The poppy-go-luckyness disappeared when they ram-raided the chemist and injected a drug-cocktail into their eyes and relit the hippy-iggy-mc5 era of the early American seventies to great aplomb. Vibe wise it's great, smocks, straggly hair, even a sitar wouldn't go a-miss, and the songsmith in them is first-rate, but they have to make a decision – do they stay with the accent and sound like a tribute band, or do they move to the States?
The venue, or The Venue4Events (shit name – about to be changed) is nothing short of exactly what you need. Not too disimilar to The Boardwalk in Manchester in shape and feel and ideal for bands on the Central Station, Night & Day, Zanzibar circuit. What it lacks is an audience! Put a Green Day tribute band on and you'll pull a crowd… How fucking sad is that? That's very very sad, but an evil necessity if a venue is going to survive. Drum & Bass nights are apparently well attended, prizing the pill heads away from their PCs, and going toward overhauling the ramshackled PA.
But this isn't just a Rhyl problem – it phases nationwide; some areas will be having their boom and others will be bust. Rhyl is well and truely bust at the moment, rock bottom; as Thyrd Eye discovered much to their detriment. The journey up from Chepstow to the dazzling seaside lights of Rhyl has been very rewarding for this band in the past; packed shows, lots of whooping and hollering and lots of friends. What happened? Well, go back to the top of this page and read it all again… That's what happened. Absolutely nothing to do with the band, and on tonight's performance, the first time I've seen them in a year they've sharpened their set, given it an edge, removed the fillers – what do they say? All killer and no filler – that's Thyrd Eye.
Having a stab at 4 Sticks, it's only fair to do it with Thyrd Eye, and my gripe with them (although far too late now!) is name changing… Bitchpups, Forgotten Sleep, Thyrd Eye – granted, the music from the pup days is far removed, or if you like (as Damien said), Thyrd Eye are a dark Bitchpups (prefer that name!). Bands change their names for various reasons; reinvention, forced due to copyright, or because they've exhausted every A&R man and DJ in the country and have to do it all over again under a different guise. Radio Luxembourg – Race Horses. Tetra Splendour – People in Planes. Valleum – Seagull Kinevil. But like Bob Dylan once whined, 'The times they are-a changing' – Record companies are no longer the be all and end all – being signed is no longer the end of the rainbow. Networking is, and when you consider the amount of work Thyrd Eye and 4 Sticks put into networking and gigging it'll one day pay off. You'll find 4 Sticks trekking across the North West, and you'd have found Thyrd Eye in Southampton the following night. These are bands dedicated to their cause, with high aims and aspirations despite the knockbacks they have recieved and will inevitably get again before too long…
Or they could just say fuck it and join the rest of you in your Pregnant Celebrity Whodunnit Wonderland.
Wankers….
http://www.myspace.com/thyrdeye
http://www.myspace.com/the4sticks
(Impaled Existence review – http://link2wales.co.uk/2008/gigreviews/….nt-zu-bar-rhyl/)
In response, Steve Rastin wrote:
The quickest way in which the live circuit could be revived in this area would be if the authorities would allow mixed age gigs, operating on a wristband basis.
The average gig-goer's age tends to be 16-20, in other words on either side of the legal age for drinking alcohol, and this is having as devastating an effect on audience numbers as any factor.
 Even when you're 18 and legally allowed to drink, you're less likely to go to gigs if it means some of your younger mates can't get in which leaves venues with a number of options, none of them particularly palatable.
 The legal way is to operate as we do now with a strict 18+ policy with ID required and the results of this are what we are talking about here – great bands playing to a handful of punters.
 A second, and frankly irresponsible, option would be to flout the law and hope that the authorities fail to notice – past experience shows that no-one gets away with it for long because of the priority level given to underage drinking by the licensing department and encouraging a roomful of 14 year-olds to get pissed up is pretty sleazy anyway.
 A third option would be to allow everyone in but run the venue as a dry bar with a strict no-alcohol policy but is this likely to alienate the older punters who want to drink.
 Places over the county border like Central Station in Wrexham have shown that 14+ gigs can work but we're not going to get a chance unless the authorities in this area adopt a similarly imaginative and trusting approach.