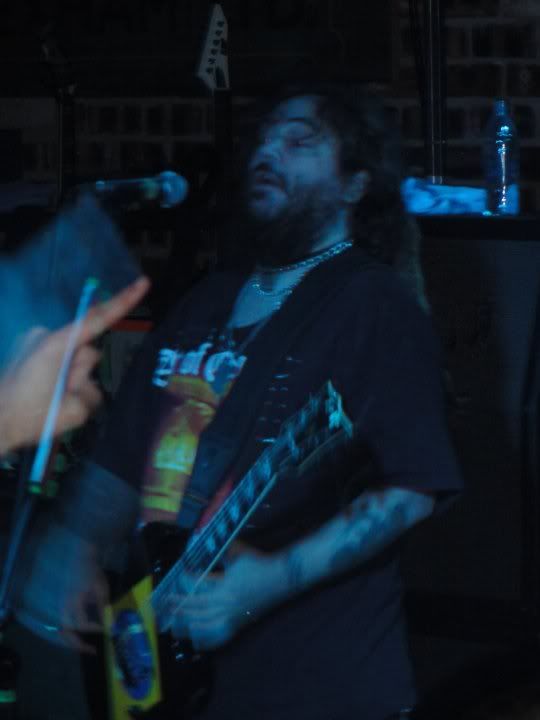 photo paul booth, cheers
Completing my week of birthday celebrations that left me feeling considerably more than a year older we had the treat of more international visitors to sunny North Wales. Of course there were plenty in Bangor but at the other end of the A55 we had one of the boys from Brazil (via Arizona now).
As surprising as Sepultura's recent weekend break in Prestatyn their former frontman Max Cavelera was gracing us with his band Soulfly here and for some reason this had chimed with a wide group of metalheads to make the place sell out, something I'm not sure I'd even seen before. Why a lot of other if perhaps more extreme bands should be gathering c.150 while this one got 500+ could be partly down to their longevity (including previous career plus onto their 8th Soulfly album "Omen") but is probably more to do with the universal accessibility of the tribal rhythms and bounce-ability chug of their riffs. To be fair I'd skipped seeing them last year at Hellfest in favour of, well, I can't be expected to remember that, but again this is such a treat to be brought local that glad to take the opportunity.
Joined a veritable train load travelling up along the coast, and then met up with more to get prehydrated in Wetherspoons before we went in. We ended up so lubricated that we missed the support bands but there is an element of protest in this with beer being twice as expensive and half as good in Central. We eventually made it into the rammed venue, soaking up the great atmosphere of anticipation and gathering that filled the place.
Taking the stage to a great roar the band are quickly into the swing of things. There is a simple effectiveness in their riffing and a groove that dominates and that everyone can get into. They shift up a gear on occasion with corresponding pit craziness occupying the entire lower dancefloor area, there's crowd surfing from folks old enough to know better, it really carries the impression of the venue at its full potential. We are treated to a blast from the past in the form of "inner self" and "roots" but the rest of the catalogue is lost on me. While Max's gruff and ready vocals inspire great shout along hooks to be honest he strikes me as a bit lifeless on stage, not much to say either, even compared to when i'd seen him a couple of years back with Cavalera Conspiracy and while the rest of the musicians are proficient so are a lot of session musicians. Still, that's just me picking, the overwhelming reaction to the set was warm/sweaty celebration which continued well into the bonus after club too.