(review n pix by neil crud)
'Be careful, it's like the wild west in Wrexham.'
Those were the collective messages from friends and family before I made my journey into the heart of this town with meat in its name. Future of The Left had mentioned on stage that there weren't many places with meat in their name and made up some of their own like Steaksville, until some smart arse in the audience shouted Liverpool.
Touring must be a boring chore when you resort to conjuring up things to do with place names as a form of entertainment. I had earlier met the band outside a last chance saloon, and on learning I was from Rhyl they went onto discuss towns with one syllable (and one collective brain cell in the case of Rhyl). I guess when you have literally toured the world in the last year then you will have exhausted the usual vice, drugs and drink trappings that are listed on your contract of employment, which is a shame as Wrexham is awash with all three!
Having mucked out, fed and watered my horse for the night, I jangled my spurs toward the watering hole known as Central Station. It's a venue I have frequented on many an occasion, only this time they had closed the main stage area and re-jigged the bar by placing a smaller stage in front of it and opening the side bar. This made it all the more cosier and less embarrassing for a 'name' touring band who could easily do a head count and have spare fingers and toes to count the heads again.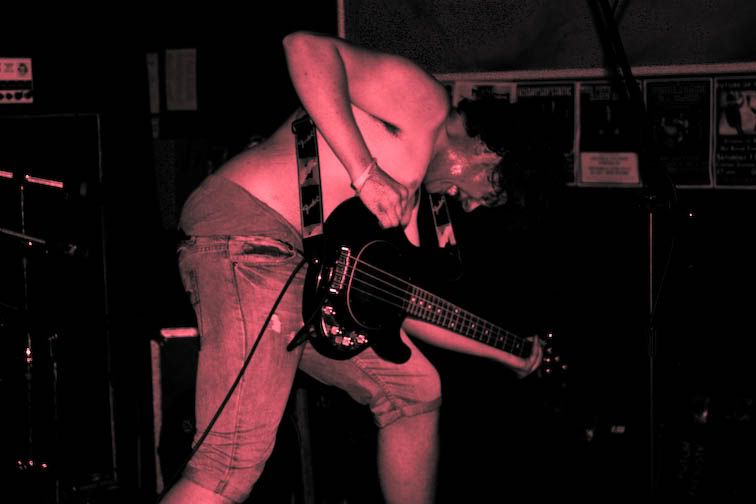 When I mentioned on my message board that I had seen Future of The Left at Central Station, population 42, it was mentioned that it was a terrible shame for both band and venue. Band, yes. Venue? Well, do they make it up by not having draught beer for sale and charging £3.60 per bottle? The Good (bands), The Bad (no draught) and The Ugly (bar prices). Maybe people stay away because of the bar prices, but this was an early start and a 14+ show, so the masses should've come enmasse, and yet they didn't. Maybe they can't read in cottonpicking Wrexham, and the plaudits the band have received via the media went unheeded.
There again are Future of The Left Wales' best kept secret? If you don't hug the radio on a Sunday night and tune it to 94.8FM would you know who they were? Maybe the odd blast on 6Music, a snippet in the NME – but they don't sing from the rooftops. Even someone as learned as myself (that's another word for anorak) took a while to discover that this was a superband of Sham Pistols proportions. They formed on the demise of both Mclusky and Jarcrew; two pioneers of the wild frontiers of music who dragged their songs on a rope across the live deserts of Soundscape in different directions and ending up in the same place (Wrexham ha ha!).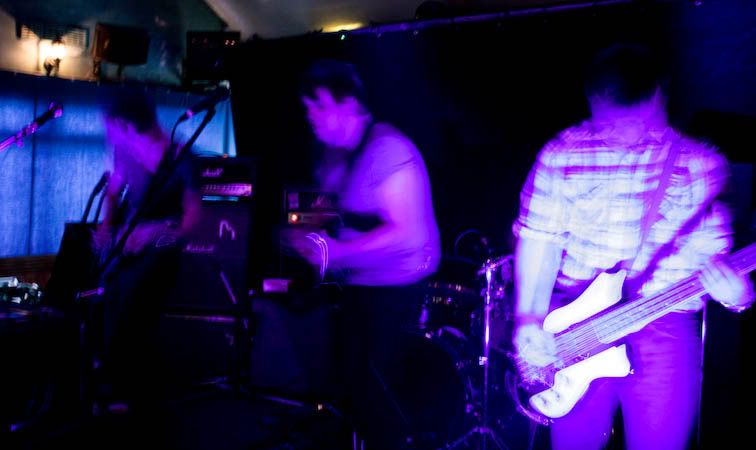 It is criminal though that so few people turn up, but warming to know that both support bands brought a rent-a-mob with them who knew their own worth and actually stayed for the main act rather than fucking off once their mates had played.
The first of those bands were No Room For Heroes (pic above) who live close enough to walk to the gig and are so new to the scene they've got L-plates on their amps. Yet they've probably played more places already than a lot of local bands do during their short careers. With gig experience amassed and safely tucked under their belts, the confidence and experience was laid bare for all to see and thoroughly enjoy. Trotting, cantering and galloping between indie and rock, without being stereotypically either, No Room are a brigade charged with light and energy and a sackful of songs good enough to race alongside any wannabes the NME decide to tell you are cool this week.
Check out their Into The Fight EP.

Playing their penultimate gig, Stokoz From Moscow (pic above and 2nd pic) stayed away from the yellow tablets today and rode the stagecoach trail from Deeside to Wrexham. They say penultimate, but unless you're The Clash (or 4Q!), the chances are you'll get the bug somewhere later in life and regroup to play 'one last farewell gig' – The Damned have been playing farewell tours since 1978!! Having long been a lurking admirer of the Stokoz way of writing songs, it was about time I caught them live, and it's a shame that until that lucrative reunion gig in the future, that August 13th at The Tiv will be my only other chance to see them thrash their instruments. It is safe to say that if you've not caught them before, that a sojourn down to Buckley on that date will be one well spent. It's even safer to say that if you have previously seen them that you'll be there for sure anyway, for their live show is one of blood, sweat, spunk and tears. They don't just say it, they spray it, as bodily fluids fizz through the air, cutting a rainbow of sound and raw energy in a similar way that No Room For Heroes do, in that no pigeonhole is left to feather for too long. With a hot iron in their hands, Martin, Ben and Gareth brand their own sound and experiment on crossbreeding as many genres on the ranch as possible, but being careful not to create an unusable monster.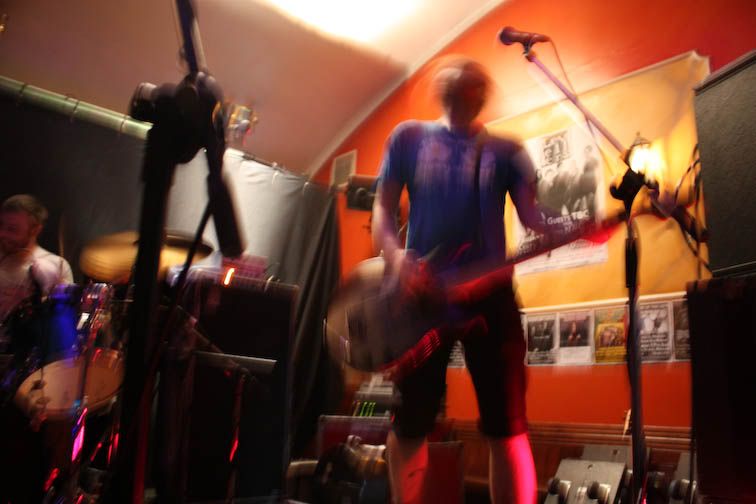 Talking of monsters, it brings us nicely to Future of The Left. I was excited to say the least, I had never caught Mclusky live. I cherish their 'Do Dallas' album as if it were a ballpoint pen I had stolen, it is thinking man's punk rock, whereas the follow up 'The Difference Between Me And You Is That I'm Not On Fire' was still thought provoking but musically owed more to the Butthole Surfers and Big Black, which isn't a bad thing. So when I heard Mclusky's Andrew Falkous and Jack Egglestone had touched the skin of Jarcrew's mentally unstable Kelson Mathias to form Future of The Left it was like a musical Frankenstein Western and the resulting recorded output was the Modern Promethus at The OK Corral.
The quiet anti-pop star brains of the outfit is Mr Falkous (main pic), and I can honestly say that I hate him. I hate him because I would give my writing arm to pen lyrics like that, I would take more drugs than a touring funk band, I'd re-arm Eritrea, I'd tell Satan I need him, I'd stand by my manatee and tell all my friends they're cunts just to have that literality for a day. That is of course but a dream, so I shall have to continue hating him instead.
Despite being £3.60 a bottle, the Magners must've been pretty strong as I kept looking at the bassist and thinking, 'Kelson's dyed his hair and looks ill.' It of course wasn't Kelson, the relentless touring, broken relationships and bad debt that goes with being a member of Future of The Left forced this crew member to jar himself firmly at home and announce last May that his future no longer remained in the left, but in the South, in Cardiff. Enter Steve Hodson who had previously paid his fluffers by the hour in Oceansize and Kong, and by all accounts he slotted into the role seamlessly.
With a smattering of gratefully received Mclusky songs thrown in as well as current and future tunage, this band are serious on entertainment and they seriously entertained us. Their new fourth member joined in half way through the set on second guitar – I can't remember his name as I was truly Magnered and I couldn't stop drinking but I do remember him telling me that he only played the second half of the set because 'the other songs are fucking shite.' I disagreed with him, but it was a good enough excuse anyway.
But once again I ask you, what do you do at night? Is Big Brother that compelling, is Mafia Wars that addictive? You'll wake up dead one day and wonder what the fuck you did with your life and be so pissed off when you realise you don't get a second opportunity to come back as Danni Minogue's bra or Robbie Williams' y-fronts. So next time Future of The Left ride into town why don't you leave the confines of your living room, throw some bricks at trains and educate, enlighten and enrich yourself through the power of live music. Trust me, you'll have crazy fucking times 'til your Visa card expires…