The fine tradition of the charabanc holiday was revived, but in reverse (not gear) as Local Pileashite Coach Tours took a load of us from our rural/seaside idyll (errr…well Colwyn Bay, Denbigh and Buckley) up to the crumbling remains of the grim north industrial heartlands and the beacon of alternative hope that the 1 in 12 represents there. A two day bargain fund-raising festival, but we were limited to just the first night topped off with the mighty crust legends Doom.
So our windy ways through Wales meant we were a bit late arriving in spite of Dave and the bus's remarkable speed once on the open road, myself fuelled by cider. No probs though, as there were probably twice as many people milling about and having the craic outside as there were in for the early bands, a great gathering of like-minds catching up and supporting the event and the support that was giving to the continued running of this great multi-functional venue itself.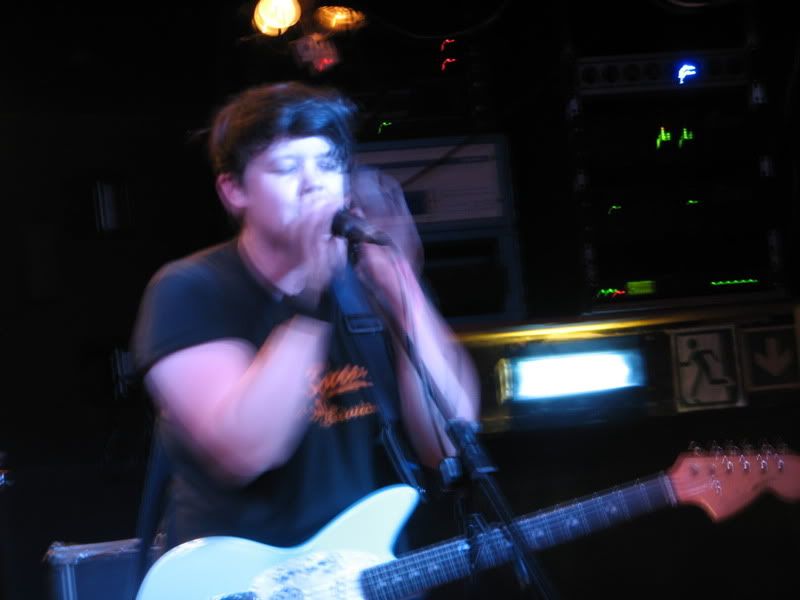 With our first pint of Sam Smith's in hand (3 for £5 and a bit!) checked out Hooker first. No Shatner involved, more in reference to the 3 piece female line-up. It was OK, quite polished and clear-cut and with some strong vocals but far too tame and inde-like for my own tastes and what was expected of the evening. Perhaps a reflection of Hooker experiences in general, I wouldn't know
Great opportunity to catch up with the excellent distro's present again, lots of cheap as chips patches to fill the gaps and rare vinyl, though I repeated my stupidity of splashing beer on the merch as I had at Hellfest. I remain un grand putain.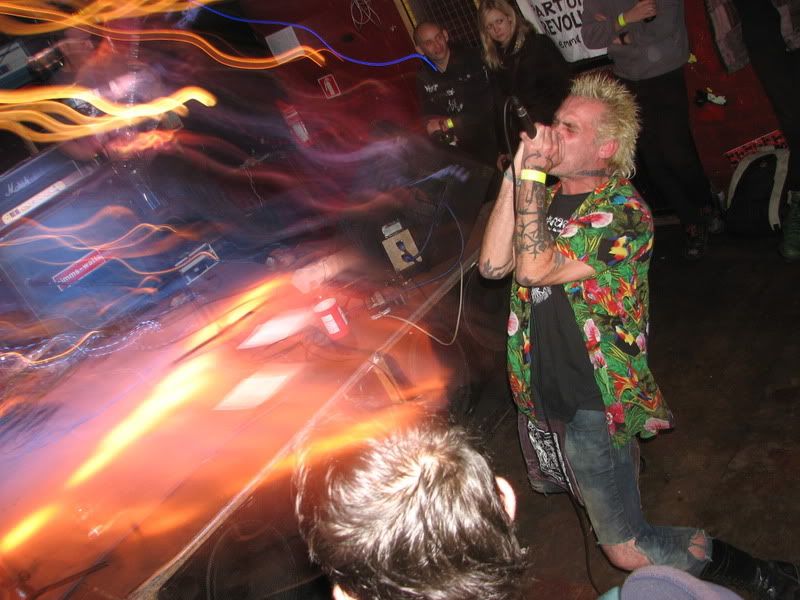 Things took a shift up through several gears with the allegedly Belgian export League of Mentalmen, though their English sounded better than mine. Insanely short and sharp shocks of explosive grindcore, lucky to reach 30 seconds a song. With the vocalist rampant on the floor in front of the stage there was quite a stunned response from those watching, all enjoyable enough in its abrupt way.
Something more familiar to get the teeth into next with old schoolers Extinction of Mankind (pic at top), who I'd seen a couple of times before but never as thumpingly heavy as tonight. Especially true of Scoots guitar, fair play to him as he's be coming back for another set on bass with the headliners later. Whether this impact was testament to the quality PA in here or if they were just in their stride tonight who knows, but their bulldozing crust certainly stirred things up in the crowd.
Aural battering from a different angle now with Germany's Crowskin. A name perhaps drawn from T. S. Eliot and they certainly maintained that harrowing and bleak connection, with massively sludgey riffs in the vein of Eyehategod. The girl providing the vocals seemed pleasant in personality and pleased with the response garnered, yet delivered some unearthly harsh roars and the whole experience had a hypnotic down-tempo vibe that I really appreciated, a welcome variation to the crust punk theme.
If Discharge invented that theme then maybe Doom have refined and maintained it. The venue was quite rammed now as this would have been the first opportunity for many in the north to renew acquaintance with the legends. Limited in their gigs as Dennis's vocals have to be shipped in from Sweden, it does mean that at least they make for special and anticipated occasions. And while at Hellfest they may have been fantastic with big sound and lights etc there is something even more appealing about how they are in tune with the place and the people here, it's stripped down and basic charges through d-beat mayhem but above all with honesty and integrity in their political message. These values are priceless and maybe why they remain held in such high regard. I often think about these things as I am falling to the ground after being flung over a mosh pit but I'll be hoping to catch them again soon, as well as the promised new material.
Back on the bus and a return to the slightly less wild west, inspired like only a good beating can give you.