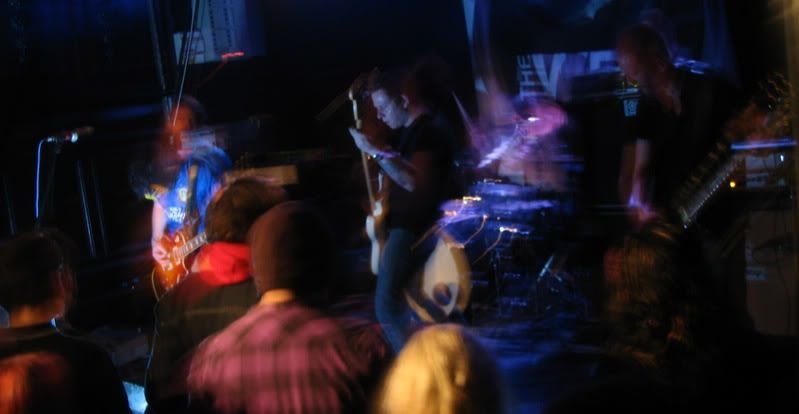 humanfly
Who are these madmen that say the festival season ends with the summer? Having been to three in the last month there's obviously no better way of staving of the onset of winter chill than getting crushed in a pit in some sweaty venue, though maybe best to leave camping out of the equation.
Damnation had been forced to downsize somewhat this year, a poorer turnout last year (line-up related?) plus that much bandied phrase "the current financial situation" meaning the three stage setup was going to be compacted into smaller stage areas within the warren that is the Uni building. And while initially I had not been struck with any massive "must-sees" on the gradually released line-up, reflecting on the total list plus the opportunity for the usual great craic with gathered friends was enough to convince me.
Also took the chance to upsize the weekend myself by going to the pre-gig the night before, "A Night of Salvation". Took the train across country, an interesting spectacle in itself on Bonfire Night. I was also pleased that my instinct led me directly to The Well despite not being there in some 6 years. A reasonable turnout and good atmosphere, plenty of anticipation for tomorrow. Three local bands showcased before the travelling headliners, starting with Tree of Sores. Ground out sludge, crust loving lady bassists are full of win for me but the delayed layers of guitar with their vaguely Jesu feel lacked a bit of power in my opinion. Canaya were pretty brutal, crushing hardcore, powered along by the drummer from Dragged into Sunlight and while there was no doubting the singer's passion it edged a bit towards monotone after a while. Humanfly also started with a bit of death metal vocals which may have been slightly tongue in cheek but in general this was a much heavier selection of their progressive post metal than I'd seen when they played with Nadja over here a while back. Promoting another new release, they remain a powerfully inventive force. Topping off the evening, Glasgow's Black Sun, who I'd heard good stuff about for a long time in the sense of their unremitting sub-Godflesh dirges. May have missed the sinking ship though as a recent shift in their approach meant they were initially a mix of harsh rhythms and a bizarrely more spoken word/post metal approach, and only old track "Crocodile" had the expected satisfying levels of sonic impact. Still, a good warm up evening all round that continued into the early hours with folks who have should have been more responsible seeing they were playing first thing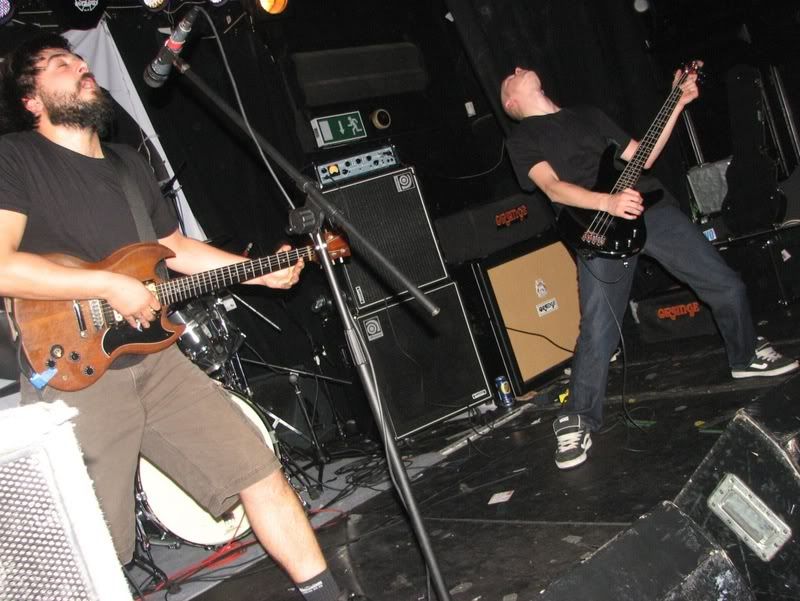 black sun
The next day dawned bright (outside my head, at least) and I trekked into the city to meet El at the station and begin a pub crawl up the ever so arduous hill to the venue! We got in just in time pass the so-so thrash of Mutant on the main Jagermeister Stage and get down to the medium Terrorizer stage to see Diascorium open things up, all these first bands having been voted in to the slots. We've had the pleasure of their multifaceted tech grind over in North Wales recently, and there was much to enjoy again with the rapid fire schizo onslaught or monstrous doom breakdowns, a good wake-up call, obvious to see the band enjoying themselves too. Popped up to the new, smallest Rock Sound stage (without a stage) to catch the end of The Construct, a Manchester band who have created a stir despite this only being their second gig. Probably couldn't do them much justice with a short listen to long drawn out songs in style of the epic post-metal of the likes of Cult of Luna, but definitely struck as impressively formed at such an early stage.
colonel blast
Back down for Colonel Blast who again have been blazing a trail with their mix of out and out blasting heaviness plus more melodic passages, the whole package having a good hook to it. Saw a touch of Panic Cell in passing who could be appreciated for their polished metal approach but lacked the raw heaviness for me. That aspect was certainly provided by Scots Bonesaw next, while the sound was still far from ideal that's really splitting hairs and heads when it comes to their Autopsy inspired churning death. Throwing in a Massacre cover was a treat too, there's a band that should be dragged back from the grave.
lawnmower deth
A mooch at the merch and a pasty for tea led to the sheer entertainment of Lawnmower Deth on the main stage. Not sure who had the biggest grins, the band or the crowd, as while their thrash is not much more than basic the banter and antics are the stuff of legend and they were evidently chuffed as anything with the reception received. So crowd surfer races, Satan's Trampoline on stage, and just crazy dancing were all great fun and the kind of memories that make the day. Would have hoped for a bit more serious raging crossover thrash from SSS but they were crippled by sound issues on the Terrorizer stage and never really got into the flow that I've seen from them before, though they didn't give less than a full on performance. As running times had got a bit messed up now I took the opportunity to catch the end of October File, worming my way to the front of the "stage" at Rock Sound.
october file
They turned out to be a great, enjoyable revelation compared to the somewhat clichéd posturing I'd seen from them supporting Killing Joke a few years back. Much more intense and rawer hardcore while retaining the thumping machine-like rhythms, really reassessed positively for me after their previous dismissal. Saw some Sabbat but had been satisfied enough with catching them on their recent tour so went back down for what I knew was going to be the mental kick off of Fuckpig down at the Terrorizer.
sabbat
Thought it might have been hard to match their Deathfest show here but in no time at all d-beat chaos ensued, reminding me too how close to my heart this sound is anyway, happy to join in the constant stream of surfing maniacs.
fuckpig
A seismic shift in tempo next as I ended up next to the PA for Esoteric at the Rock Sound. The fact that that might have taken the edge of the harsh howl of the vocals didn't really matter in the least as the massive waves of chronic doom noise washed over you from the 3 guitar, bass and drums line-up (assisted by a collection of about100 effects pedals). I had heard about their uncompromising devastation for a long time and it was quite hypnotically spectacular.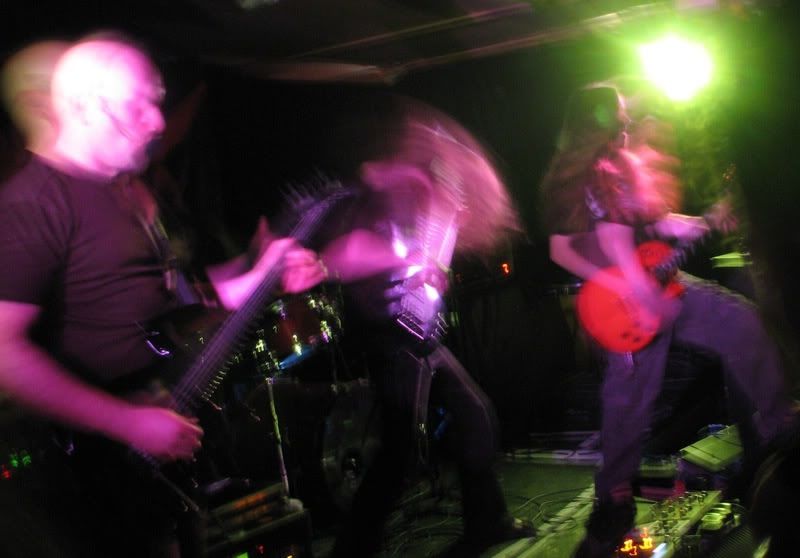 esoteric
A bit like Dean from Hecate Enthroned's tiger stripe pants! That band's persistence over time has not been down to going with fashion and the mix of black, death and more progressive melodies they delivered at the middle stage kept the interest, although again the sound was not the best.
hecate
Had hoped to catch some of The Ocean again and their incredible mix of heavy styles but now there was really no progressing through the packed room at Rock Sound and pretty much little point watching nothing from the back either. So back for Anaal Nathrakh and probably the highlight of the day. They play relatively rarely and exist as a collaboration project for Dave Hunt and Mick Kenny amongst all their multitude of other music jobs. The level of horrifying nihilistic aggression was pretty jawdroppping, even compared to their other bands respected outputs, but this black/grind hyperspeed is honed to killing perfection, and engendered a suitable mad maelstrom of pit hell in front of it. And, for all that chaos, Dave remains very in tune with and amiable to us all appreciating the same thing, keeping the somewhat worried looking security onside. Superb.
anaal
Again, I sought a little breather after this but the trip to try and see French black metallers Alcest at the rock sound was another pointless access exercise, and while they have been much hyped and are obviously in as a worthy cult headliner, the little folky vocaled progressive mellowness excerpt I heard did nothing for me at that distance. Similarly, passing Paradise Lost was a bit of indifference, not knowing any of their more recent material and having seen a more engaging performance from them at Hammerfest recently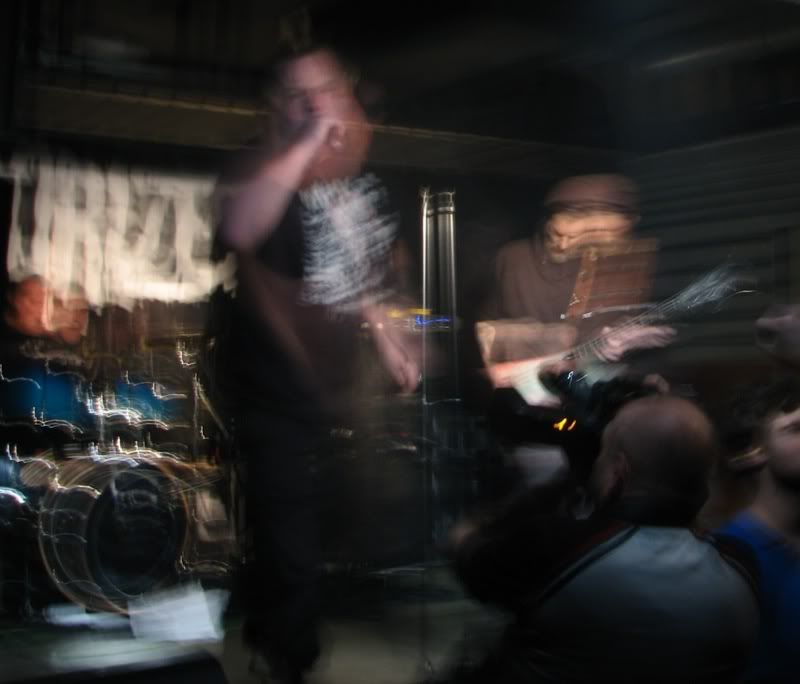 discharge
Back to something more familiar then with punk legends Discharge. With no regards for their advanced years the level of delivery of their d-beat anthems is incredibly hard hitting and consistent, but in contrast to their Hellfest show earlier in the year I was relatively less impressed. This was especially true with the mystery absence of "The Possibilty of Life's Destruction", which I thought would have been a must. The last stagger out to the main stage sees the end of Dillinger Escape Plan, who I couldn't really give any just review of as I was more concentrating on standing and probably the moment had gone. Although there was still evidently a second or eighth wind to power me through the hilarity of the after show party (without any injury) into the early hours again. The stagger via kebab/carpet fluff shops back to the hotel room was fortunately downhill all the way. Missing our first train on Sunday morning ended up with a 7 hour trip back to North Wales, via buses and a tour of several pubs in a few towns but gave us lots of time to reflect/come down from another great collection of bands and fans gathered together, here's to the next one.