(review n pix by neil crud)
'We'll need to get there early, gotta feeling it's gonna be a busy one,' I advised myself. Tonight was a convergence of the clans. Tim Griff was coming from Warrington on his 1200cc beast. Steve Sync was tinkling the ivories for Alien Matter at the Welshpool Festival and was bombing it up from there. MWJ hopped on a train from Conwy to Pensarn (he has a habit of loitering round the beach), where I picked him up and we headed to our hotel in Chester. A nice family room, but who's gonna sleep in the cot?

Vice Squad hit the scene in the early eighties, I was too young to get the first wave of punk, being nine years old when Mr Grundy was sworn at live on telly. So my awareness of the Pistols only came to light by the time Sid Vicious was racing up the charts singing Eddie Cochran covers as part of Mclaren's money making parody. So Vice Squad, who were part of the second wave; the Burning Britain wave if you like, got the full attention of an eager record hoarding teenager. Again, I was a bit too young to be a gig goer; living out in the sticks and being 14-15 with no money doesn't bode well to seeing bands, and are they gonna play in Denbigh? No, don't be silly. So I missed out on the live aspect of punk, on the real dirty gigs that were going on in the cities. But hey! I've made up for it since!
My prediction did turn out true – it was a busy one. Packed to the rafters as they like to say, as the clans certainly did converge on Chester. Even Sync made it in good time after a mute Alien Matter come back gig (they're saving themselves for a real blast on home turf).
Wayne Cotton was the busiest man of the night; not only fronting Stuntface, you'll also find him slapping the bass for Vice Squad, and, as he said, 'I was more knackered having to fuck about stressing setting stuff up as I sort of co-promoted,' which is why you also found him on the door collecting your entrance fees!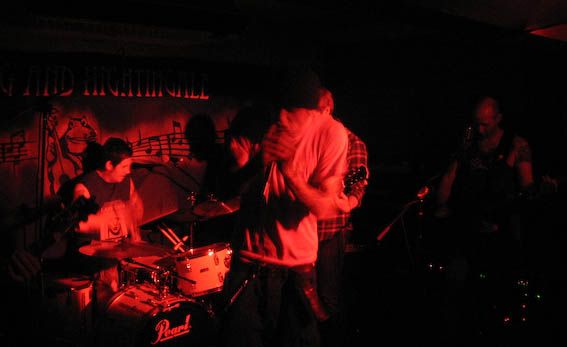 The opening act were local lads Skullet (pic above), making their first live bow, Wayne explains, 'The bass player was the promoter and the front man is my tattooist, Moby. He pooed himself with stage fright! Had to laugh fair do's.'
I don't remember much about their set, apart from the guitars being too loud and drowning out the drums – I've said it before and I'll say it again; loud guitars are all well and good, but if you drown out the drums you lose all your power. To be honest I don't remember much about any of the night as the golden liquid flowed with such ease that Carling's stocks and shares rallied on the markets. Skullet were well received and it's good to see a new hardcore band on the scene, particularly from Chester, a place more associated with posh coffee shops and cliquey circles.
Horror Struck, for whatever reason didn't make it, so Wasted Life (pic above) jumped in at the eleventh hour. Hailing from Stoke-on-Trent, hardcore was again the name of game I checked out their Myspace to jog my blank mind and was greeted with the wonderful All Fucked Up, tuneful, chest thumping, in yer face and angry – just how punk should be.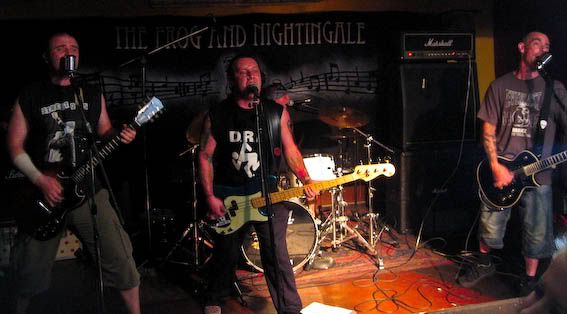 It's been a couple of years since the newly reformed Stuntface (pic above) came from the void with a Wayne-led line up. Slowly they got back to their best, got back to what they are good at; punk rock. There is no pause for breath, Wayne wasn't interested in conserving energy to do it all again with Vice Squad later, this was a passionate and committed and intense as they come. All the favourites were belted out at a pace quick enough to entice the masses into a bit of a mosherama, and one soft twat in the crowd grabbed the mic and tried to sing the lyrics to Life Is Loud, despite not knowing them properly. Oh dear… that was me!
Back to my earlier comments about being old enough to read music magazines and listen to punk rock, but not quite old enough to go to gigs. Those, like myself are probably in heaven right now when we saw our teenage fantasy Beki Bondage get up on stage, looking not as good, but better than she did when she was splashed all over the covers of the music press in the early eighties. Rock 'n' roll has far from massacred the old punks, they (mostly) all seem to look better for spending 30 years hellraising on the road!
Vice Squad were always ok in my estimation, not up there with my favourites, but good enough to earn a place in my record cases; their early releases of Last Rockers Stand Strong Stand Proud and Resurrection happily nestled next to The Vibrators and Vic Goddard. Whereas a lot of punk bands, perhaps not of such a higher ilk as Vice Squad still tread the boards but without improvement, Beki and her gang are better now than they were back in the day, her voice for one thing is stronger and gnats chuff spring to mind when you want to explain how tight they are.
Now is a good time to be in a punk band, gigs are aplenty, audiences are good and of mixed age, with a lot of youngsters taking up an interest.
Have you been lately?