(review n pix by neil crud)

Power is Poison
It's that old Wednesday night conundrum. Do I put a gig on a Wednesday night? Well, I wouldn't; but there again, I wouldn't put a gig on full stop! Too much stress for my little head to cope with. So hats off to the NWPR (North Wales Punk Rockers) yet again for keeping us entertained.
This was the filling inbetween a weekend sandwich of mirth and mayhem of Download and Do-er's Festivals – bollocks to the football let's do some punk rock instead…
Luv Dump
And what a better way to start than with a bit of Luv Dump (pic above). I had never heard of them before but they were in fine fettle and jumped to it with some punky-ska, fronted by a caged animal vocalist, pacing up & down his piece of carpet ready to growl when it was his turn. The young guitarist was the real talent in the band and despite having one member missing and a stand in drummer they did what it said on the tin, 'Warning Do Not Ingest'. Their ska-tinted tunes were hard enough to keep you interested and diverse enough to keep you from the bar.
Next up to grace the quaint paintings and decor are Dead Subverts (pic above). Good songs, humorous presence, and you'd need a sense of humour living in Swindon. 2 Sick Monkey bassist extraordinaire, Pete Tower is probably twice the age of the rest of the band put together, but he is the daddy keeping Matt and Bo in line.
They also run Pumpkin Records, responsible for some excellent DIY releases and have become virtual bed fellows with Global Parasite having spent May on a 9 date tour. They've returned to our fair shores to splatter us with more typical anarcrustic punk rock, heavily reliant on Pete's unique bassage who truly believes he's a rhythm guitarist. That's an observation rather than a criticism as he carries the songs like 'You Call This Civilisation' (dedicated to Colwyn Bay) with dual angry vocals and quick off the mark riffage. Nice.
Local anti-heroes Global Parasite (pic above) are too fucking loud! Great delivery spoilt by their guitars bleeding all over the drums and vocals. Despite being as socially-political as they come, they do have a good dynamism to their song writing, which is sometimes discarded by these type of bands who only see music as a platform to convey their message (a listen to the Crass album 'Yes Sir, I Will' can vouch for that!).
The fact that they've gone out and released their own album on a shoe string and tour the UK and Europe, is evidence that Global Parasite are the genuine article. Listen to Memento Mori and you'll find it hard to believe it was recorded with hardly any funds, such is its quality. This band have their detractors in a splintered local punk scene, where half will stay away because GP are playing (it was the same when 4Q were around – maybe it's just Colwyn Bay!) – but despite the squabblings and whatever reasons, you cannot take away the fact that Global Parasite are indeed a very serious band. Offer them a slot at Download festival and they would probably think long and hard over the commercial implications against their beliefs and moral standings, though I guess they may bow to the pressure over the sad fact that we all need money to survive in this capitalist society. The Clash incidentally, bought a street of houses in London and gave it to the homeless (so I'm told); not that I'm drawing comparisons between the two bands, but Global Parasite are a seriously good band. How long they'll last is anyone's guess, but I reckon they've still got a lot to say before the cows come home.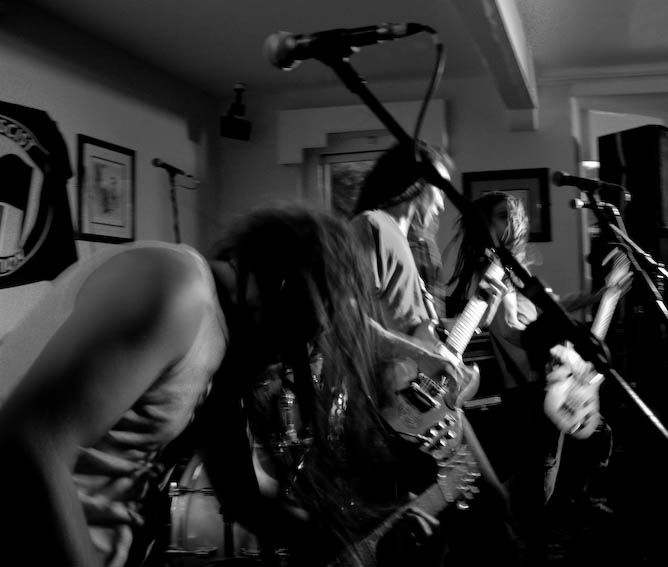 Colchester's ICH (pic above) have not played together for 2 months as the bassist had a baby, although he looked in great shape so soon afterwards. The thigh length dreadlocks hanging off 3 of the 4 members would lead you to believe you were about to hear a whole lotta reggae-ska. Not a guitar chop in sight – this was straight forward happy-go-lucky punk rock, delivered with style and a smile. Cider la-la-la-la no money no money no money.
Everything they produced was an entertaining foot stomping, head banging tune, not too disimilar to a punked up Blyth Power, or Watt Tyler actually! (remember them?), or maybe I'm being influenced by the hanging gardens of dreadlocks in front of me. 'For crying out loud won't you please fuck off.' Yeah, I like it..!! And if you caught them on their 5 date jaunt across the country last week with Global Parasite then I'm sure you'll agree.
The usual fear of a graveyard slot was thankfully avoided, by each band only playing a 20 minute set, and it was damn refreshing for them to do so. Unless you're Pink Floyd or Muse or The Damned, then half an hour max is plenty if there's a host of bands playing. Who the fuck wants to watch an hour per band when there's five on? No one… Which is why tonight kept the interest piqued and the audience on their toes and still present for the fifth and final band, Power Is Poison (pic below and main).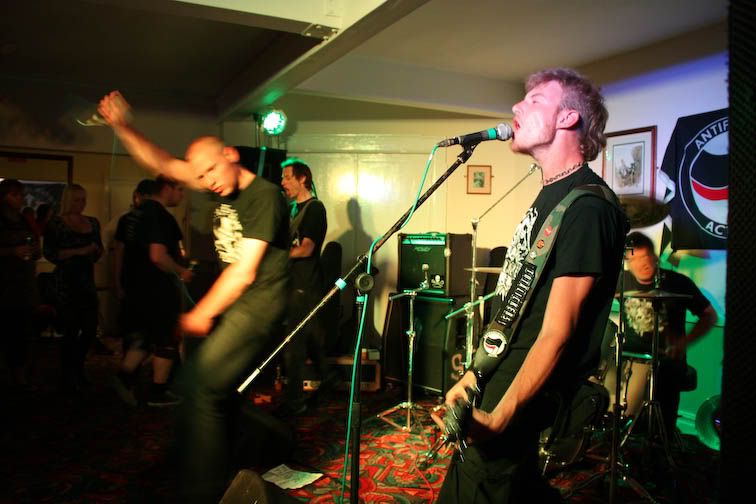 I bought their t-shirt last time I saw them at the Dudley (RIP) in Rhyl (RIP), they impressed me that much. And I would've worn it tonight, but last night, while wearing it, young Declan Crud and myself were chased by a herd of bulls across the hills of Trelawnyd and we had to make an escape through waist high hay that kicked up clouds of pollen. Being a pansy hayfever suffering tosser, my face exploded – so all clothing had to go in the wash and I had to take my monthly shower a fortnight early!
I was almost impressed enough to buy the bloody t-shirt again. These angry Dutchmen would make great couriers as they deliver their produce through your front door with aplomb, great measure and furious anger. This is no nonsense anti-fascist anarchistic punk from a place where hill climbers go for a rest – there is barely a song over 2 minutes, which is enough time for them to convey one message at break-neck speed before they slam the next one in your face.
Lovely to hear, even better to watch.
Great night, only marred by Steve Sync emptying a packet of chips into my car. The twat.