(review n pix by neil crud)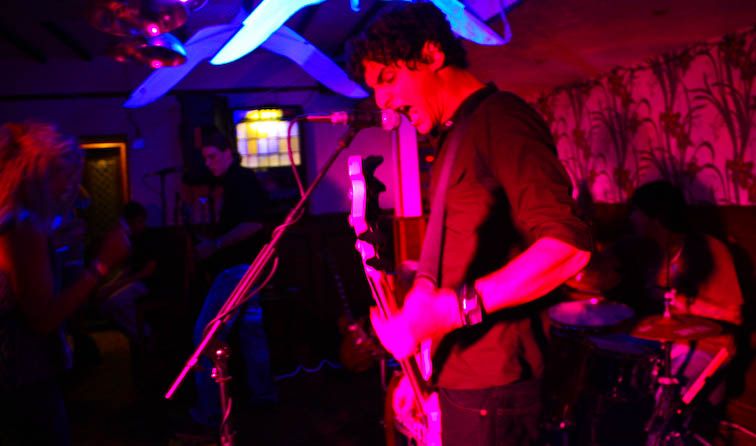 Sprinkle the coast with a little sun and the Grockles pack their Eccles Cakes, Lob Scouse and Brummy accents and head for Wales. We do so much to keep them away; knock down our fun fairs, invite prisoners to take up residence on their release and dig up the A55 at any given moment.
Alas, these tactics don't work and they still flock here in their thousands. The boy and myself had to charge up the Batmobile and fight our way, Caped Crusader style and follow the fat old sun setting over Holyhead. The journey, further than Manchester from Crud Cottage, was for a worthy cause; to review three excellent bands, starting with Cowbois Celtaidd, a little side earner to top up Marcus Peachey's guitar tutoring millions. Despite urging young Declan to remain on the drum stool beyond the sound-check, the little fella declined and allowed Cowbois to gee-up their horses and they trotted into a fiddle free folky set of protest songs, such as the opener Bang Bang Panad o De! Which kind of sets the scene, yes light hearted, but with an underlying theme of 'leave us live our lives with our Infinite Spliffs' and we'll leave you live yours. They have a point, if the green leaf was legalised and alcohol banned there'd be no trouble in the streets, look up Bill Hicks on YouTube http://www.youtube.com/watch?v=qZqYV9KKOZQ and all will explained.
But of course, there'd be no need for those endless TV shows like 'Cops on Camera' where we are entertained by drunk nob-heads trying to kill each other.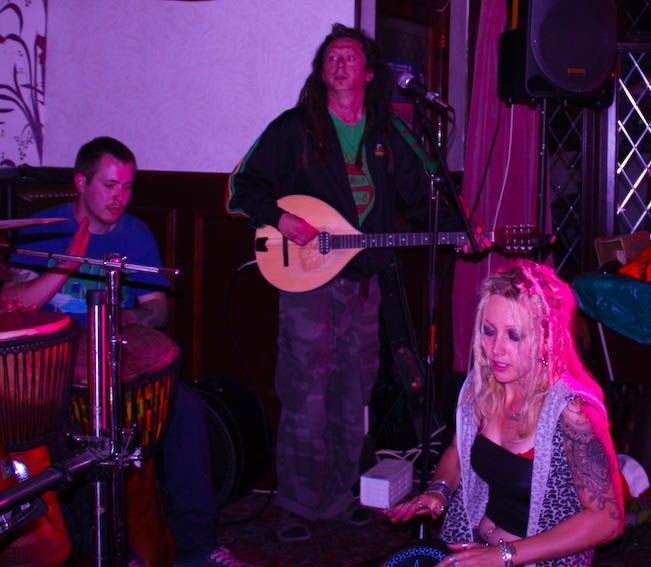 Cowbois may as well be a drug themselves, they're addictive, I didn't want it to stop, the raggle taggle gypsy dancers in the audience were as entertaining with their participation and we were handed various percussive toys to bang and shake during the set. Ace!
Earlier, Marcus was discussing the merits of patenting a Chiuaua Pedal for his guitar such is the mind of Seagull Kinevil's mainstay. Sporting a new drummer in the form of Joel and a couple of new songs, one about Milkmen and another called Rowenna, and an older one that goes something like 'This bitch is losing it, if you want to fuck me, feed me chocolate.'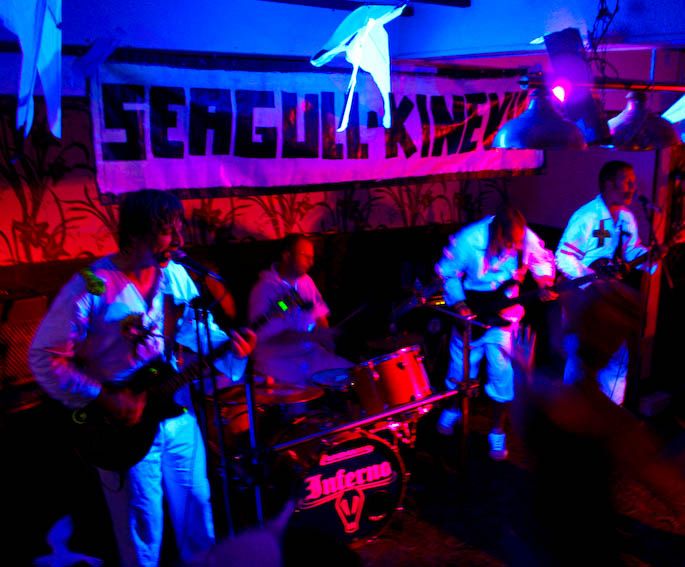 Seagull Kinevil can do no wrong, I'd like to chop them all up on a mirror so I can snort their enthusiasm for life. And just when I thought it couldn't get any better, the mandolin strums the opening bars of Dream Rubble, and I start quaking in my boots. Love it… fucking love it…
An encore of We're All Fucked Mate wraps up their slot. Yes you're fucked, but it's ok, cos we're all fucked mate.
Thanks to the hospitality of Inferno's manager Jim Lee, I was in a position to sample the local brewery and forego an hour's drive at the end of the night. The band decided to take a year out to write an album (called Welcome To The Lions Den and due out in November), and some may question the wisdom of taking that much time out, but when you hear what they've recorded your understanding will be crystal clear.
Inferno have reduced the speed but increased the power, in a way, they've pimped the old band and put twelve months of work into their repertoire. I challenge you to find a bad song on this album, it's faultless and should put their boot in the way of doors that were previously closed to them.
Hail to king motherfucker motherfucker, this is top heavy stuff with riffs bleeding to the extreme and yet it is all held together like an open wound stitched with barbed wire. Judas, Breaking The Pact, Blood & Bones are all slammed at you and delivered by Joe's great voice, his crunching bass guitaring, Liam's seamless riffage and Jay's very loud and solid drumming – this trio make up Inferno… The rest should one day be history…
http://www.myspace.com/infernorockband
http://www.myspace.com/cowboisceltaid
http://www.myspace.com/valleum