(review n pix by neil crud)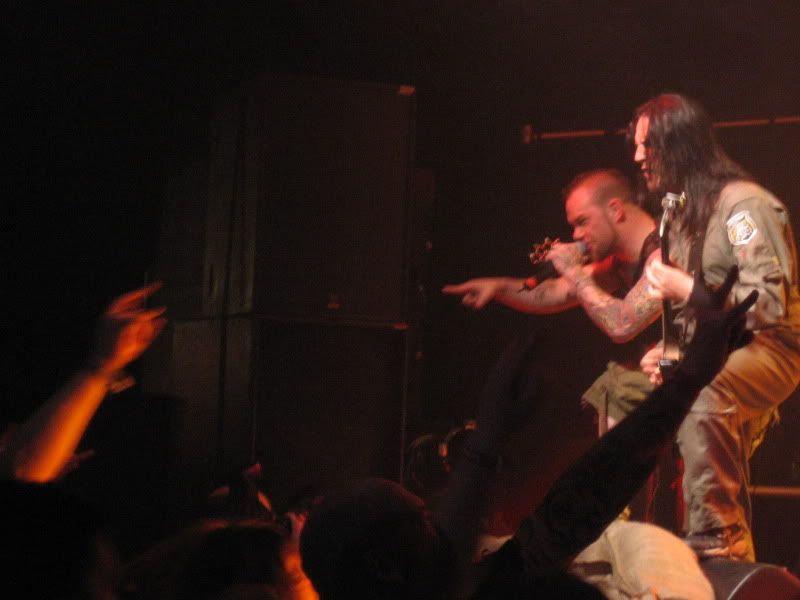 Natty dread punk rock is not something you'd expect at a heavy metal weekend, but that's what Skindred (pic below) gave us on the Saturday night. Playing only second fiddle to Suicidal Tendencies they took the crown for serious entertainment. Main man, Benji is a true master, ruling the crowd with his persona, his quips and his links. This is not metal, but such is the diversity of the genre that Hammerfest hosts the puffy hair-do rock bands to the extremity of Napalm Death. Skindred probably cycle somewhere up an eclectical side street in the scheme of labelling styles. It's unique, it's excellent and makes me want to insist that if there's one thing you need to do before you die is see this band.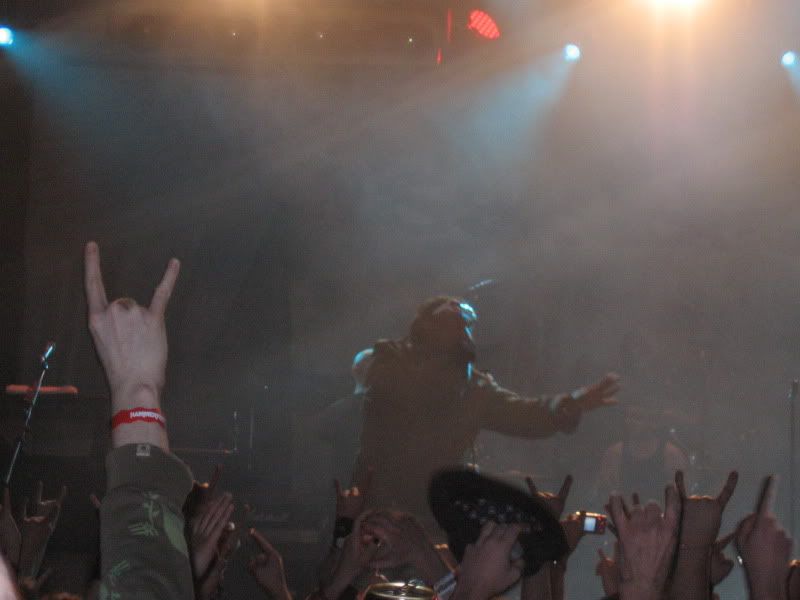 One important point Benji did make, maybe thinking of his own preservation, was the need for people to come out and see gigs. No problem tonight as the sea of faces agreed and obeyed his every command. 'You can't download an atmosphere like this,' he said, urging us all to leave our computers and come out more often. He of course has a very significant point and you only have to read previous reviews on this site and see it's perhaps a very valid one too.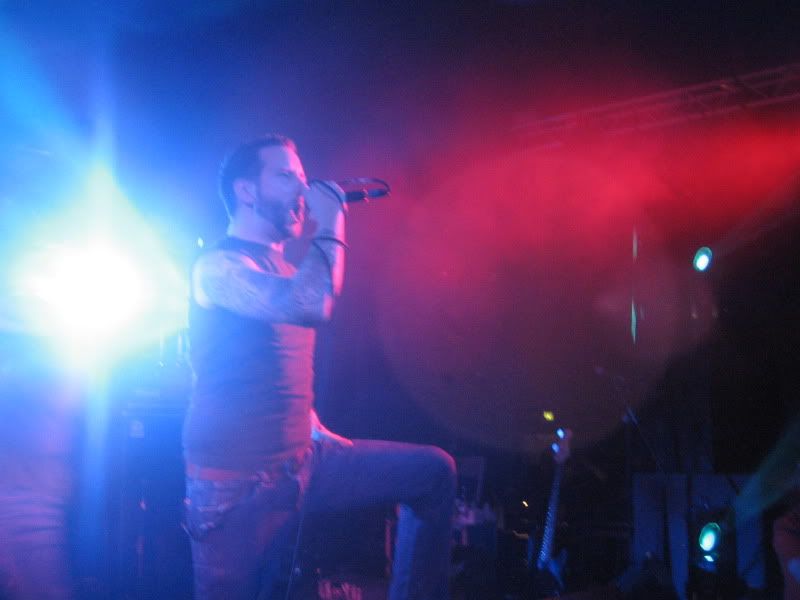 Hammerfest looks like it has taken a firm footing here in Prestatyn; the attendance was up on last year, with not a lot of room left to shake the dandruff from your head. Three stages and enough bands to keep any concerting metal head happy. I'm no metal head; maybe a bit of a motor head, but there was enough on show to keep me happy too. Take October File (pic above), playing on the Friday on the second stage. Unashamedly Killing Joke-u-like, their t-shirts gave it away, and conversations with them later revealed they've been doing gigs with the mighty Joke. Although to be honest, having both bands on the same bill is probably too much of exactly the same thing. Tonight though, stand alone without their mentors, October File give us a great sound, great songs and a great performance. They straggle that line between punk and metal, which keeps everyone happy with intense tribal beats and rhythms (particularly the song Isolation) and there's a strong contingent of females amongst the throngs. Rock chicks are ace, much better than the chavs with their fat hanging over their prams, and of course, you won't spot a tracksuit within a mile of this place. There's more pony-tails here than a 14-year-old girls' hockey match!
The bands come thick and fast, around 50 to choose from, some brilliant some bollocks, most ok. Warpath seem to dominate any thrash-metal award the magazines and music channels dish out with their typically death and doom laden songs like Damnation, Spitting Blood and Hostile Takeover. Steve Sync did quip that the last time he'd seen that much blonde hair close to his thighs was when he was blown off by Abba.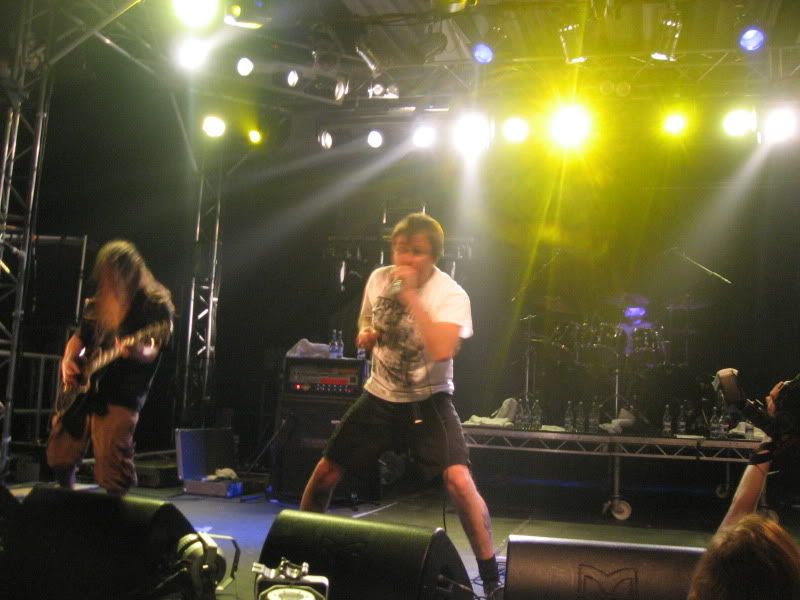 So you have the fictional caricatures of life in that cartoon world called hell, and you have the contrasting real life elements cannoned at you by our Brummy friends Napalm Death. They use their almost parodied fame to actually put across a real message. Yes we can enjoy the show, yes we can sup our (expensive) beer, yes we can break a couple of ribs, but we can also go home with a Napalm Death CD and realise they have an important idealistic social point to their lyrics (most of them), and that we are probably on the Brink of Exinction. To old twats like us, telling me to go and hug a tree is going to be (just like me) wasted, but the young and impressionable, are… well, young and impressionable. I was educated by Crass. They taught me far more about life, idealism and social awareness than my parents and school ever did, and I am far better for it.
Before Napalm Death were the Friday night 'headliners' Five Fingered Death Punch (main pic). Living out in the sticks and only having 3 TV channels, I don't have Kerrang or Scuzz to entertain me, so I didn't have a clue who they were. Musically they were pretty impressive, the sound all weekend was crisp, thunderous and bang on. For me though, 5FDP, apart from the commanding front-man were a bit too much 'C'mon, I'm a great guitarist, masturbate my ego – thanks for your money' type stuff. Genuine bands I can do all day, all week, all year – give me Napalm Death, give me Global Parasite in a run down pub. 5FDP, like I said were superb on the song side, but when they play the festival game like most 'metal' bands do, it wears thin. I guess the kids wanna see the devil sign and hear all the 'Let's hear some noise Hammerfest' and 'C'mon motherfuckers' – but every band does it, well, every metal band.
OK, OK I'm just being a cynical miserable tosser who probably deserves a Five Fingered Death Punch (only if Uma Thurman comes rounds and administers it in a Kill Billesque fashion) – so I should lighten up and take it all for what it's meant to be – entertainment… and money! Get your t-shirts, only £15, don't worry if it's fucked after one wash, I've gotta make a living! Whoops! There I go again…
You want entertainment? Conquest of Steel have gotta be a pisstake, but fun all the same – we checked round the back and their tour bus and they had a trailer full of shampoo!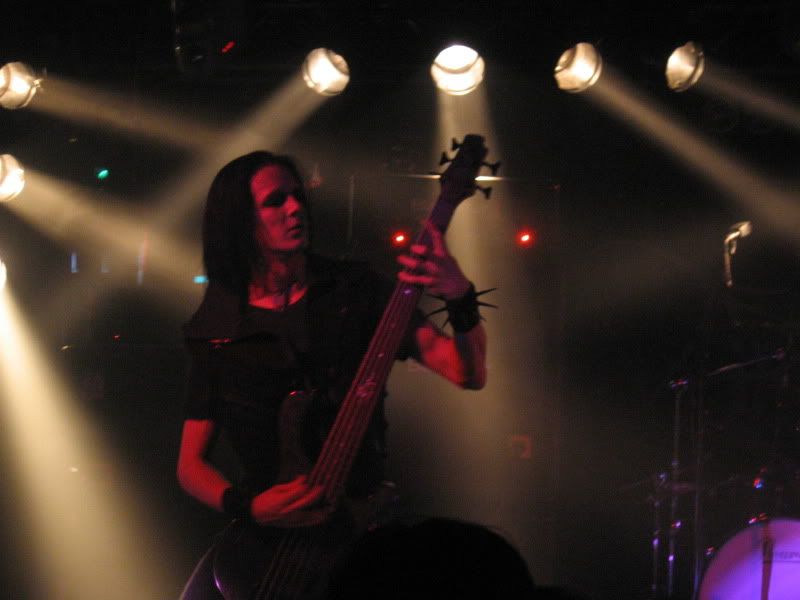 Lot's of people had asked if we caught Devil Driver, and were shocked by our reaction, 'They were pretty poor.' I had never heard of them, but I guess the few thousand lapping up all the 'mutha-fukkin' shenanigans had, and seemed to get it. I didn't, sorry… Must've been in the wrong frame of mind… again.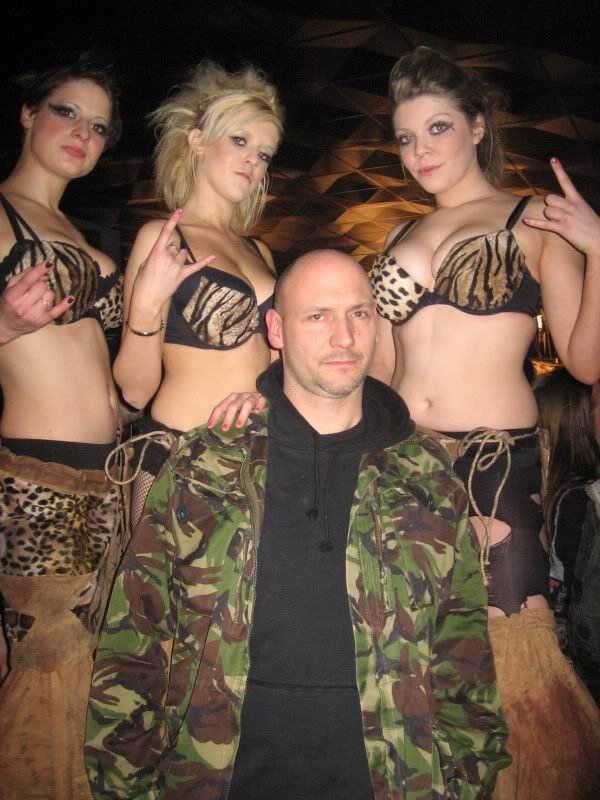 Pontins is the ideal setting for this kind of event (check out last year's review). It's as if the venue was purpose built and it's hard to imagine thousands of snotty nosed scally kids wreaking havoc here in the summer month (singular!) as Timmy Mallet vomits on them in the name of cheesy entertainment. Pontins means we can have a festival in the depths of winter and is the only place I've been to where there's almost as many staff armed with a mop and bucket as there are punters – Mop Army! Three stages – the main hall, the second stage, and the attached pub with the third stage, with the genre hopping neatly arranged to pique everyone's interest and allowing you all to circulate unabated between stages and bands. If you don't like doom metal, there's some 80's denim going down on stage 3, if bumming the devil isn't to your taste then we've got thrash in the main hall, if shagging dead people is your forte, then you can go to Ellis' nightclub five miles down the road in Rhyl.
Having woke up on Saturday morning behind a couch in the VIP Lounge, myself, Sync and Tim Griff dusted off the cobwebs, checked our blood-alcohol ratio and staggered to a greasy spoon with Wrexham's Punchdrunx ripping through the car speakers. Sync soon despatched himself to a North London party, with a Delphic gig to do the following night (God bless his liver!). Griff and myself endured the rugby in Abergele before heading back to the wasteland for another full evening at Hammerfest.
Before the aforementioned and excellent Skindred, the main stage bowed to Scotland's Attica Rage (pic above). Scottish metal, whatever that is – probably typical metal but difficult to understand what he's saying! It was the right thing at the right time, couldn't fault them – loved the Gillan type looking bassist.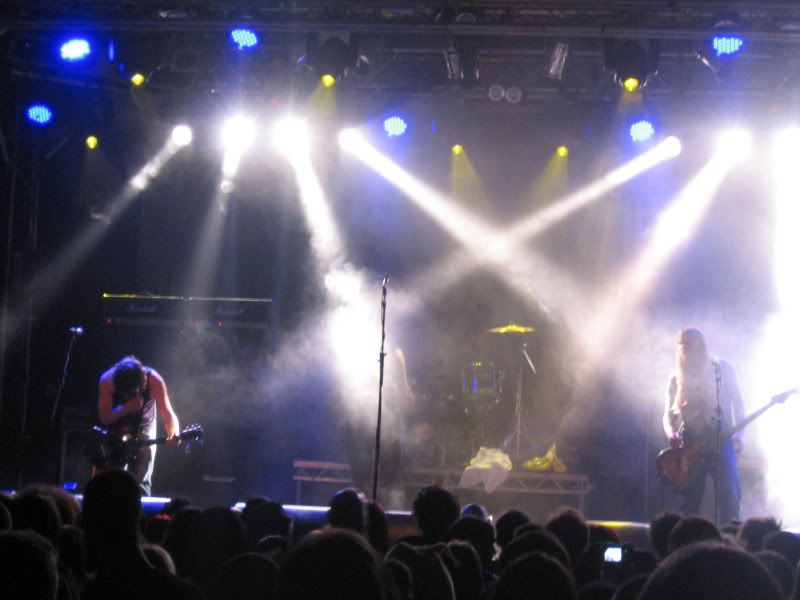 Then came the real deal, Griff had been bigging the next band up all week, and Orange Goblin (pic above) didn't disappoint. They are the real deal. Yes, they have a front man who rasps rather than sings, and is the weakest link, but when you're staring at someone who is a 7'6" wall of muscle (pic below) you're not really gonna tell him that! What does it for this band is the wizardry of their guitarist – the best guitarist you'll see at this six-stringed saturated festival – you can stick all your fiddly fiddly fret wanking tongue out look at me I'm fucking great shite toss and stick it up your spandex arse. Put your Guitar Hero monkey down and watch Orange Goblin if you wanna see what playing guitar is all about. This guy is an absolute genius; no masturbating, no 15 finger arpeggio bollocks, this is pure rock'n'roll, pure enough to cleanse the most cynical of hearts and convince me there is a God after all. You have to hear them to believe me.
Iced Earth gave us the opportunity to mingle a bit through the bars and light farts with Elliot and James Flames (hence his name) before the advent of Suicidal Tendencies (pic below). Whereas last night the crowd was almost strictly dedicated to the Hair Bear Bunch, tonight there was a far bigger skate-punk element present. It's been a long time since saw the tyre tracks on my dead mommy's head when I was institutionalised, and a long time since I took my Join The Army poster off my bedroom wall, folded it nicely back into the album cover and flogged it on eBay. So long in fact, that 'War Inside My Head' was barely recognisable, but it's also a fact that our heroes don't hang around and wait 20 years for us to come back round, they move on, which is what Suicidal Tendencies have done. They weren't going to play their first two albums simply for the sake of satisfying my youthful needs, no, they had an audience bang up to date with their later output. The main hall became a mosh-pit and being a girly mosher I retreated to the safer confines of the sound desk, which is of course the best place for getting the best sound. This wasn't karaoke cashing-in cabaret by 40 year olds, this is bang up to date and bang in your face; quite literally for some as they fought with security when ST invited everyone up on stage for the finale. Great stuff.