(review n pic by neil crud)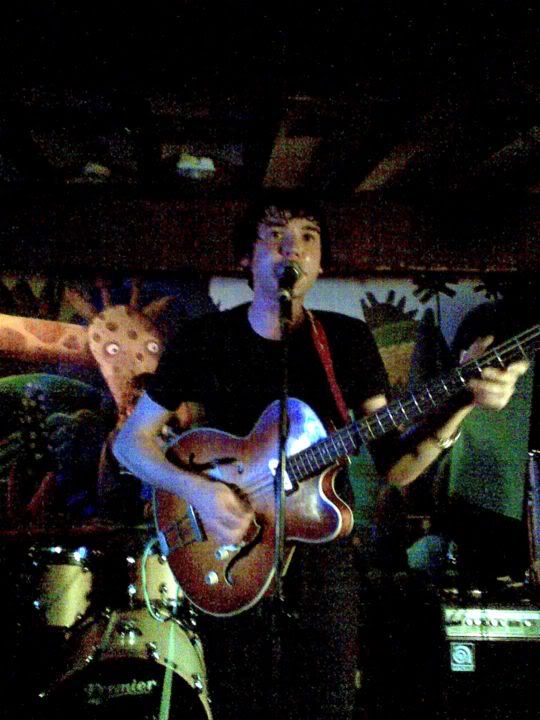 Previously known and loved as Radio Luxembourg, Race Horses have been around for a while and yet none of them would look out of place wearing school uniforms and playing British Bulldog in the yard during lunchbreak.
Having been out of the local loop and out on the festival circuit all summer (still two more to do), I thought that Race Horses' quirky psychedelic pop tinged ditties would be a good way to ease back into the scene. A hug off Adam Walton from behind his decks welcomed me to the venue, 'You're not dead Neil!' he quipped; not the first time I've heard this remark this week.
So Racing Horses within the splendour of Telfords Warehouse, almost befittingly on Chester Race Day (well, in the next couple of weeks anyway). This motley crue of a band consisting of a group of lads who looked as though they had fallen out of class, gave us music that was pleasantly raw, stunningly morose, and wired all at once. Jabbing organs and psychedelic guitars that revisit the best of British folk and progressive rock. Very trippy, very poppy, very gritty.
More left field than their previous Luxembourg guise, you know you've heard what they're doing somewhere before but at the same time you haven't. Rather than imitate, they take the shape and feeling of earlier music and repackage it in their own way. The similarities throw up The Furries, Gorkys, Beatles, Kinks and lots of magic mushrooms. Ace.
A review of their debut single by Norman Records hits the nail on the head… 'Intriguing 2 track single from Race Horses. 'Cake' is a 3 minute romp that sounds like Colder, Squeeze, The Beatles & Alvin Stardust all at once. A classic sounding slice (groan….) of motorik glam pop and camp R 'n' B with a dash psychedelia that couldn't sound more 70's if it donned flares & shit facial hair and started going out to lunch with Jeff Lynne. For all it's silliness, it's actually a pretty enjoyable and lovingly constructed piece of teenager-appeasing fashion rock.'