(first bit by MWJ – rest and pix by neil crud)
Intercepted transmissions believed to be between Oberst Sync of Kampfgruppe Krud, on the Ostbier Front, darkest Deutschland and Sturmbanfuhrer Votson-Johannes of the Special Noise Weapons Research Station, Conwy
S – Hi Mark, me, Crud and Tim are in Munich and we just noticed Napalm Death are playing tonight. Are they worth going to see these days or what?
MWJ – For sure, it would be one to remember! Enjoy.
S – Looks like it's gonna be a good one! The venue is a corrugated metal box in the middle of nowhere! We're just listening to some German death metal band supporting.
WJ- Did you survive the mayhem?
S – Fantastic! His spoken word introduction to each song before screaming and sweating everywhere was a sight to behold! The venue was cool, we got shit faced after the gig in a maze of different bars in and around the venue. Tim even bought a Japanese import picture disc.
Transmission end.
Latest reports are that the Kampfgruppe has indeed captured the BierHalle, but this may be a Phyrric victory…
That's a pretty accurate review, and probably the most remote one ever written (apart from the soccer match reviews when a team plays in a far off corner of Eastern Europe and the reporter pretends he was there, when in reality he was watching it on the telly like the rest of us!).
I digress…
Steve Sync, Tim Griff and myself were on Day 4 of our epic European tour; having already run amok in Amsterdam like little boys in a sweet shop, taken in the architecture and alcohol of Berlin before hitting Munich.
We were high in anticipation for the Oktoberfest along with 6.5million others (mainly giant Bavarians and annoying Americans). What we didn't expect was to attend a Beer Festival where you couldn't get a beer! The deal is you get 10 mates and reserve a table (there's thousands of tables), no table, no beer. There must've been about 30,000 people in twos and threes trying to gatecrash these tables, but not to much avail. We eventually found a small corner where less-than-ten-people could actually get beer; and don't get me wrong, Paulander Weiss Beer is fucking quenchinly lovely, but it's not worth £6.80 a pint..!! Bollocks to this we thought and found a Greek Taverna in the city where the beer was more user friendly on the pocket.
Just by chance, before breakfast the next morning me and Tim noticed a poster and found those fateful words 'Napalm Death' on it, and lo and behold, it was tonight at a venue called Backstage. We went to the Tourist Information Centre and asked the helpful lady where Backstage was; we may as well have stabbed her mother in both eyes with a pitchfork by the look she gave us, but we eventually gouged the necessary info out of her and sauntered around the Third Reich in readyness for an onslaught of Brummy brainbashing later.
Backstage was a free tram ride away (as was all internal travel in Europe, as in; we never bought a ticket and no one ever asked) – and it was an excellent venue; like a modern day Bistro (in Rhyl), but indoor and outdoor, a labyrinth of rooms and genres to suit all tastes, from folk to fuck, punk to funk, disco to death – all your needs were catered for.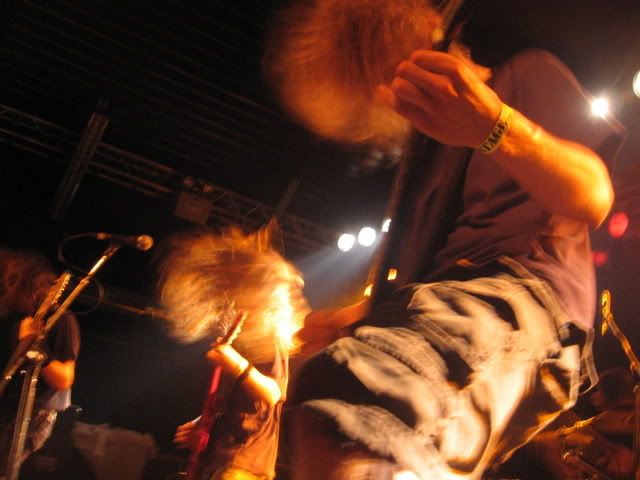 With 18Euros parted for a ticket we entered the sweaty corrugated warehouse, purpose built for live music and a thronging mass of punks and metallers here to see a band 27 years to the good. But first up were local (I guess) thrash merchants Die Leitzen (pic above), at least I think they were called that. Very young, and it showed with some of their delivery but they whetted the appetite for what was to come.
As you read by the text MWJ sent Sync, he said it would be one to remember, and we did enjoy – I was pretty shocked that Napalm Death now have 3, sometimes 4 minute songs, a far cry from those days of yore when Peel would play a session filled with 9 or 10 songs a few seconds long. The riffage was so fast and so loud that Mitch and Shane on guitar and bass could've saved themselves so much energy and just played one note, and we would not have cared!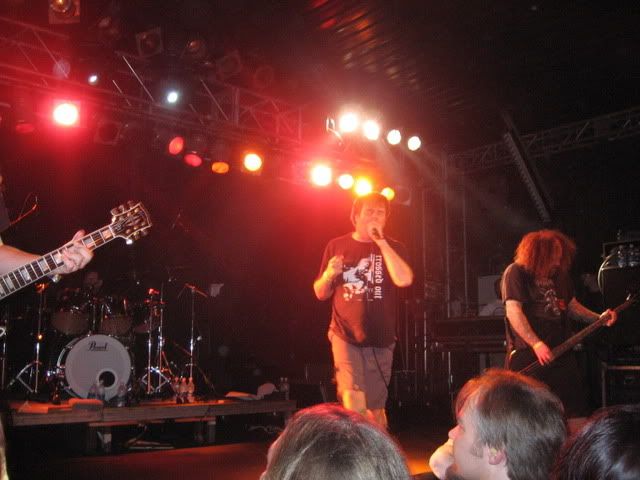 Amid all the hellbent and devil worship nonsense that goes with a lot of bands of this genre, Napalm Death still uphold a very Crass-punk ethic to their message, with most numbers covering social and political issues of the day. Not forgetting that the main reason we were all here was to be entertained, and that they did. Front-grunter Barney shed so much sweat he looked like a shower, sprinkling enough of the stuff to soak the stage.
'We're gonna take you back to the second Napalm Death album now,' he'd say in a strong Brummy accent, 'and I think you all know which song I mean'… (someone shouts a title from the audience) '..no, not that one…'
It was all good stuff, and unlike Metallica, who I endured for nearly 3 hours when I got stuck in the middle of a massive crowd a couple of months ago, this was all over in 45 glorious bone crunching minutes.
Quite the contrast was stumbling from the venue into another part to find a folk trio playing badly to a seated audience, then a punk disco and then to another part to find an indie disco. Sync dug into his pocket and announced we had 30Euros left in the kitty and should we buy 30 shots of Jagermeister, yes of course! This led to stupid dancing that cleared the dancefloor…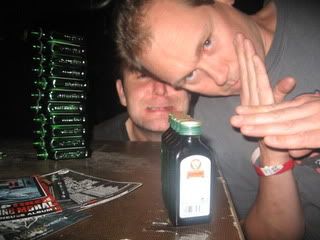 Talking of bone crunching, we walked passed a nightclub on the way back to the hostel just as about 15 Bavarian animals spilled out onto the street to knock the shit out of each other, both entertaining and frightening at the same time, but it did inspire Tim and myself to sign up for an Anger Management Course…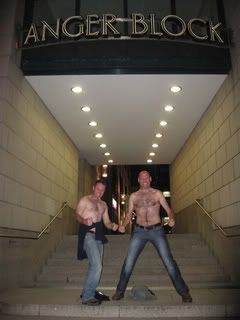 Next stop… Geneva….